Travel & Touring | WA Destinations
By: Tatum Stafford
If crystal-blue lakes, tranquil riverside camping and thrilling mountain biking trails tickle your fancy – it's time for a trip to Collie.
Set in the picturesque Collie River Valley, the town of Collie was historically WA's most important coal mining town. Today, it's a nature-lover's dream, with plenty of nature trails, wildflower hotspots, swimming holes and bush camping spots to explore. Let's head to Collie.
At a glance
Distance from Perth
201 kilometres, a two hour and fifteen-minute drive
Why go?
Explore towering forests on world-famous walking trails, float along azure-blue lakes, raise your heart rate on thrilling mountain biking trails, camp along the Collie River and indulge in local food and wine.
When to go
Sep - Nov: View an abundance of wildflowers along the Collie River walk trails. Moderate temperatures in spring make for great walking and mountain biking conditions. 
Dec - Feb: Summer is the perfect time to take a dip in one of Collie's many swimming holes. It's also an ideal time for water skiing, SUP'ing and any other activities where you'll need to hit the water. If you're on a Collie bush trail in summer, keep an eye on the fire forecast – if the fire danger is 'very high' or above, it's recommended you don't complete a walking trail in the area.  

How long to stay
Two to three days.
Need to know
There are plenty of facilities within the Collie town centre, including a medical centre, supermarket, cafes and the Collie Visitor Centre. If you're camping nearby and need potable water, the visitor centre will arrange this for you for a $10 refundable deposit. There's free WiFi at the centre, but elsewhere you may find phone signal spotty.
Fast facts
Town population: 7,200 
Indigenous people: Noongar.

Insider tip
If you'd prefer to camp without sacrificing the luxuries, there are several 'glampsites' set up within the Wellington National Park. Visitors to these sites can enjoy a cheese platter from the kiosk, a pre-prepared barbeque dinner to cook by your site, and the opportunity to dine under the stars.
Related road trips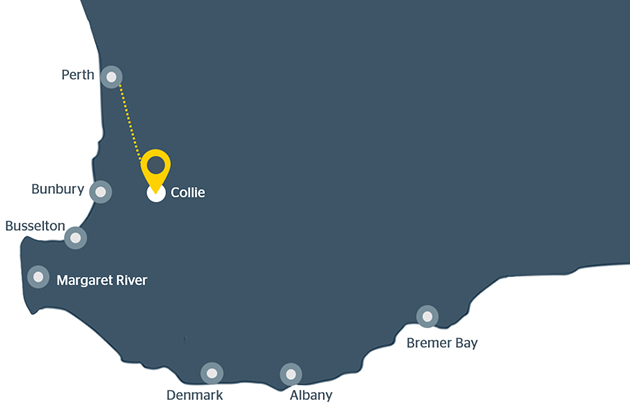 Top things to see and do
Float, SUP or kayak on Black Diamond Lake
Contrary to its name, Black Diamond Lake is plentiful with brilliantly blue water – and is one of the South West's most Insta-worthy destinations. The lake is an abandoned mine site that was filled with water after it was de-commissioned in the 1950's, and today is a great location for water activities including SUP'ing, kayaking, canoeing or simply floating on a toy.
If you fall in, try keep your head above the water. At certain times of year, there is a risk of harmful contaminates within the water. The Collie Shire has more information about this if you're concerned.
RELATED: 12 of WA's best inland swimming spots»

Explore the Wellington Dam
The towering Wellington Dam is the second largest man-made reservoir in WA (with Lake Argyle in Kununurra taking the top spot). Originally opened in 1933, the dam is an impressive 240 metres long and 19 metres tall – and today, the best way to explore its beautiful surrounding bushland is on a walking trail. A popular option is the 19.7-kilometre Wiilman Bilya Trail. You can hop on the trail at Wellington Dam (following the 'boot' signage), and meander through picturesque jarrah, marri and yarri trees. It's quite a long walk, so completing a short section and turning around is a good way to get a taster of the stunning forest.
The dam will be a key feature of the new Collie Mural Trail, and a mural by Guideo van Helten was recently painted across it. It is the largest single artist outdoor mural in the world at 6,000 square metres big.
RELATED: The story behind the Wellington Dam mega mural»

The family-run Wellington Dam Kiosk is a great spot to rest your legs - and also meet a few local birds. Blue wrens, rosellas and robin red breasts are known to make an appearance. As well as serving delicious food, the kiosk rents out mountain bikes, sells camping essentials, and supplies free hiking and trail maps for the Wellington National Park.
Visit the Coalfields Museum & Historical Research Centre
This quaint museum is a love letter to the early days of Collie. Housed in some of the town's most historic buildings, the museum's exhibits range from homestead items and mining equipment to military memorabilia and local fireman Dudley Magill's bust. One of its most prominent exhibits is a restored Italian barrel organ that used to entertain the locals at Fontana's Wine Saloon on Collie's main street. The museum is open Thursdays to Mondays, 9am to 3pm.
Explore the Collie Mural Trail
Weaving throughout the town centre, the Collie Mural Trail features more than 40 murals created by local artists. Splashed across the walls of local shops, community centres and every the massive Wellington Dam, the trail is based around three themes which were voted on by the Collie community: the history of Collie, the natural environment of the region, and local Aboriginal culture.
RELATED: 9 of WA's most vibrant art trails »

Camp by the water at Stockton Lake
Similar to Black Diamond Lake, Stockton Lake was also originally a mine that has been filled in with water. It's a popular spot for boating and water skiing, though the Black Diamond rules about swimming also apply here – the water is mildly acidic, so visitors should swim at their own risk.
Another popular pastime at this picturesque spot is camping. There are 50 unpowered campsites within the lake's recreation area; situated on the banks of the lake. It's a first-in, first-served arrangement here, so it's best to arrive early in the day and, if possible, travel in off-peak months to guarantee yourself a spot. It's dog-friendly, too – just make sure your pup is kept on a leash at all times.
RELATED: 10 campsites by the water within two hours of Perth »

Fish at Glen Mervyn Dam
This picturesque dam is a camping, water skiing, swimming and bushwalking hotspot – and if you're a keen angler, it's also a great place to go fishing. Redfin perch, rainbow and brown trout and marron have all been spotted in the dam. You'll need a fishing license to fish here, and it's recommended to use lures or worms as bait in this area.
Complete the Collie River Walk
This 10-kilometre, dog-friendly walking and cycling track meanders along the tranquil Collie River, and is a great way to explore the bushland, flora and fauna that live or grow along the riverbank. The trail begins at the Soldiers Memorial Park, takes you over the Swinging Bridge for a fantastic view of the river, and passes Minninup Pool – a fantastic place for swimming, kayaking, wildflower-spotting or a picnic.
If you'd rather complete a shorter walk, the 'Bridge to Bridge' section of this track is the perfect alternative. The 2.5-kilometre route begins at the Co-op Bridge near Soldiers Park, and then loops around once you reach the East End Bridge.
RELATED: 10 of WA's best dog-friendly walking trails »

View local works at the Collie Art Gallery
The town's art gallery opened in 2015 – and though it's still a relatively new attraction, it is a fantastic addition to the many South West galleries showcasing works from local artists and creatives. The collection sits at nearly 90 pieces, and includes sculptures, photography, paintings, prints and more. The gallery also runs a variety of art workshops and development programs for beginners to professionals; aligning with its mission to inspire future Collie artists and art lovers.
Getting around
Though the town centre and sections of the national park are pedestrian-friendly, you'll need your car to tour the town's surrounds.
There are plenty of walking and mountain biking trails throughout Collie and the Wellington National Park, so if you're planning on exploring on foot (or two wheels), take care on rocky terrain. The closest place for bike hire is the Wellington Dam Kiosk.
What to pack
Collie and its surrounding forests can be notoriously cool in winter, so pack plenty of layers if visiting in cooler months. Solid walking shoes, a hat, mosquito repellent and a warm coat are a must. If visiting in summer, pack your bathers and bring any gear you'd need for camping, SUP'ing, canoeing or fishing.
Travelling safely
The drive from Perth to Collie is excellent, and the roads in and around Collie and the Wellington National Park are well-maintained and paved. However, some forest driving tracks are unpaved – so take care when driving on rough terrain. Keep an eye out for cyclists and pedestrians near walk trail areas, and be sure to slow down if driving through hilly areas. Read more long distance driving tips before setting off.
Need to fuel up before heading to Collie?
RAC members get 4 cents a litre off fuel at participating Puma Energy, Better Choice, Gull and Peak service stations.
Last updated: October 2020