Travel & Touring | WA Destinations
By: Fleur Bainger
Plunging valleys, tucked away wineries, pulse-quickening bike trails and a sea of garden gnomes.
They're all found within cooee of Dardanup, a tiny town anchoring the Ferguson Valley, only 30 kilometres south-east of Bunbury.
There's also a pub doing an epic number of parmy toppings, an award-winning bakery and one of WA's most tranquil camping spots.
Weekend road trip, here we come.
At a glance
Distance from Perth
176 kilometres, about two hours' drive
Why go?
To check out quirky Gnomesville, the secret forest campground of Honeymoon Pool, marvel at WA's second largest dam, get a sweat up on two wheels, and meet the families behind many little-known wineries.
When to go
Dec – Feb: High temps and low rainfall, good river kayaking 
Mar – May & Sep – Nov: Pleasant temps, great hiking and biking, wildflowers, plus May's Dardanup Art Trail  and October's family-friendly Bull and Barrel Festival
Jun – Aug: Rain, cold nights, fantastic stargazing 

How long to stay
You can squeeze the highlights into a day, but staying overnight and stretching it across two will be more rewarding.
Need to know
Expect most attractions to be open on weekends, but being off the tourist radar, you'll need to check opening hours and possibly make appointments during the week, and over winter. Mobile reception goes in and out once you leave town. There is one petrol station in town and a general store with all the basics (and take-away curries). Stop at the small, volunteer-run visitor centre on Little Street and pick up a free Ferguson Valley Touring and Attractions map.
Fast facts
Town population: 370 
Indigenous people: Gnaala Karla Booja and South West Boojarah

Insider tip
As you head out of town, look for Dardy Burgers, a blink-and-you'll-miss-it food shack hidden along Ferguson Road. From Thursday to Sunday they whip up home-made burgers, lamb and gravy rolls, and fish and chips.
Related road trips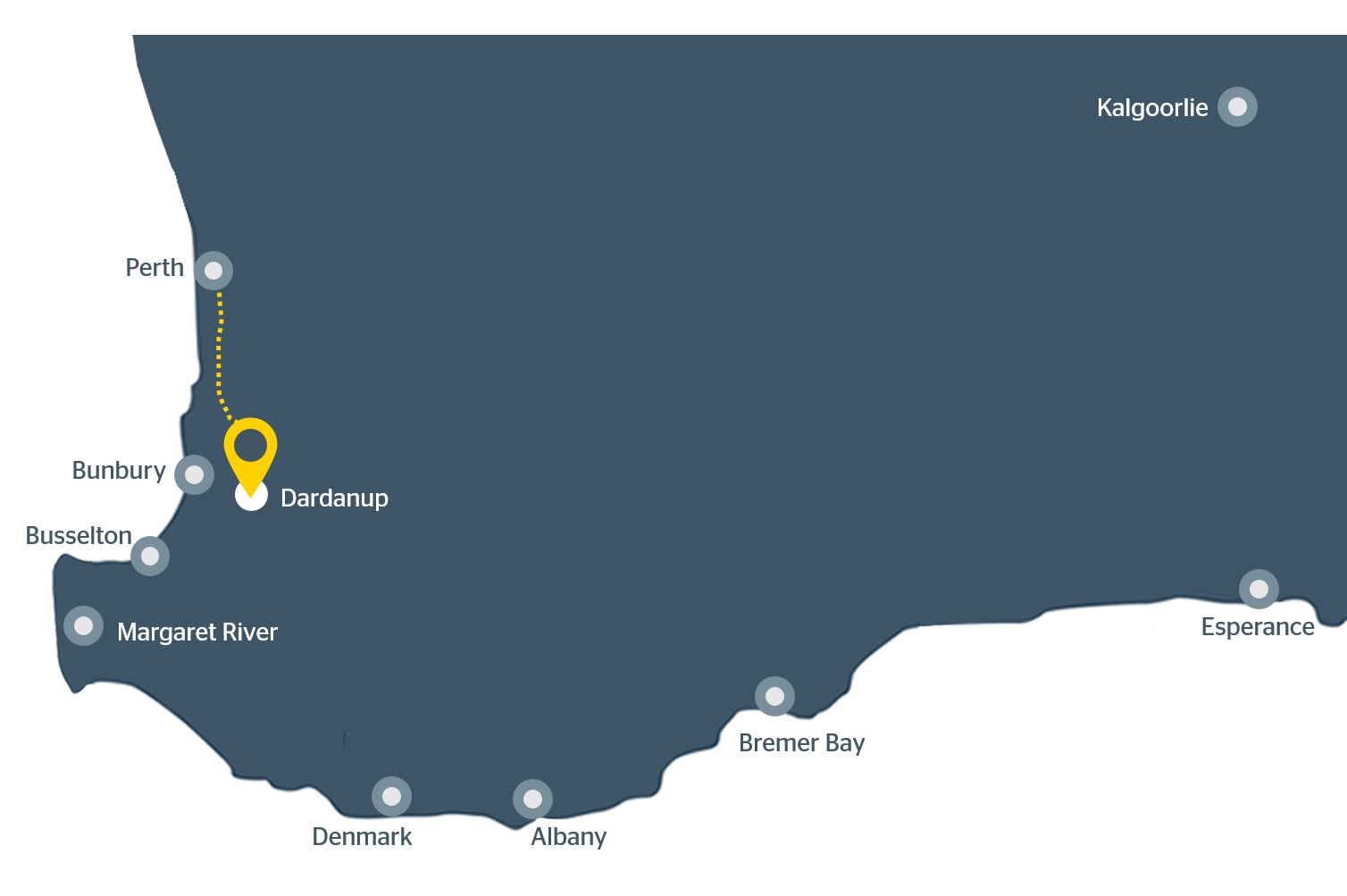 Top things to see and do
This idyllic spot in Wellington National Park is coveted for a reason: weeping peppermint trees shade campsites and lead to a mirror-still pool that's rimmed with decking. The sites suit tents and small campers, giving it a sense of simplicity and tranquility. There are picnic tables and fire pits (BYO wood and check fire restrictions first). There are flushing toilets but no showers, and pets are not allowed.
Many walking trails start from the campground, including The Jabitj Trail, which takes you along the river to Wellington Dam; it's also easy to launch a kayak or, in the summer months, venture into the pool for a brisk dip. Because this campground is so popular and has only 20 campsites, you must book and pay online before arrival. If it's full, try the recently redeveloped Potters Gorge campground instead.
RELATED: 10 campgrounds by the water within two hours of Perth »

This one-way stretch of sealed road leads you over a narrow bridge to simmering rapids, an enormous, hill-like expanse of mossy granite known as Big Rock and a charming picnic haven at Little Rock. All the while you'll be driving (or walking) through tall, slender native trees and often hugging the Collie River. To get there, take Falcon Road towards Wellington Dam and peel off to the left when the sign points to Honeymoon Pool.
Gnomesville
About 20 kilometres out of Dardanup, there are some 10,000 garden gnomes flowing like surging water through the forest. You'll spend longer than you expect, spotting gnomes dangling from branches or peering from tree forks, and following the humorous signs and quirky scenes people have placed on the bush floor. You can buy a souvenir gnome at the visitor centre to leave your very own mark at Gnomesville, too.
Ferguson Valley wineries
Small, family owned and run, Ferguson Valley's wineries range from the artisan haven of Ferguson Hart Estate, to the Spanish and Italian variety-leaning Green Door Wines, where you can do a blind tasting and win a glass of wine if you decipher each drop correctly (order the 100 Mile Platter for a truly local lunch).
Opt for the Reuben pizza if you're at Ferguson Falls Wines, and zero in on the Boodja gin at Harris River Estate, which is made to reflect each of the six seasons in local Aboriginal culture, using foraged herbs and botanicals. Meanwhile, Hackersley Estate combines local wine with multi-course lunches and rolling valley views.
This towering tree is believed to be the oldest in Wellington National Park, estimated at 300-500 years old. Take pretty Falcon Rd to get there, then follow the boardwalk to its toes, gazing 36 metres up to its canopy.

The Dardanup Tavern
Here they do seven – yes, seven - different parmi toppings. The circa 1905 pub's fare was once voted "Best parmi in the South West" – something they still proudly reference. At $25 for a huge slab of crumbed chicken balanced on hot chips and a side salad, you'd be silly to pass this up.
The kids will love the outdoor playground, in a grassed yard visible from one side of the restaurant. If you're a family and it's sunny, ask to be seated outside, right next to it. The pub does get busy, so book ahead.
The Dardanup Bakery
There's often a queue outside, formed of people lusting after the handmade meat pies, (including a revolving door of new creations), sourdough loaves and sweet pastries. The bakery is open Wednesday to Sunday.
Getting around
Dardanup township is small and pedestrian-friendly, but to get around the region, use your car. Those who love hiking and biking should pack their gear as there are many trails through the surrounding forest, including the Munda Biddi Trail and the Bibbulmun Track, as well as downhill cycling routes and road biking.
You can hire bikes at the Wellington Dam Kiosk (they're full bottle on the best biking and hiking trails and have free maps, basic supplies and will charge up phones), or in Bunbury, go to MaD Cycles and the bike cafe Melo Velo.
What to pack
Wear comfy and light casual clothes during the day in spring and summer, particularly those you can walk through the forest in, but bring along warm jumpers and jackets for cooler nights. Sunscreen is always a must. In winter, you'll need to be rugged up and if you're camping, pack plenty of layers.
Travelling safely
The road from Perth to Dardanup is excellent and regional roads, including the one-way drive through Wellington National Park to Honeymoon Pool, are paved and in good condition.
Forest tracks are unpaved. Beware of cyclists and walkers on roadsides. Sometimes the region's hills and bends make visibility difficult, so be sure to slow down. Read more long distance driving tips.
Need a place to stay?
RAC Busselton Holiday Park is just a short drive from Dardanup - plus, RAC members save up to 20%* on accommodation.
*Terms and conditions apply. RAC member rate varies according to season. See full website for details.
Last updated: July 2020