Travel & Touring | WA Destinations
By: Fleur Bainger
To those in Europe, Denmark is a Scandinavian country, but in Western Australia, Denmark is an artsy township edged by raw wilderness and staggeringly beautiful beaches dotted with granite boulders.
Whether you're into mountain biking, tranquil walks, wine tasting or gallery-hopping, Denmark has you covered.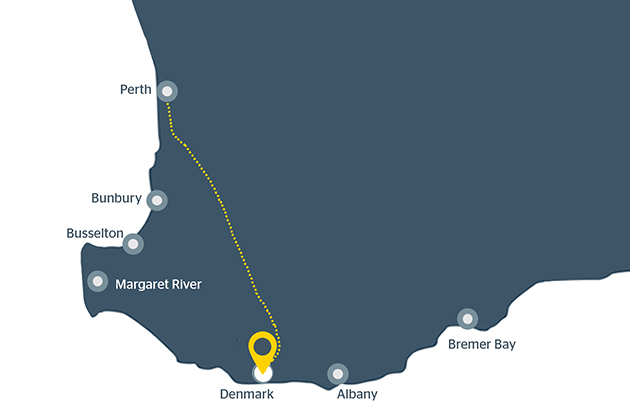 Things to see and do
RELATED: Top 9 things to do in Denmark »

Greens Pool
This idyllic rockpool in William Bay National Park deserves its icon status. Rounded boulders emerge from still, clear aquamarine ocean, which laps at a soft sandy beach. Follow the signs to Elephant Rocks, a granite outcrop that dwarfs you as you walk to a secluded patch of sand. Extra parking bays were added to this site in late 2020, along with a toilet block upgrade.
Walks and hikes
Denmark's wilderness is breathtaking at any time of year, but particularly in spring when wildflowers emerge. Trace a one-hour – or several day - section of the Bibbulmun Track, either going under your own steam, using a track transfer service or joining an all-inclusive tour. Other Denmark walk trails stretch from forest to beach to wetlands and old railway lines.
Forest drives
Draw straws to see who gets to be the passenger when following the one-hour Mount Shadforth Scenic Drive – it's a beauty. Think lush farmland, undulating hills and pretty vineyards with the Porongurup granite domes and Stirling Ranges in the distance. Be sure to stop at Mt Shadforth Lookout for ocean views.
Meanwhile, the 34-kilometre Scotsdale Scenic Drive tours you past the region's fantastic cool-climate wineries, with Rockcliffe, Singlefile Wines and Rickety Gate Wines among the highlights, as well as The Denmark Heritage Cider Company, where you can try true cider made from cider apples grown on site.
RELATED: 10 scenic WA winter drives »

Mountain biking
The region is emerging as a mountain biking hot spot. The 6.2-kilometre, sealed but steep WOW (Wilderness Ocean Walk) trail runs between the Denmark Wind Farm and Lights Beach, where it connects with the Mundi Biddi trail. There's also the multi-use Heritage Rail Trail, which is also part of the Mundi Biddi.
Water activities
You can launch kayaks and canoes from Berridge Park on the river in town, or at the Denmark River mouth. The Denmark Rivermouth Caravan Park has hire kayaks and paddleboards, and also runs boat river cruises – including a sunset fish and chip cruise on Wilson Inlet - and four-wheel drive bus adventures. All run with a minimum of 10 people. If you're keen to throw in a line, hook up with Mad Fish Charters on the inlet.
Exploring Walpole's waterways (a 45-minute drive away) with guide and local legend Gary Muir on a Wow Wilderness tour is seen as a must-do experience, best teamed with a walk through the tall tree canopy on the Valley of the Giants suspended walkway.
Gourmet feasting
A former winemaker handcrafts the Swiss couverture goodies at Dark Side Chocolates, which also come in dairy and gluten-free, plus vegan options (visit the woodturners while you're there). At the Denmark Good Food Factory you'll also find amazing toffees, burgers, ice cream, cider and soccer-golf, which is a bit like mini golf using a soccer ball. Feast on raspberries, blackberries, loganberries and more at The Denmark Berry Farm, open weekends and school holidays from December to April.
At the end of Denmark's main commercial drag, Strickland St, an arcade called Palm Court hosts an excellent Japanese restaurant, Hiroko Café (opening hours are sometimes erratic), and while the town's Stomp'd wine bar has closed, a new tapas bar is currently under construction for a 2021 opening.
The quirky Tea House Bookstore combines literature with coffee, while Mrs Jones Café is housed in the old butter factory. It was refurbished in 2020 after changing hands, and continues to pump out great breakfast and lunch options. For a bucolic winery lunch, head to The Lake House, or for a fancier lunch or dinner, try Pepper and Salt at Forest Hill Winery or Ajar Restaurant.
WA's best fish and chips
The 40-minute drive to Peaceful Bay is well worth it for the ocean-fresh fish and chips many regard as the State's best. The family-owned fishing boat goes out daily; they also run the neighbouring caravan park.
Art markets and galleries
Everyone in the region seems to converge on Berridge Park for the Denmark Arts Market, which runs four times a year, December to April. It's an earthy, arty collection of stalls selling all manner of artisanal wares and foods as local musicians play. Visit Denmark's many art galleries year-round, including the Butter Factory Studios and Gallery (next to Mrs Jones Cafe), the Community Resource Centre gallery and Riverfront Gallery.
Family fun
There's an adventure playground behind Denmark's hospital, and another on the river at Berridge Park. The town's community garden is behind the Community Resource Centre. Out of town, kids love the hands-on Denmark Animal Farm and Pentland Alpaca Stud (there's a craft gallery for adults) and Denmark Dinosaur World, where there are also bird enclosures, reptiles and a kangaroo yard.
RELATED: 10 of WA's quirkiest museums »

War and aviation museum
Hidden away on a farm halfway between Denmark and Albany is a private collection of objects from the Boer War, WWI, WWII and Vietnam, as well as more recent conflicts in East Timor, Iraq and Afghanistan. Recollections of War is the passion project of a local couple, who have focused on personal stories and social history throughout their four showrooms.
View by appointment (entry $25/adult, $20 conc) - they'll even whip up scones and jam with advance notice.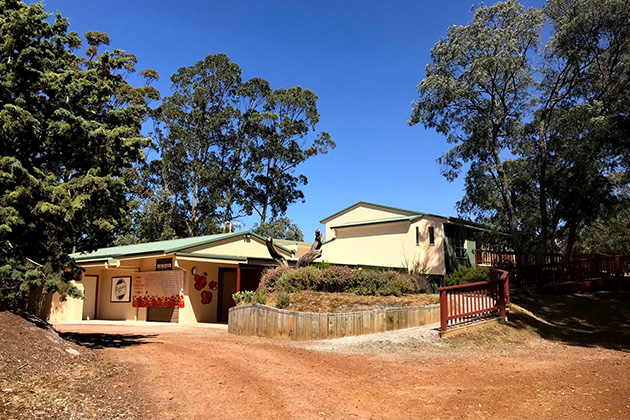 At a glance
Distance from Perth
422 kilometres, or just over 4.5 hours' drive from Perth
Why go?
One of the State's most stunning rock pools, the striking Elephant Rocks, tall tree forests, cool-climate wineries, mountain biking and hiking trails through nature, secluded beaches, farmland, art galleries and a remarkable private war museum.
When to go

Mar - May & Sep - Nov: Cool with blue skies; great for bush walks and mountain biking, wine tasting and fishing. The Taste Great Southern food festival happens each March and wildflowers bloom in spring.
Jun - Aug: Rainy with daily temperatures around 16 degrees; great for forest drives, fireside meals and whale watching.
Dec - Feb: Average daily temperatures of 25 degrees; summer marks peak season, ideal for outdoor activities.

How long to stay
Spend at least two days exploring Denmark's many charms.
Need to know
Denmark has everything you'll need: a couple of supermarkets, petrol stations, pubs, bakeries, free barbeque facilities and public toilets.
Phone signal is good in town but patchy in outer areas.
Denmark has a sole taxi service which operates Monday to Friday during business hours.
The Denmark Visitor Centre is currently closed until further notice, but any accommodation or tourism-based businesses in town can help with travel advice.
Fast facts
Town population: 2,558
Indigenous people: Noongar (Kaneang, Koreng and Minang).

Insider tip
A little-known boardwalk stretches across the Denmark wetlands, which locals describe as "mystical and serene." Look for Atkinson Rd, a gravel route off South Coast Highway near the Mt Barker turn off, to find it. It's at its best when water is present.
Related road trips
Getting around
Once in Denmark, you can walk and hike, ride (there's also a bike hire shop), drive in a two-wheel drive or go exploring in a four-wheel drive. You'll need to BYO wheels or join a tour.
What to pack
Loose, light clothing for outdoor activities during the day, togs and wetsuits during summer and warm evening clothes all year round.
Travelling safely
Leafy, winding roads mean it's wise to drive slowly and concentrate keenly. Read more long distance driving tips before setting off.
Road-tripping to Denmark?
You'll need to fuel up, first - RAC members get 4 cents off per litre at participating Puma Energy stations.
Last updated: September 2021
Banner image credit: Tourism Western Australia