Travel & Touring | WA Destinations
By: Danielle Costley
If fresh crayfish, movies under the stars, pristine beaches, fishing, surfing and kitesurfing tickles your fancy, it's time to head north to the twin coastal towns of Dongara and Port Denison.
At a glance
Distance from Perth
350 kilometres, a three hour and 45-minute drive
Why go?
Unspoiled beaches, fishing, surfing, caving, kitesurfing, paddleboarding, roller skating, fresh crayfish, walk trails, wildflowers, outdoor drive-in.
When to go

Nov - Mar: Warm to hot temperatures, moderate to strong winds. This is the time to hit the beach for a swim, surf or snorkelling. The Larry Lobster Festival is held at the foreshore in November. Australia's biggest kitesurfing event, Kitestock, takes place in January. It is also windsurfing season. Jukebox Saturday night is on throughout January.
Apr - Jun: Moderate to warm temperatures and low winds. The Midwest Autumn Craft Round Up is held in April. For Easter, there is the Dongara Races and an Easter Egg Hunt.
Jul - Oct: Cool to moderate temperatures. It's wildflower season. The Irwin District Charity Ball is in October, and the Midwest Show & Shine, plus the Denison Foreshore Sprint will be held in September 2021. The Dongara Markets are on the first Saturday of each month.

How long to stay
Three to four days.
Need to know
There are fuel stations, supermarkets, delicatessens, bakeries, restaurants, cafés, a hotel, and good Telstra mobile phone coverage in both townships. Free WiFi is available on the main street of town, as well as at the Port Denison Marina. Public toilets are located at the town park and marina, where there are also barbeques.
Fast facts
Town population: 3,500
Indigenous people: Wattandee. Dhungarra – a name given to the area by the local Indigenous people to indicate 'a meeting place of seals'. Anglicising of this name gives Dongara its present name.

Insider tip
Take a step back in time on the four-kilometre Dongara Heritage Walk, where you will see 28 heritage-listed buildings, including the Royal Flour Mill, the Old Police Station, Russ Cottage and the Post Office. Walk beneath the shady boughs of the heritage listed Moreton Bay fig trees that line the main street.
Related road trips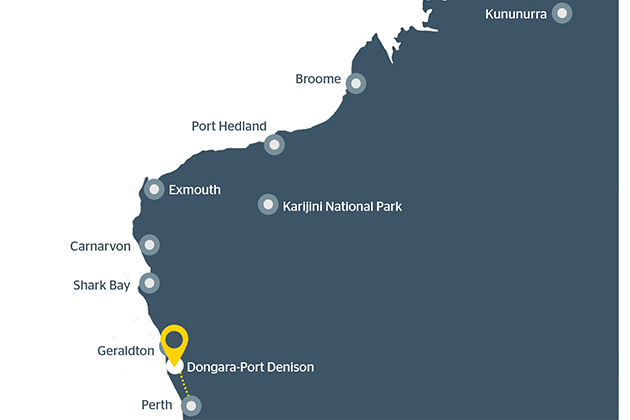 Top things to see and do
Port Denison Marina
Walk around the marina, which is home to the town's impressive crayfishing fleet. Relax on the grassy foreshore or find a shady seated area, have some fish and chips, and watch the boats come in. Or cook up a barbeque. There is also a children's playground and free WiFi. During crayfishing season, you can buy fresh crayfish and other seafood at the wharf.
Follow the Fisherman's Trail, a 2.7-kilometre beachfront and urban walk that begins at the Fishermen's Lookout and Obelisk. View the spectacular panorama of the harbour and its crayfishing fleet. The obelisk pays tribute to the many lives lost at sea, as do the series of plaques depicting local shipwrecks and the town's rich maritime history.
Head south on this loop from Coles Way along South Beach, before returning to the Marina via the Old Jetty Ruins. Depending on your pace, this walk can take up to an hour.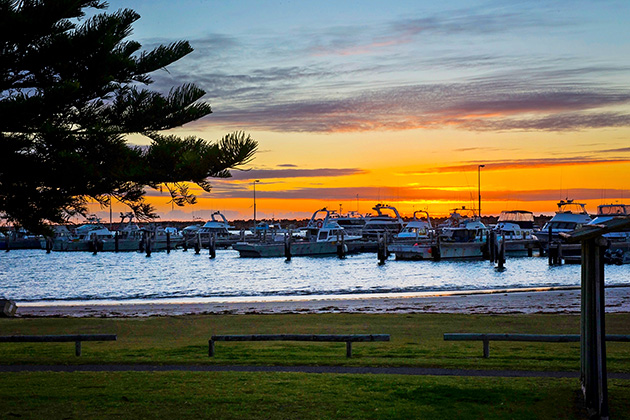 Surfing, swimming and sandboarding
South Beach is only a few kilometres from the Port Denison town centre and is a favourite with the locals for surfing, kite surfing, paddleboarding and swimming. Drive your car along this family and dog-friendly beach, where there is also a café offering refreshments and meals.
Head to the Surf Beach (also known as Arurine Bay), featuring safe beach breaks and gentle waves. Hire a surfboard, kayak, bike, snorkelling gear or golf cart in town at Dongara Breeze Inn.
RELATED: 8 of the best dog-friendly holiday spots in WA »

Dongara Denison Drive-In
Watch movies under the stars at one of the few remaining outdoor drive-in cinemas. Dating back to 1966, this drive-in shows new release movies that you can watch from the comfort of your vehicle, or in your camper chairs.
Open from September through till May, it's located on the corner of Port Leander Drive and Ridley Street. It's first in, best dressed. During peak times, arrive early to guarantee a spot and don't forget your blanket. Bring your own food, or refreshments are available from the canteen.
Walking trails
Follow one of the Thungarra walking trails that will take you around Port Denison and Dongara's most scenic locations and immerse you in the maritime history of the Coral Coast. Thungarra is an Aboriginal word that means 'place of seals', which is beautifully captured in an art installation on the banks of Irwin River, just off the main road bridge.
Stop by the Visitor Centre for a brochure that details the walking trails, that range from 2.7-kilometres to 9-kilometres. The level of difficulty ranges from easy to moderate and the trails can be walked at any time of year.
Irwin River
Enjoy a peaceful walk along the banks of the Irwin River that separates the twin townships of Port Denison and Dongara. It's an easy 4.6-kilometre walk along the Irwin River Run and boardwalk where you will see pelicans, black swans and numerous water birds that reside in the sheltered estuary of the panoramic rivermouth. Birdwatchers – be sure to pack the camera.
Walk past the old monastery at Denison House on this picturesque walk, which can be done all year round. There is a car park on the banks of Irwin River, directly off Leander Street. Or park at the Lookout at Church Street.
Fishing
A popular fishing haven, this area is renowned for its abundance of snapper, whiting, dhufish, tailor and rock lobster. Whether it's from the Granny's Beach Jetty in Port Denison, the beaches, or in your own boat, have a go at hooking some fresh seafood. The Granny's Beach Jetty is also a good spot to catch a feed of Blue Manna crabs, but you will need to bring your own cray pots and bait.
RELATED: 10 of WA's best beach fishing spots »

Wildflower season
From late August to October, the traditionally sparse mid-west landscape is transformed into a stunning display of world-famous pink everlasting and pom-pom wildflowers, as well as the rare Wreath Leschenaultia Flower that blooms along the road and in parklands. These exquisite wreaths are made of dozens of flowers frilled with petals of red, white and pink.
It is a 40-minute drive to Mingenew. If time allows, stop for a sunset atop Mingenew Hill and bask in endless views across fields filled with endless wildflower species and pastures of golden canola. From here, it's a 33-kilometre drive north to the Coalseam Conservation Park, otherwise known as the mid-west's Wildflower Country.
During wildflower season, the Park is a brilliant explosion of colour with carpets of wildflowers interspersed throughout the countryside. Bring the camera to capture the diversity of wildlife, such as emus, kangaroos, eagles, echidnas and cockatoos. Only 10-kilometres from Mingenew is Depot Hill, another spectacular hotspot for wildflower viewing.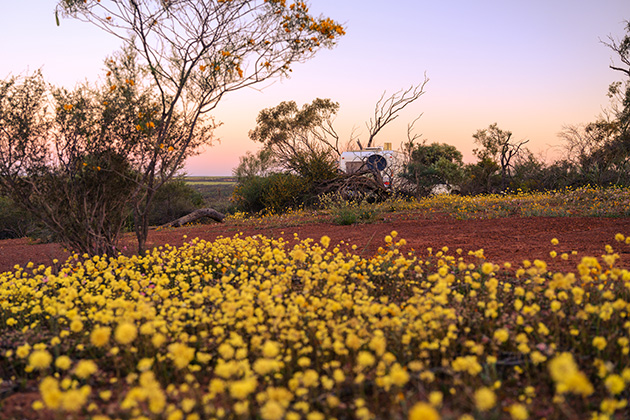 Distillery
The Illegal Tender Rum Company was founded by a former electrician with a passion for distilling. This family-run distillery is based on a farm five-kilometres south of Dongara and has a range of locally produced, small batch rums available for tasting on Thursdays to Sundays. It has also recently expanded to produce gin at its sister distillery, Stable Views. Ensure you have a designated driver.
ANZAC memorial
Take a stroll down Ocean Drive and encounter a series of 2D metal art ANZAC memorial soldiers. The 15 silhouettes of the soldiers pay tribute to the courageous and inspiring role the ANZAC's played in World War 1. They form a line of solidarity, representing the soldiers on a march and is a great photo opportunity, especially at sunset.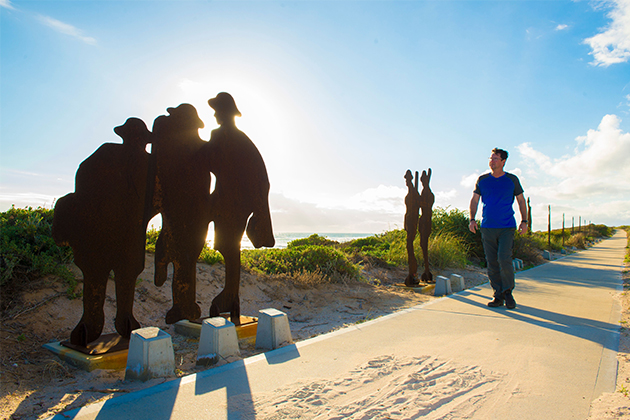 Ellendale Pool
This spectacular freshwater pool is a 45-minute drive north from Dongara and is ensconced in a rocky gorge. Bordered by water reeds and rushes, this is a perfect setting for a picnic, swim or walk. Stay for the sunset and watch its gradual decline in a myriad of colours across the rugged cliff face.
Getting around
The roads are well-sealed and paved in both towns, making it easy to walk or cycle around. If you wish to travel between the twin towns though, the car is most convenient due to distance.
What to pack
Pack your beach and water sports gear for the warmer months, walking shoes, a picnic basket, blanket, fishing rod, and camera. Insects are prevalent during summer, so don't forget the bug repellent and hat. During winter and spring, pack a jumper and pants as it can get cool. Bring your bike, kayak and snorkelling gear.
Travelling safely
There are two options to take when driving from Perth. The Indian Ocean Drive, which is more scenic, is being upgraded at certain stages. Roadworks may cause delays. Recognised as one of RAC's Riskiest Roads, exercise caution when overtaking, maintain a safe distance, and drive with care.
There is edge and centre audible line marking on some sections of the highway to reduce the risk of head-on collisions. Or drive to your destination via Brand Highway, which is also a sealed and well-maintained road with several overtaking lanes. Keep a watchful eye for wildlife, especially kangaroos, during the hours of dusk and dawn.
These are family-friendly townships, with children always walking and riding their bikes around, so drive slowly. Read more long distance driving tips before setting off.
Need a place to stay on the way up north?
RAC members save up to 20%* on accommodation at RAC Cervantes Holiday Park.
*Member rate varies according to season. See full website for details.
Last updated September 2020
Image credit: Australia's Coral Coast