Travel & Touring | WA Destinations
By: Tatum Stafford
The charming town of Dwellingup is a nature-lover's dream.
Filled with towering forests, vibrant hiking and mountain-biking trails and incredible camping spots, this local gem within the tranquil South West region is the perfect place to reconnect with nature. Let's head to Dwellingup.
At a glance
Distance from Perth
109 kilometres, an hour and a half's drive
Why go?
To be surrounded by majestic jarrah and marri trees, canoe the tranquil Murray River, hit local mountain-biking trails, indulge in fresh local produce and climb aboard a nearly 50-year-old tourist railway train.
When to go

Jun - Aug: Winter rains cause the Murray River to rise dramatically, and make for great white-water rafting and canoeing conditions.
Sep - Nov: Idyllic weather for hiking and mountain-biking. The tracks are particularly beautiful in spring when the bushland is abundant with wildflowers.
Dec – Feb: Hot, dry summer days make for ideal swimming weather in the Murray River. It's also a great time to camp at one of Dwellingup's many camp sites.

How long to stay
Two to three days.
Need to know
Within the town centre you'll find a few cafes, an IGA, a roadhouse and a post office. If you need any extra supplies, the town of Pinjarra is a 20-minute drive away and has a few additional amenities. The Dwellingup Trails & Visitors Centre is the perfect spot to get your bearings and learn more about trails in the area – including sections of the famous Munda Biddi and Bibbulmun Tracks that pass through Dwellingup.
Fast facts
Town population: 400 
Indigenous people: Noongar – it is believed that Dwellingup is located on the site of an Aboriginal camping place called 'dwellingupp'; a Noongar word meaning "place of nearby water".

Insider tip
If you have a valid fishing license, there are endless places to cast a line into the Murray River from Lane Poole Reserve. Keen anglers will have the chance to catch rainbow trout, redfin perch, cobbler and marron.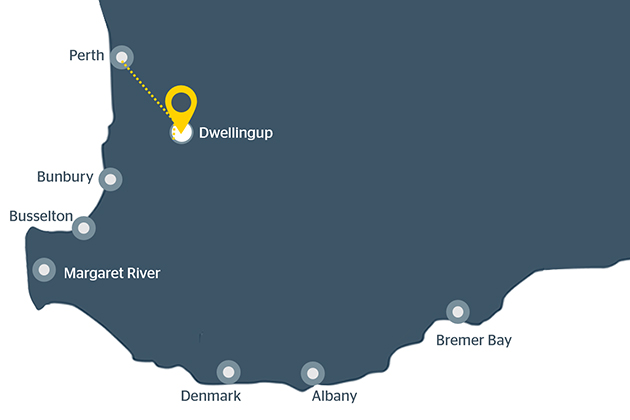 Top things to see and do
Camp, swim and kayak at local reserves
Dwellingup has a range of campgrounds and sites, and a caravan park. One of the most popular locations is Lane Poole Reserve, just a stone's throw from the Murray River. With over 150 camp sites to choose from, including Baden Powell, Stringers, Tonys Bend and Nanga Mill, there are plenty of picnic tables, fire pits (in-season), toilets and barbeques spread throughout the reserve.
RELATED: 10 Perth campsites by the water »

If you're hoping for a more off-grid camping experience, head for the Jarrahfall Bush Camp. Just outside of Dwellingup, this charming campground is set amongst marri and jarrah forests. There are also a variety of trails across the expansive property, just note you'll need to bring your own drinking water with you.
Stock up on fresh fruit at Vergone's
Vergone's Fruit Stall is a Dwellingup institution. Open from Thursday to Sunday from 8am to 5pm (and open daily during December and January), the stall stocks a wide range of fresh fruit and vegetables alongside delicious homemade treats, soups and jams, and Pinjarra Bakery pies. If you're visiting, keep an eye out for treats using seasonal fruits from the area – the orange cake made from fresh Harvey produce is a clear highlight.
Hit local walking and mountain bike trails
The 8-kilometre Marrinup Loop Mountain Bike Trail starts at the old Marrinup townsite. It passes some of Australia's oldest rocks, native jarrah forest, and plenty of redgum trees. The track itself varies from flat sections to hill climbs, and there's also a shorter, four-kilometre shortcut option.
RELATED: 10 of the best mountain bike trails within two hours of Perth »

The King Jarrah Walk Trail is a popular walking option. The 18-kilometre loop takes you through lush jarrah forest, where you'll pass the 300-year-old tree known as the King Jarrah. The trail begins at the old Nanga Mill townsite within the Lane Poole Reserve, follows the Murray River, and uses an old logging railway formation with bridge sites crossing Dawn Creek. It takes around five hours to complete.
Drive the Captain Fawcett 4WD Trail
This medium to hard grade, 105-kilometre 4WD track starts within Lane Poole Reserve and showcases some of the region's best jarrah forests, farm houses, creek crossings and spectacular views. Much of the track passes old railway tracks that once transported forest trees to various mills across the state. Download the trail map before you set off, and stick to the marked tracks. The track is closed during winter months, and those planning to attempt it are encouraged to check with the Dwellingup Trails & Visitors Centre for current track conditions.
Climb aboard the Hotham Valley Tourist Railway
Established in 1974, the iconic Hotham Valley Railway offers steam and diesel-hauled tours travelling through forest and farmlands. At the end of your train journey, there's a pleasant walk trail that displays the stunning wildflowers and plant life within the jarrah forest. The steam train operates from May to October, and the diesel train runs year-round. Both depart from Dwellingup Station within the town centre.
Visit the Forest Discovery Centre
Located within a unique leaf-shaped building, this vibrant discovery centre showcases quality wood craft, an environment interpretive centre, and runs community workshops ranging from beeswax wrap-making and felt mosaics to watercolour painting and basket weaving.
Getting around
You'll need a car to travel in and around most key attractions in Dwellingup. If you're hoping to wade along the Murray River, you can hire canoes or kayaks from Dwellingup Adventures. They also hire out camping equipment and mountain bikes.
What to pack
Dwellingup experiences hot, dry summer days, so light clothing, sturdy shoes, a hat, sunscreen and insect repellent are a must. On the other hand, winters in Dwellingup can be particularly icy, so be sure to pack plenty of layers, enclosed shoes and warm outerwear if visiting in cooler months. If you're camping, make sure you've got all of the basics covered so you don't need to borrow or hire gear once you arrive.
RELATED: Camping gear essentials »

Travelling safely
The highway from Perth to Dwellingup is in excellent condition, but some forest tracks in and around Dwellingup and surrounding forests can be unpaved – particularly within the gravelly Lane Poole Reserve. Here are more of our long distance driving tips.
Need to fuel up before heading to Dwellingup?
RAC members get 4 cents a litre off fuel at participating Puma Energy, Better Choice, Gull and Peak service stations.
Last updated September 2020