Travel & Touring | WA Destinations
By: Tatum Stafford
Sprawling across nearly one million acres, the El Questro Wilderness Park encompasses thermal springs, salt flats, deep gorges, rainforests and some of the most unique landscapes Western Australia has to offer.
Located just over an hour's drive from Kununurra, this remarkable park can be explored by foot, four-wheel drive or air. But for first-time visitors, its remoteness and the sheer volume of natural attractions can be overwhelming, so a well-planned trip is essential.
Here's a comprehensive guide of things to do, places to stay, and things you'll need to know before venturing through the majestic El Questro.
| | |
| --- | --- |
| When to go | The park is open from April to October each year, but the best months to visit are between May and August. Be prepared for humidity if visiting during September or October. |
| How long to stay | Four to seven days. |
What you'll need to know
A day pass or 7-day visitor permit is required to enter the park. Permit prices are capped at $22 for adults and $11 for children, and will be automatically added to your park accommodation booking if you book through El Questro's website.
There's no phone reception in the park, but payphones are available at all three of the park's resorts. WiFi can also be purchased in public areas at the resorts.
Basic items including groceries, camping supplies, gas bottle refills and petrol are available at El Questro Station.
Top things to see and do
Explore beautiful gorges
Emma Gorge is one of the park's most impressive and accessible gorges. The walk to reach it is 3.2km long and involves some rock scrambling, water crossings and a few steep inclines. The water at Emma Gorge is typically quite cold, so after a dip head to the thermal springs to the right of the waterhole to warm up.
Another of the park's most popular gorges is its namesake, El Questro Gorge. This is a trickier trail to complete, as it involves a few large rocks and steep inclines to reach the crystal-clear plunge pool and waterfall. It can take up to five hours return, but the views of surrounding livistona palms and red rock gorge walls are well worth it.
Other gorge highlights include the plunge pool at Amalia Gorge (best visited in April or May before it dries up), and the waterlily-filled Moonshine Gorge.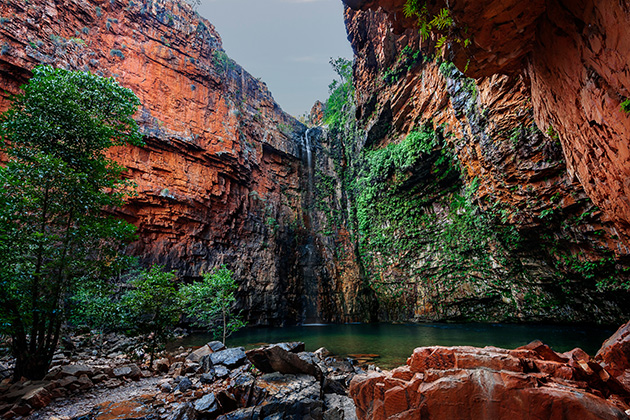 Fish for barramundi
El Questro's pristine waters are brimming with barramundi – and with a little local knowledge, you should have no trouble catching them. There are a few tour itineraries to choose from, but the Guided Barramundi 4WD Fishing Tour is a good starting point. Accompanied by an expert fishing guide, you'll fish for barramundi on the banks of the Chamberlain or Pentecost River.
If you'd rather explore some of the park's more remote fishing holes, opt for the 5-hour version of the same tour. You'll cast a line at a secluded spot along the Pentecost River where your catch could include anything from barramundi and threadfin salmon to black bream and catfish. Wildlife enthusiasts should keep an eye out for estuarine crocodiles and sea eagles, which are both common sightings here.
RELATED: 10 of WA's best land-based fishing spots »

Soak in Zebedee Springs
Nestled beneath shady pandanus trees and livistona palms, the lush Zebedee Springs are comprised of several thermal pools, small waterfalls and hot springs. As the spring water sits between 28 and 32 degrees year-round, it's an ideal spot for a morning dip.
The springs are one of the park's most popular attractions, so aim to arrive early (before 8am) to avoid missing out. They're open from 7am to 12pm every day, but rangers will restrict entry if there are too many cars onsite. Guests staying at The Homestead can enjoy daily private visits from 2:30pm to 5pm.
Go four-wheel driving
El Questro's four-wheel drive tracks provide a gateway to some of the park's most impressive and less-explored landscapes. The Pigeon Hole four-wheel drive track is a popular route with some steep sections, sweeping views of the surrounding ranges, and an excellent waterhole for fishing.
More experienced four-wheel drivers will enjoy the 7km Saddleback Ridge round trip. Departing from El Questro Station, this challenging route travels over rocky landscapes and steep hills out into the Pentecost Valley. A drive to the top of the ridge will reveal remarkable 360-degree views of the park.
Hit a hiking trail
Most of El Questro's attractions are accessible via easy walk trails, but avid hikers can also opt for some of the park's more challenging tracks. If you have previous bushwalking experience, the 4.8km Champagne Springs trail is a great starting point. Renowned for its rocky terrain, this difficult track is well worth the effort thanks to the cascading waterfall and cooling pools that sit at the trail's end.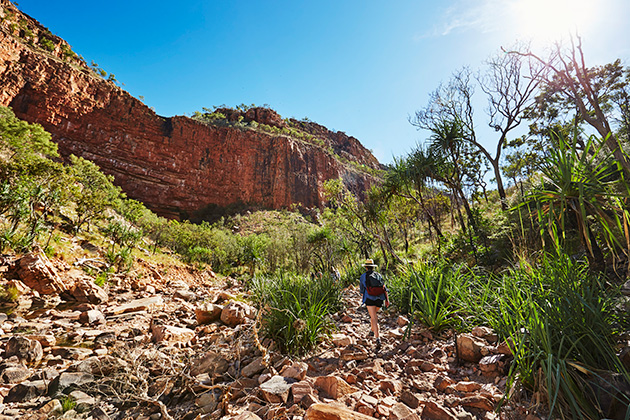 Cruise through a gorge at sunset
Only accessible by boat, Chamberlain Gorge stretches over 3km and provides scenic views of surrounding flora, fauna and red rock gorge walls. Daily tours of the gorge depart in the late afternoon, and feature a frenzied fish feeding session where you'll have the chance to see archerfish, catfish and barramundi up close. Don't forget your camera.
Where to stay
There are a variety of accommodation options within the park, ranging from luxury rooms at The Homestead to family-style campgrounds. Top-of-the-range suites at The Homestead start from $3,200 per night and include gourmet drinks and meals, as well as guided tours to Chamberlain Gorge, Zebedee Springs, the lookout at Buddy's Point and more.
Rooms at El Questro Station and Emma Gorge start from $450 and $350 per night respectively. El Questro Station offers air-conditioned river view rooms with plenty of facilities, whereas Emma Gorge hosts safari-style tented cabins with en-suites.
For campers, there are two camping areas within the park: Black Cockatoo Campground and the private camp sites at El Questro Station. Private sites at El Questro Station start at $41 per night, and unpowered sites at Black Cockatoo start at $33 per night.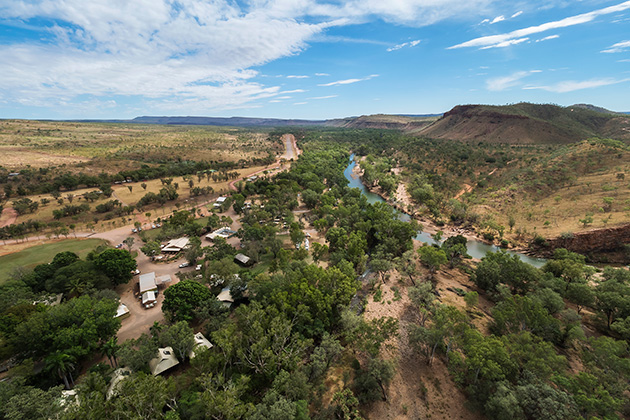 How to get there
If driving, the most direct way to reach the park is via Kununurra. From here, it's approximately 110km west (just over an hour's drive) to reach El Questro Station via the Great Northern Highway and a sealed section of the Gibb River Road. Though access to El Questro is mainly via sealed roads, there are sections of the Gibb and the gravel driveway into El Questro Station that are unsuitable for two-wheel drives, so four-wheel drives are recommended.
Alternatively, El Questro operates twice-daily road transfer services from Kununurra airport and select accommodation spots within the Kununurra town centre. View the road transfer schedule online, and note you'll need to book your seat in advance. Transfers outside of scheduled times can also be arranged if required.
If you'd rather arrive by air, helicopter rides and charter flights are also available.
Image credit:
@patsythepatrol
, Tourism Western Australia
Last updated: April 2021