Travel & Touring | WA Destinations
By: Fleur Bainger
If Esperance were near a big metropolis, it would be swamped.
Impossibly white beaches, a scattering of rounded islands on the horizon and quirks like sunbathing roos and a bubblegum pink lake make this laid-back coastal town well worth the drive.
At a glance
Distance from Perth
696 kilometres, seven hours' drive
Why go?
The 110-uninhabited-island archipelago, sand so fine it squeaks underfoot, roos relaxing on the beach, a museum showcasing space junk, a rejuvenated town foreshore, pretty pink Lake Hillier, Frenchman Peak, a true replica Stonehenge, wildflowers and the stunning Great Ocean Drive.
When to go

Dec - Feb: Mild, sunny days and blue skies; even in summer, the mercury rarely rises above 26 degrees. Great for fishing, camping, water sports and coastal walks.
Mar - May & Sep - Nov: Expect characteristic autumn and spring weather with cool but pleasant, sometimes wet and overcast conditions. Enjoy hiking, springtime wildflower spotting and four-wheel drive exploring.
Jun - Aug: Cold and rainy. Watch for the winter whale migration along the coast.

How long to stay
We suggest three days minimum; it's a big drive, after all.
Need to know
Esperance has everything you need: fuel stations, two supermarkets, cafes, restaurants and pubs, a variety of accommodation and good phone signal.
When leaving town for the national parks, you need to be well prepared and totally self-sufficient. You'll also require the correct paperwork – RAC members save 50% on digital national park passes.
Find the Esperance Visitor Centre within the historic Museum Village. It has free Wi-Fi access.
Fast facts
Town population: 10,421 
Indigenous people: Nyungar and Ngadju.

Insider tip
For next-level baked goods, head to town secret, the Bread Local shop - open 3pm - 5:30pm Friday only - and take home sticky cinnamon buns, vanilla slice, lemon tarts and sourdough loaves. Expect artisanal delights, not country kitchen fare. For the full selection, pre-orders are the best way to go. Team your treats with a takeaway from Downtown Espresso Bar.
Related road trips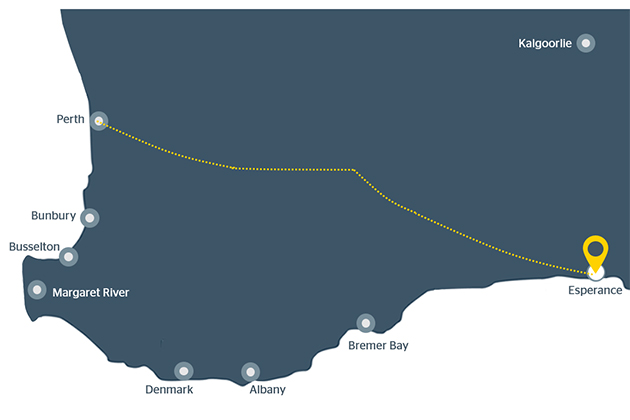 Top things to see and do
RELATED: Top 10 things to do in Esperance »

Complete the Great Ocean Drive
This 40-kilometre loop drive leads you along a bunch of the region's powdery white beaches, people-free coves, rock pools and weathered headlands, with islands in the distance. Twilight Beach is a justifiable favourite – if you've watched the film, Dirt Music, you'll recognise its rock formations.
You don't have to drive this route, there's also a walk/cycle path clutching the coast.
Walk along the Esperance foreshore
The town's long frontage links the Jetty Headland with James Street Precinct and Taylor Street Jetty, where it ends at the working port. Stop for a hot drink at the Coffee Cat van, look out for the Whale Tail sculpture, let the kids play on the foreshore playground and swim to the pontoon, grab a bite at Taylor St Quarters and finish up at Adventureland Park, a huge space with a playground ship, slides, flying fox, miniature railway, bike tracks, mini golf and basketball courts.
Explore Woody Island
If you fancy a Robinson Crusoe-style escape, make for this nature reserve, a scenic ferry, boat or helicopter ride from Esperance. There's a campground with safari huts, pre-set up tents and bare sites (those staying over can access discounted ferry tickets), as well as a kiosk and bar.
Stay and make the most of the seal, dolphin and bandicoot-spotting, bushwalking, swimming, snorkelling and fishing.
RELATED: 6 of the best snorkelling spots in Esperance »

See space junk
Esperance Museum holds numerous pieces of Skylab, the world's first big space station, which plummeted to Earth in 1979 after five years orbiting the globe. The museum collection also covers settlement time, early farming and local culture.
Tip: the museum is only open from 1:30pm to 4:30pm, Thursday to Sunday.
View Lake Hillier's pink hues
This astonishing pink lake is found on Middle Island in the Recherche Archipelago, reachable via scenic helicopter flights (running November to April, including a land tour), or boat cruise (departures on demand).
Visit Lucky Bay's sunbathing roos
Not staged for a tourism billboard, the kangaroos here really do enjoy lazing on the sand. If you don't see any near the popular Lucky Bay Campground (equipped with free barbecues, picnic tables, solar-heated showers and toilets), head to the far end of the beach to see them.
For extra fun, thrust your feet onto the ultra-fine sand and hear it squeak. On your way there, stop in at Lucky Bay Brewing.
Explore Cape Le Grand National Park
Positioned a 30-minute drive from Esperance, this sprawling national park offers more than just its poster girl, Lucky Bay. Hike to the 262-metre pinnacle of Frenchman Peak, follow wildflower-edged walks such as the 15-kilometre Cape Le Grand Coastal Trail to remote beaches (Hellfire Bay and Thistle Cove are highlights), be dazzled by outlooks of the Recherche Archipelago and explore heathlands teaming with an abundance of native plant species.
RELATED: 10 bucket list hikes in Esperance »

Visit Cape Arid National Park
The further east you go, the more rugged the wilderness becomes. Cape Arid is ribboned with walking trails that reveal its protected bushland and rare wildflowers, inhabited by many threatened or endangered bird species. The campsites here are first come, first served.
Swim in blindingly white, secluded bays
Almost too beautiful to believe, Duke of Orleans Bay and Wharton Beach sit between the two national parks, just over an hour's drive east from Esperance. En route, call into the characterful Condingup Tavern for a feed.
Experience Aboriginal culture
Taste bush food and drink billy tea with a traditional Aboriginal owner on a Kepa Kurl eco discovery tour. Learn about hunting and gathering practices, see some of the country's most southern rock art, walk along bush trails and watch for wildlife along the coastline.
Visit Stonehenge
It may seem unusual to have a full-size replica of the UK's famous prehistoric monument, but don't judge Esperance Stonehenge until you've seen it. This rendition was built to align with the solstices in Esperance – events worth witnessing.
RELATED: 7 of WA's quirkiest attractions »

Getting around
Four wheels are essential in Esperance, and a four-wheel drive will see you get out to the most interesting parts of the region's national parks. You are allowed to drive on many of Esperance's beaches; the speed limit is 40kmph, deflate your tyres and follow existing tracks.
What to pack
Always bring a warm jumper and wind jacket to Esperance – the sun may be out but the air is often cold. The glassy ocean looks inviting, but it too is icy; pack your togs nonetheless in hope of a hot day. Bring clothing for all seasons and you'll be covered.
Travelling safely
If you're exploring beaches and remote parks in a four-wheel drive, it's recommended you always park above the high tide line and bring a shovel, a tyre pressure gauge, a tow strap at least 6m long, a spare tyre, jack, torch and first aid kit. Fishers and surfers should not go out alone. Before setting off, read our long distance driving tips.
Need a place to stay?
RAC members save up to 20%* on accommodation at RAC Esperance Holiday Park.
Last updated November 2020