Travel & Touring | WA Destinations
By: Tatum Stafford
Whale sharks, rocky gorges and 'drift snorkelling' beaches are just the beginning when it comes to the coastal haven of Exmouth.
A world-famous tourist destination, this eclectic township in the pristine Coral Coast region is a stone's throw from the iconic Ningaloo Reef, the sweeping Cape Range National Park and a breathtaking amount of marine wildlife encounters that are best explored with a snorkel or dive.
Grab your bathers and hit the road, it's time to explore all that Exmouth has to offer.
At a glance
Distance from Perth
1,250 kilometres, 13 hours' drive
Why go?
To explore underwater wonders at Australia's largest fringing reef, hike through rocky gorges at one of the Coral Coast's most spectacular national parks, get up close and personal with magnificent whale sharks and experience one of WA's most challenging yet rewarding four-wheel driving tracks.
When to go

Apr - Jul: Peak whale shark season in Exmouth (though technical season dates may vary year to year). The annual Ningaloo Whale Shark Festival usually takes place in July, and features a parade, kid's beach games, photography exhibitions and a fun run.
Apr - Sep: Ideal time to attempt hiking trails within the Cape Range National Park, due to moderate temperatures.
Jun - Nov: Exmouth's peak whale-watching season, with hordes of humpback whales nesting and feeding in Ningaloo Reef.
Aug - Nov: Peak wildflower season in Exmouth features many flowering species that are unique to the area.
Dec - Mar: Sweltering weather means hiking will be limited, but this is a great time to go snorkelling, swimming or paddling in Exmouth's beaches, bays and swimming holes. During these months you can also join a guided Turtle Eco-Education tour and watch female turtles making their way to the beach to lay their eggs (bookings recommended).

How long to stay
As there's plenty to do (and most reef or ocean tours can take up a full day), opt for five to seven days in Exmouth and surrounds.
Need to know
Many of the town's attractions are scattered throughout the Cape Range National Park, so you'll need a DPAW national park pass for entry. There are several cafes, restaurants, fishing gear shops and a supermarket in the town centre, so you'll be able to stock up on supplies without leaving town. You're likely to be without phone reception if travelling into the national park. The sheer number of tour operators and experiences can be overwhelming, so it's a good idea to pop in to the Ningaloo Visitor Centre for more information. As it's an incredibly popular tourist destination, it can occasionally be tough to find accommodation. The Shire of Exmouth operates an emergency overflow campground for peak times of year (typically in July), and sites can be booked online or at the visitor centre.
Fast facts
Town population: 2,486 
Indigenous people:Yinikutira, Jinigudera.

Insider tip
For delicious coffee, juices and baked goods, pay a visit to the Short Order Local on Town Beach. This quirky food truck is run by local Naomi and her dad Phil – and if you're lucky, you may also hear a few tunes by local musos during your visit.
Related road trips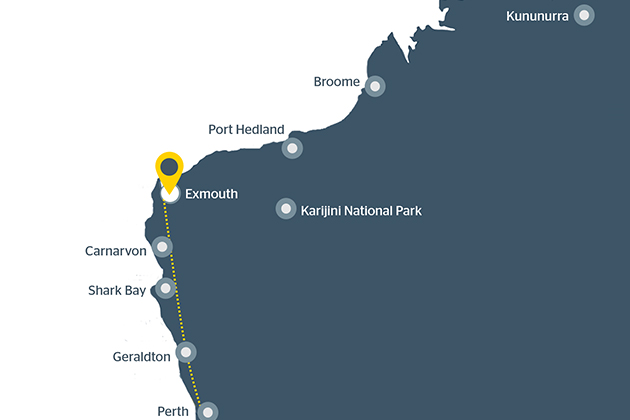 Top things to see and do
Go 'drift snorkelling' at Turquoise Bay
Turquoise Bay is one of the best snorkelling beaches in the State. Named for its pristine waters, this idyllic spot is famous for its moderate currents that allow snorkellers to 'drift' over colourful gardens of coral and plentiful marine life - including turtles, squid and over 500 species of fish.
Entering the water towards the southern end; you'll be carried to the northern end's sandbar without having to paddle – just remember to exit the current before reaching the sandbar. Due to its strong currents, this snorkelling site is not recommended for weak swimmers. If you're uncertain, it's best to swim well inside the bay where there is less chance you'll encounter strong currents.
RELATED: 5 of the best snorkelling spots around Exmouth »

Hike through the Cape Range National Park
The rugged Cape Range National Park is jam-packed with gorges, beachside camping spots and brilliant hiking trails. If you're eager to try a gorge walk, head for the 3-kilometre loop Mandu Mandu Gorge trail. Beginning along the gorge rim, this rocky trail follows an unmodified route that finishes with a descent into the gorge itself. It's recommended to walk this trail earlier in the day for cooler temperatures – and for the chance to spot some rock wallabies.
If you'd rather head to higher ground, the Badgirrajirra Trail is your best bet. It begins at the Thomas Carter Lookout, which is the highest point in the national park. The moderately difficult 8-kilometre loop trail borders the top of Cape Range, and winds its way through rocky gullies, open bushland and small gorges. Though it can be a tough walk at times, you'll be rewarded with stunning views of the Exmouth Gulf and Shothole Canyon along the way.
Walking these trails is not recommended if you're visiting between December and March, due to sweltering summer temperatures and limited resources within the park. Regular Exmouth hikers recommend attempting trails within the park between April and September. When you set off, make sure you're carrying plenty of water and wearing appropriate footwear, as many trails within the park traverse rough surfaces and are beside steep walls.
Enjoy the view from Vlamingh Head Lighthouse
The base of this 61-metre tall lighthouse offers some of the best ocean views on the Ningaloo coast. From this spot, you'll be treated to panoramic views of the North West Cape, the Exmouth township, Muiron Islands and of course, the incredible Ningaloo Reef. If you're lucky, you may also catch a glimpse of the humpback whales that migrate through Exmouth from June to November each year.
Alongside its incredible daytime views, the Vlamingh Head Lighthouse is also a hotspot for astrophotography due to the region's dark night skies. Even if you're not astrologically inclined, the lighthouse provides breathtaking sunset and starry sky photo opportunities.
RELATED: 10 of WA's best stargazing spots »

Swim with whale sharks
A whale shark swim is one of the most quintessential and thrilling WA travel experiences. Whale sharks are the world's largest living sharks, and from April to July each year, Exmouth sees hordes of these creatures flock to its shores. They can reach up to a whopping 18 metres in length, are slow-moving, and have an extremely thick, rough skin to protect themselves from other marine life.
On a whale shark swimming tour you'll have the opportunity to view whale sharks up close, and also snorkel with manta rays, turtles, dolphins and the incredible tropical fish that inhabit Ningaloo Reef. The majority of whale shark tours depart from the Exmouth town centre and drive you to the waterfront - so if you haven't booked in advance, pop in to the Ningaloo Visitor Centre for further tips and advice.
Meet some cute locals at the Jurabi Turtle Nesting Centre
There are four marine turtle species found on the North West Cape – and a visit to the Jurabi Turtle Nesting Centre is one of the best ways to learn about the lifecycle, threats and nesting process for these fascinating marine animals. Open year-round, the centre runs non-invasive turtle viewing educational sessions, where visitors can view marine turtles nesting in their natural environment.
Go four-wheel driving in Shothole Canyon
The 12-kilometre Shothole Canyon scenic drive is a bucket list item for four-wheel driving enthusiasts in WA. The drive takes you along the floor of the incredible Shothole Canyon gorge, and eventually leads you to a lookout with views of rugged limestone stretching to the Exmouth Gulf.
This can be a challenging drive at times due to faded tracks, rugged terrain and limited phone service – but the sheer variety of views, local flora and fauna and hidden caves and chasms make it worth your while. Plus, if you're visiting between August to October, you'll be treated to abundant wildflowers and vibrant green scrub throughout the otherwise red rugged canyon.
Explore Ningaloo Reef on a glass bottom boat
If you're eager to explore the beautiful Ningaloo Reef without getting wet in the process, hop on a glass bottom boat tour. Designed to help you view coral, marine life and the colourful reef from above, these tours offer comprehensive commentary about the diversity, history and beauty of this unique reef. There are a few operators to choose from, so it's advised to do your research before arriving (or stop in at the Visitor Centre if you're hoping to jump on a tour at the last minute).
Paddle through Yardie Creek
Protected by giant red cliffs, Yardie Creek is a unique water system with plenty of opportunities for nature walks, boat tours and wildlife-spotting – but one of the most tranquil ways to explore it is with a kayak. You can access the mouth of the creek from the southern end of Yardie Creek Road, where there are plenty of parking spots. As you make your way up the creek, keep an eye out for wallabies and local sea birds, and take time to get up close to the striking colours of the cliff walls.
Spot humpback whales
Exmouth's whale-watching season takes place from June to November, and during this time the town's shores are graced with hordes of humpback whales. In fact, the Exmouth Gulf hosts the highest density of humpback whales in the Southern Hemisphere.
For the chance to spot these magnificent creatures, try the shores of Town Beach, Sunrise Beach or Bundegi Beach. From above, the Vlamingh Head Lighthouse is your best bet.
RELATED: 10 of the best whale-watching spots in WA »

Pay a visit to the Big Prawn
The 4-metre tall fibreglass Big Prawn sculpture is one of Exmouth's quirkiest attractions. Sitting proudly outside of the Ningaloo Visitor Centre, the prawn was recently donated to the Exmouth Council and represents the region's thriving population of king and tiger prawns.
RELATED: 10 of WA's best big things »

Getting around
As the above attractions are spread throughout the town and surrounding areas, you'll need a car to get around Exmouth. Car hire is available at Learmonth Airport if you're flying up to Exmouth. There are mountain bikes and motorised scooters available for hire from the town centre if you'd like to explore the coastline on two wheels.
What to pack
Exmouth experiences sweltering temperatures in summer, (sometimes up to 45 degrees celsius), so sunscreen and a hat are a must. If hiking, supportive footwear is recommended, but otherwise light clothing and casual footwear are suitable. If you have specialised snorkelling or diving equipment, bring it with you to avoid hiring gear when you want to explore underwater.
Travelling safely
You'll only travel on three roads if travelling from Perth to Exmouth: State Route 60, National Route 1 and Minilya-Exmouth Road. The longest stretch of road is an almost eight-hour drive, so be sure to take plenty of breaks to stretch your legs and avoid fatigue. If you're planning on off-roading or completing four-wheel drive tracks once you arrive in Exmouth, make sure you're prepared with spare tyres and essential gear in case of a breakdown. Read more long distance driving tips.
Need a place to stay?
RAC members save up to 20%* on accommodation at RAC Exmouth Cape Holiday Park.
Last updated September 2020