Travel & Touring | WA Destinations
By: Danielle Costley
Does the thought of swimming, snorkelling, surfing and fishing at world-class beaches in crystal clear waters sound tempting?
Then it's time to hit the road and head north to the peaceful coastal hamlet of Horrocks.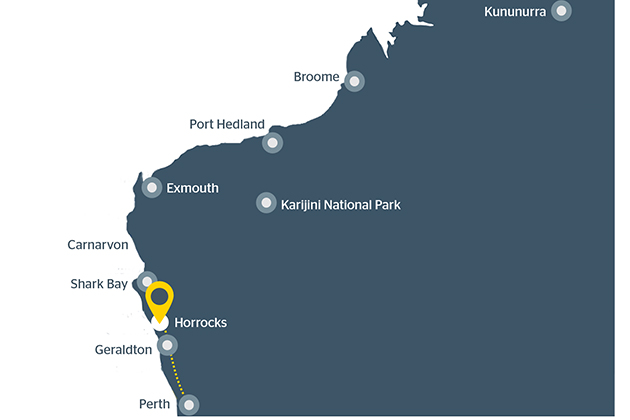 Top things to see and do
Water activities
Horrocks Beach stretches some 2.5-kilometres long and is sheltered by a large outer reef to form a lagoon with white, sandy shores. It is ideal for snorkelling, diving and swimming. In summer, a pontoon is moored in the bay.
There are beach huts, a jetty, boat ramp, playground, grassy area and barbeque. Just south of town, there is good surfing and windsurfing beaches. Bring your water sports gear with you as there are no hire facilities in town.
Little Bay
A short drive north is spectacular Little Bay Beach – a wonderful spot for beachside camping, swimming and boating. This is beachside camping at its best, with only a few campsites and complete seclusion with beachfront access and surrounded by sand dunes. This off-the-grid campground is run by The Northampton Shire, with a maximum five night maximum stay, charged at $15 per vehicle. Fees are collected daily. There are only three campsites and a drop toilet.
RELATED: 12 best beaching camping spots in WA »

For the adventurous, try the iconic 'sand dune trek', which is quite challenging and takes a good 10-minutes to reach the top. It is a steep climb to the top, but the panoramic ocean views that await are well worth the effort. This campground is four-wheel-drive access only and the sand is very soft. Tyre pressure should be no more than 20psi. Check the track's conditions before setting off as rain will affect accessibility. If you don't want to trek to the top of the sand dunes, there is a lookout over Little Bay with access from White Cliffs Road.
RELATED: Beginner's guide to four-wheel driving in WA »

Willigully Caves
Visit the ancient Willigully Caves near the junction of Bowes River Road and Horrocks Road. Rich in indigenous culture, these caves feature a stunning granite overhang as well as stencilled artworks (such as hands) on the rocks that were created by the Nhanda people to communicate their traditions and beliefs.
The cave paintings serve as a reminder that before the arrival of Europeans to the region in the 1850's, this area served as a good hunting ground for the Aborigines. Allow no more than an hour to visit these small caves on the way through to Bowes River for some birdwatching.
RELATED: 10 of the best caves in WA »

Bowes River
It is an eight-kilometre drive east of Horrocks until you reach the tranquil Bowes River. This secluded beach is where the Bowes River enters the Indian Ocean. It is a wonderful spot to setup for the day, whether it's beach fishing, surfing, beach walks, a quick dip, or for birdwatching.
There are black swans, pelicans, ducks, heron, egrets, eagles, terns and osprey. There are dozens of black swans that live in these waters. These protected birds are nomadic and migrate to this river to nest and raise their young, usually in the first half of the year. At the rivermouth, let down the air in your tyres and four-wheel-drive along this stretch of white, sandy beach. The sand is quite soft on the beach and is for experienced four-wheel drivers.
Go fishing
This coastal town is a popular destination for fishing, especially with its protected lagoon for beach fishing. Whiting, tailor, skipjack, herring, garfish and snook inhabit the local waters. Launch your boat at Horrocks Beach and head out past the outer reef into deeper waters for a catch of dhufish, snapper or red spot emperor.
Fish from the jetty for whiting or find a spot at one of its many bays for a spot of beach fishing. It is crayfishing season from June to November. There is no hire equipment available in Horrocks, so you will need to bring your own fishing gear.
RELATED: 10 of WA's best beach fishing spots »

Wildflowers
From September through to January, Horrocks is flourishing with a vibrant display of wildflowers. There is donkey, bee, cowslip and the rare greenhood orchids. Exquisite fields of yellow pom poms, pink everlastings and Kangaroo Paw dot the landscape.
Allow a couple of hours to view the wildflowers from some popular locations. The first is a 40-minute drive north of the town on Binnu Road West. Nearby is another wildflower location on Yerina Springs Road. On your return to Horrocks, drive along the Ogilvie sandplain, which is only 25-kilometres north of Horrocks.
Ku'arlu Mangga Aboriginal Art Centre
Visit the Ku'arlu Mangga (Good Nest) Aboriginal Art Centre at the Northampton Old School, which works with the local Aboriginal communities on creative projects. There are mosaics, a community garden, public artworks, canvas prints, paintings, carvings, beads and textiles in this small, community environment.
Artworks can be purchased at its online store or at the Kalbarri Skywalk kiosk. Group bookings are available by appointment.
Pink Lake
Drive 25-minutes north of Horrocks to Port Gregory and marvel at the fuschia, pink, red and lilac hues of the waters at Pink Lake. Officially known as Hutt Lagoon, this picturesque lake can be found on the coastal road between Port Gregory and Kalbarri.
Its pink waters are caused by a naturally occurring algae which produces a red-orange coloured pigment called 'beta carotene'. Depending on the weather, the Pink Lake's waters can vary in colour from light to dark pinks and sometimes even lilac and deep purple hues.
Whale-watching
From June to November, watch the Humpback whales do their annual migration south as you sit on the beach. For better viewing, go to the Whale Watching Lookout which is located on the left-hand side of Horrocks Road at the top of the hill, just before you enter the township.
RELATED: 10 of WA's best whale-watching spots »

At a glance
Distance from Perth
488 kilometres, five-and-a-half-hour drive
Why go?
Spectacular beaches, turquoise waters, rock pools, fishing, surfing, paddleboarding, golf, windsurfing, sailing and diving.
When to go

Mar - Oct: With warm temperatures and cool evenings, this is the perfect beach escape for fishing, swimming, surfing and snorkelling. Wildflower season begins in September. Check at the general store or community centre for events. This town is renowned for its abundance of crayfish, with the season running from June to November.
Nov - Feb: The high temperatures during summer means an abundance of flies and hot nights. As temperatures soar, this is the town's off-season. Cool off in the ocean, walk along the sandy beaches or through the surrounding trails. In late spring, watch the humpback whales migrate south.

How long to stay
Four days.
Need to know
There is a fuel station, general store, public toilets and café that specialises in fish and chips. Mobile reception works in most parts, but WiFi reception is patchy. Northampton is 22-kilometres east, where there is a pub, restaurant, fuel station and supermarket.
Fast facts
Town population: 140 
Indigenous people: Nhanda.

Insider tip
Order some fish and chips from the General Store by 5.30pm (store closes at 6pm) and walk across the road to the beach for a spectacular ocean sunset.
Related road trips
Getting around
Everything is in walking distance in this peaceful seaside town. Amble around the tiny town on foot or bike. The beach is pet friendly too. If you wish to visit surrounding areas or Little Bay for beachside camping, a four-wheel-drive is required as there are soft, sandy tracks and gravel roads. This tiny town consists of a simple general store and there is no bike, fishing or boat hire in Horrocks. Pack for any outdoor pursuits.
What to pack
This is the Coral Coast, with warm to hot days during summer months. Winters are mild. A jumper will never go astray for the evenings. Pack for the beach with water activity and fishing equipment, walking shoes and golf clubs. Don't forget the insect repellent for the warmer months, nor the camera for the breathtaking scenery.
Travelling safely
From Perth, you can drive the scenic Indian Ocean Drive, which winds through the townships of Cervantes, Green Head and Jurien Bay for stopovers. This is one of RAC's Riskiest Roads. Drive with low beams on, maintain a safe distance and be cautious when overtaking. Brand Highway is the other option for this trip.
This Highway has several overtaking lanes, is sealed and well-maintained. Stop or refuel along the way at Gingin, Dongara or Geraldton. The road from Northampton into Horrocks is winding and has gravel edges, which may cause skidding.
Slow down on bends and do not brake suddenly. Be observant for kangaroos, emus, echidnas and other wildlife, especially during sunset and sunrise. Read more long distance driving tips before setting off.
Need to fuel up before hitting the road?
RAC members get 4 cents a litre off fuel at participating Puma Energy, Better Choice, Gull and Peak service stations.
Last updated September 2020