Travel & Touring | WA Things To Do
19 January, 2021 By: Julie Hosking
Alan Hill loves his work. Just as well, because when he gave retirement the flick almost seven years ago, he chose a business that runs 365 days a year. Come rain or shine. Or stormy weather.
Wind is, in fact, the only thing likely to 'rock the boat' on an otherwise peaceful journey with Mandurah Houseboats. But even then, with the wonders of GPS tracking and Google Maps, Alan can guide guests into a nice, sheltered spot to moor the boat until Mother Nature resumes a gentle breeze.
"Everybody who comes here is happy, and when they come back, they're happier."
Mandurah Houseboats manages a range of boats for private owners, from simple but comfortable water homes for a family of four — think two bedrooms, separate bathroom, fully-equipped kitchen, lounge and deck — to a more luxurious fitout for those seeking extras such as an outdoor spa and coffee machine.
Guests can potter around the Harvey Estuary, Peel Inlet and up the Murray River, where dolphins and waterbirds are abundant and there's no shortage of spots to drop a line or go crabbing. Amble 8km up the river to Ravenswood and pop in for lunch at the pub. Or meander another 16km — you're only travelling at about 5 knots — through farmland to Peel Zoo where you can get up close and personal with native fauna.
"You go up there and there's nobody there at all," Alan says. And you can do as little or as much as you like; the pace may be leisurely, but you'll never be bored. "People love it, you can look at the water all day."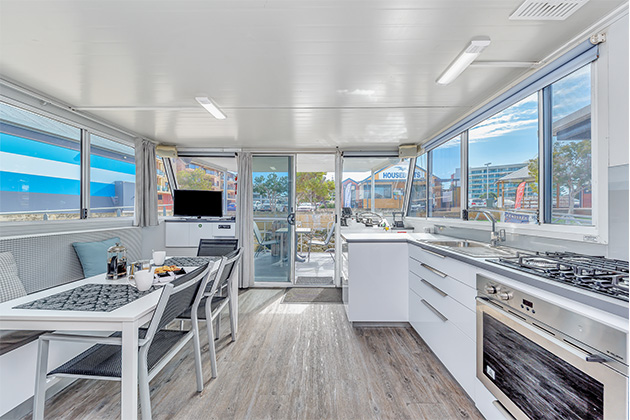 Slowing down the pace
Getting away from it all is one of the big attractions of a houseboat holiday. It's a home away from home that meanders the waterways of some of the State's most picturesque and secluded corners, places you simply can't reach by road.
Louise Pickett, of Houseboat Holidays in Walpole, says one of the most common refrains from returning guests is that it was the most relaxing holiday they've ever had.
"And it really is. When you immerse yourself in nature and you have the ability to just slow down and sit there — you just feel the tension leave you."
Houseboat Holidays operates four boats around the Walpole and Nornalup Inlets, fed by three rivers, one of which can be partly navigated on a houseboat. The rest can be explored on the dinghy that comes with the boat. It may only be an hour and a half's drive from base to the furthest point in the inlet system but exploring this glorious wilderness will take days. There are 20 mooring points along the way, many of which lead to another adventure, such as down a lush walking trail to a private beach. Or you can simply sit on the deck and watch the wildlife.
Each season brings its own joy. "It's one of those holidays where every day is different, so every day is a bit of an adventure," Louise says. "Even in the stormiest weather, we can find you a nice sheltered spot and you can sit there with a glass of wine and a good book in a nice, warm, safe environment and just watch the world go by. And watching a storm come through the inlets is quite spectacular."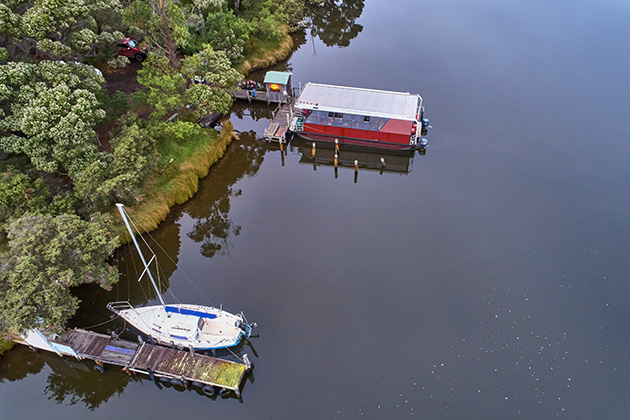 Houseboats are growing in popularity in Western Australia, from our tropical north to the magnificent South West (make sure to book very early during school holiday periods) and draw all kinds of travellers.
"We have lots of family groups that come down, lots of extended families," Louise says. "We have lots of couples and party groups as well. It's the kind of holiday that anyone can do."
Almost anyone can be a 'skipper'
The houseboats are simple to operate and navigate around the waterways and you don't need a special licence. The nominated skipper just has to be over 18 — though some operators specify 21 — and have a driver's licence. Mandatory tuition is given before you depart that covers how the boat works, where to go and what to do, as well as rules and regulations, such as ensuring the boat is moored by sunset.
Even those in possession of a skipper's ticket must do the tuition. "They do some driving while we're with them, but even people who haven't been on a boat before don't have a problem," Alan says. "The boats are very controllable."
Louise says they have kept the design simple to make it as easy as possible to navigate. "With the boat, you've basically got forward, reverse and your steering. You're using reverse as your brakes," she says. "We've got a mooring system set out among the inlets which are all in nice sheltered spots so people just have to go up to the mooring, pick up a loop rope out of the water with a boat hook and pop it on a bollard on the boat and they're anchored up as safe as houses."
Hosted houseboat adventures
Adam "Maka" Mackay isn't ready to let anyone else behind the wheel of Kimberley Dreaming, the houseboat he and his Freo-based partners took over — and gave a complete makeover — not long before COVID-19 put the brakes on the business.
"The bottom part of the Ord River, the Lake Kununurra part, is wide and really easy, but what everybody wants to do is get up the top into the gorges and then it becomes tricky, with heaps of big sticks just under the waterline."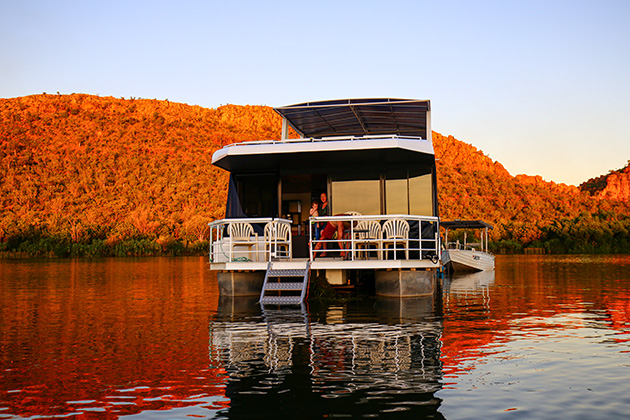 While Maka says they might consider allowing people to drive it on the Lake Kununurra side down the track, for now guests book a stay on Kimberley Dreaming in one of three locations — Lily Creek Lagoon, where Kununurra's restaurants and bars are just a short tender or kayak ride away; Wallaby Cliffs, 20km up the Ord River on the edges of the Carr-Boyd Ranges, where wallabies keep a close watch from above; or Sandy Creek, in the upper reaches of the river, where guests are likely to spend their evenings stargazing on the deck.
Guests can hire a tinny to explore the river from Kimberley Dreaming, bring their own boat — as many locals do — or Maka does transfers in his 7m tour boat.
RELATED: Ultimate guide to the North West »
Houseboat holidays are more affordable than you might think (see below), with longer stays more economical, especially if they're split between friends or family.
However, there is one deluxe 24-hour houseboat adventure in the Kimberley that, if you have the cash to splash, is a truly unforgettable experience. On an overnight trip to the world-renowned Horizontal Falls you'll have not so much a houseboat holiday as a holiday with a houseboat. Horizontal Falls Seaplane Adventures who run the tour say this is the only way to experience the incoming and outgoing tides.
The trip from Derby includes a seaplane flight over tidal plains, rugged ranges and the stunning Buccaneer Archipelago, thrill-seeking rides through the falls, a fishing charter, and an overnight stay in an air-conditioned ensuite cabin on the rather schmick houseboat nestled on beautiful Talbot Bay (it's won several awards for unique accommodation).
Sip a wine as the resident chef whips up a meal from fresh local produce and count your lucky stars — there's an entire galaxy to be seen from the deck.
If this all sounds rather magical, it seems houseboats do cast a spell. "It's an unforgettable experience," Alan says. "For a lot of people, it's on their bucket list. They say, 'We've got to do it before we get too old'. Then they do it and say, 'We should have done this sooner."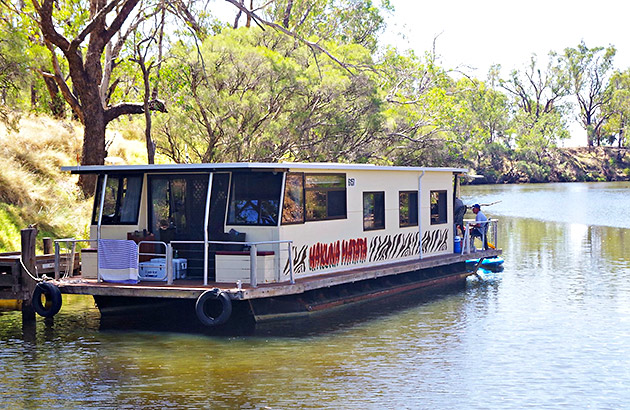 Houseboat operators
Blackwood River Houseboats
| | |
| --- | --- |
| Where? | Augusta, Blackwood River. |
| When to go | Year-round. |
| Boats and what to bring | Two berth to six-berth boats; include dinghy and extras such as kayaks and stand-up paddleboards; linen provided; no pets. |
| Highlights | The perfect place to unwind and watch the wildlife, Blackwood River Houseboats offer plenty for the more adventurous, including fishing and kayaking. |
| Booking info | From $1,129 for three nights, 0439 959 638. |
Kimberley Houseboats
| | |
| --- | --- |
| Where? | Kununurra, Ord River. |
| When to go | May to October (dry season) is best, though the locals have been booking up weekends in the off season. |
| Boats and what to bring | Kimberley Houseboats' Kimberley Dreaming boat, ideal for two couples but licenced to sleep six. Everything but food and drink is provided, including two double-size kayaks. |
| Highlights | The wide-open spaces, the startling night sky, the seclusion, the undeniable magic of the Kimberley. |
| Booking info | From $1,200 per night or $2,500 per week, 0409 456 643. |
Horizontal Falls Seaplane Adventures
| | |
| --- | --- |
| Where? | Derby - Horizontal Falls (return). |
| When to go | May to November. |
| Boat | Horizontal Falls Seaplane Adventures houseboat on Talbot Bay. |
| Highlights | Overnight on a luxury houseboat after a day of adventure in one of the most spectacular corners of the world? Need we say more. |
| Booking info | From $1,590 per adult (double), 9192 1172. |
Mandurah Houseboats
| | |
| --- | --- |
| Where? | Mandurah, Peel Inlet, Murray River. |
| When to go | Year-round. |
| Boats and what to bring | A range of boats from 4 to 10 berth, minimum three-day hire, BYO food, drink and linen (can be hired on request). |
| Highlights | With a playground double the size of Sydney Harbour, there's no shortage of spots to fish, crab, swim or watch wildlife with Mandurah Houseboats. And you can nip into town for a bite to eat on the days you don't feel like cooking. |
| Booking info | From about $1,200 for three days, 9535 9898. |
Houseboat Holidays
| | |
| --- | --- |
| Where? | Walpole. |
| When to go | September through July. |
| Boats and what to bring | Houseboat Holidays have four berth, six berth and 10 berth boats; minimum three-night hire; 24hr support; no pets; fuel extra (about $150 for three days). |
| Highlights | Just a short distance out of Walpole but a million miles from the stresses of everyday life. Oh, and did we mention dolphins? |
| Booking info | From $1,080 for three nights in low season, 9840 1310. |
Image credit: Sarah Duguid, Tourism WA