Travel & Touring | WA Destinations
By: Fleur Bainger
Jurien Bay is a sleepy coastal town known for its playful sea lions and excellent fishing.
It's the sort of place you go to chill out, take beach walks and ride along the coastal cycling trail – however, it's not short of adrenaline-inducing experiences, including skydiving over the bay. The town is also home to a new skate park and youth precinct with a redeveloped foreshore pavilion and café set to open later this year.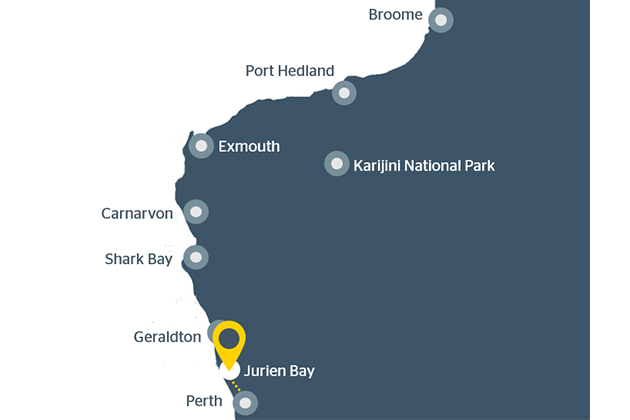 Top things to see and do
Swimming with sea lions
Australian sea lion colonies can only be found on islands off the coast of Western Australia and South Australia, which makes them one of Jurien Bay's main drawcards. These rarest species of sea lion live on the Essex Rocks, Buller and North Fisherman Islands of Jurien Bay Marine Park.
Here, you'll find these sea lions basking under the sun and swimming in the turquoise water. To see them up close, there are local tour operators that can take you out to snorkel with these playful creatures in the wild or you can view from the boat.
Tours take you to Essex Rocks, just a 15-minute boat ride from Jurien Bay Boat Harbour, where there are around 30 sea lions. With no direct access to the island, operators anchor offshore near the reef where snorkellers can dive into the water. The sea lions are very inquisitive, so be prepared to come into close contact while refraining from touching.
Many people like to capture the moment with these photogenic animals as well, so be sure to bring your water-proof camera or hire a Go Pro from the tour operators.
Tours run daily, all year round, weather permitting. Prices start from $115 for keen snorkellers on a guided tour, lasting around 2.5 to 3 hours, on which you'll be provided a wetsuit and snorkelling gear. If you're lucky, you may also spot migrating whales in the ocean.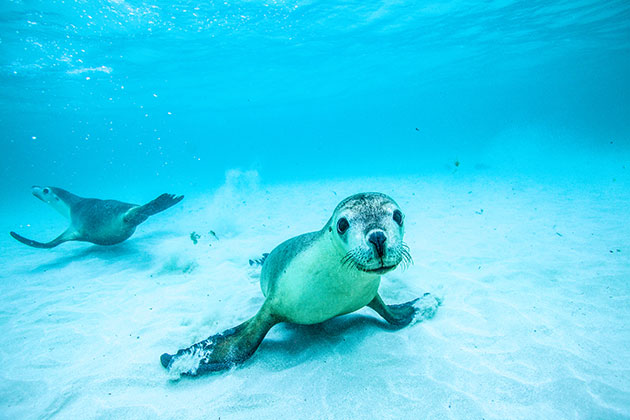 Snorkelling
For adventurous snorkellers, Boullanger Island is worth a visit. Just one kilometre offshore, the western side of the island is a seagrass meadow. Several coral bommies are also located a short distance from the main beach and jetty.
RELATED: 10 of the best snorkelling spots in WA »

Fishing
It's for good reason that local charters describe Jurien Bay as a 'fishing mecca'. Whether you fancy throwing some pots into the sea to nab some rock lobster, or you want the challenge of fishing for the night's dinner, Jurien Bay can cater.
The ocean is ripe with species such as dhufish and pink snapper, while from December to April, you can seek out Spanish mackerel, dolphin fish and yellowfin tuna. Even from the town jetty, there's a wide range of fish to catch, including pink snapper, Spanish mackerel and mulloway. As with most fishing spots, it's best to throw out a line in the early morning and at sundown.
Boat fishing is also very popular given the convenient launching ramps at the harbour marina. Jurien Bay Oceanic runs a rock lobster expedition where passengers can take home up to eight lobsters. The expert skipper also explains how to best cook them.
If you're wanting to spend more time on the water, local fisherman Pete from Oceanic offers a full-day expedition catering to all levels. Alternatively, skipper Kane also provides a full-day fishing tour with Turquoise Safaris.
Recreational fishing is permitted in most areas of the marine park but be aware of the rules that apply in certain zones by referring to the fisheries website.
Vintage motorbikes
What's believed to be one of the world's biggest collections of vintage Vincent motorbikes is hidden in former rock lobster fisherman, Ian Boyd's home. Ian built the house with his massive collection in mind, which consists of 74 rare bikes, plus a number of sports cars. Call Ian to visit on 0407 993 347. Entry $10.
Skydiving
If freefalling towards the earth from 14,000 feet is your cup of tea, then connect with Skydive Jurien Bay. Gaze across the azure ocean dotted with rocky islands and see the reefs from above before landing on the sand.
For those wanting something just a little closer to the ground, they also offer free falls from 8,000 and 10,000 feet. You'll even receive your own certificate of achievement.
Explore the caves at Stockyard Gulley
At little further out of town, but worth the 50-minute drive, Stockyard Gully National Park is home to intricate limestone caves set in a tranquil national park setting. The main cave stretches for 300 metres over the sandy floor, but there are many other smaller pockets waiting to be explored.
There's a picnic area alongside the cave where you can relax and enjoy some lunch.
However, you can only access the cave carpark by four-wheel drive. It's also a good idea to bring a torch with you.
The Turquoise Way cycling and walking trail
You can trace a mostly flat, 14.2-kilometre path from Jurien Bay to Hill River, enjoying the coastal breeze and local scrub. The sealed track starts from the marina and runs through Dobbyn Park foreshore to the mouth of the river.
Bikes can be hired from Jurien Bay Adventure Tours. In the future, the trail will be extended all the way through to Cervantes.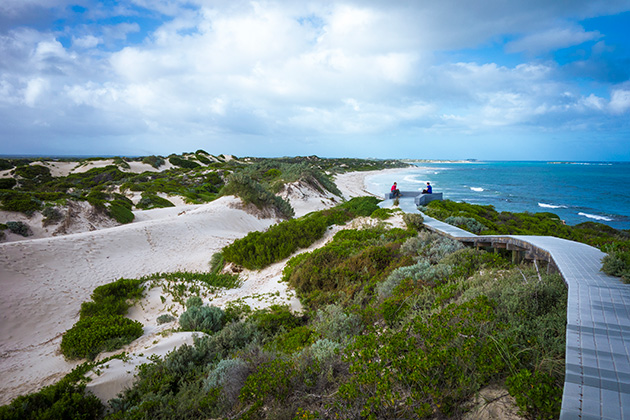 Sandy Cape Recreation Park
This beach camping area is found 20-minutes' drive north of Jurien. Part of a marine sanctuary, it's home to Australian sea lions, reefs and a beautiful white sandy beach. Fishing is good here – aim to hook mulloway, tailor or whiting in the shallows.
You only need a two-wheel drive for Sandy Cape's unsealed road, but there are some fun four-wheel drive tracks in the area, and you can drive on the beach when the tides are right. There are 88 campsites with shared eco-toilets in the main campsite.
The dunes make it a prime spot for sandboarding where you can hire boards right on the beach.
RELATED: 12 best beach camping spots in WA »

Go hiking in Lesueur National Park
Just a 20-minute drive north of Jurien Bay, Lesueur National Park is ideal for exploring Western Australia's unique plant life in the conservation area.
The national park covers almost 30,000 hectares and is a prime locale for wildflower enthusiasts in late winter through to spring. Expect to see hibbertias, acacias and a variety of orchids and kangaroo paw during the wildflower season.
The main Lesueur Trail is a 3.5-kilometre loop that leads to the Mt Lesueur summit where you'll find stunning views over the park and out to the coast. It starts at the Drummonds carpark with a bitumen path for the first 250 metres, taking visitors to the Iain Wilson lookout.
For those after something a little more challenging, the Yued Ponar Trail is another loop trail that extends for 6km through areas of heath and Wandoo woodlands. It leads to Mt Peron which affords rewarding views all the way to the ocean.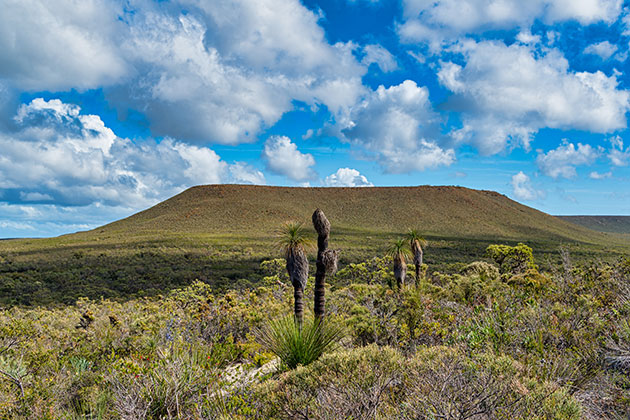 The Pinnacles
It's a 40-minute drive from Jurien Bay to Cervantes, which is the gateway to the iconic Pinnacles Desert. You can walk along the 1.5-kilometre loop, or do it on two wheels via the cycle trail.
RELATED: 8 of the best stargazing spots within three hours of Perth »

Eat and drink
Despite being a sleepy coastal town, Jurien Bay has several cafes and restaurants to enjoy a relaxing meal. Murray St. Grill serves up a hearty selection of pub food and quality seafood dishes or try the delicious pizzas at Sandpiper Tavern & Pizzeria where you'll also find a generous kids' menu.
To get caffeinated, Meraki café on Roberts Street is your go-to with an unrivalled brunch menu. Open seven days, the kitchen is closed on Wednesdays, but you'll find plenty of ready-made foods in their display fridges.
Getting in on the craft beer obsession, the town is recently home to a microbrewery called Kakka Alley Brewing. Serving local craft beer, it's a great family-friendly spot with a playground and large grassed area.
At a glance
Distance from Perth
220 kilometres, two and a half hour's drive
Why go?
Swimming with sea lions, fishing for rock lobster and enjoying the local seafood. Plus snorkelling, skydiving, four-wheel driving, cycling, walking, and the little-known glow-in-the-dark gallery and vintage motorcycle collection.
When to go

Mar - May & Sep - Nov: Mild temps, gentler winds. The Easter Fair is on in Autumn, and the Indian Ocean Festival, which includes the blessing of the fleet, usually runs each November.
Jun - Aug: Between occasional storms, you get crystal-clear ocean, cool but sunny skies and it's often warmer in the water than on land. Wildflowers start to bloom ahead of spring.
Dec - Feb: Warm and dry, with a strong sea breeze coming in at 11am most days; this is peak period.

How long to stay
Enjoy Jurien Bay as a road-trip stopover, or for a lazy weekend.
Need to know
The town has two petrol stations, public toilets at the marina and foreshore and an IGA supermarket. In town, mobile phone reception is good, but it drops out either side. Jurien has two pubs and a new microbrewery called Kakka Alley Brewing. The Bay Bakery is popular for its pies. The Dobbyn Park Foreshore has a good playground for children, free BBQs and there's basic food at the adjoining Jurien Jetty Café. There's also a new skatepark and youth precinct as part of the foreshore redevelopment. Markets by the Bay is held monthly, past the Caltex on Indian Ocean Drive. Stop in at the Visitor Centre for bookings and information.
Fast facts
Town population: 1,425 
Indigenous people: Yued Noongar and Yamaji.

Insider tip
Check out the glow-in-the-dark art gallery Sea Spray Art by Kiera opens at sunset, Wednesday-Sunday. Explore the works in the dark, as UV light illuminates aquatic scenes like ethereal, green x-rays.
Related road trips
Getting around
Once in Jurien Bay, either drive, walk or cycle around. You can hire bikes and snorkeling equipment from Jurien Bay Adventure Tours.
What to pack
Bring bathers, sunscreen and a hat, as well as shorts and t-shirts year-round, but pack jumpers and pants for the evenings and cooler months.
Travelling safely
Watch out for wildlife on the roads at dawn and dusk on the way in and out of town. In the ocean, stingers are about in summer; they're painful but not dangerous. There are no lifeguards on duty on Jurien's beaches. The water is regarded as safe, but if you're swimming across to the islands, watch out for boat traffic. Read more long distance driving tips before setting off.
Need a place to stay?
RAC Cervantes Holiday Park is a short drive from Jurien Bay - plus, RAC members save up to 20%* on accommodation.
Last updated February 2022
*Terms and conditions apply. Member rate varies according to season. See full website for details.