Travel & Touring | WA Destinations
By: Danielle Costley
Does kayaking on a lake, watching the sheep dogs in action at the saleyards, visiting WA's largest outdoor public art display, or releasing your inner child on an all ages playground sound tempting?
If so, pack your bags and head to the outback Wheatbelt town of Katanning.
At a glance
Distance from Perth
288 kilometres, just over three hours' drive
Why go?
The entrance to the Great Southern, surrounded by wine regions, mountainous ranges, a public art silo trail, pink lakes, fields of wildflowers, and a tranquil recreational lake that's great for kayaking, water skiing and sailing.
When to go

Jan - Mar: Warm to hot temperatures. Concert in the Park is held in February and the Katanning Harmony Festival in March. There is food and wine at wineries in the nearby Porongurups or climb the Granite Skywalk.
Apr - Aug: Milder temperatures, cooler evenings. A great time to self-drive the public art silo trail, visit the Frankland wine region, climb Bluff Knoll and you may even see snow, or visit the Skywalk at Castle Rock.
Sep - Dec: This is the most popular time to visit Katanning, with warm temperatures and a profusion of wildflowers. The Great Southern Treasures Bloom Festival runs during September and October to celebrate wildflower season. The Together Exhibition is in September at the Katanning Public Art Gallery, showcasing local artists. October heralds the annual Agricultural Show, followed by Christmas on Clive Street festival in December. The Katanning Farmers Markets are usually held on the third Saturday of every month.

How long to stay
Two to three days.
Need to know
There are several fuel stations, supermarkets, cafés, pubs and restaurants. Free WiFi is at Town Square on Clive Street, with good mobile reception throughout Katanning. Public barbeques are at the All Ages Playground, Lions Park and Lake Ewlyamartup. The town is RV friendly, with a 48-hour stop in central town, a free RV dump point and potable water. No fees or bookings are required. There are ATMs and most places take EFTPOS.
Fast facts
Town population: 4,200 
Indigenous people: Noongar. 'Kaat-ni-ng' is a local Noongar word. 'Kaat' means head, which originates from the dreamtime story of Mulka. According to legend, this giant man's body parts are embedded in country through the Great Southern region. Katanning is also home to over 40 different nationalities, with a significant Malay, Afghan and Chinese population.

Insider tip
Grab a coffee from The Daily Grind and a bag of their famously fresh and golden curry puffs, before heading to the local Farmers Markets which are traditionally held on the third Saturday of the month. Wander through the stalls that are filled with local fruit and vegetables, crafts, baked goods and preserves, clothing, jewellery and curry puffs. Sometimes, there are even chickens. Get to the Katanning Leisure Centre around 8am to ensure you stock up on the freshest produce.
Related road trips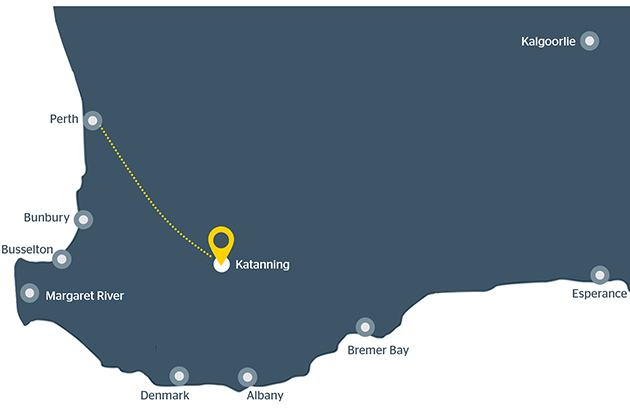 Top things to see and do
Public Art Silo Trail
As part of the FORM public art program, several sites around Katanning have been skilfully painted by a series of renowned artists. This program celebrates creativity, culture and ingenuity through art installations such as these that have both national and international appeal. See the incredible artworks on the Western Power electrical transformer boxes, the Katanning schools, and large-scale murals on walls throughout town.
Embark on a day trip to Pingrup and marvel at the magnificent silos that stand sentinel over this tiny township, with each mural depicting this outback community. Maps of the public art trail can be found at the Katanning Visitor Centre.
RELATED: 10 of the best public artworks in WA »

Pink Lakes
The Pink Lakes run between Lake Grace and Pingrup and form part of the Chinocup Lake system. At a certain time of the year, the waters high salinity content turns pink when a salt-loving-bacteria produces a brilliant red pigment. A camera is a must-have for this trip. It is a 90-minute drive east of Katanning, so allow at least a few hours for the journey.
In summer, when there is less water in the lake, the waters are pinker. To capture the best shades of colour of its waters, visit between 10am to 2pm. Depending on the weather, the waters turn to pink hues from October to February after a rainfall.
The Porongurups
Take a day trip south to the Porongurups, where you will find the Granite Skywalk in this majestic mountain range that is a leisurely 90-minute drive south of Katanning. This ancient forest is over one billion years old and is immersed in towering karri trees and granite peaks. It is also home to giant earthworms, the endangered ringtail possum, and carpet pythons.
For the adventurous and experienced bushwalkers, allow two-hours to complete this three-kilometre steep Grade Five walk trail to the Granite Skywalk. Climb to the top and bask in the spectacular views from Albany on the south coast across to the Stirling Ranges. Some of the wineries also offer lunch.
All ages playground
This playground has been designed for the young – and the young at heart. It features giant slides, swings and oversized horses, a junior playground, aerial walkway and miniature railway. Relive your childhood at this playground, which aims to bring the community and visitors together. Don't forget to wear closed-in shoes to help you slow down on the faster slides. The slides can also get quite hot during warm weather, so jeans or shorts are advisable.
There are barbeque facilities and shaded areas for seating. The playground is open every day of the year, with free entry. Allow up to an hour to release your inner child at the playground, which is located at the corner of Clive Street West and Great Southern Highway.
Kodja Place
In nearby Kojonup (40-kilometres west of Katanning), learn the secrets of our indigenous ancestors at the Kodja Place Visitor and Interpretive Centre. Book in for a tour on Mondays to Fridays with an Aboriginal Elder who will regale stories from the region as you sit by the campfire with some billy-tea and damper. Follow bush animal tracks in the gallery that lead to a journey from traditional Noongar life to contemporary farming.
It is recommended that larger groups book in advance. Walk-ins are also welcome. The cost is $10 for adults, $5 for seniors and children, and children under 3yo are free. Allow anywhere between 45 to 90-minutes for this cultural experience.
Premier Flour Mill and Hotel
This historic Roller Flour Mill has been transformed into a beautiful boutique hotel, whilst featuring some of the mill's original equipment. There is a Dome café on the ground floor. Or follow the staircase downstairs to the Cordial Bar – a small cocktail and mocktail bar that also serves food.
This rustic bar was formerly the Piesse family winery, where the Shiraz produced here won medals at the Paris Wine Show in 1900. Step back in time in this historic and lovingly restored bar that oozes Olde World charm and is steeped in history.
Historic buildings and walk trail
Explore Katanning's rich colonial heritage, with Federation architecture and buildings built with bricks from the town's original brickworks. Follow the trail around town and understand why Katanning is possibly Australia's most multicultural regional community, with over 50 language groups.
This trail embraces its diverse cultural and religious backgrounds as you discover its museum, outdoor public artworks, the Pioneer Women's Clock, Heritage Rose Garden, Noongar Time Walk, Malay mosaics, Kobeelya House, charming hotels, art gallery and churches. Pick up a copy of the Katanning Walk Trail from the local Visitor Centre, which highlights 26 places of historic significance.
Sheep saleyards
This is the largest undercover sheep selling complex in the Southern Hemisphere. Sheep sales are held on Wednesday mornings from 8.30am. Visit on a Tuesday afternoon to watch the sheepdogs in action as they expertly herd the sheep into the yards, with dinner available at the canteen from 6pm.
The vast number of trucks manoeuvring into the saleyards is also an entertaining experience, as is watching the communication between the farmers and the sheepdogs. Sit back and watch the auctioneers in action as bidders yell and try to outbid one another in this massive saleyard.
Wildflowers
late winter through to spring, there are plenty of spots to view wildflowers as you travel around the Wheatbelt. The vegetation on Woodanilling/Katanning Road includes heath, sheoak thickets and York gums, as well as yellow wattles, pink and yellow verticordias, parrot bush and honeypot dryandra.
As you start your return trip towards Katanning, stop at Martup Pool on Albany Highway at the Boscabel shady picnic area. It is one-kilometre south of the Woodanilling turn-off, follow the road a further 12-kilometres south, opposite the Boscabel turn-off. From here, it is a short walk to Martup Pool, where you will see dryandra flowers, jarrah tree, yellow hibbertias, kangaroo paws, pea plants, white starbush and verticordias.
It is orchid country from Katanning through to the Stirling Ranges and Porongurup National Park, where you will see a variety of exotic species. Allow 90-minutes to venture south to the Twin Creeks Conservation Reserve on Knight Road, which is protected by the Friends of the Porongurups, is a stunning display of vibrant colours during wildflower season.
RELATED: 6 scenic WA wildflower drives »

Piesse Park
This environmental conservation area is in the centre of Katanning and has been created to reconnect visitors with nature's wonders. The site is also of great significance to the local Noongar community as the origins of the name, Katanning, stems from this part of the town. The park is nearing completion.
When finished, there will be a botanical garden, walk trails, nature playground and shelters, as well as a boardwalk across Piesse Lake that connects to the path network, allowing for a stroll around the lake. It will also feature an amphitheatre stage and dog exercise area, which are currently in development.
Lake Ewlyamartup
Take a 15-minute drive from Katanning and arrive at the tranquil Lake Ewlyamartup, a 100-hectare recreational lake that is popular with kayakers, water skiers, swimmers, sailors, picnickers and birdwatchers. There is a boat ramp, bird hide, access-friendly toilets and self-contained camping. Home to nearly 100 species of birds, this picturesque spot is at its best in spring when the lake is full.
Getting around
Self-driving is the best way to tour this region, which is at the heart of the Great Southern and makes a great stopover destination to tour surrounding areas. If staying in the RV stop, it is a simple walk into town. Some accommodation is close enough for visitors to walk or bicycle around town. The streets are quiet, peaceful and pedestrian-friendly.
What to pack
This is the outback, with hot days during summer and spring, cool temperatures and evenings during autumn and winter. Depending on what time of year you visit, it is always handy to pack a warm jumper and pants or jeans, along with good walking shoes or hiking boots. If you are planning on visiting the saleyards or going on the giant slides at the all ages playground, closed-in shoes are a must. Bug repellent and a hat are also important, especially during summer when there are flies galore.
Travelling safely
The trip is on a well-maintained road and highway system. Stay alert and watch for kangaroos, emus, stray sheep and other wildlife, especially during sunset and sunrise. Animals on the road can be unpredictable. Travel with lights on low beam and maintain a safe distance. Throughout the town, most of the roads are sealed. Read more long distance driving tips before setting off.
Need to fuel up before hitting the road?
RAC members get 4 cents a litre off fuel at participating Puma Energy, Better Choice, Gull and Peak service stations.
Last updated September 2020