Travel & Touring | WA Destinations
By: Tatum Stafford
If paddling along tranquil lakes, swimming in gorges below waterfalls and hiking through rugged national parks is your type of holiday, it's time for a trip to Kununurra.
Located in Australia's far North West, this beautiful township sits on the banks of the famous Ord River, and is filled with epic fishing, paddling, boating, hiking and swimming opportunities. Set your GPS, we're heading to Kununurra.
At a glance
Distance from Perth
3,041 kilometres, 33 hours' drive. Alternatively, a three-hour flight.
Why go?
To explore secluded swimming holes, waterfalls and gorges, marvel at epic national parks, visit local Aboriginal art galleries, canoe along a vast lake and river, cuddle cute rescue animals and unwind in front of picturesque lookouts.
When to go

May - Aug: Kununurra locals deem this the best time of year to visit. As part of the region's official 'dry season', the weather is cooler and all tourist attractions are open. The Ord Valley Muster Festival and Kimberley Moon Experiences in May are highlights.
Dec - Feb: Heavy rains make this a great time to visit waterfalls in the area – but be wary, the days without rain can be extremely humid and uncomfortable. You'll need to do plenty of research if visiting in these months, as a few main tourist attractions won't be open.

How long to stay
You can see the main sights in three to four days, but to explore more extensively, stay for a week.
Need to know
The Kununurra Visitor Centre is open weekdays in the town centre. There are plenty of spots in the town centre to purchase supplies, including a small shopping centre, supermarkets, banks, auto repair shops and camping shops. There are also healthcare services within the town centre. There is limited phone coverage for Optus and Vodafone, but Telstra has the best coverage throughout the Kimberley region.
Fast facts
Town population: 5,300 
Indigenous people: Miriwoong, Gajirrawoong and Gija.

Insider tip
Stop by the Sandalwood Factory to sample locally-produced skin and aromatherapy products, try on wooden jewellery and sample sandalwood-infused nuts and nougats.
Related road trips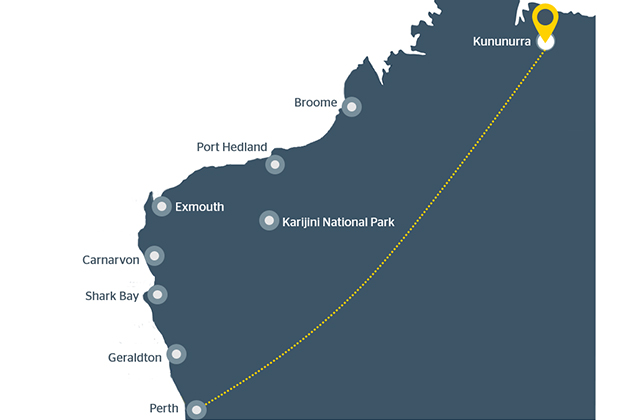 Top things to see and do
Cruise, fish, canoe or swim in Lake Kununurra
The expansive Lake Kununurra is a freshwater, man-made reservoir that was formed in 1963. As part of the Upper Ord River, the lake stretched for 56 kilometres and passes through some of the region's most scenic landscapes, including the magnificent Carlton Gorge and plenty of cliffs, rock overhangs and waterfalls. A cruise along its waters is the best way to view these incredible natural features – you'll need to book this online before your visit.
Another popular pastime on the lake is fishing – though it's important to note that all fish caught in the lake are 'catch and release' only. The lake is a hotspot for barramundi, especially after the WA Government released more than 850,000 of the species into the lake as part of a restocking program over the past few years. The Lilly Creek Lagoon is a popular fishing location. The lagoon is two-wheel drive accessible and a hotspot for silver cobbler or brim. If you have a boat, venturing further into Lake Kununurra will see plenty of fish on your line – just be cautious that where there are barramundi, there are usually saltwater crocodiles. If you spot one, don't lean over the edge of your boat and leave the area immediately.
If you'd rather hit the water, canoe hire is available in the town centre, or the closest swimming beach on the lake is aptly called Swim Beach. This is a 'crocodile-controlled zone', and there are other swimming guidelines displayed on signs near the beach car park.
Explore local Aboriginal art galleries
The Warmun Art Centre, established in 1998, is owned and run by Gija people, with all profits returning to the local community. The centre supports the continued development of contemporary art by both established and emerging local artists, and facilitates artworks that go on to be showcased internationally and locally, in galleries including the Art Gallery of Western Australia and the Musee du Quai Branly in Paris. During your visit, you'll be able to peruse the diverse artworks of the local creators, and also attend notable exhibitions and open studio events. Please note that due to COVID-19, the Warmun Art Centre is currently closed.
Another notable local art gallery is Waringarri Aboriginal Arts. Established to celebrate the uniqueness of Miriwoong cultural identity, the gallery opened in the late 1970's and was the first wholly Indigenous-owned art centre in the Kimberley region. The centre houses artist studios and a range of galleries; supporting more than 100 painters, boab engravers, textile artists, sculptors and more. Visitors to the centre are invited to experience the richness of Miriwoong culture on a series of tours, ranging from sunset bush tucker walks to a four-wheel drive 'On Country' culture exploring famous Kimberley landscapes. Once your tour concludes, you'll be free to wander the centre's fantastic galleries and connect with some of the region's most prolific Indigenous artists.
Hike in Mirima National Park
Often dubbed a 'mini Bungle Bungle range', the incredible Mirima National Park is filled with fascinating rock formations, a diverse range of plant and animal species, and some of Kununurra's best walking trails. One of the most popular trails is the 2-kilometre Gerliwany-gerring Banan Trail, which weaves through some of the park's lush Savannah woodlands along the floor of Hidden Valley.
This trail is a great option for observing wildlife, particularly in the late afternoon when you're likely to spot rock wallabies and wallaroos feeding on grass. You may also spot birds such as finches and fairy-wrens around areas of low vegetation. There are a few short, steep hill sections along the trail, so some bushwalking experience is recommended.
Climb to the Kelly's Knob Lookout
This epic lookout is the highest point in Kununurra. Boasting 360-degree views of the town, the Ord River, Elephant Rock and Lake Kununurra, the lookout is located a few kilometres out of town and can be reached on a 1.2-kilometre walk from the car park area. The walk can be challenging at times, so enclosed footwear and a bit of hiking experience is recommended. The best time to visit is at sunset or sunrise, and it's also a popular picnic spot for locals and tourists alike.
RELATED: 10 of the best scenic lookouts in WA »

Visit the Kangaroo Haven Wildlife Rescue Centre
This family-owned wildlife sanctuary was established in 2011, and has successfully released more than 650 joeys back into the wild during its nine years of operation. Working closely with the WA Department of Parks and Wildlife, the rescue team look after not only kangaroos, but also emus and birds on their 10-acre property a 20-minute drive out of Kununurra.
The centre runs tours of their enclosures daily (you'll need to book online at least 24 hours before arriving), where you'll be able to bottle feed and cuddle young joeys, meet emus and larger kangaroos, and learn about daily life at the sanctuary. During your visit, have a look at the kangaroo board where you can opt to sponsor a joey for a minimum of $5 per month.
Take a dip in local springs, gorges and waterfalls
The vast Kimberley region is one of WA's most recognisable locations for waterfalls and gorges – and luckily for visitors to Kununurra, many of these water wonderlands are a few hours (or a day trip) away from town. At 10 kilometres away, the closest waterfall to Kununurra is Black Rock Falls; a popular swimming spot following wet season rains that features a 30-metre rock cliff and tranquil pool area. Access to these falls is by four-wheel drive only, and the road to it may be closed following heavy rains.
If you'd rather travel a little further afield, the Molly Springs pool and waterfall within the Ngamoowalem Conservation Park is accessible all year-round and features a peaceful shady area perfect for picnicking. The pool is only a few metres long, so arrive early to ensure you have enough space both on the banks and in the water.
RELATED: 10 of WA's best waterfalls »

Walk through the Celebrity Tree Park
Located within Kununurra town, this tranquil shaded area earns its 'celebrity' status from the varity of notable figures who have planted trees here, including HRH Princess Anne, Harry Butler and Baz Luhrmann. The park overlooks the Lily Creek Lagoon, and is a lovely spot for a picnic or a leisurely stroll.
Cruise the Ord River
The picturesque, 650-kilometre long Ord River is one of the State's most significant waterways. It flows around the edge of the Purnululu National Park, through Lake Argyle and along the Kununurra township before draining into Wyndham's Cambridge Gulf. Some of the most popular pastimes along the river are boating, canoeing, water sports and birdwatching – and similar to Lake Kununurra, it's also a barramundi fishing hotspot. Boating, fishing and canoeing tours of the river can all be booked online or in the Kununurra township.
Marvel at Elephant Rock
Officially known as Carlton Ridge, the mighty Elephant Rock or 'Sleeping Buddha' is a massive rock formation situated on the banks of the Ord River. To view the rock, visit the Celebrity Tree Park in the Kununurra township, or hop on a cruise along the Ord towards Lake Argyle – looking at it from this end, you may spot the 'elephant head' shape that the rock got its name from.
Visit the Kununurra Museum
Run by volunteers of the Kununurra Historical Society, the Kununurra Museum was established in 1986 and features the fascinating documentation of the region's recorded fossils, the Ord Irrigation Project and objects that are 1,800 million years old. The museum is open weekdays, from 12:30 to 5:30pm.
Stay on a traditional homestead or at a station stay
If you're looking for a unique travel experience within the vast North West outback, book a stay on a working property or homestead in or around Kununurra. Sprawling across over 248,000 hectares, the Home Valley Station is a popular spot. Located an hour and 40 minutes' drive from Kununurra, the station runs several regional tours encompassing local waterfalls, billabongs and gorges, and offers unique luxury accommodation along the banks of the peaceful Bindoola Creek.
Located next to Home Valley Station is El Questro Station, an iconic pastoral station located within the El Questro Wilderness Park. Famed for its cascading waterfalls, horse-riding trails and plentiful gorges, visitors to the park will be spoilt for choice between cruising gorges, soaking in thermal pools or helping the station owners tend to their cattle. There are plenty of accommodation options on the station, ranging from raised eco tents and campsites to cliff-side villas and bungalows.
In 2021, the stations will be open from April to October.
RELATED: 8 unforgettable station stays in WA »

Getting around
The most reliable way to travel in and around the Kimberley is in a four-wheel drive. Some sites are two-wheel drive accessible, but having a four-wheel drive will ensure you can visit all of the attractions you'd like to. A lot of roads in Kununurra are sealed, but you may encounter a few unsealed gravelly roads – so be sure to slow down and drive with extra caution.
What to pack
Most days in Kununurra are humid, so make sure you bring plenty of sunscreen and a hat, and wear loose, short clothing so you can stay cool. Fly nets and insect repellent are also a good idea – and if visiting during wet season, an umbrella or rain poncho is a must. In cooler months, bring a few extra layers so you can stay warm, especially at night when temperatures can drop quite dramatically.
Travelling safely
It's important you feel comfortable driving on dirt tracks before attempting roads in and around Kununurra. Some roads may be closed due to rough weather, so plan ahead in case of detours. You'll also want to bring a map, as phone reception may be spotty in remote areas. Encountering wildlife is a risk at dawn or dusk, so drive carefully during these times. Read more long distance driving tips.
Ready to explore the national parks of the North West?
It pays to be prepared – RAC members save 50% on digital DPAW national park passes.
Last updated: June 2021