Travel & Touring | WA Destinations
By: Tatum Stafford
At less than an hour's drive from Perth, Mandurah is a great option for a quick getaway, no matter what kind of break you're after.
If Mandurah hasn't really been on your list of places to visit, do a day trip soon and be surprised.
Mandurah's massive estuary, canals and beaches offer abundant water-based activities, from dolphin tours to houseboat holidays and of course plenty of places to catch some fresh crabs.
On dry land there are boutiques, bars, cafes and restaurants to explore, including some great options right on the water at Dolphin Quay within the Mandurah Ocean Marina, plus national parks nearby with some unique attractions.
So whether you're planning a jam-packed family day trip or a relaxed weekend by the water, it's time to pay Mandurah a visit.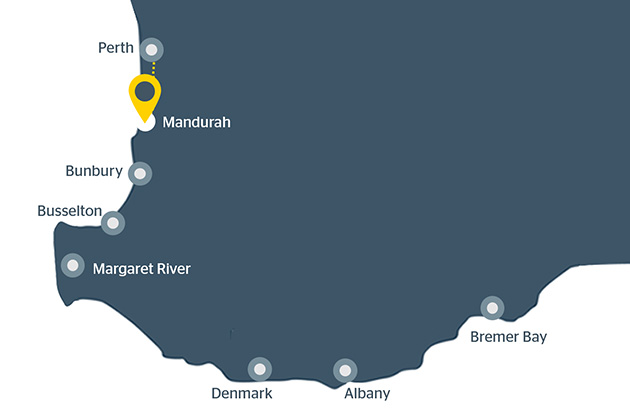 Top things to see and do
Hop on a cruise
Mandurah's waterways are warm, shallow, protected and abundant with fish – meaning they're an ideal home for dolphins. The Peel-Harvey Estuary is home to just over 80 resident dolphins, though there are hundreds more along the coast that occasionally pay a visit to Mandurah's inland waterways. You're likely to spot Mandurah dolphins from the shoreline, but if you'd prefer to get a little closer to them, book a Scenic Dolphin Cruise.
If you're visiting from December to early January, book a seat on a Christmas Lights Cruise. On board you'll sing along to Christmas carols as you cruise through the Mandurah canals to view local festive light displays. Cruises depart twice nightly, at 7:30pm and 8:45pm, and prices start at $35 for adults, and $20 for kids.
One of the newest additions to Mandurah's cruising roster is a self-drive, eco-friendly barbeque boat tour. These comfortable, donut-shaped boats are simple to drive, don't require a skipper's ticket, and feature a central barbeque with picnic tables. When it comes to food, you can opt to bring your own ingredients to barbeque, or pre-order a grazing platter to bring onboard with you (this can be ordered at time of booking). Each boat seats up to 10 people, and prices start at $219 for two hours.
If you're eager to book any of these cruises, remember RAC members save on e-vouchers from Mandurah Cruises.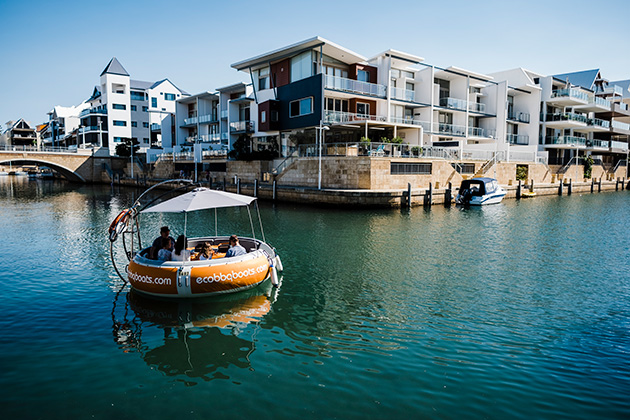 Spend the day at Dolphin Quay
Located at the Mandurah Ocean Marina, the vibrant Dolphin Quay is the perfect spot to grab a bite to eat, shop for quirky local goods at indoor market stalls, listen to live music and take a stroll along the boardwalk. It's also a great place to bring the kids, as there's a shallow swimming beach with no waves and plenty of shelter for parents to sit under. There's also a small park and playground next to it.
If you're feeling peckish, there are plenty of ocean-view restaurants, coffee shops and eateries to choose from.
Wander through the Amaze Miniature Park
This miniature village is one of Mandurah's quirkiest attractions. Built in 2003, the park is home to a series of English scale model miniature buildings and railways. Located within four acres of manicured garden, the walk-through attraction also features an ornamental lake, a miniature steam train, and a not-so-miniature putt-putt golf course. There's also a hedge maze, secret garden and circular maze to explore.
The park is open from Friday to Monday 10am to 4pm, or daily during school holidays.
Dine on local produce
Samudera Artisan Food & Bakehouse, which opened in December 2018, is one of the city's most popular eateries. Housed in the old Mandurah Bakery building, the café's menu showcases its handmade bread and fresh produce from the Peel region. They serve up classics like eggs benedict and avocado smash alongside quirkier dishes like sourdough crumpets and savoury open croissants.
Other popular eateries include Flics Kitchen, the Tree of Life Café, Mataya Eatery, and The Bridge Garden Bar & Restaurant.
Hit the walking trails in the Yalgorup National Park
Stretching from Mandurah to Myalup, this expansive national park is renowned for its lush peppermint woodlands, tuart trees and ten magnificent lakes that support several threatened plant and animal species. Spring and autumn are the best times to explore the park, and there are a few nature trails to choose from if you're eager for a walk.
The 6-kilometre Lake Pollard Walk Trail is a popular option. Beginning at the entrance to Martins Tank Campground, the loop trail passes peppermint, tuart and grasstree outcrops, and provides a fantastic vantage point for birdwatching over Lake Pollard. The track is relatively flat, so it's a great option for families or less-experienced bushwalkers.
RELATED: Hiking trails in national parks near Perth »

Roam through Ranger Red's Zoo & Conservation Park
Also known as the Peel Zoo, Ranger Red's provides a unique, hands-on zoo experience on the banks of the Murray River. There are a few star attractions, including a massive walk-through aviary and a few cheeky Tasmanian Devils, but the most popular activities here are the hand-feeding sessions and up-close encounters with dingoes, squirrel gliders, koalas, owls and tawny frogmouths. If you're eager to try an encounter, you'll need to book online before arrival.
Climb aboard the Pirate Ship
Mandurah's custom-built open-air vessel The Pirate Ship was designed to keep a lookout while sailing the inland canal waterways of Mandurah. The ship is a hit with children and adults alike, and gives budding pirates the chance to dress up and steer the wheel.
Marvel at the Lake Clifton Thrombolites
Along with the coastal towns of Cervantes and Shark Bay, this lake is one of the few places in WA where you'll find living thrombolites. Situated within the Yalgorup National Park, about a 30min drive out of Mandurah, these unique, rock-like formations that sit in Lake Clifton form the largest thrombolite reef in the Southern Hemisphere. The best spot to view these fascinating mounds is atop of the observation platform or along the boardwalk. For a longer walk, hop on the five-kilometre Lakeside Loop trail that follows the lake's eastern shoreline.
RELATED: Stargazing spots within three hours of Perth »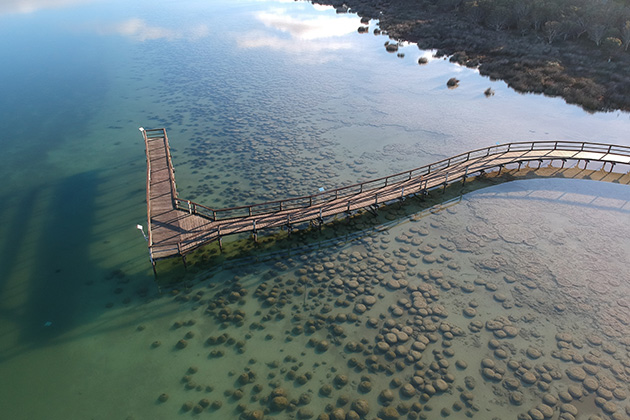 Visit local art galleries
Mandurah is home to a flourishing community of local artists, and there are plenty of galleries to explore on your next visit. One of the most popular is CASM, or Contemporary Art Spaces Mandurah. Located in the city centre, this art space features an annual exhibition program profiling local artist groups, youth artists, touring exhibitions and projects from the City of Mandurah. If you're attending an exhibition, stay behind for the centre's series of free artist talks for additional insight.
Another notable spot is the Black Stump Gallery, found at the Mandurah Visitor Centre. Inspired by the colours of the Australian outback, the gallery's resident artist Emma Blyth is renowned for her vibrant pieces and unique gifts which are available to purchase. Lastly, the Alcoa Mandurah Art Gallery in the Mandurah Performing Arts Centre is also worth a visit, facilitating 10 free exhibitions each year. This gallery features a diverse range of contemporary, historical, sculptural and traditional artworks, and is a great place to view works from both emerging and graduate artists.
Hop on a houseboat
One of the best ways to explore the waterways of the Peel Inlet, Harvey Estuary and the Murray River is aboard a fully equipped houseboat. Mandurah Houseboats have a fleet of 15 houseboats that are complete with beds, showers, toilets and kitchen facilities.
To hire one of their houseboats, you'll need to be over 21 and have a valid driver's license (or a skipper's ticket if you don't have a license). The boats can be moored at public jetties and moorings overnight, or at one of the company's private jetties in Mandurah and Ravenswood for as long as you'd like.
RELATED: The rise of houseboat holidays in WA »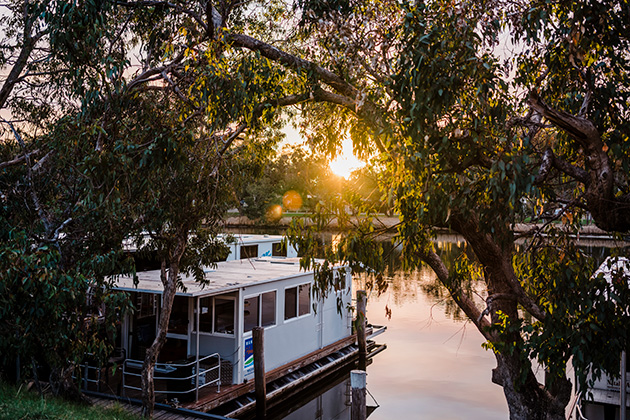 At a glance
Distance from Perth
72km, just under an hours' drive
When to go

Mar: Thousands of people flock to the city for the annual Mandurah Crab Fest.
Sep - Dec: Spring is the best season to view wildflowers on a variety of walking trails in and around Mandurah.
Dec - Feb: Summer is an ideal time to visit because of high temperatures and ideal conditions for water-sports, swimming and other activities.

Related road trip
Peel region road trip
Getting around
Many of the main attractions are within walking distance of the city centre, and most of the city is very pedestrian-friendly, with good paths and waterside walkways. There's also free parking in the city centre if you choose to park for the day and make your way around on foot.
If you'd prefer to explore on two wheels, head to Mandurah Boat and Bike Hire on Ormsby Terrace. As its name suggests, you can also rent private boats here if you'd like to cruise Mandurah's waterways.  
Eager to explore the canals of Mandurah?
RAC members save 10% on Mandurah Dolphin, Scenic and Lunch Cruises with Experience Oz WA.
Last updated December 2021