Travel & Touring | WA Destinations
By: Tatum Stafford
At less than an hour's drive from Perth, Mandurah is an idyllic getaway spot for city slickers.
Renowned for its beautiful waterways, lush woodlands, fresh seafood and relaxed atmosphere, this seaside town provides some of WA's best opportunities for birdwatching, wildlife-spotting, fishing and boating.
So whether you're planning a jam-packed family day trip or a relaxed weekend by the water, it's time to pay Mandurah a visit.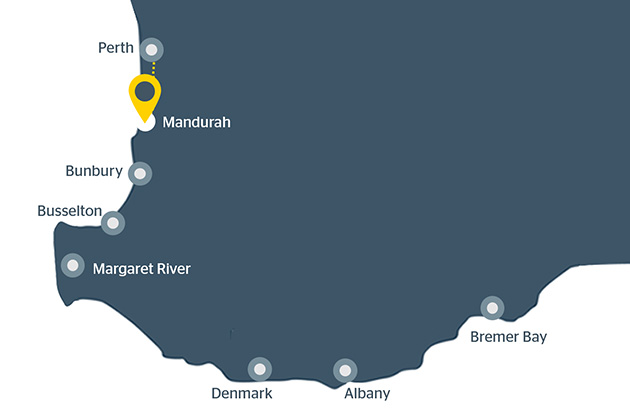 Top things to see and do
Spend the day at Dolphin Quay
Located at the Mandurah Ocean Marina, the vibrant Dolphin Quay is the perfect spot to grab a bite to eat, shop for quirky local goods at indoor market stalls, listen to live music and take a stroll along the boardwalk. It's also a great place to bring the kids, as there's a shallow swimming beach with no waves and plenty of shelter for parents to sit under. There's also a small park and playground next to it.
If you're feeling peckish, there are plenty of ocean-view restaurants, coffee shops and eateries to choose from.
Marvel at the Lake Clifton Thrombolites
Along with the coastal towns of Cervantes and Shark Bay, this lake is one of the few places in WA where you'll find living thrombolites. Situated within the Yalgorup National Park, these unique, rock-like formations within Lake Clifton form the largest thrombolite reef in the Southern Hemisphere. The best spot to view these fascinating mounds is atop of the observation platform or along the boardwalk. For a longer walk, hop on the five-kilometre Lakeside Loop trail that follows the lake's eastern shoreline.
RELATED: 8 of the best stargazing spots within three hours of Perth »

Cruise through the canals to view wild bottlenose dolphins
Mandurah's waterways are warm, shallow, protected and abundant with fish – meaning they're an ideal home for dolphins. The Peel-Harvey Estuary is home to just over 80 resident dolphins, though there are hundreds more along the coast that occasionally pay a visit to Mandurah's inland waterways. You're likely to spot Mandurah dolphins from the shoreline, but if you'd prefer to get a little closer to them, hop on a cruise. Plus, RAC members save on e-vouchers from Mandurah Cruises.
RELATED: 7 of the best marine wildlife encounters in Perth »

Wander through the Amaze Miniature Park
This miniature village is one of Mandurah's quirkiest attractions. Built in 2003, the park is home to a series of English scale model miniature buildings and railways. Located within four acres of manicured garden, the walk-through attraction also features an ornamental lake, a miniature steam train, and a not-so-miniature putt-putt golf course. There's also a hedge maze, secret garden and circular maze to explore.
The park is open from Friday to Monday 10am to 4pm, or daily during school holidays.
Camp at Martins Tank Campground
Nestled amongst beautiful peppermint woodland, the campground at Martins Tank is surrounded by beautiful wildlife and scenery. There are 29 sites and four large camping areas to choose from, and is a great spot for those seeking a bush camping experience without heading too far off the beaten track. As it's a nature-based campground, you'll need to bring drinking water with you. Most sites have their own benches and fire pits, and there's a top-notch camp kitchen with sinks, dining tables and gas barbeques on offer.
RELATED: 10 of the best campsites by the water near Perth »

Visit local art galleries
Mandurah is home to a flourishing community of local artists, and there are plenty of galleries to explore on your next visit. One of the most popular is CASM, or Contemporary Art Spaces Mandurah. Located in the city centre, this art space features an annual exhibition program profiling local artist groups, youth artists, touring exhibitions and projects from the City of Mandurah. If you're attending an exhibition, stay behind for the centre's series of free artist talks for additional insight.
Another notable spot is the Black Stump Gallery, found at the Mandurah Visitor Centre. Inspired by the colours of the Australian outback, the gallery's resident artist Emma Blyth is renowned for her vibrant pieces and unique gifts which are available to purchase. Lastly, the Alcoa Mandurah Art Gallery in the Mandurah Performing Arts Centre is also worth a visit, facilitating 10 free exhibitions each year. This gallery features a diverse range of contemporary, historical, sculptural and traditional artworks, and is a great place to view works from both emerging and graduate artists.
Hit the walking trails in the Yalgorup National Park
Stretching from Mandurah to Myalup, this expansive national park is renowned for its lush peppermint woodlands, tuart trees and ten magnificent lakes that support several threatened plant and animal species. Spring and autumn are the best times to explore the park, and there are a few nature trails to choose from if you're eager for a walk.
The 6-kilometre Lake Pollard Walk Trail is a popular option. Beginning at the entrance to Martins Tank Campground, the loop trail passes peppermint, tuart and grasstree outcrops, and provides a fantastic vantage point for birdwatching over Lake Pollard. The track is relatively flat, so it's a great option for families or less-experienced bushwalkers.
RELATED: Hiking trails in national parks near Perth »

Roam through Ranger Red's Zoo & Conservation Park
Also known as the Peel Zoo, Ranger Red's provides a unique, hands-on zoo experience on the banks of the Murray River. There are a few star attractions, including a massive walk-through aviary and a few cheeky Tasmanian Devils, but the most popular activities here are the hand-feeding sessions and up-close encounters with dingoes, squirrel gliders, koalas, owls and tawny frogmouths. If you're eager to try an encounter, you'll need to book online before arrival.
Walk your dog through the Len Howard Conservation Park
The dog-friendly, one-kilometre loop Erskine Nature Trail within this tranquil park is a great way to view migratory birds and beautiful spring wildflowers up close. The park is situated on the edge of the Peel Estuary, and the trail crosses freshwater pools, lookouts and bird hides that will make for a memorable walk. Be sure to keep your dog on a lead at all times.
RELATED: 10 of WA's best dog-friendly walking trails »

Climb aboard the Pirate Ship
Mandurah's custom-built open-air vessel The Pirate Ship was designed to keep a lookout while sailing the inland canal waterways of Mandurah. The ship is a hit with children and adults alike, and gives budding pirates the chance to dress up and steer the wheel.
At a glance
Distance from Perth
72 kilometres, just under an hours' drive
Why go?
To explore natural wetlands, watch dolphins play in the waterways, indulge in delicious fresh seafood, camp at a tranquil nature-based campground, visit a quirky miniature park, and experience a memorable animal encounter at an iconic WA zoo.
When to go

Mar: Thousands of people flock to the city for the annual Mandurah Crab Fest.
Sep - Dec: Spring is the best season to view wildflowers on a variety of walking trails in and around Mandurah.
Dec - Feb: Summer is an ideal time to visit because of high temperatures and ideal conditions for water-sports, swimming and other activities.

How long to stay
As it's so close to Perth, Mandurah is an ideal day trip destination, but has enough attractions to keep you busy for a two or three-day getaway.
Need to know

There's free public Wi-Fi throughout the city centre, but if you're heading into surrounding national parks or attractions further afield, you may find spotty phone reception.
There are plenty of amenities within the city centre, including supermarkets, pharmacies, petrol stations, hardware stores and more. The Mandurah Visitor Centre is a good first stop-off for help with maps, bookings and local advice.

Fast facts
Town population: 92,500 
Indigenous people: Bindjareb people of the Noongar Nation. The town was originally known as 'Mandjoogoordap', meaning 'meeting place of the heart'.

Insider tip
A unique way to explore the waterways is on a self-guided, eco-friendly barbeque boat tour. Facilitated by Eco BBQ Boats, this hire service allows you and your guests to bring food and drinks aboard, cook your food on a donut-shaped boat, and enjoy a 360-dining experience on the water.
Related road trips
Getting around
Many of the main attractions are within walking distance of the city centre, and most of the city is very pedestrian-friendly, with good paths and waterside walkways. There's also free parking in the city centre if you choose to park for the day and make your way around on foot.
If you'd prefer to explore on two wheels, head to Mandurah Boat and Bike Hire on Ormsby Terrace. As its name suggests, you can also rent private boats here if you'd like to cruise Mandurah's waterways.  
What to pack
If visiting in warmer months, light casual clothing, a hat, and sunscreen is recommended. You'll also need a pair of sturdy walking shoes if you're planning to explore local walking trails and nature reserves. In cooler months, bring plenty of layers and an umbrella.
If you're planning on hitting the water, bring bathers and any gear you'll need. SUP hire is available at Mandurah Boat and Bike Hire.
Travelling safely
The drive from Perth to Mandurah is flat and easy, and there are a few bays for rest-stops if required. The exit on Mandjoogoordap Drive is well sign-posted and will lead you straight into the city centre. Read more long distance driving tips before setting off.
Eager to explore the canals of Mandurah?
RAC members save 10% on Mandurah Dolphin, Scenic and Lunch Cruises with Experience Oz WA.
Last updated November 2020