Travel & Touring | WA Destinations
By: Fleur Bainger
Australia's truffle hotspot has more to it than subterranean treasures.
There are endless tall tree forests, fresh produce, an incredible new playground and mountain biking trails as well as an excellent interactive museum.
At a glance
Distance from Perth
293 kilometres, or about 3 hours and 20 minutes' drive from Perth.
Why go?
Truffles, giant trees, an interactive electricity museum, a farm pool topped with tractor tyre tubes, an historic mill village, motorbike tracks, a 40-metre flying fox, roadside produce stalls and boutique wineries.
When to go

Nov - Mar: Warm but crisp days with occasional rain and cool nights; the annual Cherry Harmony Festival happens each December, while the new Southern Forests Pinot Picnic is in February.
Apr - May & Sep - Oct: Cool temps with both sunshine and rainfall; great for wine by the fire, trail rides, forest drives.
Jun - Aug: Cool to cold rainy days and nights; the annual Truffle Kerfuffle festival happens each June.

How long to stay
Allow two days to explore the township.
Need to know
Manjimup is the Southern Forest region's main hub town, so it has more amenities than surrounding communities. There are two supermarkets,a brilliant grocer and three fuel stations. It is also the largest producer of black Perigord truffles in the Southern Hemisphere, so expect to find various ways to sample the coveted delicacy.
Mobile phone coverage is strong in town, but intermittent in the surrounding farmland and valleys.
Fast facts
Town population: 4,349
Indigenous people: Noongar, Murrum.

Insider tip
If you've never ventured inside The Cherry Box, grab a grocery basket and load up on local goodies while chatting with the friendly staff, usually from the owner's family.
Related road trips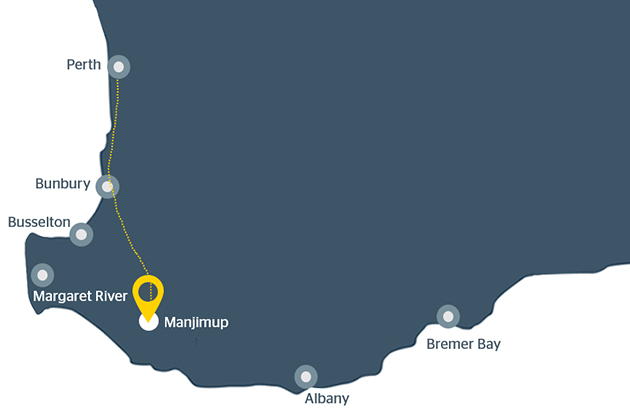 Top things to see and do
Go on a truffle hunt
The land surrounding Manjimup is responsible for producing some 93 per cent of Australian truffle exports. It even rivals France in truffle production. The Truffle and Wine Co is the biggest producer of all, and joining a truffle hunt (restarting in 2021) or doing a wine tasting (the restaurant is closed until further notice) will give you an insight into these $2,500 per kilogram delights.
Australian Truffle Traders, AKA the Booth family, also hold exciting truffle hunts with their rescue labradors.
Visit the coolest playground around
Reckon your kids would fancy slipping down a 17-metre-high slide? How about shooting along a 40-metre flying fox? Manjimup's new Adventure Playground is not short on thrills. There's also a climbing net, swings, animal sculptures and an area designed for toddlers.
Explore an electrifying museum
The interactive, highly entertaining, Power Up Electricity Museum opened in December 2019, sharing the evolution of electricity in WA through historic machinery, early electric cars, generation sets and dynamic exhibitions.
Tickets also include entry into the State Timber Museum, next door. The free-entry Steam Museum and Historic Hamlet of original and replica buildings are part of the same Manjimup Heritage Park. There's also a great café which overlooks the park.
Marvel at giant trees
Start at the 51-metre Diamond Tree just out of town (now closed to climbing), and work yourself up to the 2.6-metre-wide King Jarrah Tree, which is believed to be hundreds of years old.
You can also continue along the 18-kilometre King Jarrah loop walk trail through jarrah forest. Then check out Four Acres, a row of ramrod-straight karri trees in the One Tree Bridge Conservation Park. Stop there and listen to the birdsong.
Drive the Harvest Highway
Visiting roadside stalls is a lot of fun, particularly when you score fresh-picked produce for a fraction of the supermarket price. Everything from potatoes to onions, cauliflowers, apples, peaches, pears, plums, cherries, avocados and chestnuts is grown in these parts.
You can also find local produce at the Saturday Manjimup Farmers Market, held on the first and third Saturday of each month. Fun fact: the Pink Lady and Bravo apples were both invented in Manjimup.
Sample local tipples and nibbles
Tall Timbers Brewing Co is a lively brew-bar in the heart of town where all beer is created on site. It opened inside the historic Manjimup Hotel in 2020, right opposite the low-lit mothership, the Tall Timbers winebar and restaurant. Check out the truffle meals the restaurant does, especially the truffle-loaded burger.
The Kingsley Motel and restaurant also does excellent, locally sourced food, including a wonderful truffle and marron risotto. Farmhouse Pizza also comes highly recommended (and also offers pasta, stuffed potatoes and desserts).
Go mountain biking
The lengthy Mundi Biddi mountain biking trial runs through Manjimup, and we're advised a particularly awesome segment is between One Tree Bridge and Donnelly River. It's best to bring your own grippy wheels, unless you plan on hiring in nearby Nannup or Pemberton.
Those into motorcross can check out Cosy Creek circuit, where the Manjimup 15,000 event – the largest of its kind in Australia - is held each June.
Explore local wineries
The bulk of the region's cool climate wineries are found around Pemberton, but there are a few close to Manjimup. Pop in to family-operated Woodgate Wines, Chestnut Grove (they also produce olive oil) and Chateau June-Jerome. It's best to call ahead to ensure these small operators are open.
Visit Fonty's Pool
This tranquil, spring water-fed pool was created almost by accident when Italian immigrant and pioneer, Archie Fontanini, dammed a stream on his property in the early 20th century.
Floating atop in a tractor tyre tube remains one of the most popular pastimes in Manjimup for locals as well as visitors. This is also where the annual Truffle Kerfuffle festival is held.
RELATED: 12 of WA's best inland swimming holes »

Visit Donnelly River Village
Step back in time inside this historic mill village, where emus and roos wander around between 35 weatherboard workers' cottages and vintage saw-milling machinery. Donnelly River Village was built in the 1950's for the Bunning Brothers – UK immigrants who constructed sawmills in the district and began what we now know as the Bunnings hardware stores.
There's a heritage trail around the village; in spring, keep your eyes peeled for wildflowers along the walk.
Getting around
A two-wheel drive vehicle will get around Manjimup comfortably. The nearest mountain bike hire shops are in Nannup and Pemberton.
What to pack
Manjimup may be sunny during the day but temperatures plummet at night. Bring clothes to suit every situation, from waterproof boots and a heavy jacket to runners and light shirts.
Travelling safely
Take note of the road conditions, keep an eye out for roos at dawn and dusk and if there's blinding sun in your eyes, slow down, take it easy and enjoy the journey. Read more long distance driving tips before setting off.
Need a place to stay?
RAC members save up to 20%* on accommodation at the nearby RAC Karri Valley Resort.
*Terms and conditions apply. RAC member rate varies according to season. See full website for details.
Image credit: Frances Andrijich
Last updated December 2020