Travel & Touring | WA Destinations
By: Tatum Stafford
It's one of Western Australia's most recognised destinations – and it's not hard to see why.
Nestled amongst towering forests in the South West region, the town of Margaret River is filled to the brim with pristine beaches, boutique shops, rugged hiking trails, incredible art galleries and world-class wineries, breweries and distilleries.
There are plenty of reasons to visit (and re-visit) this charming town – so start the car, we're heading to Margaret River.
At a glance
Distance from Perth
274 kilometres, three hours' drive
Why go?
To visit one of Australia's most awarded wine regions, be surrounded by majestic karri trees, explore some of the State's oldest cave systems, unwind on pristine white beaches and stock up at one of the South West's best local produce markets.
When to go

Mar & Apr: Easter is a popular time for families to visit the region and its family-friendly attractions, and the annual Margaret River Pro surfing event is a highlight.
Jun - Aug: Cooler months make for idyllic conditions to walk a section of the Cape to Cape track (keeping an eye out for wildflowers), and wintery days are perfect for visiting cosy cellar doors. The annual Cabin Fever festival heats up the town in July, and the CinefestOZ Film Festival kicks off in August.
Sep - Feb: Warmer months make this an ideal time to hit the beach. It's also a busy time for events, with the annual Margaret River Region Open Studios in September, and bucket-list foodie event Gourmet Escape in November.

How long to stay
A minimum of three nights will allow you to explore the region and surrounding towns.
Need to know
The town centre is packed with amenities, shops and service stations, so you'll be able to stock up on groceries and local mementos with ease. If visiting local wineries or restaurants for lunch, book ahead to avoid missing out on a table. Most dinner options are found in the town centre, as wineries are rarely open at night. The visitor centre is the best place to book local tours or courses within the area. It's open every day of the year except Christmas day.
Fast facts
Town population: 7,654 
Indigenous people: Wadandi Noongar.

Insider tip
Miki's Open Kitchen is a local gem within the Margaret River foodie scene. Before your visit, book a spot for a seating at Miki's (either 6pm or 8pm) to enjoy one of their famous Japanese degustations. The menu changes daily and features a creative array of modern Japanese cuisine. It's a hit with locals and tourists alike.
Related road trips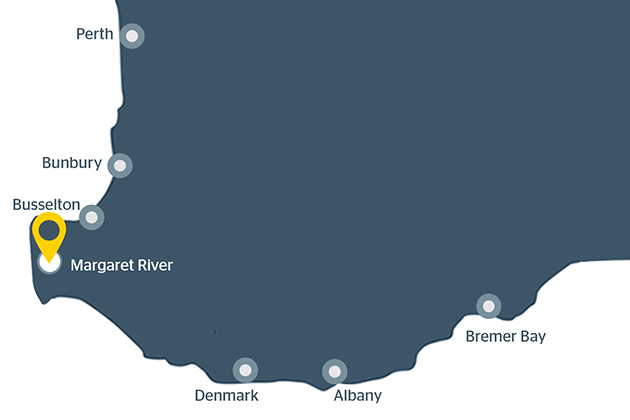 Top things to see and do
Go cellar door-hopping through the region's plentiful wineries
The Margaret River Wine Region is one of the world's most notable wine regions. Producing more than 25 per cent of Australia's premium wines, over 200 vineyards contribute to the impressive yield of high-quality wines – and as a visitor to the region, it'd be remiss to only visit one or two of these thriving vineyards or cellar doors. Vasse Feliz, Cullen and Cape Mentelle are a few of the wineries renowned for their quality wine production - just remember to elect a designated driver to transport you to each safely.
And there's more to these cellar doors than wine. Cape Mentelle transforms its lawn into an outdoor cinema in warmer months, Leeuwin Estate hosts regular live music events and festivals, Howard Park displays a rotation of local artworks in a mini gallery, and plenty of the region's wineries offer gourmet foods and antipasto platters.
Hit the local walking and mountain bike trails
One of the region's most popular walking trails is the Cape to Cape track. This epic hike runs for 123 kilometres along the South West coastline and features incredible forest and coastal scenery, plenty of wildflowers during spring and fascinating headlands and rock formations. There are group walking tours available for sections of the track, or if you'd rather try it self-guided, there are various entry points around Margaret River so you can complete a stretch at a time.
Another lengthy walk within the town is the 15-kilometre Ten Mile Brook Trail, which leads you to the tranquil Ten Mile Brook Dam. Mountain bikes and regular bikes are also permitted on this trail - but most of Margaret River's best mountain bike trails are within the Wooditjup National Park. The world-class trails weave around the RAC Margaret River Nature Park, and cater to beginners and experts alike.
If you'd rather a gentler walk, opt for the Margaret River Heritage Trail. Departing from Rotary Park, this 6-kilometre return trail travels over forest-lined paths along the river, and features some spectacular local flora (and wildflowers, when in season). Towards the end of the trail is an old homestead and collection of heritage buildings, which provide interesting insights into the early settlement of Margaret River on plaques and information signs.
Stock up at the Margaret River Farmers Market
Held every Saturday all-year round, the Margaret River Farmers Market is a local institution – and a must-visit if you're passing through or staying nearby. Vendors at the market sell seasonal fresh farm produce and artisanal foods. In any given week, you'll be able to stock up on fresh fruit, eggs and vegetables, locally produced cheese, pasta, bread and chocolate, and fresh flowers and seedlings. You'll find the market at the Margaret River Education Campus, on Lot 272 Bussell Highway.
Explore some of the region's exquisite caves
There are over 100 decorated limestone caves beneath the Margaret River region, with tour options ranging from self-guided to abseiling expeditions. If you're after a gentle option, hop on a guided tour of Lake Cave. Named after its rare permanent lake, this beautiful cave is renowned for its unique 'Suspended Table' illusion and provides an 'underground ambience' experience, in which the tour guide adjusts the cave lighting and colours to illuminate various features and formations of the chamber. It's a 350-step descent to reach the cave, so if you require an accessible option, opt for Mammoth Cave instead – wheelchair access is available into its first chamber.
If you're feeling a little more adventurous, head for Giants Cave within the Leeuwin-Naturaliste National Park. As you descend into the 86-metre deep cave, you'll encounter vertical ladder climbs, rock scrambles, gigantic chambers and tight spots. The cave staff will provide helmets and torches before you begin – and as it's a trickier caving experience, children under the age of 6 are not permitted entry.
RELATED: 10 of the best caves in WA »

Visit local art galleries and studios
Margaret River's art scene is thriving. Home to an array of award-winning jewellers, painters, glass blowers, wood workers, painters and more, spending an afternoon stopping in at local art galleries will unveil the incredible variety and talent of these artists. The official art precinct of the region stretches across a few drives in Yallingup; incorporating both Yallingup Galleries and Gunyulgup Galleries. These galleries showcase the works of such local artists as Rob Malcolm, Jennifer Hopewell and Nellie Crawford.
Drive through the picturesque Boranup Forest
The wider Margaret River region is renowned for its majestic karri forest, which is best explored on two wheels with a drive. Starting on Caves Road, drive through the stunning Boranup Forest and stop off at picnic areas (a great one is at Boranup Campground), lookouts and wineries along the way. End your drive at Boranup Lookout, where you'll be treated to incredible coastal views. The drive is unsealed but well-maintained, so it's manageable by most vehicles.
RELATED: 10 of WA's best winter drives »

Go whale-watching
As Margaret River is nestled between Augusta and Dunsborough, two of WA's whale-watching hotspots, it's a great place to view whales that are travelling through the region from late May to late November. Hamelin Bay is one of the best places to spot whales, and has plenty of coastal walk trails and lookout points that will allow you to get a close view. If you'd prefer a higher vantage point, visit the aforementioned Boranup Lookout for your chance to spot blue, humpback and southern right whales.
RELATED: 10 of the best whale-watching spots in WA »

Surf at some of the region's best beaches
The Margaret River region is home to over 130 beaches; providing some epic opportunities for surfing. If you're a beginner, visit Redgate or Boranup Beach for mild surf breaks and smaller waves. If you're a little more experienced, Main Break Beach (or 'The Point') is one of the region's most renowned beaches – and is also the location of the annual Margaret River Pro surfing tournament. The waves here are high, so take care and make sure you're a confident surfer before hitting the waves.
If you're a surfing newbie, a visit to the Margaret River Surf School may be in order. Offering equipment hire (including stand-up paddle boards) and surfing lessons, this handy service is located on Redgate Beach and has been operated for over 25 years. The team's qualified surf coaches can help everyone from beginners to highly-experienced surfers get a feel for the region's incredible beaches.
Interact with fascinating wildlife
One of the region's most fascinating wildlife hotspots is the Eagles Heritage Raptor Wildlife Centre. Set amongst natural bushland, this rehabilitation centre was established in 1997 to provide homes for permanently disabled birds of prey and owls. Visitors can experience a spectacular flight show, where you'll learn and interact with farm owls, black kites and raptors.
Next up, no family visit to Margaret River would be complete without a stop-off at Sunflowers Animal Farm. The kids will love the opportunity to feed and play with the farm's over 350 animals, including lambs, rabbits, guinea pigs, alpacas, llamas, goats, chickens, wild birds, ponies and more. Plus if you'd like to stay overnight, the farm has a popular farm stay option where families can unwind on the 315-acre farm and participate in tractor rides and animal feeding sessions just steps from their cabin.
RELATED: 10 of WA's best farm stays »

Getting around
Roads in the region are hilly and winding, so you'll need a car to tour various attractions – especially along the famous Caves Road through Boranup Forest. If you're staying close to the town, there are plenty of walking and mountain bike trails to explore. If you need to hire a bike, head to the Dunsborough Bike Shed, or South West Boats & Bikes.
If you don't have a car, there are two local car hire companies to rent from. There are also taxi services and limited local bus services that pass through the region.
What to pack
Summer days in Margaret River can reach 35 degrees, so lightweight clothes, but repellent and a hat are essential. If you're planning on hitting the beach, bring bathers and any gear you'll need for surfing, SUP'ing or snorkelling. When the weather cools down, bring plenty of layers, an umbrella and enclosed shoes in case of mud.
Travelling safely
The drive to Margaret River from Perth is dotted with plenty of places to refuel or recharge, including various rest stops at towns such as Busselton or Bunbury. The roads are well-sealed but can be narrow and winding, so take extra care in these areas. If you're driving at dusk, keep an eye out for kangaroos and other wildlife. Read more long distance driving tips before setting off.
Need a place to stay?
RAC members save up to 20%* on accommodation at RAC Margaret River Nature Park.
*Terms and conditions apply. RAC member rate varies according to season. See full website for details.
Last updated September 2020