Travel & Touring | WA Destinations
By: Tatum Stafford
Referred to as the 'heart of the Perth Hills', the quaint town of Mundaring is a nature-lover's paradise.
Mundaring's abundance of bushwalking trails, lakeside camping spots and picturesque forest vistas make it the perfect location for a nature getaway. And when it comes to entertainment, its outdoor cinema, iconic country pubs and award-winning art events are sure to keep you busy.
It's time to head for the hills – we're going to Mundaring.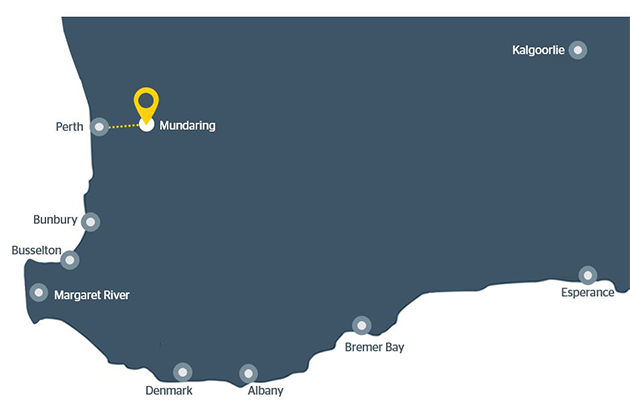 Top things to see and do
Lake Leschenaultia
This recreational lake is a must-visit for adventure seekers, with canoeing, swimming, cycling and walking trails on offer. Set amongst towering native trees and bushland, this peaceful hideaway is packed with amenities (including a café), and with plenty to keep the kids busy, it's a great spot for a family getaway. If you'd like to stay longer, the lakeside camping area has 22 powered sites suitable for tents and camper trailers.
RELATED: 10 campsites by the water near Perth »

Kookaburra Outdoor Cinema
Operating annually from November to April, the Kookaburra Outdoor Cinema is an idyllic spot to catch a film under the stars. Screening everything from latest releases to cult classics, this unique movie-going experience is punctuated by the sweeping state forest situated behind the cinema's large outdoor screens. If you'd like to stay overnight once your movie finishes, camping sites are available at the visitor centre opposite the cinema.
Mundaring Weir
Renowned as one of the world's greatest engineering projects, the Mundaring Weir was the start of the water pipeline to the Kalgoorlie goldfields in 1903. There are several bushwalking trails around the structure, where you can view some of the region's native plants, animals and birdlife up close - and cross the concrete weir wall as well. After you've had a closer look, pack a picnic and make the most of the barbeque facilities, grassy areas and shady trees.
Enjoy a pub lunch
Both the Mundaring Hotel and the Mundaring Weir Hotel provide the history, great food and charming atmosphere WA country pubs are so famous for. Both pubs are conveniently located near some of Mundaring's iconic attractions – including the John Forrest National Park and the Bibbulmun Track for the Mundaring Hotel, and the aforementioned Mundaring Weir at its namesake hotel. Both hotels serve classic pub meals seven days a week.
Interact with animals
Mundaring is a great place to get up close and personal with a few curious animals. The Karakamia Wildlife Sanctuary is famous for its two-hour guided dusk walk, which passes the nocturnal woylies, Tammar wallabies and quendas throughout the park. If you're feeling a bit more adventurous, the Calamunnda Camel Farm in neighbouring suburb Kalamunda has a range of camel ride options; from 10-minute strolls to one-hour rides through the hills. And lastly, the Zia Park Equestrian Centre offers a range of horse and pony trail rides across its 140-acre property and surrounding reserves.
RELATED: 13 of WA's best farm stays »

Picnic at Golden View Lookout
You'll be rewarded with stunning panaromas of the Helena River Valley, Mundaring Weir and Lake CY O'Connor at the Golden View Lookout. Surrounded by Marri trees and wildflowers in spring, this is an idyllic place for a picnic - and after a bite to eat, it's also a great starting point for a number of scenic bushwalking trails.
Walking and cycling trails
Visitors will be spoilt for choice when it comes to bushwalking and cycling trails in Mundaring. The CY O'Connor Trail, Christmas Tree Creek Walk, the dog-friendly Portagabra Track and world-class Bibbulmun Track are popular options for bushwalking, as all offer stunning vistas, native flora and the chance to become immersed in native bushland. For casual cyclists, the trails around Lake Leschenaultia are a great starting point – but for avid mountain bikers, give the Goat Farm Mountain Bike Park, Forsyths Mill Mountain Bike Track and Lake Leschenaultia Mountain Bike Trails a go.
RELATED: 10 of WA's best dog-friendly walking trails »

Mundaring Community Sculpture Park
Right across the road from the Mundaring Hotel is the Mundaring Community Sculpture Park. The playground is packed with quirky sculptures that were carved from Karri and Wandoo timbers by local artists. With touch-activated panels, rocks to climb and even a dragon sculpture where kids can dig for eggs, this shady playground and picnic area is the perfect spot to spend an afternoon.
At a glance
Distance from Perth
34 kilometres, around 45 minutes' drive
Why go?
To complete bushwalking, cycling and horse-riding trails throughout native bushland and forest, view and learn about the incredible Mundaring Weir, and camp by a lake that has plenty of nature-based activities on offer.
When to go

Jan - Mar: Warm temperatures are perfect for camping and water activities.
Mar - Dec: Cooler temperature makes this a great time to hit the hiking trails. The popular Mundaring Hills Open Studios art event is held in March.

How long to stay
If coming from Perth, pop up to Mundaring for a day trip. Otherwise, an overnight stay should be enough time to tick off the town's highlights.
Need to know
Phone reception can be spotty in certain parts of town, so be prepared to go without service for parts of your trip. Most of the attractions listed below are not pet-friendly. For further information, pop into the Mundaring Visitor Centre for maps, event guides and information about local attractions.
Fast facts
Town population:  3,041 
Indigenous people: Noongar.

Insider tip
The Mundaring Sunday Markets are held on the second Sunday of each month (except January and February) on Nichol Street. This is a great spot to pick up some local gems, including wooden carvings, local honey and jams and hand-crafted jewellery.
Getting around
You'll need a car to travel between attractions in this spacious town. As mentioned above, there are plenty of bushwalking, cycling and mountain-biking trails throughout Mundaring. The Munda Biddi Trail and the Bibbulmun Track both pass through the town as well.
Lake Leschenaultia is one of the best spots for equipment hire. You can rent canoes, kayaks, stand-up paddle boards, and electric or standard bikes at the lake's camping kiosk. To hire a mountain bike, head to Rock and Roll Mountain Biking a 20-minute drive from the town centre.
What to pack
As there are plenty of nature-based trails to explore, make sure you bring sturdy footwear with you, along with any equipment you might need (e.g. mountain bike, hiking poles). In summer, light clothing is fine. For cooler months, wear plenty of layers and bring a warm jacket with you. Sunscreen is a must no matter when you visit. Due to being immersed in nature and the proximity to lakes and the weir, Mundaring can be prone to bugs and mosquitoes, so packing insect repellent is a good idea.
Travelling safely
The drive up to Mundaring is on a high incline with a few winding roads, so drive carefully. There are also a few gravel roads throughout the town, and you'll need to be wary of cyclists on roadsides. Before setting off, read our long distance driving tips.
Ready to hit the hills?
Don't forget to fuel up – RAC members get 4 cents a litre off fuel at participating Puma Energy, Better Choice, Gull and Peak service stations.