Travel & Touring | WA Things To Do
By: John Bormolini
Western Australia's vast coastline affords avid boat fishing enthusiasts with more than 10,000km of opportunity – and that's not including our rivers.
Here are ten of the best and most reliable boat fishing locations around the state.
Boat fishing, especially when it involves considerable distances, always requires serious attention to safety and compulsory Department of Transport Boating Safety Equipment. Two very important, points of reference to check on the Department's Recreational Boating website are Required Safety Equipment and the Safety Guidelines BEST check. They provide vital information for anyone contemplating a boating expedition and should be studied carefully and regularly.
RELATED: 10 of WA's best land-based fishing spots »

1. Albany and surrounds
Seafaring souls that don't mind the big Southern Ocean swells will target pink snapper, blue morwong and red snapper (nannygai) offshore and around the islands, but the true attraction of this part of the Albany coast is the small boat opportunities in the bays and estuaries.
King George Sound, Princess Royal Harbour and Oyster Harbour are renowned for having the state's most prolific King George Whiting grounds. The Kalgan River to the east attracts black bream enthusiasts, and to the west it's well worth venturing a little further afield with the dinghy to explore glorious estuary hideaways at Denmark, Walpole and Nornalup.
2. Rockingham and Rottnest Island
The Rockingham-Safety Bay area is one of the metro region's most favoured bases for fishing expeditions out to reliable spots such as Cockburn Sound, the Five Fathom Bank west of Garden Island and deeper whiting grounds to the north.
The eastern side of Garden Island in the Sound is one of Perth's best squidding zones and is great family fun with light rods and some squid jigs. The Bank will regularly produce pink snapper and samson fish amongst other species, especially early morning or late in the day. Finding a flat, sandy bottom about 30m north west of Garden Island will almost always turn up some plump western sand whiting.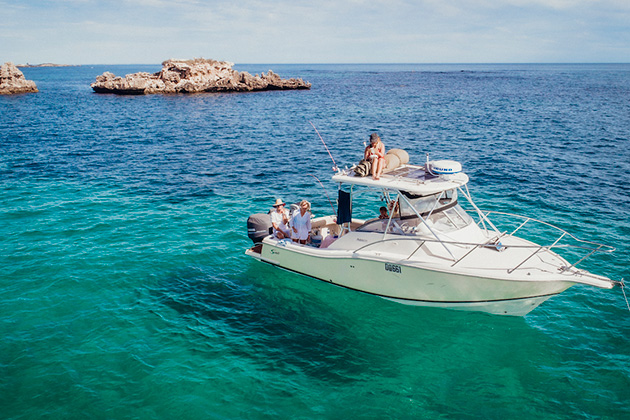 Long established as Perth's aquatic playground, Rotto has always held considerable attraction for offshore anglers. It also doubles as a base for venturing out to the Rottnest Trench for game fishing or for the increasingly popular 'deep drop' fishing for table species such as blue eye trevella, bass grouper and grey banded cod.
The island is a good base for everything from family fun sessions catching herring and skippy (silvery trevally) next to the island reefs, to pink snapper, breaksea cod and our iconic West Australian dhufish a little further out. And at summer holiday time, there's the added prospect of finding a delicious cray or two for lunch.
3. Abrolhos Islands
Although not easily accessed given the 60km distance north west of Geraldton, the Houtman Abrolhos Islands are a captivating mix of coral marine environment and more than a hundred small craggy islands. Its famous history of shipwrecks, violent mutiny and present-day cray fishing shacks belie the fantastic recreational fishing on offer.
The three main island groups stretch nearly a 100km from north to south and larger, well-equipped trailer boats and charters enjoy some of the best recreational fishing amongst coral shallows and pristine island surrounds. The Abrolhos is home to most of our temperate west coast species such as pink snapper, dhufish and perhaps the most prolific favourite, the delicious baldchin groper.
RELATED: Your guide to Geraldton and the Abrolhos Islands »

4. Kalbarri
Just 600km north of Perth, the mouth of the Murchison River meets the ocean at Kalbarri. Popular with holiday makers because of the variety of attractions, the town continues be a great spot for families to visit with a boat in tow. For some it's simply to enjoy some relaxed fishing in the lower sections of the river for whiting, bream or tailor. Others try their luck a few kilometres offshore for mackerel or to pull their craypots.
More serious anglers who know the ropes will venture quite a bit further to more productive grounds in search of red throat emperor, pink snapper, dhufish, baldchin groper and red emperor. Pink snapper tend to be about in bigger numbers in the cooler winter and spring months, but for Spanish mackerel and yellowfin tuna the more productive times are late summer and autumn.
5. Shark Bay
The Shark Bay region is a large expanse of typically shallower waters between large peninsulas. Denham is the main focus and jump-off point for boating anglers and the opportunities range far and wide. The slightly deeper channels are where most anglers devote their time looking for pink snapper, the most prolific fish to be found here. Amongst them will be the occasional estuary cod and blue lined emperor, these three being by far the most common catches.
Again, larger well-equipped trailer boats will venture further and here it's to the eastern side of Dirk Hartog Island or to its northern tip and Turtle Bay, Dirk Hartog's famous first European landing site in 1616. These more open waters provide all sorts of added variety including mackerel, tuna, cobia and spangled emperor. Like Kalbarri the region can be very windy at times so the best boating plans are laid around autumn and winter months.
6. Exmouth
Further afield on the inside of North West Cape lies Exmouth, definitively one of the best all-round fishing locations in Australia. Amongst the myriad of fishing opportunities, its real claim to fame is in being one of the best game fishing locations in Australia, or even worldwide.
The proximity of the Continental Shelf just a few kilometres offshore to the west means even smaller trailer boats can tangle with mighty blue, black and striped marlin, sailfish, wahoo, mahi mahi and various tuna. And if billfish are not your thing, there are so many other options either side of the Cape, from saltwater fly fishing for bonefish on the flats to the ultimate challenge in strength and endurance for lure casters – large, giant trevally.
7. Mackerel Islands
Especially popular for boat fishing 'seafaris', the Mackerel Islands off Onslow were aptly named many years ago thanks to the area's large pelagic fish such as Spanish mackerel, wahoo and tuna, as well as iconic northern species such as bar cheek coral trout, red emperor, rankin cod and scarlet sea perch.
In essence, it's one of the top locations to savour the best that our northern fishing has to offer and all from a comfortable home base at Thevenard Island, 22km offshore. Autumn and spring offer the best calm waters and if towing a craft all the way from Perth, very thorough trailer and vehicle checks prior are vital.
8. Montebello Islands
The Montebellos certainly have lots of mystique and an interesting history. With waters regarded as safe to visit nowadays following three nuclear test detonations in the 1950s, they are regarded as one of our very best boat fishing destinations. Here you're likely to find coral trout, spangled and long nose emperor, rankin cod, mackerel and trevally.
Being difficult to get to and with more stringent marine protection in recent years, the area still maintains large appeal for more avid anglers, especially those with larger seven or eight metre boats at least. Anything smaller is far too difficult given the need to be completely self-sufficient and many simply opt for one of the touring charter operators .
Some of the Montebello Islands still have elevated levels of radiation, so dock at your own risk. Fishing is prohibited in three signposted no-fishing sanctuaries around the islands.
9. Dampier Archipelago
Set against the dark reds and browns of the Pilbara foreshores, the island archipelago surrounding Dampier and Karratha provide a stunning backdrop to idyllic boating and fishing spots. This far north the waters take on a glistening turquoise colour, the tides get big and the currents race.
Boat fishers have to adapt to a very different environment than down south. Amongst it all there are tremendous boat fishing options that range from great offshore fishing to excellent sail fishing grounds and the opportunity to target barramundi and mangrove jack in the inshore creek systems. Even a feed of blue manna crabs is easy fare at the right time of year in Nickol Bay. Make no mistake however, the warmer months are precisely that in Karratha and Dampier and the temperatures can soar, even out on the water.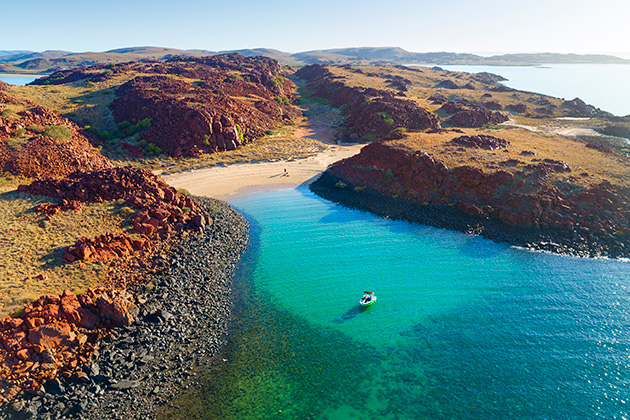 10. Broome and the Kimberley
At the western gateway to the Kimberley, Broome's boat fishing options range from fantastic sail fishing grounds for those who like to fish competitively, and surrounding creeks and the peninsular for those with smaller boats. The accessible big rivers such as the Fitzroy and its billabongs, the Ord, around Kununurra and even the Carson and King Edward at Kalumburu are all possible with four-wheel drive and dinghy.
The vast, inaccessible sections of the interior with so many other river systems and the huge expanse of coastline continue to make the region so very special. Boat fishing throughout the thousands of the Kimberley coast (many still unnamed) and its big wet season-formed river systems can be universally spectacular.
Unfortunately, it's usually the domain of large live–aboard charter boats, floatplanes and helicopters that make things expensive, but this pristine part of the world is definitely bucket list material.
Make sure your boat's covered before you hit the water
Take your boat out knowing it's covered with RAC Boat Insurance. Plus it'll be covered on land or on the water.
Last updated: June 2021