Travel & Touring | WA Destinations
By: Fleur Bainger
Home to some of the world's tallest trees, Pemberton mixes adventure pursuits with leisurely pleasures.
Think mountain biking thrills, charming hikes, the fun of wineries and the wonders of roaming dunes, all surrounding this tiny former saw-milling town.
At a glance
Distance from Perth
324 kilometres, or a 3.5-hour drive from Perth.
Why go?
Towering karri forests and giant lookout trees, owner-run wineries, winding scenic drives, placid lake swims, roadside produce stalls, an historic township, moving sand dunes and mountain biking galore.
When to go

Nov - Mar: Warm but comfortable days (average highs of 26 degrees with occasional rain and cool nights.
Apr - May & Sep - Oct: Mild to cool temps with some rainfall. Great for trail biking, forest walks and wine tasting.
Jun - Aug: Wet, cool to cold days and nights; the annual Truffle Kerfuffle festival happens in nearby Manjimup each June.

How long to stay
Two days allows you to do most things, but taking it slow over four days will leave more time to reconnect with Pemberton's entrancing nature.
Need to know
Pemberton is a small town with one fuel station, one supermarket and a general store. There's also a bakery, pharmacy, library and several cafes. Out of town, Pemberton has plenty of mobile blackspots due to its tall trees and deep valleys, but a Telstra tower recently installed at RAC Karri Valley Resort has strengthened coverage for Telstra users.
Fast facts
Town population:  974
Indigenous people: Noongar, Murrum.

Insider tip
In spring, discover a secret wildflower spot loved by locals at Lane Poole, Northcliffe, near the Boorara Tree. There's a magical waterfall (which gushes in the cooler months) and a charming, 5-kilometre return walk trail with informative signage.
Related road trips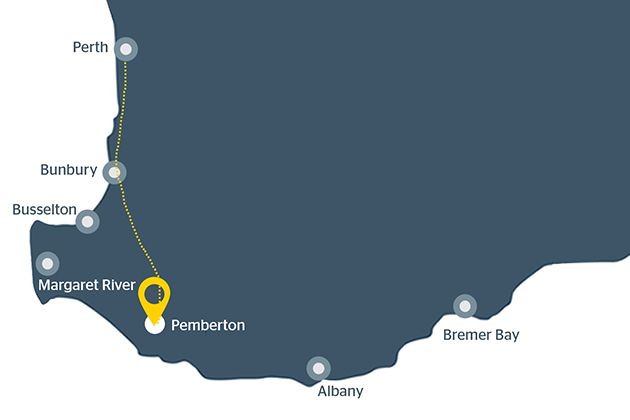 Top things to see and do
RELATED: 11 of the most interesting things to do in Pemberton »

Explore the Pemberton township and pool
Historic wooden workers' cottages line the streets of this characterful town, which was established as a timber milling hub in 1913; the sawmill was shut down in 2016.
The historic, tree-edged Pemberton Pool is a tranquil place for kids to cool off.
Visit Jaspers whisky bar
This chic establishment, which is named after WA author Craig Silvey's novel, Jasper Jones (the film-adaptation was shot in and around Pemberton), opened in 2020. Order an international whisky or bourbon and some locally sourced food and settle in beside the pot belly fire.
Tip: beyond the Chesterfield couches, look for the piece of floor lined with Australian 2-cent pieces. Jaspers also has cabin accommodation out back.
Eat local
In town at Wild at Heart café, you can buy farmer-direct fresh produce as well as bulk foods, chilled deli goods and house baked sourdough loaves. The venue also offers a seasonal breakfast and lunch menu, locally roasted coffee and oven-fresh cakes (hot tip: they do $10 toasties on Tuesdays).
Sustainably-minded Source Kitchen pumps out ethical burgers and salads for lunch and dinner (ingredients are sourced from their spray-free farm and chips are from local potatoes). They also do weekend breakfasts and pizzas.
Another great evening option is the deservedly popular, family-friendly Treehouse Tapas and Wine Bar, which also celebrates regional produce.
Visit the Gloucester Tree
At 58 metres high, the Gloucester Tree is the world's second tallest fire-lookout tree. Its 7m-wide trunk is curled with pegs that act as a spiral ladder, leading to a swaying platform cabin. While the tree is currently not open for climbing, you can still visit the site.
You can also check out the 51-metre Diamond Tree and the 65-metre Dave Evans Centennial Tree not far away - both also not open for climbing.
Visit the Walk-Through Tree
This 75-metre-tall beauty is found at the end of a leaf-strewn bush trail inside Greater Beedelup National Park. Believed to be 400 years old, the tree's gnarled base has formed into an arch, and a ladder lets you hop up into a natural, open-sided cavern. The walk alone is worth it.
Explore walking and mountain biking trails
There are loads of dreamy walking trails ribboning throughout Pemberton's forests and along its waterways. The 4.2-kilometre paved track around Big Brook Dam, passing a small beach, is a favourite. For a longer walk consider a stretch of the Bibbulmun Track. Try out the new mindfulness trend of forest bathing while you're at it.
If you're eager to hop on your bike, the Pemberton Mountain Bike Park contains 30 kilometres of cross-country trails – including a jump and pump track - and is found on the edge of town. The 1,000-kilometre Munda Biddi Trail – the longest continuous off-road cycle trail in the world – also runs through Pemberton.
Tackle scenic drives
Edged with pale trunked karri trees rising like Roman columns, the 85-kilometre Karri Forest Explorer Drive includes a bunch of must-see sites including Big Brook Dam (a great picnic and swimming spot), Cascades, Gloucester National Park and the Gloucester Tree, the Dave Evans Bicentennial Tree, the old-growth trees of Warren National Park and the Warren River.
The 50-kilometre Great Forest Trees Drive is another spectacular route south-east of Pemberton. It wends through old-growth karri, jarrah and marri forest in Shannon National Park.
Cruise through D'Entrecasteaux National Park
Explore an area only accessible by boat, quietly cruising the Donnelly River until you reach a lone beach landing. As 12 kilometres of river scenery rolls by, shifting from karri and jarrah to paperbark trees and wetlands, you'll get a crash-course on the area's ecology, geology and history from Donnelly River Cruises. Meet at the boat ramp or jump on the courtesy bus at Pemberton or Karri Valley Resort.
RELATED: 15 of WA's best national parks for camping »

Visit local wineries
Pemberton is all about cool climate wines. and most local wineries are boutique and run by the owners. Excellent options include Hidden River Estate winery-restaurant (which has a playground and is dog-friendly), Lost Lake winery and cidery (they run $25/head wine appreciation classes on Sundays), pretty Pemberley of Pemberton, long-established Picardy and organic Mountford Wines and Tangletoe Cidery (which has a truffle liqueur).
Roadside produce stalls
More than 50 types of fruit and veg are grown in these parts, and farmers often offer produce at bargain basement prices from roadside stalls on their property perimeters. Expect to find strawberries, spuds, avocadoes, corn, hazelnuts, stonefruit and more.
If you want to get your hands dirty on the farms, check out the excellent Southern Forests Food and Farm Experience.
Explore the moving Yeagarup Dunes
The largest land-locked mobile dune system in the southern hemisphere is found where? That's right, it's on Pemberton's outskirts. As the sand moves, it swallows up forest, leaving fossilised trees behind as the sand shifts.
Go it alone in your four-wheel drive or get a fascinating commentary from those who know it best on a tour of D'Entrecasteaux National Park with Pemberton Discovery Tours. On their beach and forest eco adventure they also take you through old growth forest and to a rugged beach with no one on it.
RELATED: 5 epic WA road trips you can only take in a 4WD »

Getting around
Mostly, you'll be fine with a two-wheel drive but bush adventurers will love getting off-track in a four-wheel drive. Pemberton is also a mountain biking mecca and a hiking hotspot, so BYO bicycle and hiking boots.
You can hire mountain bikes from Pemberton Mountain Bike Hire, which operates out of the Pemberton General Store. Pemberton Discovery Tours can help with bike transport and pick-ups.
What to pack
The evenings are still cool in summer, so always bring a jacket, no matter what time of year it is. Rain also falls year-round, so a raincoat and umbrella will likely come in handy. Essentially pack for all seasons – shorts and sandals as well as pants and boots.
Clothing aside, be sure to bring an esky for all the fresh produce you're likely to buy up.
Travelling safely
Watch out for wildlife such as kangaroos and the mainland quokka, particularly at dawn and dusk. During the day, drive carefully along bendy forested roads, and take it easy if the sun is in your eyes. Read more long distance driving tips before setting off.
Need a place to stay?
RAC members save up to 20%* on accommodation at the nearby RAC Karri Valley Resort.
Last updated December 2020