By: Mark Daffey
WA's Southern Forests region is renowned for its slow pace and indulgent escapes but there's plenty on the menu for those who want to indulge in adventure, too.
The towering karri and jarrah forests of the Pemberton region shade rich, loamy soils that produce world-class wines and aromatic black truffles that are coveted by Michelin-starred chefs the world over. It's a place to relax, indulge and escape.
But if you prefer your forest getaway with a healthy serve of outdoor activity, there's also plenty of that on offer in this stunning region, from mountain biking through hardwood forests, to kayaking, fishing and coastal hikes where migratory humpback whales swim close to shore.
RELATED: 11 unique things to do in Pemberton »

1. Ride the trails
In 2006, Pemberton Visitor Centre officials opened discussions around the construction of fresh mountain bike trails on the edge of town. Three years later, with funding assistance from various government bodies, the Pemberton Mountain Bike Park opened on a forested hill above the historic town pool.
Further trails were added during subsequent years and there are now 32km of trails, graded beginner to advanced. Included is a pump track and skills loop, with technical climbs and fast, flowy downhills featuring tight corners, drop-offs, rollovers and rock gardens.
The signature trail is Relentless Blue, whose ramped berms, wall rides and log rollovers will test even expert mountain bikers' skills.
Pemberton General Store is the only place in town that rents bikes and also has spare parts, but their bike range is limited, so bring your own if you can.
The WA South West Master Plan has identified Pemberton as a National Ride destination and Nannup as a regionally significant destination for mountain bike trail development, so watch this space.
National Geographic included the Munda Biddi Trail as one of its Top 10 Cycle Routes in the World. The 1000-kilometre-long bike trail, which means 'path through the forest' in the Noongar language, links Mundaring with Albany using a network of bush tracks, firebreaks and rail trails, passing through Nannup, Manjimup, Pemberton and Northcliffe. Purpose- built accommodation huts reserved solely for riders are spread out along the route.
Decaying road and rail lines that were once used to move jarrah logs around Nannup have been repurposed as rail trails that can now be combined into a 37-kilometre cycling loop. The Timberline Trail follows St John Brook Creek past numerous swimming holes, intersecting with the Sidings Rail Trail that follows the course of a former government railway. A 54-kilometre rail trail also connects Nornalup with Denmark.
RELATED: 10 of WA's best mountain bike trails »

2. Pull on your hiking boots
With such a large number of national parks and reserves in the region, there are always new places to explore on foot. The 1000-kilometre Bibbulmun Track is one of the world's great long-distance hiking trails, connecting Kalamunda with Albany. The trail passes right by Pemberton's Gloucester Tree and the Walpole-Nornalup National Park's Valley of the Giants Tree Top Walk, where a bridge weaves through the forest canopy 40 metres above the forest floor.
Of course, there are also plenty of shorter walks lasting anything from an hour to a day. West of Pemberton, the trail to Beedelup Falls skirts Lake Beedelup – home to RAC Karri Valley Resort – before climbing to a suspension bridge overlooking the cascades. At 100 metres, it's one of the highest in WA.
Further south, the Warren River Loop Walk meanders beside the river through groves of karri, sheoak and Warren River cedar. A five-kilometre walking trail near Northcliffe leads from the Boorara Tree, a decommissioned fire lookout, and to Lane Poole Falls on the Canterbury River. Nearby, the climb to the top of the 185-metre Mt Chudalup affords sweeping views over the surrounding karri forest.
The Great Forest Trees Walk in Shannon National Park takes you deep into the karri forest, following an old forestry track. The Summit Trail to the top of Mount Frankland leads to Towerman's Lookout, where there are remarkable views over the Walpole Wilderness Area. On a clear day, you can see as far as the Stirling Range and the Southern Ocean.
The Point D'Entrecasteaux Cliff Top Walk at Windy Harbour is an excellent location to spot migratory southern right whales. Inside the point, the sheltered Cathedral Rock beach is one of the safest places to swim in the area.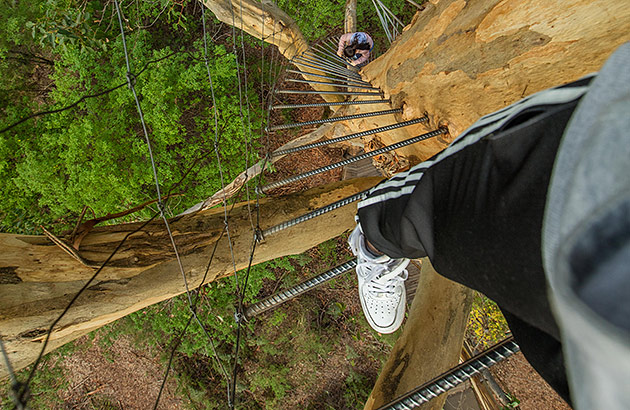 You'll need a head for heights if you want to tackle one of two karri tree climbs in the region. The tallest, at 75 metres is the Dave Evans Bicentennial Tree, inside Warren National Park.
Next is the Gloucester Tree, in Pemberton itself; the 61-metre-high tree was first used as a fire lookout in 1947. A wooden cabin was built 51 metres above the ground at the Diamond Tree, halfway between Pemberton and Manjimup. It's the only one of the three trees now off limits to climbers.
3. Begin a four-wheel adventure
Thirty kilometres south of Pemberton, the Yeagarup Sand Dunes is a moving dune system that acts as a siren call for serious off-roaders. Experienced four-wheel drivers can follow old forestry tracks through the Warren and D'Entrecasteaux National Parks before crossing the Southern Hemisphere's largest land-locked mobile dune system to Yeagarup Beach.
Pemberton Discovery Tours has been ferrying guests to the dunes on their Beach & Forest Eco Adventure tour since 1999. Four-hour tours depart daily at 9am and come highly recommended for the insightful commentary offered. Full-day off-road adventures to Black Point, visiting Goblin Swamp and Lake Jasper, the region's largest natural freshwater lake, are also on offer.
The Karri Forest Explorer near Pemberton is an 86-kilometre self- guided drive through some of the region's most magnificent karri forest. The trail takes in the beautiful Beedelup Falls and follows Warren National Park's Heartbreak Trail, as well as Big Brook Dam, where swimming and trout fishing are popular pastimes. Shannon National Park's Great Forest Trees Drive passes through spectacular old growth karri, jarrah and marri forests to a network of forest walks.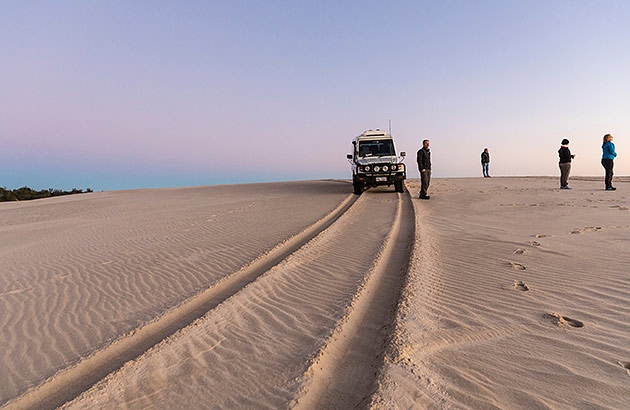 4. Hit the water
Summers are ideal for lazy paddles down the Blackwood River. The river is the longest waterway in the South West and when the waters are flowing in winter, white-water rafting comes into play. Be warned though: the rapids either side of Bridgetown should be respected, having hosted serious wild water racing events in the past. Blackwood River Canoeing in Nannup rents canoes by the hour and also offers extended tours.
Canoeists can launch from Maiden Bush, Warren and Draftys camps on the Warren River. The paddle to the coast can take a couple of days. Pemberton Hiking and Canoeing run guided river tours, including evening tours spotting nocturnal wildlife. Tours start at $50 per person (adults) for a half-day.
Alternatively, a 12-kilometre paddle among jarrah, karri and paperbark forests and through wetlands leads to the Donnelly River mouth. River cruises are also available through Donnelly River Cruises. Lakes Yeagarup and Jasper are also popular with canoeists, and you can hire canoes from the RAC Karri Valley Resort to paddle on peaceful Lake Beedelup.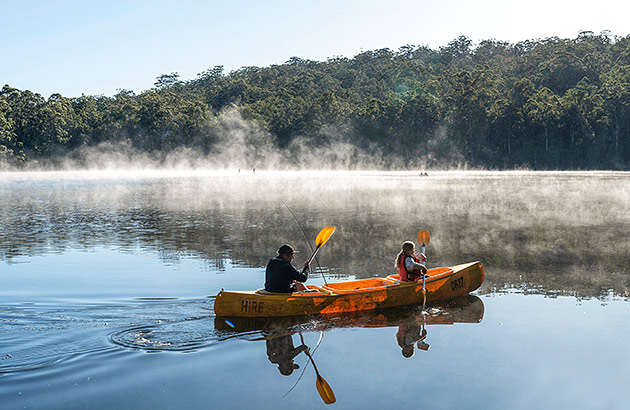 5. Cast a line in
With its myriad rivers, lakes and inlets, anglers are spoiled for choice in this region. Budding anglers will love trying to hook a fresh rainbow trout or marron at Old Vasse Trout and Marron Farm in Pemberton. Entry is $15 for adults, $10 for children up to 14 years old and $5 for pensioners. Rods are an extra $5 and they'll give you a container full of doughy bait balls that get snapped up the moment they hit the water.
If you're staying at RAC Karri Valley Resort, there are plenty of trout to catch in Lake Beedelup during your stay. Bring your own rod or hire them onsite.
The chef at Tall Timbers restaurant in Manjimup or Ardal Nigg at Hidden River Estate in Pemberton can even cook up your catch for you. Seriously, meals do not come any fresher than that.
Not into fishing but love fish and marron? See Dave Evans at Pemberton's Forest Fresh Marron for both and he'll make sure they're ready to cook.
Mark Daffey travelled courtesy of Australia's South West.
Image credit: Mark Daffey and Tourism WA
Save on stays at RAC Karri Valley Resort
Members save up to 20%* off stays at RAC Karri Valley Resort in Pemberton.
*Discounts vary according to season.
Last updated: September 2020