Travel & Touring | WA Road Trips
By: Carmen Jenner
Close enough to be reached in a day, Kalbarri's red ochre cliffs, turquoise ocean and laidback pace will leave you feeling like you're a million miles away.
For those lucky enough to have the luxury of time, the journey to Kalbarri from Perth offers plenty of interesting stops to break up the drive and slow down the pace. The trip from Perth is around seven hours if you take the scenic Indian Ocean Drive out of Perth.
Your other option from Perth is to take the Brand Highway for 570km, which, at about the same distance, is also a pretty drive during wildflower season from July to late September.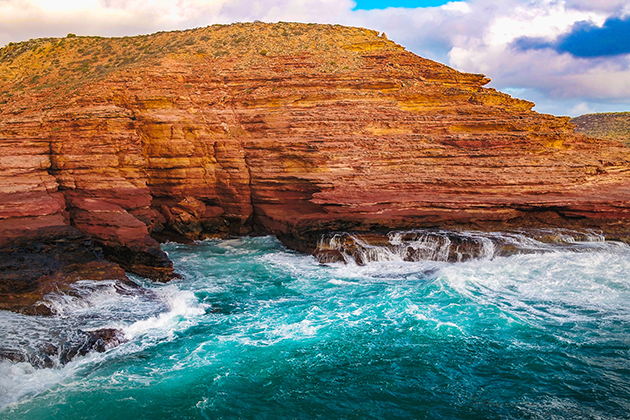 On the road
Two hours north of Perth along the Indian Ocean Drive you'll come to Cervantes. The ancient thrombolites at Lake Thetis and the extensive cave system in Stockyard Gully National Park are interesting stops.
For seafood lovers, the legendary Lobster Shack is a must-do. They run western rock lobster tours and have fresh lobster lunches every day of the week.
The RAC Cervantes Holiday Park caters well to all and is situated on the foreshore. It's a great place to stopover before embarking on your next adventure. Consider staying there for the night, if only to experience the Pinnacles Desert in Nambung National Park at dawn or dusk for magical views.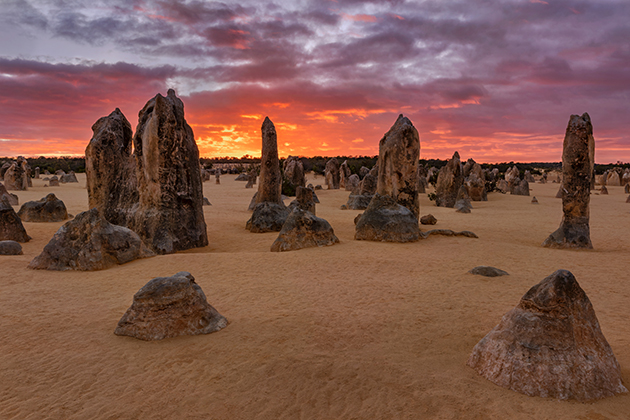 Continuing along the Indian Ocean Drive for another 158km (approximately two hours), Dongara is an ideal spot to stop, stretch your legs and refuel, and if time permits, enjoy the Dongara – Port Denison coastline.
Approximately 60km north of Dongara, the bustling city of Geraldton is known for its beaches, foreshore, water sports and Marine Terrace offering dining options on the water's edge.
The Esplanade has a viewing platform and walkway with sprawling 360-degree views of the city, Port Champion Bay and Moresby Ranges.
Geraldton's accommodation options range from camping to self-contained apartments, such as The Gerald Apartment Hotel.
The Chapman Valley circles from Geraldton to Northampton and back again and is a hotspot for wildflowers in season as well as historic sites and views of the picturesque Moresby Ranges. In Northampton, the Oakabella Homestead and Tea Rooms (closed during summer) offers homestead tours and has camping facilities.
There's a well-equipped campsite at the nearby Horrocks Beach Caravan Park with new holiday units, great facilities and a picture-perfect beach – it was rated one of Australia's best by Tourism Australia in 2018.
From Northampton, you're just 100km away from Kalbarri. Turning right onto George Grey Drive takes you past the Pink Lake at Hutt Lagoon in Port Gregory – its bubble-gum hues are attributed to the algae, which is used in food-colouring and cosmetics.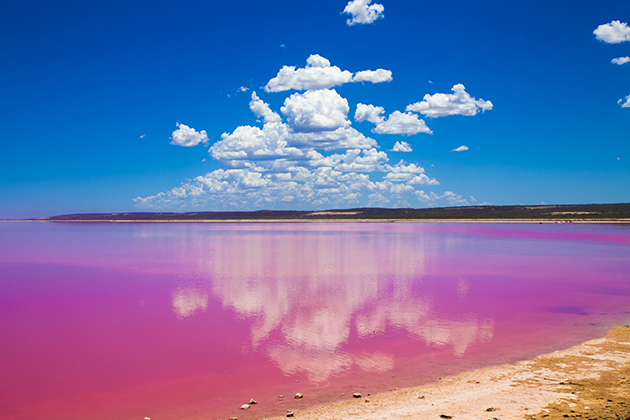 Red Bluff Road into Kalbarri is nothing short of dramatic as the Indian Ocean crashes up against the coastal cliffs.
In Kalbarri
RELATED: Ultimate guide to Kalbarri »

Many locals were once travellers passing through and then later returned to make the sleepy coastal town home. Juanita Illingworth runs Pelican Shore Villas with her husband Thierry. They visited Kalbarri briefly two years ago before returning to France.
Juanita says, "Kalbarri reminds me of Spain due to the heat, ambience and activities. It has such a lovely feel."
Pelican Shore Villas offer fully self contained two and three-bedroom villas and a swimming pool right across the road from the shore where the Murchison River meets the Indian Ocean. It's not uncommon to see kangaroos roaming freely around the complex.
Self-catering is one way to enjoy Kalbarri, especially during the peak season when some of the cafes require bookings in advance. The town offers several delightful eateries including Pelly's Café, the upmarket Upstairs Restaurant and the two local pubs.
The family and dog-friendly Finlay's Kalbarri is renowned for its fresh and local seafood, micro-brewery and Sunday sessions with live music.
The Kalbarri Edge Resort has a variety of studios, one and two-bedroom suites with kitchenettes, some with spas, balconies and BBQs, plus a fully licenced restaurant and a swimming pool. The resort caters well to long-term stays and is a great location to base yourself to explore the region.
Kalbarri Anchorage Caravan Park, Murchison Caravan Park, Kalbarri Tudor Holiday Park and Kalbarri Red Bluff Tourist Park offer camping, caravan sites and cabins within easy reach of the township.
Attractions and highlights
For those keen to pick up the pace, Kalbarri Wagoe Beach Quad Bike Tours can take you on a 20km ride through powder-white sand dunes. The tours are suited to all ages and abilities with rides on quad bikes as well as two and four-seater buggies. The buggies are a little easier to manoeuvre, leaving you with more opportunities to enjoy the spectacular views of Wagoe Beach.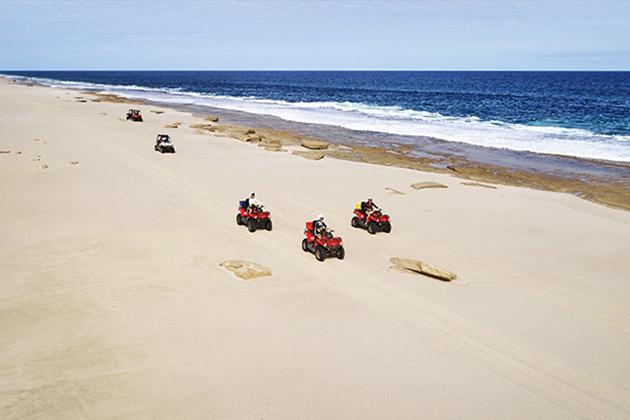 The Murchison River flows for 820km from WA's Mid West region, all the way to the Indian Ocean, carving a gorge through Kalbarri National Park. You can abseil down the gorge with Kalbarri Abseil, ride horses along its mighty banks with Big River Ranch or trek and canoe into an isolated part of the gorge with Kalbarri Adventure Tours.
Or create your own adventure – hire a boat to explore the river and fish for bream, whiting, mulloway, tailor and crabs.
Kalbarri Wilderness Cruises offer morning and sunset river cruises past the red Tumblagooda Sandstone cliffs unique to the region. The ancient cliffs span all the way from Carnarvon to Kalbarri.
To get another perspective, Kalbarri Scenic Flights can show you much of the region from the air. As well as Kalbarri's gorges and coastal cliffs, a scenic flight can take you over the Pink Lake at Hutt Lagoon, Port Gregory, Pot Alley, Mushroom Rock, Red Bluff and even over the Abrolhos Islands, where you can land and swim on the beach.
Back on the ground, there are more breathtaking views in Kalbarri's National Park from the Kalbarri Skywalk, where two platforms are suspended 100m above the Murchison River. Access is easy with flat pathways bordered by interpretive signage and artworks of local fauna.
Another unique way to enjoy the view is to join a Kalbarri Skywalk Dinner at sunset. Also in the national park, don't miss the iconic Nature's Window and the challenging Loop and Z Bend treks.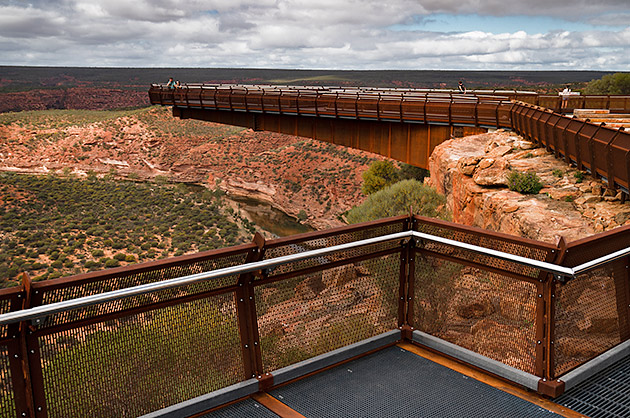 Spectacular views aside, Kalbarri is a place where you can just take a deep breath and relax. The township itself is compact and very walkable. You can swim or go paddling in the bay and enjoy the relaxed beachside atmosphere. Every morning at 8.45, dozens of pelicans emerge from the river for their daily feed provided by several locals who have been caring for these impressive birds for more than 20 years.
Incredible beaches offer a refreshing reprieve from the heat, especially in the warmer months. Chinaman's Beach is situated in town, while the picturesque Blue Holes is perfect for snorkelling and with the protection of a reef, the water is calm. Lucky Bay is about 30 minutes south of Kalbarri and has a camping area and pristine sand dunes.
From November to March, the weather is hot and dry, which is ideal for snorkelling, paddle boarding and just lazing on the beach. During the milder months, from April to October, hiking is enjoyable, and the wildflowers are blooming from around late June.
As you leave Kalbarri the sign indicates a turn for Perth. Be prepared for the urge to turn the other way instead and head further north to Shark Bay, Carnarvon and Exmouth. Another journey for another time.
Ready to hit the road?
Make sure you fuel up first - RAC members save 4 cents per litre at participating Puma Energy and Better Choice stations.
Image credit: Tourism Western Australia
Last updated: February 2021