Travel & Touring | WA Road Trips
By: Kirsty Petrides
Western Australia's South West is the perfect place for a driving holiday, but with so much to see, it can be overwhelming to decide where to go.
So we've got you covered with this ultimate south west road trip. Covering the natural beauty of the Porongurup Ranges, the rich history of Albany, the culinary scene in Denmark, the lush forests of Pemberton, the food and wine in Margaret River, the iconic coast of Busselton and the charm of quaint Donnybrook – think of this as your south west 'greatest hits'.

We recommend eight days for this road trip, but if you've time on your side, you could linger a little longer in some of the towns and really scratch beneath the surface.
Distance and days

Approx. 1,150km return trip – we've allowed eight days.

Why do it?

The Porongurup Ranges – Castle Rock Granite Skywalk – Albany's Middleton Beach – Denmark's food and wine scene – Elephant Rocks – Green's Pool – driving through lush forests – Valley of the Giants Treetop Walk - Pemberton's Diamond Tree – Truffle tasting in Manjimup – Margaret River region – Donnybrook's famous apples

When to go
Dec – Apr: Minimal rainfall is a good time to hike in the Porongurups – due to its granite, the trails can be very slippery in winter. Warm weather is also the best time to enjoy Albany's beaches, and Denmark's Elephant Rocks and Greens Pool in Denmark.
Jun - Sep: Winter rains make the landscape in the southern forests region even more lush and green than usual, and June marks the start of Manjimup's truffle season – which kicks off with the annual Truffle Kerfuffle festival. It's also a bit cooler in the often-hot Porongurup Ranges.
Need to know

Phone reception is fine in and around the main towns, but everywhere else – including while you're driving on the long stretches of road – will be patchy at best. Make sure you download maps if using them. Most towns have a petrol station and general store.

Vehicle access and safety


This trip is suitable for two-wheel drives. Keep an eye out for wildlife particularly on the road between the Porongurups and Albany.

Before setting off, read more of our long distance driving safety tips.
Member benefits along the way
Day one: Perth to Porongurup (390km)
The first leg our your road trip isn't too long – roughly four and half hours – depending on how many breaks you take. Kojonup is a great place to stop for fuel, a snack and to stretch the legs. Stop in the quaint Mount Barker for a quick stroll down the main street, to stock up on any supplies you need from the IGA, and to admire some of its heritage architecture. Then continue on to Porongurup, the home of one of the oldest mountain ranges in the world.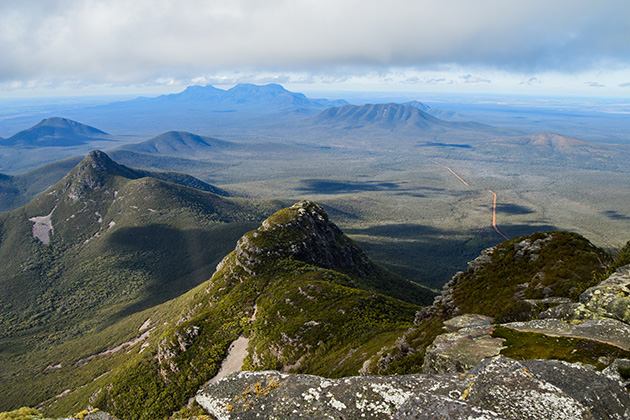 More than one billion years old, the Porongurup Range is home to towering granite peaks, majestic stands of karri trees and impressive hiking opportunities. There's a handful of accommodation in the area, from lodges and bed and breakfasts, to camping and caravan parks.
After a long drive, there's no better way to stretch the legs than with an afternoon climb. So once you're settled in, head up to the famous Castle Rock Granite Skywalk in Porongurup National Park, where you'll enjoy sprawling views over the ranges. You'll need a national park pass – RAC members save 50%.
Once you're back down, round out the day with a visit to one of the award-winning wineries in the region. The Porongurups are renowned for producing exceptional cool-climate wines, notably riesling and pinot noir, with excellent ones being produced at Castle Rock Estate and Duke's Vineyard. Both have welcoming cellar doors with tastings – just ensure you have a designated driver.
Day two: Porongurup to Albany (50km)
From Porongurup, you've get a very short journey to Albany, so take your time by taking a slight detour east to Two People's Bay Nature Reserve, which is home to the beautiful Little Beach and Waterfall Beach. After a quick dip, head to lunch at the nearby Monty's Leap, a local vineyard offering stunning views and delicious grazing boards. Once your bellies are full, make tracks to Albany.
Day three: Explore Albany
With so many things to do in Albany, it's well worth scheduling a day to stay put and explore everything this city has to offer. Home to a rugged coastline, plenty of picturesque beaches and an incredibly diverse national park, it's a nature-lover's heaven. Throw in a rich colonial history, incredible hiking and even some whale-watching, and you've got yourself a quintessential WA road trip destination.
RELATED: Ultimate Guide to Albany »
Day four: Albany to Denmark (56km)
It's another reasonably short drive from Albany to Denmark, mostly along the South Coast Highway, so take your time and enjoy a slight detour. Head down to Cosy Corner Beach, which is just a lovely as it sounds – a relatively quiet, sheltered beach popular for swimming, snorkelling and fishing. It's perched right on the cusp of West Cape Howe National Park, which is also worth popping in to if you have time on your side – Shelley Beach and its synonymous lookout are stunning places to stop.
Jump back onto South Coast Highway and head west to your next destination - Denmark. A few kilometres before you hit the town, you'll pass Boston Brewing, a great place to stop for lunch. And if you've done some swimming and snorkelling at Cosy Corner, you'll have worked up an appetite for their freshly cooked woodfired pizzas - so grab a table on the grass and enjoy.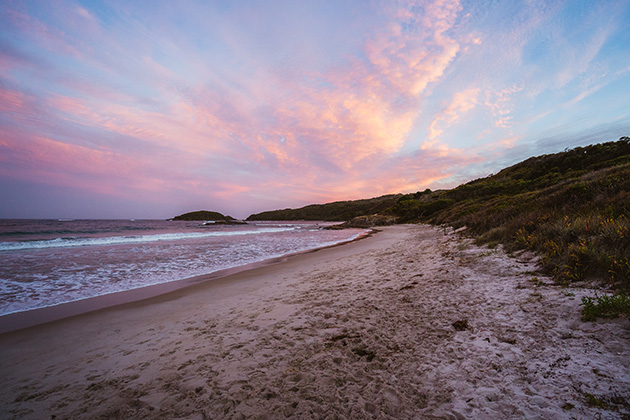 Day five: Explore Denmark
Similarly to Albany, you'll thank yourself for setting aside a day to explore Denmark and its surrounds. Green's Pool, Elephant Rocks and Monkey Rock are a must; as is a stroll through the main town and a winery lunch at one of the iconic vineyards. Check out our Ultimate Guide to Denmark for a full list of highlights.
Day six: Denmark to Pemberton (185km)
The stretch of the South Coast Highway between Denmark is Pemberton might be the most picturesque drive you'll ever do - enveloped by towering karri trees and lush forest ferns, you'll feel instantly calm just by driving through it. As you approach Walpole, take a quick stop and swing by Walpole-Nornalup National Park and enjoy the Valley of Giants Treetop Walk.
Once you're done taking in all the beauty and tranquillity from above, jump back in the car for the final stretch to Pemberton. Upon arriving, squeeze in some exploring before settling in for the night – the Gloucester Tree and Diamond Tree are worth a visit, as is a stroll through town and sampling some of the local produce.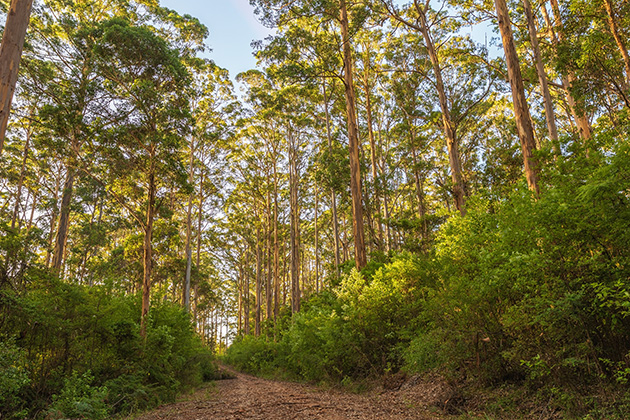 Day seven: Pemberton to Margaret River via Manjimup (160km)
It's about a two hour drive from Pemberton to Margaret River, so we suggest breaking it up by going via truffle country – otherwise known as Manjimup. If it's a warm day, stop at Fontys Pool on the way, where for just a few dollars you can go for a swim and float around in one of their giant inflatable tyres to cool down.
Once you're in Manjimup, make a beeline for the main drag where you can wander through the quaint cafes and quirky stores. Then make it your civic duty as Western Australian to have lunch at the Truffle and Wine Co – with Manjimup being responsible for almost 70 per cent of Australia's truffles, it's an absolute must-do for any self-respecting WA foodie. If you have the chance, a truffle-hunting tour with a truffle dog is a must.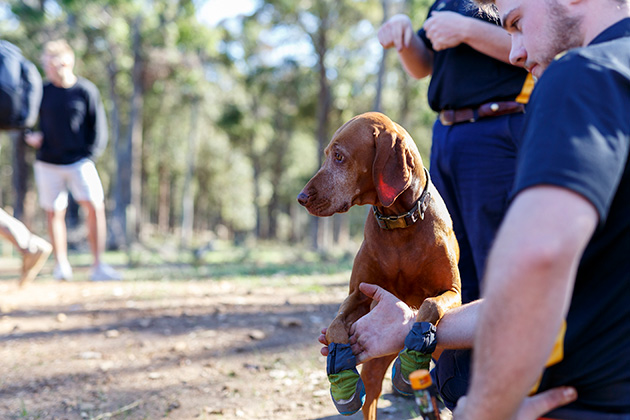 With a full tummy, get back on the road to Margaret River. You'll pass through Nannup on the way, a good place to stop for fuel, a toilet break and to stretch the legs.
Once you arrive at your destination, spend your evening enjoying a Margaret River sunset and dinner at one of the many spots along the Bussell Highway main drag in town.
Day eight: Margaret River to Perth via Busselton and Donnybrook (313km)
Enjoy a slow start to the morning before commencing the final leg of your road-trip. Walk through town, go for a swim at Gnarabup Beach and get a coffee from the laid-back White Elephant Beach Café. Then hit the road to Busselton – enjoy the waterfront along Geographe Bay Road, walk down the famous jetty and have lunch at The Goose, a chilled-out waterside restaurant dishing up amazing local produce.
From there it's only 45 minutes to Donnybrook, the apple capital of WA. You can pick some of the fresh produce at Spring Valley Orchard, and – if travelling with kids – visit the Apple Fun Park, Australia's largest free entry playground.
Once you're done exploring, jump back in the car for the home stretch to Perth, with (hopefully) full bellies, full hearts and full bags of amazing WA produce.
RAC members save on accommodation in WA's South West
Don't forget, members get up to 20%* off at RAC Parks & Resorts in Karri Valley, Margaret River and Busselton.
Last updated February 2021
*Terms and conditions apply. Member rate varies according to season. See full website for details.