Travel & Touring | WA Road Trips
By: Tatum Stafford
This quirky Wheatbelt road trip features charming farm towns, a few tin horses and of course, the iconic Wave Rock.
Meandering through WA's Golden Outback region, this peaceful drive will showcase salt lakes, sprawling countrysides and plenty of wildflower carpets in season. Let's hit the road.
| | |
| --- | --- |
| Distance and days | Approx 752 kilometres, allow three days. |
| Why do it? | Avon Valley – Quarading's Pink Lake – Wave Rock – Mulka's Cave – Hippo's Yawn – Kondinin Lake – Tin Horse Highway |
| When to go | All year round, or springtime to view the region's sprawling wildflowers. |
| Need to know | There are supermarkets, fuel stations and other services in both York and Hyden. Be prepared to lose phone signal when in remote farming areas. |
| Vehicle access and safety | This trip can be completed in a two-wheel drive, as it involves long stretches of driving, make sure you take breaks when needed. Before setting off, read more of our long distance driving safety tips. |
| Member benefits along the way | |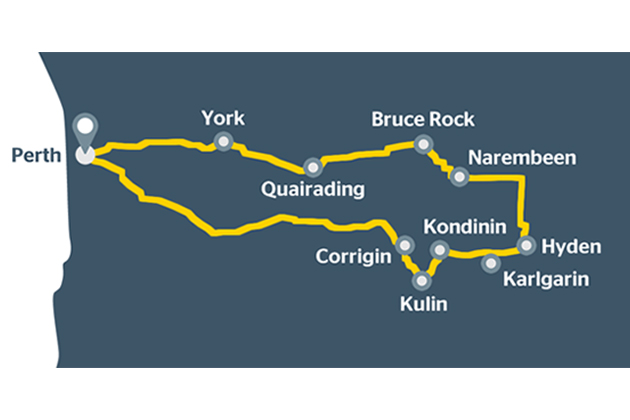 Day one: Perth to York (99 kilometres)
Drive just over an hour east of Perth to reach the quaint country town of York. Here, you'll be treated to pristine views of the Avon Valley's rolling farmlands, a series of quirky trinket shops, and a glimpse at some of WA's oldest buildings. Depending on when you visit, you might also enjoy the annual York Medieval Fayre or the impressive York Festival, featuring exhibitions, live music, stand-up comedy and local walking tours.
RELATED: 10 unique day trips from Perth »

Day two: York to Hyden (Wave Rock) via Quairading, Bruce Rock and Narembeen (273 kilometres)
Your next stop, Quarading, is about 50 minutes from York on the Quairading-York Road. The town derived its name from the Aboriginal word 'Kwirading', meaning the home of a small bush kangaroo. Here, you can view a re-creation of the Rabbit Proof Fence, as well as Quairading's Pink Lake. Once you leave town, don't miss the bank at Shackleton – it's said to be the smallest bank in Australia.
Bruce Rock is renowned for its plentiful wheat, lupin and barley crops, and is a great rest stop before continuing your drive to see Kokerbin Rock, an impressive granite outcrop 45 kilometres west of the township. The rock is accessible from a number of points, but the best views are at the top. Drive up there to enjoy spectacular views over the surrounding countryside.
To reach Wave Rock, travel through Narembeen to Hyden via Mount Walker Road. The wave-shaped rock is 15 metres high and 110 metres long. Geologists believe the original granite formation has be sculpted and coloured by weather, water and chemical erosion over 2.7 billion years.
While you're in the area, pay Hippo's Yawn a visit. This unique rock is a short walk from Wave Rock, and earned its name thanks to its striking resemblance to a yawning hippo. For a unique view, climb inside the hippo's 'throat'. Mulka's Cave, 18 kilometres from Wave Rock, is another intriguing site that's worth a visit.
Settle for the night in Hyden – a town renowned for its rare white kangaroos, and interesting local history. Stop in at the pioneer museum and the Lace Place, a collection of lace gowns, veils and doilies that date back to the 1600's.
RELATED: 10 of WA's quirkiest museums »

Day three: Hyden to Perth via Kalgarin, Kondinin and Kulin (380 kilometres)
For this last leg, head west along the coast and stop at the tiny farming community of Karlgarin. First settled in the 1920's, many of the town's buildings have retained their old-world charm, including the primary school and shop. Take in the scenic vistas from McCann's Rock, Buckley's Breakaway, and the Kalgarin Hills.
Another 30 minutes west is Kondinin, which was first traversed in 1848 by Surveyor General JS Roe. You can follow in his footsteps along the JS Roe Heritage Trail, which includes a mural, a replica well, and the picturesque Yeerakine Rock which offers a 360-degree view of the area. If time permits, head out to Kondinin Lake, a salt lake that attracts waterbirds, water skiers and wind surfers.
Your final stopover is at the town of Kulin, perhaps best known for its humorous Tin Horse Highway. The 'highway' involves a series of paddocks in and around the town that have become a public gallery of bright, quirky horses constructed by the local community. From Kulin, take Corrigin-Kondinin Road north to return to Perth.
RELATED: 7 of WA's quirkiest attractions »

Need to fuel up before hitting the road?
RAC members save 4 cents per litre at participating Puma Energy and Better Choice stations.
Last updated: January 2021