Travel & Touring | WA Things To Do
By: Tatum Stafford
When it comes to unique museums, Western Australia has its fair share of local gems.
Be it rooms of miniature soldiers or a café filled to the brim with Coca Cola merchandise, Perth and regional WA have a lot going for it when it comes to uniquely quirky artefacts.
Here are 10 quirky museums we think are worth a visit.
1. The Big Camera, Meckering
Luckily for camera lovers, WA is home to the only museum of photography open to the public in Australia – that is aptly shaped like a large SLR camera. Owner Chic Wadley's collection is extremely unique, and features more than 1,500 fully operational cameras, enlargers, projectors, kaleidoscopes and slides. You can visit from Friday to Tuesday, 9am to 5pm.
RELATED: 10 of WA's best big things »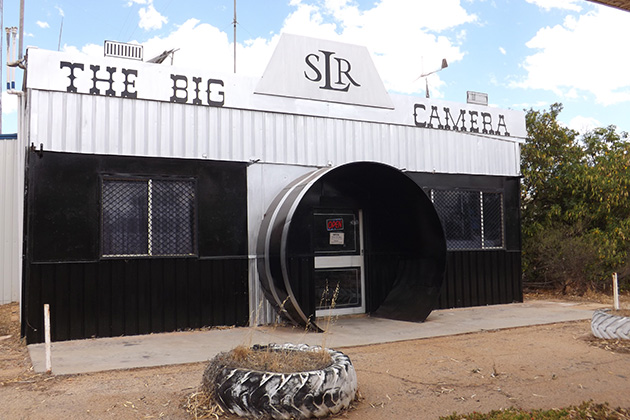 2. Cola Cafe and Museum, Toodyay
Toodyay is a nostalgia lover's paradise, and the 1950's style Cola Café and Museum is a prime example of the town's old-school charm. Collected over a 45-year period, the museum is well-stocked with 6,000 units of rare Coca Cola memorabilia, including mini bottles, magnets and various trinkets. The adjoining café is a popular local spot for homestyle meals. The café and museum are open seven days a week.
3. The Nostalgia Box, Perth
Self-professed 'geek' David Green runs the eclectic Nostalgia Box, a museum that houses over 100 consoles that represent the evolution of gaming from the 1970's through to today. As well as browsing the museum's impressive collection, visitors are welcome to play classic video games such as Space Invaders, Super Mario Bros and Pong. The museum is open from Friday to Sunday, and it's recommended you book your tickets online.
4. Miniature Soldier Museum, Hyden
An incredible 10,000 miniature toy soldiers are front and centre at this fascinating museum in Hyden, near Wave Rock. The tiny figures are strategically positioned across a number of dioramas that depict battles of the past hundred years, including the American Civil War, the Napoleonic War and the Pacific War. It's open daily from 9am to 5pm.
5. Denmark Dinosaur World
The world-class permanent exhibition of dinosaur skeletons at Denmark's Dinosaur World features the only T-Rex skeleton in Australia. There are also protoceratops and horned dinosaurs on display, as well as a few animatronic dinosaurs.
Alongside its excellent dinosaur exhibition, the venue also has a Bird & Reptile Park, where visitors can interact with red-tailed black cockatoos, giant macaws, parrots, pythons and dragon lizards. There are also a few kangaroos onsite. The dinosaur exhibition and reptile park are both open daily from 10am to 4pm.
6. Bellview Shell Collection, Witchcliffe
Home to Australia's largest private collection of shells, the Bellview Shell Collection displays more than 30,000 rare specimens collected from all over the world. It also features rare shark teeth and handcrafted shell jewellery that's available for purchase.
7. Gravity Discovery Centre, Gingin
This not-for-profit science education centre is jam-packed with things to do, including hands-on exhibits, a cosmology gallery and a 1-kilometre scale model of the Solar System that takes visitors on a walking trail through native bushland. Attached to the centre is an observatory that you can tour on a night visit – or if you're passing through during the day, the entire centre is open from Tuesday to Sunday.
Alongside the observatory, one of the centre's key exhibits is the Leaning Tower of Gingin. This 45-metre tall structure leans at a 15-degree angle and is held in place by a whopping 180 tonnes of concrete. The thrilling 222-step climb to the top of the tower provides a stunning view across the Wallingup Plain – and there's also an abseiling option if you're feeling adventurous. To keep the kids entertained, the discovery centre staff provide water balloons that can be dropped off the tower.
8. Harvey Dickson's Country Music Centre, Boyup Brook
The Harvey Dickson's Country Music Centre is WA's country music capital. Situated on the Dickson family farm a few kilometres out of Boyup Brook, the centre is comprised of different sections dedicated to country music – the Record Room (often known as the Elvis Room), the Bunyip Shed, the Bushman's Bar and the Entertainment Room, which is often hired out for concerts and other functions.
The annual Harvey Dickson's Rodeo is a highlight on the town calendar. Held each October, this weekend-long event is packed with country music, rodeo action and market stalls – plus, there's a bush camping area just a two-minute stroll from the rodeo arena.
9. York Motor Museum
Opened in 1979, this iconic collection of motorcars and motoring memorabilia is one of York's most popular tourist destinations – and for good reason. The museum showcases an extensive range of classic cars, vintage racing bikes and motorcycles in a late 19th century commercial building; easily identified with its striking striped verandah.
While the museum itself isn't too quirky, it does have one very quirky display. One of the most notable exhibits at the museum is the 'Never Never Tours' Valiant ute that was used in the film "Crocodile Dundee" - it's even signed by the film's star Paul Hogan. The museum is open every day from 9am to 4pm.
10. Skylab remains, Esperance Municipal Museum
When US space station Skylab fell near Esperance in 1979, the local museum started to build a collection of its remains. Today, it houses an array of Skylab artefacts, including an oxygen tank, freezer and a hatch door.
11. The Lace Place, Hyden
Opened in 1993, the Lace Place Museum is filled with an extensive lace collection that dates back to the 1600's. There are hundreds of handmade and machine-made pieces of lace on display throughout the museum, with the most notable exhibit being an offcut from Princess Diana's wedding veil.
Alongside exquisite Australian lace pieces, you'll find handmade laces from France, Spain, Belgium, Ireland, Malta and Italy. The museum is open daily from 9am to 5pm, and is located just beside Hyden's Tourist Information Centre.
12. Narembeen Grain Discovery Centre
Focused on grain growing in Western Australia, this informative discovery centre is filled with visual displays, interactive areas and exhibits exploring the future of farming. It's a perfect example of the 'paddock to plate' mentality that has grown in popularity over the past few years, and is a great way to teach kids about how supermarket products such as cereals and bread are formed, created and mass produced. The museum is open daily from 9am to 5pm, with tours available upon request.
Need to fuel up before exploring these local gems?
RAC members get 4 cents off per litre at participating Puma Energy petrol stations.
Last updated: June 2021
Image credit: Charles Wadley