Travel & Touring | WA Destinations
By: Tatum Stafford
Fairy penguins, kayak trails, lazing Australian sea lions and wild dolphin swims are just the beginning when it comes to the coastal town of Rockingham.
At under an hour's drive from the Perth CBD, Rockingham is fast becoming a favourite day trip destination thanks to its burgeoning culinary scene, unique marine wildlife encounters and picture-perfect islands. Start the car, we're heading for the coast.
Top things to see and do
Meet the Penguin Island locals
The animals are the stars at Penguin Island. From wild dolphins and rare Australian sea lions to some of the world's smallest penguins, this rugged island is just a 5-minute ferry ride from the Rockingham Foreshore and has plenty on offer in terms of attractions and activities. Head to the Penguin Island Discovery Centre to watch a penguin feeding session, hop on a marine wildlife cruise, or do a wild dolphin swim. If you're an RAC member, you'll save 10% on dolphin swim bookings with Rockingham Wild Encounters through Experience Oz WA.
The Penguin Island Ferry departs hourly from 9am to 3pm, and you'll need to book in advance to guarantee yourself a seat. The island is closed from June to September to allow for penguin breeding.
RELATED: 7 of Perth's best marine wildlife encounters »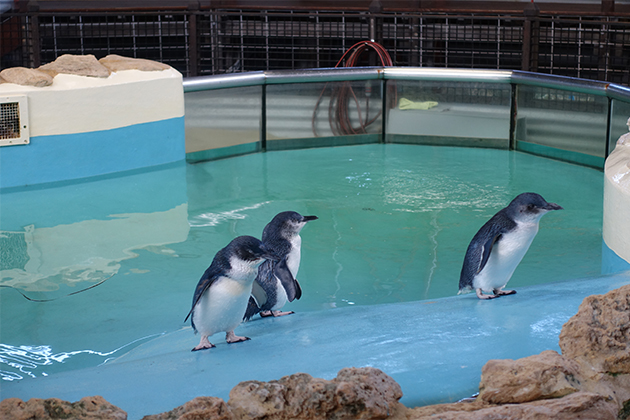 Treat yourself to an exceptional dinner
There are plenty of delicious food options on Rockingham Beach Road overlooking the ocean. Along with a few casual takeaway and fish and chip shops, the award-winning Rustico Tapas & Wine Bar is a popular haunt for diners. Serving authentic Spanish-style food and boasting incredible ocean views, this vibrant eatery is the sister of the larger Rustico restaurant at Hay Shed Hill winery in Margaret River.
If you're after a bit of Aussie pub grub, the Pink Duck Beach Bar & Bistro just next door is another bustling Rockingham spot. Alongside the classics, the bistro is renowned for its fresh, locally sourced seafood and quirky beverages.
Snorkel around Cape Peron
This is one of the best snorkelling spots within the Shoalwater Islands Marine Park, thanks to its abundance of sea urchins, tropical fish, spider crabs and colourful sea sponges to spot underwater. The waters around the cape are dotted with numerous reefs, caves and swimthroughs that make for interesting snorkelling sites. Point Peron and Mushroom Rock are two of the most popular locations around the cape. You can reach Point Peron from the beach at Long Reach, which is gently sloping and provides easy entry to the water.
RELATED: 10 of Perth's best snorkelling spots »

Go jetpacking on the water
Jetpack Perth is the first coastal water jet experience on offer in WA – and luckily for locals, it's available right here in Rockingham. Those adventurous enough to try it can take their pick from a jetpack, flyboard, hoverboard or jetbike, then take to the sky for a hydroflight. If you're a beginner, the jetbike is the easiest option – but if you're wanting to try something a little more extreme, strap into the jetpack and be thrust 10 metres into the sky.
Grab a coffee and stroll the waterfront
If you'd rather stay dry (or want some morning fuel before hitting the water), head for one of the picturesque cafes dotted along the Rockingham Foreshore. The laidback Ostro Eatery is a bustling spot, offering fresh roasted coffee, cold-pressed juices and delicious grab-and-go food options. Family-owned Lu Lu's Cafe is another popular coffee haunt which also whips up homestyle meals. If you're looking for a spot to unwind with coffee in hand, head for Bell Park. It's close to the beach, lined with shady trees, and has plenty of grassy spots to sit at.
Kayak through the Shoalwater Islands Marine Park
The Shoalwater Islands Marine Park Paddle trail is a great guide if you're eager to kayak through the park. This 8-kilometre looped trail starts at Point Peron and weaves through islands, coves and reefs. A highlight is Seal Island, where you might spot sea lions asleep on the shore or in the water near your kayak. The turn-around point is at Penguin Island. Landing and visiting the island is free, so this is a great spot for a picnic or stroll along one of its many nature trails. If you start the trail early in the day, you should enjoy a tail wind on the trip home.
RELATED: 10 easy kayaking trails around Perth »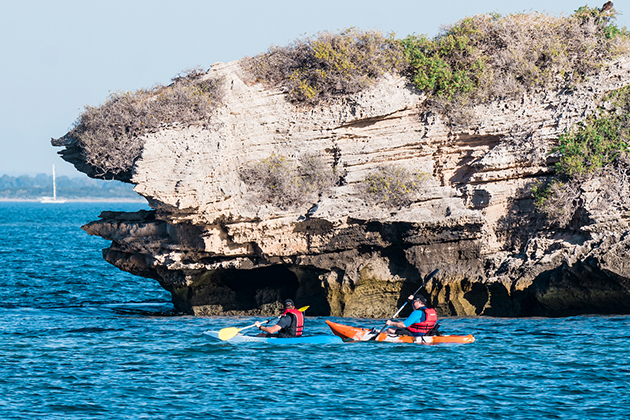 Go skydiving
If you're eager to test your nerve, Skydive Australia offers tandem skydives that'll propel you from 15,000 feet down to the Rockingham Beach landing. On the dive, you'll be treated to incredible views of the Shoalwater Islands Marine Park, Rottnest Island and the Perth CBD.
RELATED: 10 of WA's most adrenaline-filled activities »

Take your kayak or boat out to Seal Island
Although sightings aren't guaranteed, you may be lucky to spot rare Australian sea lions lounging on the sand on Seal Island.
Situated close to Penguin Island, you can only reach Seal Island by boat, SUP or kayak. Landing on the island is prohibited, so you'll need to stay behind the buoys and watch the seals from afar.
Explore the Rockingham Wreck Trail
Located 50 metres offshore, this shore dive site features a range of purposely placed wrecks, including aircrafts, boats and children's playground equipment. It's suitable for beginners or divers in training, and is home to beautiful seahorses and schools of fish. Keep an eye out for stinger jellyfish, as they're quite common here.
Go fishing
Rockingham's Palm Beach Jetty is one of the most popular fishing locations near Perth. Sitting at an impressive 125 metres long, the jetty's surrounding waters are teeming with squid, whiting, tailor and herring. Mulloway and snapper are other possible catches.
RELATED: 10 of WA's best off-shore fishing spots »

At a glance
Distance from Perth
48 kilometres, under an hour's drive.
Why go?
To snorkel, kayak or SUP your way through the Shoalwater Islands Marine Park, meet fairy penguins and playful seals, swim with wild dolphins and enjoy a bite to eat with gorgeous ocean views.
When to go
Visit in summer to enjoy pleasant temperatures and good conditions for water activities. If you visit in cooler months, be mindful you won't be able to visit Penguin Island from June to September.
How long to stay
Spend a day exploring.
Need to know
There are plenty of supermarkets, retail stores, petrol stations and other amenities in and around town. WiFi reception is strong. Pop into the visitor centre on Kent Street to book tours or purchase diving or boating permits.
Fast facts
Town population: 125,100 
Indigenous people: Nyoongar.

Insider tip
For a unique photo opportunity, head to the rock pools on the western side of Penguin Island. Depending on the tide, they may be big enough to sit in – just keep an eye out for any crabs that may live within them.
Related road trips
Getting around
There's plenty of free parking available if you're driving, and there are also plenty of public transport links including a train station and frequent bus routes. There are also plenty of local cycling routes if you're exploring on two wheels. To reach Penguin Island, there's a ferry which departs hourly.
What to pack
Bring all the gear you'll need to explore the marine park, including snorkels, kayaks, flippers or SUP boards. There are a few local hire shops if you need to borrow equipment. Pack light, loose clothing, and remember to bring a hat and wear plenty of sunscreen.
Travelling safely
Drive slowly and carefully around the foreshore, as there is typically a lot of foot traffic. Follow all signage on the new Smart Freeway on the Kwinana Freeway.
Need to fuel up before hitting the coast?
RAC members save 4 cents per litre at participating Puma Energy and Better Choice stations.
Tile image credit: Squid Productions
Last updated February 2021