Travel & Touring | WA Destinations
By: Tatum Stafford
Filled with nature trails, shady jarrah trees and trickling brooks, the quaint towns of Jarrahdale and Serpentine are paradise for picnickers.
With Jarrahdale a timber mill town founded in 1872 and Serpentine an agricultural area first declared in 1891, both of these historic towns are today renowned for their natural beauty and charming attractions. Buckle up, we're heading for the forest.
At a glance
Distance from Perth
58 kilometres, an hour's drive
Why go?
To picnic beside one of the Perth region's most iconic waterfalls, horse-ride through jarrah forest, spot butterflies along a tranquil walk trail, and ride a section of the epic Munda Biddi mountain bike trail.
When to go
Year-round, or springtime to view wildflowers.
How long to stay
Visit for a day trip or an overnight stop.
Need to know
Each town has a general store, visitor centre and basic accommodation. There are more eateries in Jarrahdale (including a tavern and winery), but both towns provide direct access to natural attractions and connecting walk trails. Be prepared to lose phone signal if travelling in thick forest areas.
Fast facts
Shire population: 26,800 
Indigenous people: Noongar.

Insider tip
For a taste of what life was like for locals in 1896, visit the Old Post Office in the Jarrahdale town centre. Operated by the Jarrahdale Heritage Society, the building is now home to a museum featuring local artefacts, photographs, morse code equipment and the suspected presence of a postmistress ghost.
Related road trips
Perth to Pemberton road trip
Peel region road trip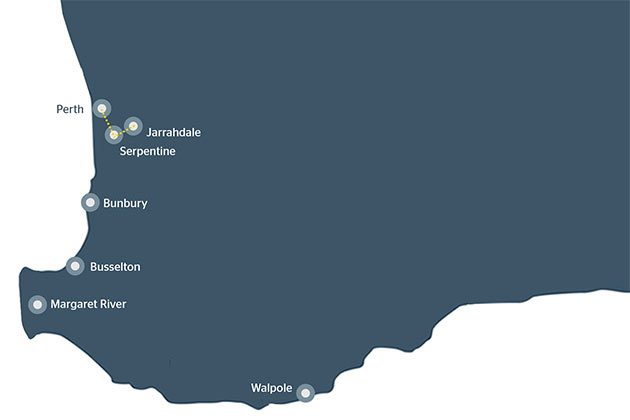 Top things to see and do
Picnic at Serpentine Falls
Located within the picturesque Serpentine National Park, the cascading Serpentine Falls drop 15m to form a swirling pool, and are one of the area's most popular natural attractions. The scenic falls provide the perfect backdrop for a picnic, but it's advised to arrive early to reserve yourself a spot. The area is known to reach capacity before 10am, so arriving close to when it opens at 8:30am is a safe bet. A $15 entry fee applies.
If you're hoping to swim at the base of the falls, be sure to check the Parks and Wildlife Service for any active water alerts.
RELATED: Spectacular waterfalls under an hour's drive from Perth »

Tackle Kitty's Gorge Walk
Following the serene Serpentine River, the 16.5km Kitty's Gorge walk trail winds through towering jarrah trees, past mossy granite outcrops and alongside waterfalls flowing from Gooralong Brook. In a geological sense, it links the town of Jarrahdale to Serpentine Falls.
One of the trail's highlights is the heritage-listed Spencer's Cottage, one of the few surviving reminders of Jarrahdale's once thriving pioneer community. Today, a collection of monarch butterflies inhabit this area and make this section of the track particularly beautiful. The best time to complete the walk is in springtime, when wildflowers are in full bloom, the falls are flowing and there are plenty of butterflies to admire.
Access the trail from the Serpentine Falls car park or via the Jarrahdale Cemetery car park. It's a Grade 4 trail, so prior bushwalking experience is recommended.
RELATED: 8 of the most rewarding hikes in and around Perth »

Visit the Jarrahdale Heritage Park
Comprised of a walk trail, shady trees and the bubbling Gooralong Brook, the Jarrahdale Heritage Park is a peaceful spot to visit. Great for frog-spotting, bird watching and viewing wildflowers (in springtime), the park is nestled within jarrah forest of the Darling Scarp and is a pretty picnic spot, with wooden benches and tables provided.
Share a picnic basket at Millbrook Winery
If you'd rather leave picnic food preparation to the experts, head to Millbrook Winery to indulge in a bespoke picnic basket stuffed with goodies. Bespoke Millbrook picnic baskets filled with fresh salads, cold meats, homemade pate, freshly-baked baguettes and plenty more estate-grown produce. You'll also be given a picnic rug, cutlery and glassware to bring to your chosen spot on the shady lawn.
Baskets are available in summer from Thursday to Sunday, and will need to be booked online with two days' notice.
Go horse-riding
Sitting at the base of the Darling Range, the Jarrahdale Equestrian Centre stretches 150 hectares and offers a wide range of horse-riding courses that cater for all ages and abilities. If you've never ridden before, try a beginners' course where you'll learn the basic techniques and necessary skills for horse-riding. These are available in private solo or group lessons.
If you're a confident rider, hop on one of the centre's adventure ride-alongs to explore the scenic Jarrahdale hills and see local flora and fauna up close. The ride leads up to Bald Hill, one of the highest points between Perth and Bunbury. On a clear day at the top of the hill you'll be treated to sweeping views of the ocean out to Rottnest.
Bike a section of the Munda Biddi Trail
Starting in Mundaring, the iconic Munda Biddi (meaning 'path through the forest in local Noongar language) is one of WA's most iconic mountain biking trails. The trail is more than 1,000km long, and meanders through scenic parts of Jarrahdale before travelling further south into eucalypt forests of the South West.
Jarrahdale is the starting point of the second Munda Biddi trail section, travelling 105km from Jarrahdale to Nanga Brook near Dwellingup. This picturesque section offers some steep and challenging sections, and passes through Lane Poole Reserve, a great spot for swimming, canoeing or camping.
RELATED: 10 of the best mountain bike trails within two hours of Perth »

Getting around
You'll need a car to travel between each town attraction, but there are plenty of walkable areas to stretch your legs and take a break from driving. The closest bike hire is at Rock and Roll Mountain Biking in Mundaring, so it's best to bring your own if you're planning to head south on a trail from Jarrahdale.
What to pack
Shady forest means the area can get quite cool in winter, so pack a few extra layers. Bug repellent is a must no matter what time of year you visit, and enclosed footwear is advised if exploring local walk trails.
Travelling safely
The drive from Perth to Serpentine-Jarrahdale is moderately flat as it's mostly on highways, but make sure you're road trip ready with our long distance driving tips.
Need to fuel up before hitting the road?
RAC members save 4 cents per litre at participating Puma Energy and Better Choice service stations.
Image credit: Tourism Western Australia