24 September, 2019 By: Wendy Caccetta
With holidays-for-one a growing trend, we look at how lone travellers are being catered for and meet some Aussies who are happy to be rolling solo.
Janice Waugh and her husband had always travelled together, but when he passed away in 2006 and their children had left home, she became a solo traveller.
Not finding the support she wanted online, she launched her own resource and has become an international expert in the art of holidaying alone.
Today her Solo Traveler website has readers around the world and its Solo Travel Society Facebook page has nearly a quarter of a million followers.

She says travelling alone has well and truly thrown off any stigmas. "The continued growth of solo travel has surprised me somewhat," says Toronto based Waugh. "It continues to be identified as a travel trend year after year."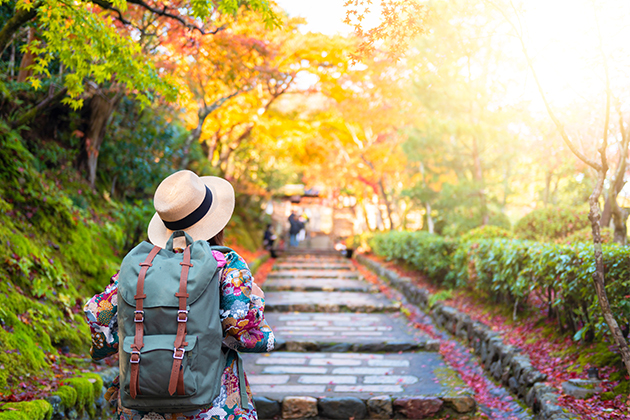 Who's travelling solo?
According to Tourism WA, just over two million overnight leisure visitors within and to WA last year travelled solo. Most were West Australians (72 per cent), 18 per cent were international visitors and 10 per cent were from other states. And the authority says the number is on the rise.

Since 2014, solo traveller numbers have grown an annual average of 2.6 per cent, with almost half of all international travellers, a quarter of interstate visitors, and 21 per cent of locals going it alone, a WA Tourism spokesperson says.

The biggest percentage of solo travellers (41 per cent) are aged 15 to 34, followed by the over 55s (33 per cent) with those aged 35 to 54 accounting for 26 per cent.

Women are also just as likely to travel alone as men, with Tourism WA figures showing the sexes evenly matched.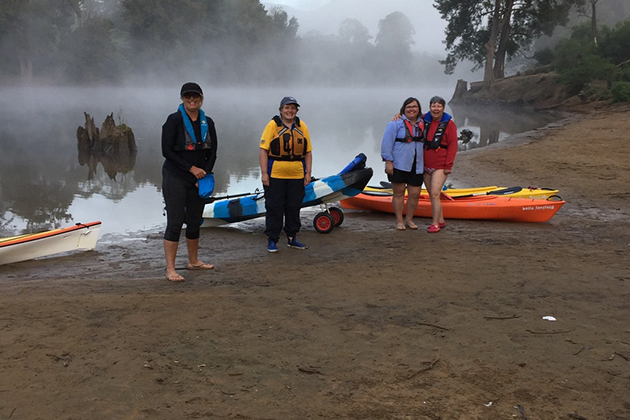 Catering to solo travellers
As the number of solo travellers continues to grow, the industry has begun to respond.
Specialist travel agencies and group tours have sprung up specially tailored for those planning a holiday for one.
Some tours and cruises have begun to waive costly single supplements — the premiums charged for solo travellers when they take a room alone — or keep them to a minimum.
Others have rooms or cabins which solo travellers can share with other lone travellers to keep costs down.
Like other travellers, Waugh says those travelling alone are looking for a full range of experiences from adventure to culture to food and wine. Many simply like the freedom of travelling on their own.
"The difference is whether people want to join a tour or go completely independently," she says. "About half of solo travellers choose to travel in a group on some trips."
The sisterhood of the travelling vans
One of the most visible solo traveller trends has been on our roads.
Four years ago, Sydney mother and grandmother Michelle Lang, 45, started a Facebook page for women who share her love of camping and enjoy taking to the roads on their own.
---
Enjoying this article?
Sign up to our monthly enews
---
Today Rolling Solo Australia has 2000 members who keep in touch through their own app, providing camaraderie and support to each other. Lang has plans to take the network to New Zealand.
"I don't know if there are just more women on the road travelling, or more are coming out of their shell because they are seeing other women travelling," she says.
"I guess our group has a big flow on effect. Once they hear about it they say, 'I can't believe there are so many women into the same thing as me'. "I think camping has changed for a lot of people. It's Australia's holiday now and it's something women aren't scared to do on their own."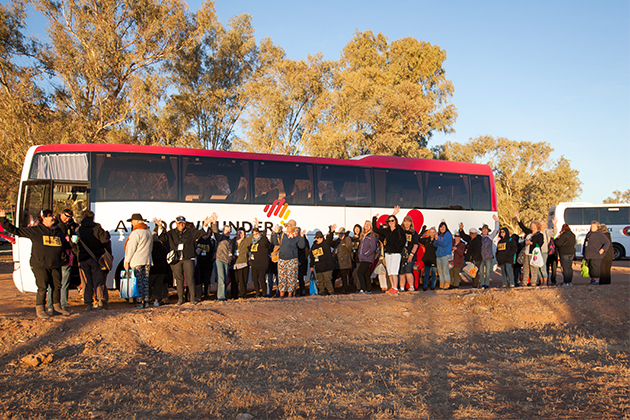 The Rollers travel in everything from luxury glamper vans to cars with tents.
Each year the women set out from the far corners of Australia for the main event on their yearly calendar, Stuck in the Middle, a weeklong gathering held in different bucket-list destinations.
This year about 320 Rollers will journey to Exmouth where they've booked out RAC Exmouth Cape Holiday Park in October for an itinerary that includes everything from fishing to jujitsu and even 'bogan bowling'.
The group includes lawyers, nurses, office workers and housewives. Some are single, others widowed, and some have partners and husbands. Most are aged 50 to 84.
"Enthusiasm is probably the biggest thing for a Roller," Lang says. "Many people don't have campervans or caravans. They just have a little tent and a little car. So long as you've got that fire in your belly to get out there and meet new people that's probably the best way to get started."
Sole mates
Barbara Dyer, a 62-year-old journalist from the Gold Coast, became a Roller in July last year.
She plans to be on the road for six months this year having rented out her home and left her partner behind.
She sees a trend towards women choosing to travel alone, whether they are in relationships or not.
"I think that women naturally bond — to friends, family, to their homes. I guess the freedom to now bond on the road when family is no longer a commitment is a relatively new and pretty exciting phenomenon."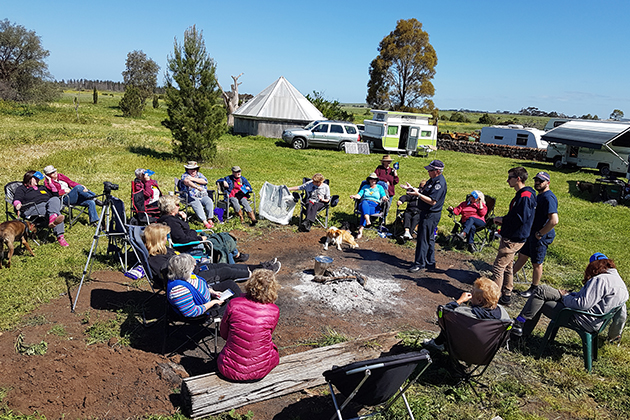 Fellow Roller and recently retired nurse Alex Williams, 61, eventually hopes to hit the road full time. She has sold her Queensland home and has her eye on a Mercedes-Benz Sprinter motorhome.
Williams says she's always loved camping, but after this year being diagnosed with cancer is even more determined to live life to the full.
The Coolangatta resident booked a flight to Perth and a campervan to drive north to Exmouth in a tagalong of eight vehicles.
"I'm single, a lot of the ladies aren't single, but we travel solo," she says. "The ladies are beautiful. They are supportive. We're like sisters."
From small beginnings
Back in 1997 the Campervan and Motorhome Club of Australia recognised solo travellers when it started its Solos network. It now has chapters across Australia named after different birds which have 900 male and female members, including Perth grandmother Margaret Jordan.
Jordan, 72, says friends "thought I was nuts" when she announced nine years ago that she wanted to buy a kombi van to travel in.
Her main motivation was her then six-year-old grandson who she wanted to grow up with a feel for the country and camping. She bought a 2005 Volkswagen that had been fitted out and on one of their first trips to the Marrinup campsite near Dwellingup she met two other women who were on their own.
Jordan joined their Western Willie Wagtails group — whose oldest member is 100 — and she's never looked back. Her first trips to bush camps with her grandson have grown to include solo journeys across Australia and monthly trips within WA, where group members meet up and share food and company.
"People are always a bit surprised," she says. "I don't understand why they are."
Keen for a getaway?
Members can save up to 20% at eight RAC Parks & Resorts across WA, from Broome in the north to Pemberton in the south.