Travel & Touring | WA Destinations
By: Tatum Stafford
The Swan Valley is one of WA's most-loved destinations for gourmet food, fine art and world-class wine.
Located less than half an hour from the Perth CBD, this 180-year-old region is jam-packed with more than 150 attractions, including markets, food and wine trails and picturesque cycling routes.
Start the car, we're heading to the Swan Valley.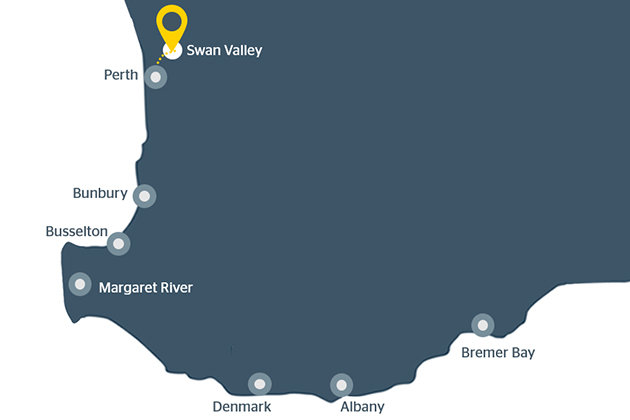 Top things to see and do
Go cellar door-hopping
The Swan Valley Wine Region is home to some of the oldest vineyards in the State. With its warm, Mediterranean-style climate, the region's specialties range from vibrant sparkling wines to deep shiraz varieties. Some of the region's most notable cellar doors include the underground cellar of John Kosovich Wines and the famous 'shed' at Lancaster Wines. And if you're searching for a bite to eat, popular winery restaurants in the region range from Mandoon's casual, family-friendly deck to Sandalford's picturesque al fresco dining area.
And while it's a renowned place for winemaking, the Swan Valley is also home to a number of world-class distilleries, cideries and breweries. Popular spots for tastings include Feral Brewing Company, Funk Cider and Old Young's Distillery (to name a few).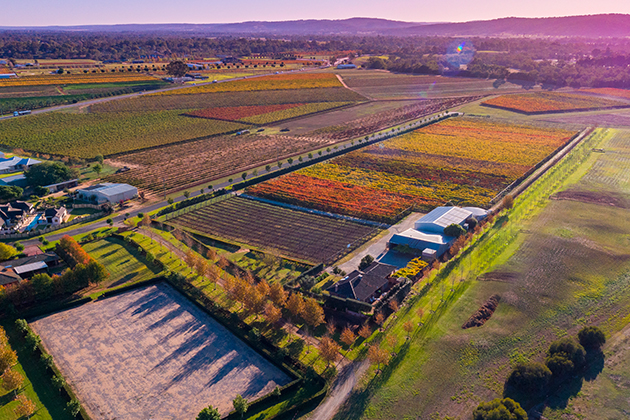 Play mini golf
In warmer months, mini golf is one of the most popular attractions within the Swan Valley region. Oasis Supa Golf is one of the most popular spots to play, with a dedicated Adventure Putt mini golf turf. Set in a jungle oasis, this 18-hole course is jam-packed with bunkers, streams and water traps that are guaranteed to thrill the whole family. Or if you'd rather play a more traditional version of the game, 'Supa golf' is a modified version of golf where clubs have oversized plastic heads, and the ball is oversized and iridescent in colour. This easier version of traditional golf is suitable for kids six years and up.
Ride the Swan Valley Heritage Cycle Trail
Passing fresh produce stalls, wineries, galleries and restaurants, this popular hop-on, hop-off cycling route is a great way to explore the region's history, natural attractions and scenic spots to picnic or just stretch your legs. There are four different routes (at differing lengths) along this popular cycling trail, so it's a fantastic option if you're looking to both find your bearings and enjoy an active day out.
Explore the Caversham Wildlife Park
Located in the nearby suburb of Whiteman, the popular Caversham Wildlife Park is open year-round and offers fun-filled attractions including a farm show, kangaroo feeding sessions, a wombat meet-and-greet, penguin feeding and a large interactive farm yard. You can complete most of these sessions in a few hours, just be sure to check the park schedule and time your visit accordingly.
Walk the river trail at Bells Rapids
This 2.5-kilometre trail loops around the rapids, coastal plains and surrounding bushland. As well as being dog-friendly, the trail is home to a few friendly birds and grey kangaroos. It's best to complete it after winter rains when the rapids are in full flow – or if you'd rather visit in summer, pack your bathers for a refreshing dip post-walk. As the tracks are quite steep (and muddy in poor weather), owners of small dogs may need to carry them over certain sections.
RELATED: 10 of the best dog-friendly walk trails around Perth »

Visit local food producers
Though the region is renowned for its quality wines, it'd be remiss to visit the region without stopping at a few of its fantastic food producers. Also located in Perth and Margaret River, the Margaret River Chocolate Factory has been crafting award-winning chocolate products since 1999. After shopping, unwind with a coffee or treat on the sundeck overlooking a luscious garden. If you're after something a little more savoury, visit the delicious Providore facility just a few steps away. It's fully stocked with gourmet preserves, olive oils, dips and sauces – and thanks to a recent upgrade, also offers tastings of locally produced Coward & Black wines and Sambarino chocolate liqueur from the factory next door.
Lastly, stop in at the Mondo Nougat Factory. Established in 2005, this thriving factory provides an insight into the secrets and traditions of nougat-making, and is a great spot for an afternoon tea feast of cheesecakes, rum balls, biscotti and rich hot chocolate.
Stay on a local farm
If you're looking for a unique style of accommodation that the kids will love, opt for a Swan Valley farm stay. The Settlers Rest cottage is a great option if you'd prefer a private farm stay experience. The cosy cottage sleeps eight people and is packed with kids' toys, gumboots and an authentic fireplace. At the cottage, you'll start your day with a buggy tour run by owners Ron and Corinne, and hand-feed the farm's goats, sheep, guinea pigs, chickens and pet cow throughout the day – BYO apples and carrots!
RELATED: 13 of WA's best farm stays »

Explore the Walyunga National Park
Tucked behind the Darling Scarp, this impressive national park is filled with natural attractions, picturesque walking trails and vibrant displays of wildflowers in the springtime. If you're eager to hit the trails, the 11-kilometre Echidna Trail loop is a popular option; offering beautiful views of the Avon Valley after a few steep woodland sections. Or if you'd rather an easier walk, opt for the flat, 6.4-kilometre Syd's Rapids trail leaving from Boongarup Pool.
If you're keen to spend the night, the lush Walyunga Campground is a great base for canoeing, bushwalking, bird watching and wildflower-spotting within the park. The campground provides a few basic facilities, and is a short drive from the popular Walyunga Pool and the Swan River.
RELATED: 10 of the best Perth campsites by the water »

At a glance
Distance from Perth CBD
29 kilometres, a 40-minute drive
Why go?
To sample goods from world-class food producers, wineries, breweries and distilleries, explore a pristine countryside by bicycle, view some of the oldest vineyards in WA, interact with farm animals, explore nearby national parks and play a fun round of mini golf.
When to go

Sep - Oct: A great time to visit national parks around the region. Winter rains cause rapids and gullies to flow, and there is an abundance of native wildflowers to view. Grapevines in the region are green and lush in the springtime.
Oct - Feb: Warmer months make for a sunny day in the valley, perfect for cellar door-hopping, cycling and exploring natural attractions. The annual food and wine event, Entwined in the Valley, is held each October.

How long to stay
The region is a popular day trip destination, but there are a few quaint cottages, farm stays or nearby campgrounds if you'd prefer a weekend getaway.
Need to know
As part of the wider Perth region, the Swan Valley and the nearby suburb of Guildford are filled with amenities including supermarkets, petrol stations, public parks and strong phone reception. The Swan Valley Visitor Centre in Guildford is a good first stop-off to get your bearings.
Fast facts
Town population: 5,300 
Indigenous people: Whadjuk Noongar.

Insider tip
If you'd prefer to enter or explore the Swan Valley via boat, hop on a cruise along the Swan River. There are a variety of tour companies that offer lunch and wine cruises, with many departing from Elizabeth Quay in the CBD.
Getting around
It's tricky to travel around the Swan Valley by foot, so you'll need either a car or bike. If driving, there are plenty of signs around the region and neighbouring suburbs – just make sure you've got a reliable designated driver if you're sampling local alcoholic drinks.
If you'd prefer to cycle, there are a few bike hire options in Herne Hill and Guildford – Perth Electric Bike Hire being a popular option.
What to pack
If you're visiting some of the more lavish wineries in the region, opt for smart casual clothing. Otherwise, casual, light clothes are a safe bet in warmer months, whereas plenty of layers are recommended for winter and autumn.
Travelling safely
Roads from the Perth CBD to the Swan Valley are well-conditioned and signposted, but be careful along the busy Great Northern Highway as there is usually a high volume of trucks. Read more long distance driving tips before setting off.
Eager to experience more of the Swan Valley's thriving foodie scene?
RAC members save 10% on Swan Valley Food and Wine Tours with Experience Oz WA.
Last updated October 2020