Travel & Touring | WA Destinations
By: Tatum Stafford
The Swan Valley is one of WA's premier destinations for gourmet food and world-class wine.
Located less than a half an hour's drive from the Perth CBD, this 180-year-old region is packed with more than 150 attractions, including markets, food and wine trails and picturesque cycling routes.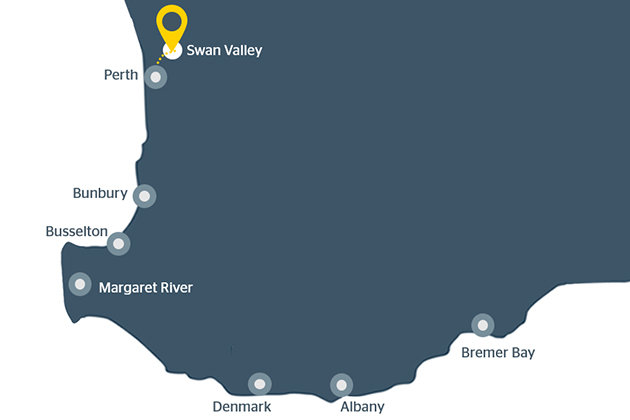 Top things to see and do
Go cellar door-hopping
The Swan Valley Wine Region is home to some of the oldest vineyards in the state. A warm Mediterranean-style climate provides ideal growing conditions for sparkling and shiraz varieties.
Some of the region's most notable cellar doors include the underground cellar of John Kosovich Wines, the picturesque outdoor shed at Lancaster Wines, and the award-winning small cellar door at Upper Reach Winery.
The Swan Valley is also home to several distilleries, cideries and breweries. Popular spots for tastings include Feral Brewing Company, Funk Cider and Old Young's Distillery. Remember to choose a designated if you're planning on doing any tastings.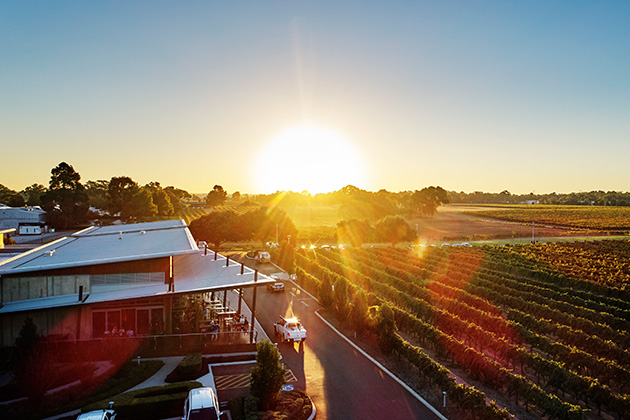 Dine on delicious food
If you're looking for a light lunch or platter, head to Lancaster Wines to make your own grazing plate, visit Upper Reach Winery for one of their grazing platters for two, or try a cheese board at Rustique.
Popular winery restaurants in the region include Mandoon's family-friendly grassed picnic area, Sandalford's picturesque al fresco dining area, and the grounds at Sittella. If you'd rather dine at a brewery or cidery, Elmar's in the Valley offers traditional German food and live music, and Txoko Brewing, Ironbark Brewery and Funk Cider serve up delicious woodfired pizzas.
Other popular eateries include the Cottage Tea Rooms (high tea bookings are essential), Pasta in the Valley, the Lavender Bistro and the Swan Valley Sisters Produce Café. View all Swan Valley restaurants and cafes here.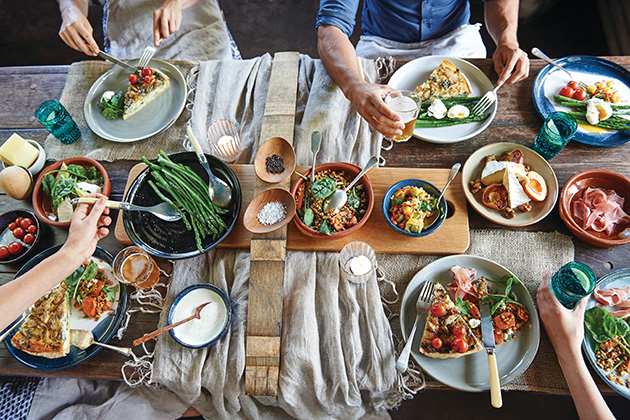 Browse the Swan Settlers Market
Located in the centre of the Swan Valley, the vibrant Swan Settlers Market is filled with fresh produce, artisan crafts and an international food court. Entry is free, and it's a fantastic place to stock up on locally grown fruit and vegetables, arts and crafts from local makers, and keep the kids entertained with live music and a playground.
There are also pop-up workshops and events on offer, like cheesemaking classes, an animal farm, and sets from local musos and buskers.
Play mini golf
Though there are a few courses to choose from, Oasis Supa Golf is one of the most popular spots in the region to tee off from. Its Adventure Putt mini golf turf has 18 holes, bunkers, streams and water traps that provide thrills for the whole family.
If you'd rather play a slightly more traditional round of golf, 'Supa golf' is a modified version of the game, where clubs have oversized plastic heads and the ball is oversized and iridescent in colour. Supa golf is suitable for kids aged six and up.
Stock up your pantry
The region is jam-packed with producers selling everything from nougat and chocolate to honey.
Stop in at Margaret River Chocolate Factory for handmade truffles, unique chocolate gift ideas and a free tasting of their white, milk and dark chocolate buttons. Visit Mondo Nougat for many different flavours of nougat and other sweet treats, Maison Saint Honore for freshly baked macarons and other French desserts, Morish Nuts for their savoury-and-sweet mixes, like wasabi macadamias and spicy cashews, and The House of Honey & Meadery for their pure honey varieties. The City of Swan have mapped out these stops (and more) on the Swan Valley Sweet Temptations Trail.
Another Swan Valley institution worth a visit is Yahava KoffeeWorks. The team source Arabica coffee beans from across the world, which can be enjoyed at the roastery's tasting bench or in a to-go bag. The site also has a Tea Shed, with plenty of premium leaf teas also available for tasting.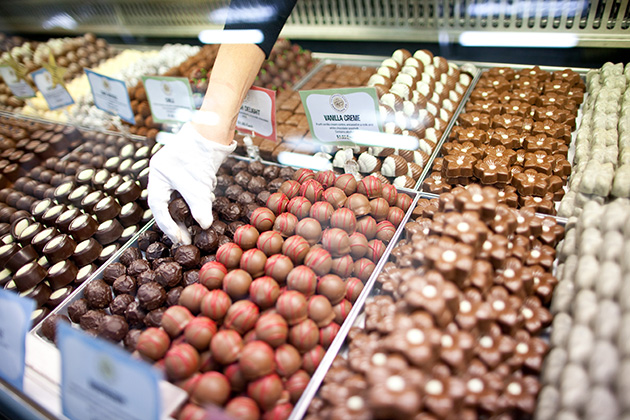 Visit Bells Rapids
Located a 15min drive from the Swan Valley, Bells Rapids are a series of white water rapids on the upper reaches of the Swan River. The area provides a spectacular backdrop for picnics, and also marks the start point of a series of walk trails that follow the river and reveal hundreds of wildflowers in springtime.
Hop on the 2.7km looped River Walk trail for views of the river and the Swan Coastal Plain below, or, if you want a more challenging walk, the 3km Goat Walk trail loop has steep hills with views that are worth the effort. Dogs are permitted on both trails, but must be kept on a leash at all times.
RELATED: Dog-friendly walk trails around Perth »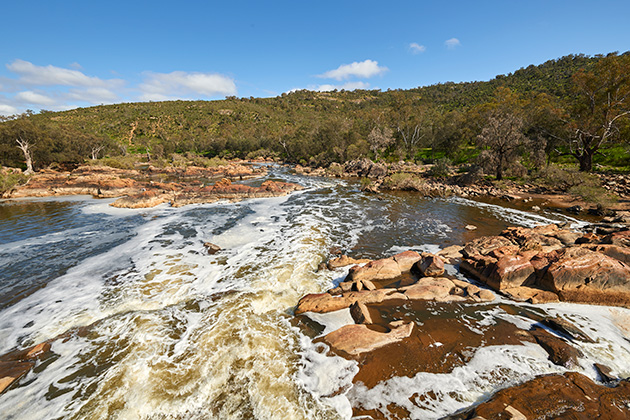 Ride the Swan Valley Cycle Trail
Passing fresh produce stalls, wineries, galleries and restaurants, this popular hop-on hop-off cycling trail is a great way to soak up the region's history, natural attractions and scenic picnic spots.
There are four different routes along the trail to choose from:
Route 1: Guildford to Swan Valley and West Swan Road, 30km return, passing Sandalford and Lancaster wineries, the Margaret River Chocolate Factory and Lilac Hill Park.
Route 2: Maali Footbridge to West Swan Road, 8km return, family-friendly ride past wineries, galleries and attractions like Oasis Supa Golf.
Route 3: Maali Footbridge to Eastern Swan Valley, 18km return, passing wineries, art galleries and restaurants.
Route 4: Memorial Avenue, 3km return, quick loop that takes in five local wineries.
Check out the full Swan Valley Cycle Trail brochure for further route information.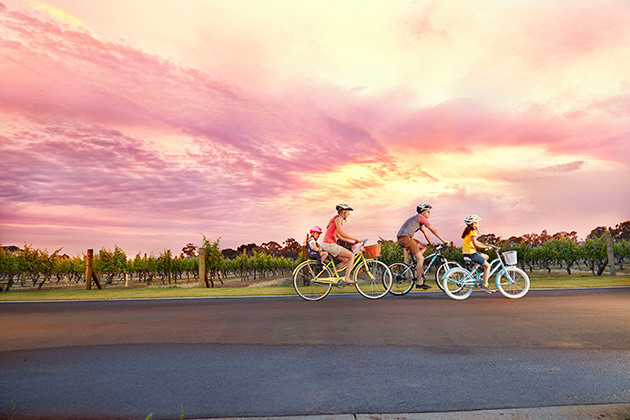 Feed and play with farm animals
Head to the Swan Valley Cuddly Animal Farm to enjoy a tractor train ride, a jump on the bouncy castle, a turn on the merry-go-round, and of course, daily animal feeding sessions. Visitors can bucket-feed guinea pigs and rabbits, bottle-feed lambs and piglets, and pat ponies, kangaroos, emus and even a miniature mule.
A unique way to spend quality time with farm animals is at an overnight farm stay. Settlers Rest in the heart of the valley offers a private farm stay experience in its cottage that sleeps up to eight people per night. The cottage is filled with kids' toys, and a few pairs of gumboots that you can put to use on a daily buggy tour and animal feeding session. The farm has goats, sheep, guinea pigs, chickens and a pet cow – BYO apples and carrots!
RELATED: WA's best farm stays »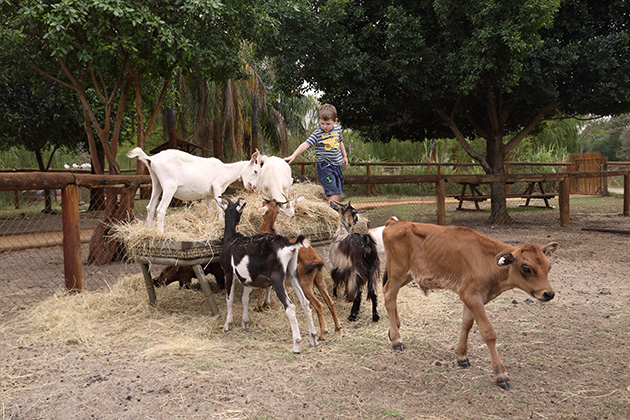 Browse art and antiques
Visit the Maalinup Aboriginal Gallery to browse paintings created by Indigenous artists from the South West. The artworks are contemporary, colourful, and inspired by each artists' connection to the region. The gallery also sells a range of 'bush tucker for the skin' which features emu oil, liquid extracts of Australian native plants, and lemon myrtle oil.
Another popular art collection in the valley is the Linton & Kay Gallery at Mandoon Estate. The gallery exhibits an array of Australian and international paintings and sculptures, alongside Aboriginal art pieces from emerging and established artists.
James Street, the main drag in the neighbouring suburb of Guildford, is home to a number of antique shops with vintage homewares, collectables and quirky memorabilia. One of the most fascinating shops is Dr Russell's Imaginarium, tucked inside Ethel St Courtyard off James Street. Here you'll find vintage toy cars, old telephones and movie cameras, and even an impressive range of original Star Wars memorabilia.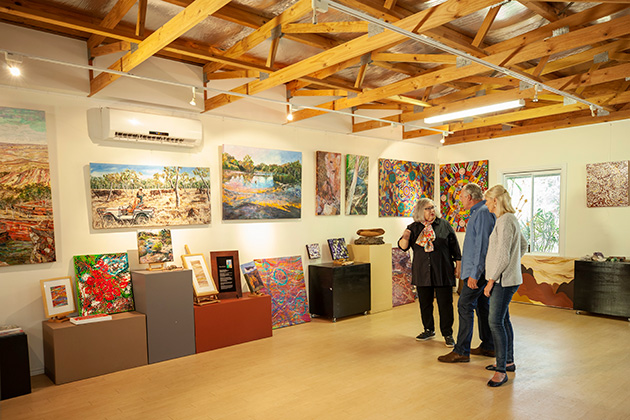 Explore the nearby Walyunga National Park
The beautiful Walyunga National Park is a 15min drive from the valley, and boasts plenty of natural attractions, picturesque walking trails and vibrant displays of wildflowers in spring. If you're eager to hit the trails, the 11km Echidna Trail loop offers beautiful views of the Avon Valley after a few steep woodland sections, or if you'd rather an easier walk, take the 6.4km Syd's Rapids trail leaving from Boongarup Pool. You can stay the night at the Walyunga Campground, which is a short drive from the popular Walyunga Pool.
At a glance
Distance from Perth CBD
29km, 40min drive.
When to go

Sep - Oct: Winter rains mean Bells Rapids is in full flow, and there are plenty of native wildflowers in national parks. Grapevines in the region are green and lush in springtime.
Oct - Feb: Sunny weather is great for cellar door-hopping, cycling and exploring natural attractions. The region's annual food and wine festival, 'Entwined in the Valley', is held each October.

Need to know
The Swan Valley Visitor Centre in Guildford is a good first stop-off to get your bearings and pick up any maps or region guides.
Insider tip
There are a variety of boat tour companies who offer cruises from Elizabeth Quay down the Swan River into the valley, with lunch and wine served on board.
Getting around
It's difficult to travel around the Swan Valley on foot, so you'll need a car or a bike to get around. If driving, make sure you have a designated driver if you're sampling wine or other alcoholic drinks.
If you'd prefer to cycle, there are a few bike hire shops in the neighbouring suburbs of Herne Hill and Guildford – Perth Electric Bike Hire is a popular option.
Eager to eat and drink in the valley?
RAC members save 10% on Swan Valley Food and Wine Tours with Experience Oz WA.
Last updated December 2021