Travel & Touring | WA Things To Do
By: Julie Hosking
Boasting a harbour bigger than Sydney's, rugged landscapes, beautiful beaches and a rich and varied history, Albany is more than worth the drive.
Here are 11 must-do activities for anyone spending time in WA's southernmost port city.
RELATED: Ultimate guide to Albany »

1. Hit a hiking trail
If you need to stretch those legs, Albany boasts some spectacular walks. Drop by the visitor centre in York Street, open Tuesday to Saturday, to get some local knowledge, as skill levels required on Albany's walk trails vary considerably.
Located in the Torndirrup National Park, a short drive from town, Bald Head Walk Trail is one of the more challenging treks — bushwalking experience is recommended — but it boasts some truly stunning views of the Southern Ocean and King George Sound.
Following the narrow ridge of the Flinders Peninsula, the 12.5km trail winds all the way to its namesake, Bald Head, a domed headland of granite that slopes into the ocean. Allow six to eight hours, bring plenty of water, wear sturdy shoes and take extra care on steep sections.
There may be limited access to Bald Head Walk Trail from February to August 2022, during trail construction upgrades.
RELATED: Best hikes in Albany »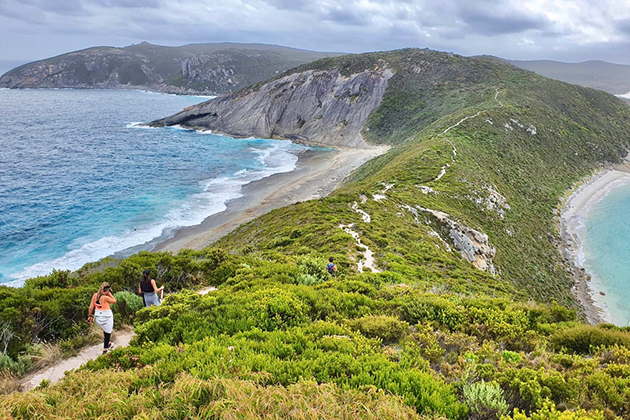 2. Visit the National Anzac Centre
Overlooking King George Sound, from which 40,000 Australians and New Zealanders left for World War I, the National Anzac Centre is a moving, immersive experience. Opened in 2014, the award-winning attraction also impressed royalty when Prince Charles and Camilla visited to mark the centenary of the Gallipoli campaign a year later.
At the entry, you're handed the card of someone who sailed from Albany more than 100 years ago, personalising the experience. Their story is unveiled through interactive media as you move through the museum, which also features thousands of artefacts, film and photographs. By the time you reach the tribute wall to leave a personal message, you'll be overwhelmed with awe and gratitude for their sacrifices.
Located on Mount Adelaide, it's adjacent to the Princess Royal Fortress, another treasure trove of military history. Open daily except Christmas Day from 9am-5pm, it's best to book online to secure a ticket.
3. Go beach hopping
Albany is blessed with an abundance of beautiful beaches to choose from. If you're not sure where to start, the friendly folk at Albany Visitor Centre will point you in the right direction.
The calm waters of Emu Point Beach are great for little ones, while Little Beach at Two Peoples Bay provides a more secluded spot to hunker down with a book amid lush greenery and surrounded by granite headlands.
Middleton Beach boasts crystal white sands and a nice playground, and Goode Beach, with its squeaky sands and turquoise waters, is another peaceful hideaway.
Frenchman Bay, on the southern side of King George Sound, has some shaded and sunny tables to enjoy a picnic before or after a dip in the ocean.
RELATED: Guide to Albany's best beaches »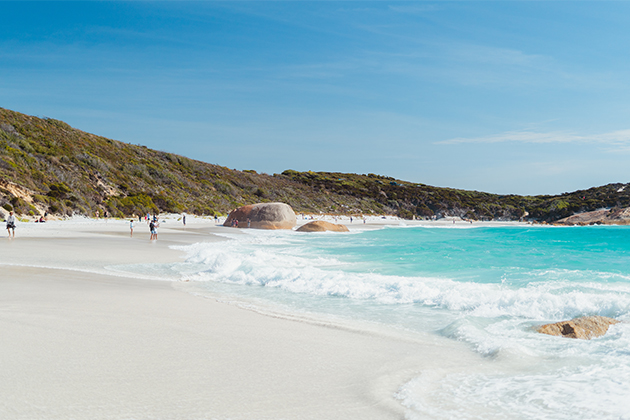 4. Taste the local produce
Foodies will find plenty to sate their appetites in this culinary hotspot.
Liberté, inside the historic London Hotel, beat hot competition around Australia to win Gourmet Traveller's best bar of the year and its French-Vietnamese menu and elegant interior is sure to delight as much as the cocktail list.
For a room with a view, try Due South. Overlooking the harbour, it showcases the best of Great Southern produce and is open every day.
Garrison boasts a similarly speccy outlook from its position atop Mount Clarence, with an ever-changing share menu and a great wine list. They also do a mean breakfast on the weekend and jazz on a Sunday arvo.
If you have the time, book a tour of Oranje Tractor Wines. Aside from producing award-winning wines (and some great vermouth), this organic farm grows a diverse range of fruit, nuts, vegies and herbs. Just 15 minutes west of town, the tasting room is open Sundays from 11am to 5pm, where you can try a flight of five wines with matched cheeses and homemade bites for $28. Other days by appointment. Just make sure you have a designated driver or take a taxi or rideshare.
5. Explore Torndirrup National Parks' natural wonders
Torndirrup National Park is also home to some of Albany's most famous natural attractions: The Gap, Natural Bridge and the Blowholes.
Safety barriers have been anchored into the stone 40 metres above sea level at The Gap and Natural Bridge for reasons that are immediately clear — waves crash in with some force over the rocks below, particularly when the gales pick up. You may even get a tad wet from the resulting water blasts. No matter where you're standing on this glorious granite structure, the views out to the Southern Ocean, Bald Head and West Cape Howe are breathtaking.
The Blowholes, as the name suggests, "blow" water up through a crack in the granite, producing a wondrous (and at times very loud) spray. There is also a popular walking trail to the Blowholes, a 1.6km return trip from the carpark. While it is a relatively easy walk, it is important to keep away from the ocean edge at all times as the path can get dangerously slippery.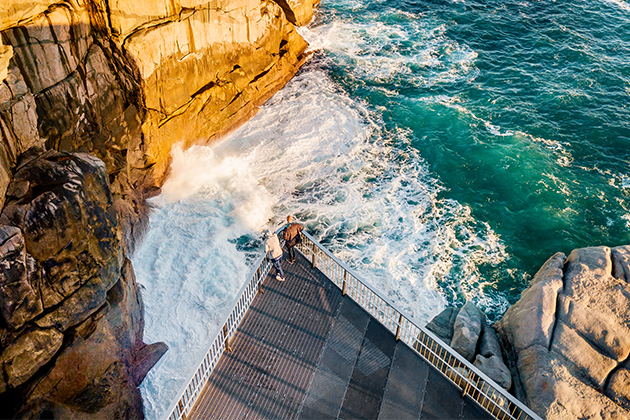 6. Dive on a shipwreck
Scuttled off Seal Island in King George Sound in 2001, the HMAS Perth II is a drawcard for experienced divers. Much of the guided missile destroyer's equipment remains intact, including the captain's chair, and you can even see the remnants of shellfire from its Vietnam War service.
The 133m wreck is slowly transforming into a long artificial reef wreck, with coral sprouting and yellow tails, leather jackets and kingfish darting in and out, along with a few wobbegongs (carpet sharks).
You'll need a permit dive this site.
7. Go whale-watching
Each May to October, Albany welcomes some very special guests to its great backyard — pods of humpback and southern right whales. The best way to see them is aboard a cruise and you'll find plenty of operators to choose from at the Albany Visitor Centre. Alternatively, head to Middleton Beach to get a vantage point from shore.
RELATED: A beginner's guide to whale-watching in WA »

If you're lucky enough to catch them breaching or slapping their tails, you'll wonder how we could ever have hunted these magnificent mammals. In fact, the last whaling company in Australia was here; everyone simply downed tools when it closed in 1978, leaving a time capsule that has been turned into a museum.
Step inside Albany's Historic Whaling Station to explore a fully restored whaling ship and former processing factory and see the giant blue whale skeleton. Open 9am to 5pm daily apart from Christmas Day, allow about three hours for the full experience.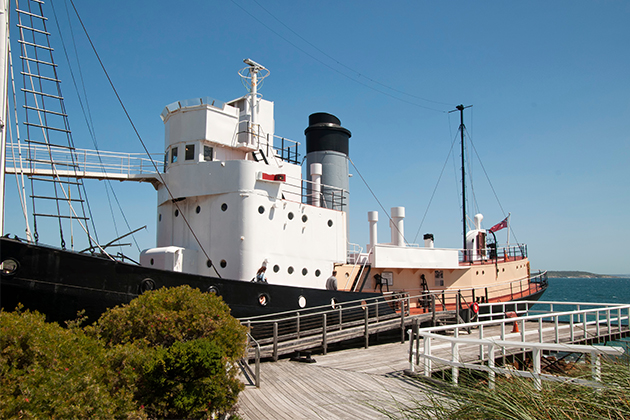 8. Try the local brew
Wilson Brewing Company is a popular haunt. Founded by local couple Matt and Jessica Wilson five years ago, it now ships to more than 350 venues around the country. With beers such as Stiff Mast, Rough Seas, Light House, and Lost Sailor paying tribute to its maritime roots, Wilson Brewing doesn't meddle too much with a good thing. The beer is free from additives and preservatives, just water, hops and barley with the occasional local fruit or veg thrown in for sought-after seasonal brews.
Wilson's Food Van offers the kind of dishes that complement the lagers and ales: think burgers, buffalo wings and loaded fries.
Wilson Brewing Company is open Monday to Wednesday from 10am to 9pm, Thursday to Sunday from 10am to 10pm, with the van open for lunch and dinner Monday to Saturday, and from 11.30am to 8pm on Sundays.
9. Stop and smell the sandalwood
In 1997, Mt Romance set up a distillery in Albany, growing sandalwood for fragrances before expanding into the cosmetic, aromatherapy and therapeutic markets. In 2020, it became known as the Sandalwood Shop.
Just 10 minutes north of Albany, it's home to a showroom, distillery, café and relaxation space. Here you can learn the history of sandalwood and stock up on products such as skincare, bath salts and deodorant.
For something a little different, try a Gong relaxation session. The harmonic tones of the Gong combine with the calming aroma of sandalwood oil to relax the mind and body. Cost $23 for one hour.
Showroom and cafe open seven days, Gong relaxation space, Wednesday to Sunday.
10. Board the Brig Amity
Built in 1975, the Brig Amity is a full-scale replica of the ship that brought the first white settlers to Western Australia.
Located on the Princess Royal Harbour foreshore, just a few hundred metres from where Major Edmund Lockyer and his party of 45 landed in 1826, the brig offers a great experience for the whole family. Young children are just the right size for exploring the lower decks while the grown-ups will enjoy learning more about the ship's history. Family tickets are $12.
Part of the Museum of the Great Southern, it is staffed by volunteers and opening hours vary depending on the weather, so it's best to ring the museum on 9841 4844 before visiting.
11. Take a tour of the Great Southern Distilling Company
Great Southern Distilling Company has been racking up international accolades since lawyer Cameron Syme decided to follow his passion for whisky back in 2004. It became the first distillery to make single malt whisky in Western Australia (legally, that is) through its premium Limeburners brand.
Aside from possessing the kind of hard, minerally water that yeast loves, Cameron says Albany offers something integral to all the world's great distilleries — they are all tied to a phenomenal place. With the cellar door overlooking Princess Royal Harbour, it's hard to argue otherwise.
To get a taste for how it's done, as well as some "liquid gold", join a guided tour of the distillery for $25. The company is also behind the award-winning Giniversity range and, though it's made at the Margaret River premises, you can book a two-hour blending class in Albany to create your own botanical twist.
Open seven days a week, Great Southern Distilling Company also offers light lunches and really good coffee.
Eager to experience Albany's natural beauty?
Make sure you're prepared - RAC members save 50% on DPAW national park passes.
Last updated: February 2021