Travel & Touring | WA Things To Do
By: Julie Hosking
Next time you head south, don't take the Bunbury bypass. Drive into the city instead and be surprised by the new look, new attitude and a host of new attractions.
Anyone who regularly makes their way down south has reaped the benefits of the Bunbury bypass. Completed almost a decade ago, it cut a welcome chunk off the drive to the gourmet attractions of Margaret River.
But what are you missing by bypassing Bunbury? Plenty. Tourism campaign Found in Bunbury was launched last November to remind Perthites of what they loved about the place all those years ago, as well as to introduce newer attractions.
While it has retained the laidback charm many will remember from family holidays gone by, Bunbury has grown up. It's a regional city with great bars and restaurants and a vibrant arts scene offering cultural experiences galore, as well as bountiful bays and estuaries to explore. And dolphins, lots of dolphins.
The port city, a mere two-hour drive from Perth, is very much a destination in its own right. Here are just a few reasons why you should bypass the bypass and linger in Bunbury.
Dolphin delight
Perhaps Bunbury's most iconic attraction, the Dolphin Discovery Centre offers many ways to interact with Koombana Bay's famous residents. Home to about 50 bottlenose dolphins, with another 100 or so visiting throughout the year, the bay is a playground and sanctuary for the wild animals.
Stand knee-deep in water in the Interaction Zone, where volunteers answer questions about the dolphins as you await their arrival. Take a 90-minute eco cruise to see them frolicking (or sleeping) in the bay or, even better, swim with them. An exhilarating three-hour adventure runs from November to April, with tours departing 8am every day except Tuesday. Bookings for all tours are essential.
The centre also boasts aquariums replete with fish and coral, as well as interactive displays and feeding programs to engage the whole family.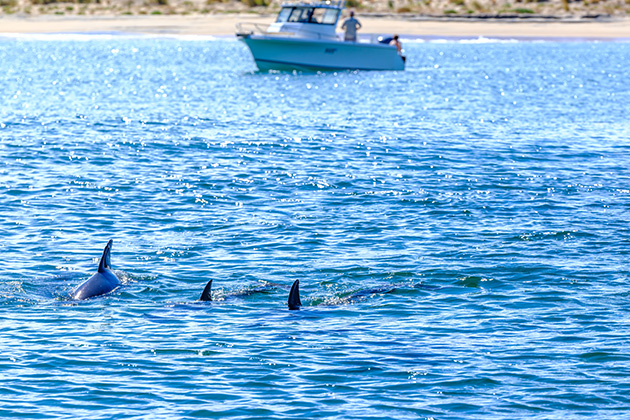 Art attack
Fondly known as BRAG, the Bunbury Regional Art Gallery has a lot to brag about. A former convent, the striking 1883 building hosts an ever-changing roster of world-class exhibitions across its galleries.
Shaun Tan's Rules of Summer, featuring rarely seen original pieces from the Oscar-winning artist, and the Noongar Country Exhibition, showcasing talented Indigenous artists, are worth the journey alone.
Bunbury is also home to the largest collection of street and public art in regional Australia. Pick up a street map at the Bunbury Visitor Centre, inside the Old Railway Station, and take a stroll in search of the 40-plus large murals by national and international artists — allow a good two hours to see them all. You will also spot electrical boxes that have been transformed into colourful characters in a novel collaboration between artists and local students.
The annual Tree Street Art Safari, a free self-guided walking trail of this creative hub, is also a must-do if you visit in March. The resident artists offer workshops year-round, too.
Beach beauties
Bunbury became popular as a seaside resort in the late 1800s when miners sought respite from the Goldfields heat. While the city bears little resemblance to the Gold Rush settlement, its coast still holds the same allure.
Koombana Bay is a great family beach with a playground, barbeques and plenty of shade, but locals also like to hang out at Jetty Baths, not far from the city centre. A flat shallow beach with shaded grassy areas and a playground, it's the perfect place to build sandcastles while keeping watch for dolphins and other marine life.
Back Beach stretches along Geographe Bay and draws snorkellers and surfers as well as swimmers to its shores. Fishing is also popular along the beach, while joggers, dog walkers and cyclists work up an appetite on the path hugging the coastline.
RELATED: 10 of WA's best beach fishing spots »
RELATED: Lesser-known beaches south of Perth »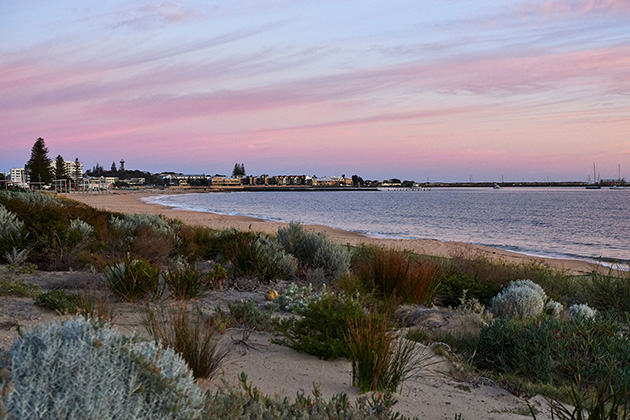 Cool cuisine
The city is no slouch in the culinary stakes. Nicola's Ristorante is a Bunbury institution with a real family feel specialising in local, seasonal produce. Mojo's is a popular haunt for fine dining (think Geographe Bay octopus, confit duck breast) and a superb wine list.
Waters Edge Café and Restaurant offers stunning waterfront views over Leschenault Inlet and a good selection of gluten-free dishes.
The Bayview Bar and Grill also boasts a beautiful outlook, this one over Koombana Bay, and a steak sandwich to match.
At Market Eating House, the star attraction is the charcoal and woodfired oven that turns out flavoursome food made for sharing. The team also produce platter boxes if you fancy a family picnic on the foreshore.
If all that sea air creates a craving for fish and chips, look no further than AJ's, while Natural Temptation Café is a hit with those seeking a healthier option.
Outdoor adventures
Bunbury is an ideal base to explore the region's natural beauty. It's best to stop by the visitor centre to find a trail right for your level of fitness, but the Marlston Hill walk to Bunbury's checkered lighthouse and the lookout is well worth the climb, providing superb views of the city and bay. Leschenault Peninsula, 18km north of Bunbury, offers three walking trails that are also great for birdwatching.
There's no shortage of bike trails for amateur or avid cyclists, either (if you don't have a bike, you can hire one at Melo Velo).
Prefer water activities? You can bodyboard, surf, stand-up paddleboard, snorkel, water-ski or sail. Ask for details at the visitor centre. You can even dive for 'sunken treasure' with Octopus Garden Dive Charters. The FV Lena, just off Bunbury, is now an artificial reef rich in marine life.
Noongar knowhow
Noongar people called this area Goomburrup long before the town was founded in 1836 and named for Lieutenant Henry St Pierre Bunbury.
Proud Noongar artist and performer Troy Bennell gives visitors a different perspective via Ngalang Wongi Cultural Tours. On the Dreaming Town Tour, you'll learn how the Noongar lived and hunted, and visit sites of cultural significance. The Estuary Walkabout Tour takes visitors by the mangroves and up along Koombana Bay, where you'll forage for bush tucker and learn a bit of bush medicine. Both tours take about two hours, with the latter including entry to the Dolphin Discovery Centre.
If you prefer to wander by yourself, be sure to visit Wardandi Memorial Park, a Noongar meeting place and traditional burial site, and Wardandi Boodja, a 5.5-metre sculpture looking out over Koombana Bay. Designed to reflect the resilience and spirit of a Noongar man, the imposing metal face has been an Insta-hit since it was unveiled in 2019.
Market magic
The Bunbury Farmers Market's location on the bypass is genius, as everyone going down south can stock up for the time away or their homecoming. If you're staying in Bunbury, though, you can visit any time you please.
This massive indoor marketplace is loaded with fresh fruit and vegies; specialty cheeses and cured meats; freshly baked breads and cakes; and a host of sauces, spices and chutneys that you don't need but will definitely want.
Chances are you'll leave with an overladen trolley even if you are only there for a few days. Just avoid peak hours — parking can be hard to find.
Locals also swear by the Bunbury Markets. Held every first and third Saturday of the month in Queens Garden, the markets are not only a great source of local produce, crafts and more, they are a wonderful place to get to know the people who make Bunbury so special.
Night moves
Like all good port cities, Bunbury has plenty of good watering holes. Call in for a drink at the refurbished Rose Hotel, which has been serving customers since 1865.
A much more recent addition to town, Lost Bills, describes itself as a place where the cocktails are craft, the beers are chilly and the wine list is local. It also hosts a different local artist each month, enabling them to display and sell their work.
Another new addition is Brooklyn32, a contemporary venue offering two distinct but equally cool spots to enjoy a few drinks and a bite to eat. It's Bunbury's first rooftop bar, with commanding views of the city and Leschenault Inlet, and a Brooklyn-inspired downstairs lounge with comfy couches and trendy booths. Book a spot in the early evening to soak up the views and settle in for the night.
If you want to get your dancing shoes on, the heritage-listed Burlington Hotel lets rip from 9pm to 1am Fridays and Saturdays with bands in the Indi Bar, while pool players can kick back with live music in the Chillax Bar. The hotel's newish restaurant, Bar 51, also doubles as a cocktail bar connecting the two live venues.
Festival fever
Now in its fifth year, Bunbury Fringe offers a range of cutting-edge performances, including stand-up, music, improv, poetry and storytelling. Held in the last week of January, expect the unexpected, hang out in the Fringe Garden and eat or drink at one of the pop-up venues before or after a show.
Film buffs should put CinefestOz on their calendar. Held in Bunbury, Busselton and Margaret River in August, the state's leading film festival always has an exciting program, including workshops and world premieres, as well as a few stars walking the red carpet.
The Bunbury Biennale, the second oldest biennale in Australia, brings artworks from around the state together every two years, capitalising on BRAG's reputation for world-class exhibitions. The 2021 theme He|She|They, which runs until June 6, explores gender identity, inclusion and diversity through the eyes of 37 Western Australian artists.
Check the Bunbury Geographe calendar for upcoming festivals and events.
Shopping central
You won't have to wander far to find cool shops, with many clustered in and around Victoria Street. Lose yourself in Afez of the Heart, an Aladdin's cave of treasures from Turkey, Morocco and India, including rugs, cushions, ceramics and jewellery. For fashionistas, there's Sabotage and Life & Soul Boutique, while Gallery 22 Bunbury offers a plethora of gift ideas.
Just across the road from the historic Rose Hotel lies Green Depot, a botanical wonderland with unique gifts, and a short stroll from there is Emporium of Eshe, an eclectic boutique offering everything from beautiful babywear to its own jewellery label.
Historical hits
Housed in the old Bunbury Boys School, built in 1886, the Bunbury Museum and Heritage Centre only opened five years ago. It takes a contemporary approach to the past, sharing the lives of Wardandi Noongar people, the struggles of early migrants and convicts, wartime history and beyond through a series of temporary and permanent exhibitions.
From there, history buffs will find themselves spoiled for places to visit, including the Stirling Street Historic Precinct, where buildings retain much of their 19th century character; Marlston Waterfront walk, revealing the dozens of vessels that came to grief on 'shipwreck bay' in the 1800s; and Centenary Gardens, created in 1936 to mark the city's 100th birthday.
Brekky bonanza
For a hearty brekky, locals swear by The Happy Wife, with its all-day menu boasting the likes of homemade crumpets (sweet and savoury) and cheesy Boston beans. Open Monday to Saturday, they don't take bookings.
The cosy Benesse Bunbury, open seven days, has long been a favourite, too, with its toasted breads and wraps going down a treat.
Coffee aficionados can also get their fix at Corners on the Bay or Corners on King, where there is a tempting array of cakes.
In a hurry to get to the beach? You don't even have to leave your car at Full of Beans Drive Thru.
At time of writing, Bunbury's waterfront is being developed and may be under construction. For more information about the project, see the Transforming Bunbury's Waterfront project.
Inspired to explore Bunbury?
You'll need to fuel up, first. RAC members save 4 cents per litre at participating Puma Energy and Better Choice service stations.
Last updated: June 2021
Image credit: Bunbury Geographe Tourism Partnership, Photographer: Bianca Turri Model: Elle Ryan. Banner: Australia's South West and Frances Andrijich.