Travel & Touring | WA Things To Do
By: Kirsty Petrides
There aren't many places in the world where you can be wowed by lush towering forests one minute and white-sand beaches the next – unless of course, you're in Denmark.
This relaxed town has been taking tourists' breath away for a long time, with its incredible coastline, impressive rock formations and majestic trees. And once you add in its relaxed atmosphere, remarkable culinary scene and the fact that it's only four and half hours from Perth, you'll want to add Denmark to your bucket list immediately.
Here are nine of the best things to do there.
1. Go swimming and snorkelling at Green's Pool
Located within William Bay National Park, Green's Pool is a must-see for anyone visiting Denmark. Its famous for its turquoise waters, pristine white sand and large granite boulders that surround the beach, creating a protected 'pool' for beachgoers to splash around in, safe from the waves and chop of the Southern Ocean. The calm conditions make it ideal for a swim and snorkel – or if you want to stay dry, you can perch yourself on the rocks and relax overlooking the water.
2. Visit Elephant Rocks
Also within William Bay National Park is arguably the most iconic spot in Denmark - Elephant Rocks. The huge cracked oval boulders resemble a herd of elephants paddling out into the bay's calm waters. It's a stunning sight to view the rocks from above, which is where you'll emerge from the walk down from the carpark. Once you're done enjoying the view, make your way down the staircase that descends between the rocks to Elephant Cove – you can head on to the beach from there and go for a swim amongst the 'elephants'.
Don't forget, RAC members save 50% on national park passes.
3. Tackle the Wilderness Ocean Walk
The Wilderness Ocean Walk – or WOW Trail – is a roughly 6km sealed track that stretches from Lights Beach to Denmark Wind Farm. Along the walk you'll enjoy sprawling views over the coast, white-sand beaches and crystal-clear waters, as well as of the heathland and rock formations including Monkey Rock. With a bit of a car shuffle, you could walk the entire stretch without having to double back; however if that's not an option, plan to start at the Lights Beach end and then turn around when you're ready – as that is certainly the prettiest section of the track.
4. Climb Monkey Rock
Monkey Rock is yet another one of Denmark's impressive rock formations, sitting high over Light's Beach and providing hikers with spectacular views over the Wilson Inlet, Ocean Beach, Nullaki Peninsula and William Bay National Park. The rock is accessible via Lights Beach Road, with the trail very well sign-posted and has stairs towards to the top. It's a short but steep climb though, so take water and wear proper shoes.
5. Enjoy a stroll through town
Walking through the centre of Denmark is a lovely way to spend a day. Get breakfast or coffee at the uber-hip Mrs Jones Café, nestled in the Old Butter Factory. The café shares the historical building with an art gallery – so while you're enjoying something from their local, seasonal, all-day breakfast menu, you can peruse the artwork, too. Pop into The Green Pantry, a completely waste-free café, shop and local wares merchant. Satisfy your sweet-tooth at Pawprint Chocolate, a family-run chocolatier who creates handmade chocolates using only locally-sourced ingredients. Or follow your nose to Massimo's Place, a traditional Italian pizzeria.
6. Treat yourself to a long lunch
With so much incredible local produce around, it will come as no surprise that Denmark is home to some exceptional restaurants. The Lake House, a rustic lakeside property five minutes from town, has become famous for its gourmet lunch platters. Filled with local cheeses, cold-cut meats and fresh local produce - including fruit and veg from their own organic kitchen garden – they're a must-try. Pepper & Salt Restaurant, situated amongst Denmark's iconic rolling hills, has a Fijian-Indian inspired menu designed to complement the region's wines. And Ajar Restaurant, high up on Mount Shadforth Road, dishes up contemporary Australian cuisine with impressive sweeping views.
7. Take a day trip to the Valley of the Giants
Just a short drive from Denmark is the famous Valley of the Giants. Head up to the Treetop Walk, which gives you a birds-eye view of some of the world's biggest timber giants – WA's tingle trees. The walk climbs 40m into the forest canopy, then meanders through the treetops for 600m. Once you're back at ground level, visit Valley of the Giants Olives – their cool climate, similar to Tuscany and Northern Italy, means they produce some exceptional olive oil and pickled olives.
RELATED: 10 scenic winter drives in WA »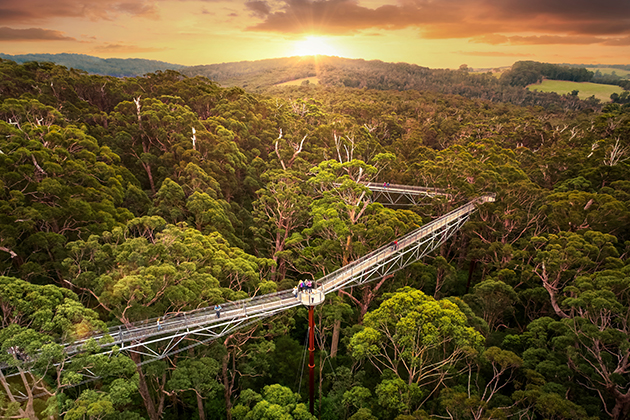 8. Satisfy your sweet tooth at Bartholomews Meadery
Everything at this family-run meadery is honey-based, so if you want a sweet snack, this is your spot. Try their honey ice-cream, honey chocolates and of course their mead; browse their huge range of different types of honey; grab some souvenirs like honey-scented skin care and candles; and even admire some of the hard-working bees who make it all possible (including a queen bee) in the glass beehive within the shop.
9.
Try Denmark's famous wine

Denmark is known for its cool-climate wines, and Forrest Hill, Castelli Estate and Rockcliffe all have cellar doors worth popping into. Singlefile Wines is a stand-out though – they have a big grassy area, picnic tables, shady trees and a BYO snacks policy – so pack a picnic basket, sample some of their wine and then enjoy the afternoon lounging around their vineyard overlooking their tranquil green grounds. Plus, they're dog-friendly. Just make sure you have a designated driver.
Need to fuel up before heading down to Denmark?
RAC members get 4 cents a litre off fuel at participating Puma Energy, Better Choice, Gull and Peak service stations.
Last updated: February 2021