Travel & Touring | WA Things To Do
By: Tatum Stafford
In a town best known for its karri, marri and jarrah forests, it's no surprise there are plenty of remarkable natural attractions to explore in Pemberton.
But throw in an old picture theatre-turned-hotel, a few forest-lined swimming holes and a menu of local gourmet produce and you'll soon realise there is much more to Pemberton than first meets the eye. Here are 11 interesting things to do on your next visit.
RELATED: Ultimate guide to Pemberton »

1. Take a tram ride through the forest
Originally established to connect the towns of Pemberton and Northcliffe, the historic Pemberton railway line today offers the chance to climb aboard and view dense forest from a tram window. Operated by the Pemberton Tramway Co, each tram seats up to 40 people and meanders over trestle bridges, alongside streams and through lush forest.
The 75-minute service runs from Monday to Saturday year-round, and includes a 25-minute stop-off at the Cascades, a set of falls that flow from the tranquil Lefroy Brook. Fares are $28 for adults and $14 for children, payable at the ticket office at the Pemberton Railway Station in town.
2. Join a beach and forest eco tour
With more than 40 years of combined experience, Graeme and Toni Dearle of Pemberton Discovery Tours are some of the region's most knowledgeable tour guides. Their half-day Beach & Forest Eco Adventure tour through the Southern Forests is the perfect sampler of the region's incredible scenery.
Seasonal tour highlights include orchid and wildflower-spotting, secret forest trails, birdwatching along the coastline, indulging in a few goodies from the local bakery, a secluded beach visit and fishing in the Warren River.
The tour also visits the land-locked Yeagarup Dunes, a mobile sand system that edges up to four metres towards inland forest each year. For non-four-wheel drivers, the tour is a great way to explore areas of Pemberton that are inaccessible in smaller cars.
RELATED: 5 fun forest adventures in Pemberton »

3. Climb a 61-metre-tall karri tree
Before fire spotter planes were introduced, a network of 18 fire lookout trees were established to spot smoke caused by forest fires. The Gloucester Tree was purpose-built for this network, and in 1947 forester Jack Watson spent six hours climbing it to deem its suitability. Thankfully, the tree is a lot easier (and faster) to climb today because of its large metal ladder rungs and sturdy lookout platform. From its base, you can climb 53m (or 153 pegs) to a lookout platform where you'll enjoy sweeping views over surrounding forest and farmland.
If you've conquered the Gloucester and want to climb even higher, the nearby Dave Evans Bicentennial Tree (65m) is also open to the public.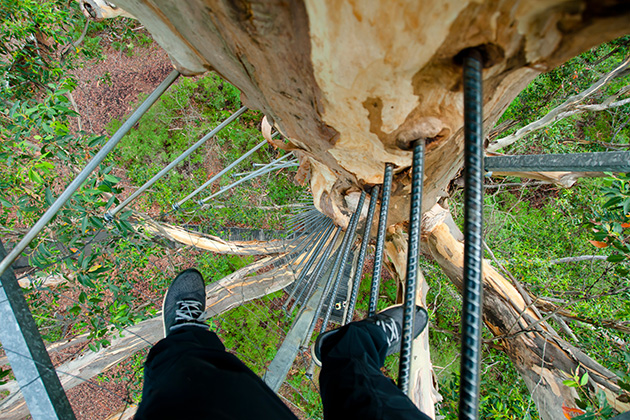 4. Fish for rainbow trout at a farm
Located on the edge of the Warren National Park, the Old Vasse Trout and Marron Farm is a must-visit for keen anglers because of its trout-filled lake. Operating with a 'catch and keep' mindset, the lake caters for beginners to more experienced fishers. Once you've reeled a few in, there are plenty of shady spots across the picturesque property to unwind at.
Casual fishing prices start at $10 per person (with rod hire an additional $5 each), and you'll need to pay per kilogram of fish you catch to take home. If you'd rather a more bespoke fly-fishing experience, half-day lessons start at $50.
5. Take a dip in a forest-lined pool
Constructed in the 1920s for families of local timber workers, the historic Pemberton Pool is one of the busiest spots in town on a hot day. It's well worth a visit (even if not for a swim) because of the towering karri trees that line the edge of the water and provide a stunning backdrop. There's plenty of space to have a picnic or barbeque, and live music pop-up events are common in summer months.
Pemberton is fortunate to have not one, but two swimming holes open to the public. Located a few kilometres out of town, the Big Brook Dam is complete with picnic tables, bird hides, a walking and cycling trail and a sandy white shoreline. The water here is quite cold year-round, but swimming is popular – just be sure to monitor DPAW's website for water quality updates before your visit.
6. Indulge in sweet treats at a lavender and berry farm
If you're travelling with restless kids (or adults with a sweet tooth), a stop at the Pemberton Lavender & Berry Farm is a must. Serving up berry pancakes, nine flavours of homemade ice cream, scones, tea and coffee, the farm is set on a picturesque property decked out with picnic tables and a kids' playground.
The farm gift shop is a highlight, fully stocked with lavender-scented candles and berry jams. There are also a few cute farm animals to interact with, including alpacas (which can be hand-fed during your visit), ducks and sheep. The farm is open 9:30am to 4pm, Thursday to Sunday.
7. Hop aboard a river cruise
The Donnelly River passes through jarrah forest, paperbark trees and wetlands. Hop on a daily Donnelly River Cruise to admire the region's diversity from the water. Host Peter has plenty of knowledge about the area's geology, flora and fauna, and is also known for his delicious homemade muffins which you can dig into for morning tea.
At the mouth of the river, you'll have the chance to disembark and stroll along soft white beaches that are virtually isolated, except for a few locals trying their hand at beach fishing.
8. Stroll alongside Beedelup Falls
Nestled within the Greater Beedelup National Park, the towering Beedelup Falls are a series of rocky cascades best viewed in full flow after winter rains. To see them up close, hop on a walk trail from RAC Karri Valley Resort. It'll lead you across a suspension bridge over Beedelup Brook to reach a lookout with spectacular views of the falls and the resort in the distance.
For a more challenging walk, opt for the 4.5km Beedelup Falls Loop. This moderately difficult trail weaves through karri forest, the Walk-Through-Tree and RAC Karri Valley Resort, and also makes a stop at Waterfall Dam, the peaceful lake into which the falls empty.
9. Taste Australia's very first truffle liqueur
Though truffle-infused liqueurs are commonplace in France and Italy, Australia's very first truffle liqueur was officially launched at Manjimup's iconic Truffle Kerfuffle festival in 2018. The liqueur is produced by Mountford Winery in collaboration with Pottinger Truffles, a nearby truffle farm renowned for its premium harvest, and was specially crafted to ease first-timers into the sharp aroma and taste of black truffles. Pop in at Mountford's cellar door, open daily from 10am to 4pm, for a tasting.
10. Tackle the Karri Forest Explorer Drive
As this list suggests, there are an overwhelming number of natural attractions in and around this region. Luckily, the 86km Karri Forest Explorer Drive is a convenient way to tick off Pemberton's 'greatest hits'. The scenic trail starts just outside of the town centre, and stops off at the Big Brook Dam, Gloucester Tree, the suspension bridge near Beedelup Falls, with plenty of trail entry points when you need to stretch your legs. Tune in to 88FM during the drive for additional information about the region.
11. Paddle down Warren River
Depending on the time of year you visit, a paddle down the Warren River could be tranquil and flat, or an adventurous white-water raft ride. Winding through Manjimup and Pemberton, the Warren begins in thick karri forest before expanding out into open woodland and a few vegetated sand dunes.
You can access the river via the canoe launch steps at Drafty's Campsite or Warren Campground. As there are granite outcrops, snags and other intrusions along the way, prior canoeing or kayaking experience is advised.
Need a place to stay near Pemberton?
RAC members save up to 20%* on stays at RAC Karri Valley Resort.
*Terms and conditions apply. Member rate varies according to season. See full website for details.
Image credit: Frances Andrijich. Last updated: August 2021