Travel & Touring | WA Things To Do
By: Tatum Stafford
It's no secret that Perth is full of fantastic tourist attractions – but if you're a local looking for something a little different to do with your weekend, we've got you covered.
From twilight abseiling in the Perth Hills to riding a jet-powered hoverboard over the water at Rockingham Beach, here are 12 unique things you may never have done in Perth (but really should).
RELATED: 20 fun, free and cheap things to do in Perth »

1. Explore Fremantle Prison's underground tunnel system
Though you may have toured the grounds of the World Heritage-listed Fremantle Prison, there's an intricate tunnel system underneath it where you can explore waterfilled passageways that are only accessible by boat.
Tour participants wear hardhats and semi-waterproof overalls and then descend 20 metres below the prison grounds to explore the tunnels that were first forged by prisoners in the mid-1800s. After walking through the tunnels' dry sections, you'll hop into a replica convict punt (a narrow, flat-bottomed boat) to get through watery sections. As the tour description suggests, you'll need to be comfortable within enclosed spaces to complete it. You'll also need to be physically fit for the climbing and walking sections.
The tours usually run on weekends with a minimum age of 12 years, and pricing starts at $45 per child, $65 per adult. Bookings and pre-payment essential. (Note: Tunnel tours are currently unavailable – check the website for updates).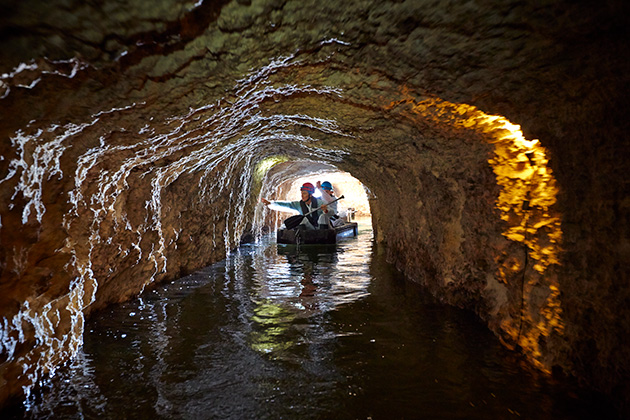 2. Watch a game or concert from the roof of Optus Stadium
For a unique birds-eye view experience at one of Australia's biggest stadiums, book yourself a seat for the Game Day Rooftop Experience. On the day of your event, you'll follow a tour leader to climb 42 metres above the ground to reach your seat.
The experience costs $149 per person, and you'll need to book ahead.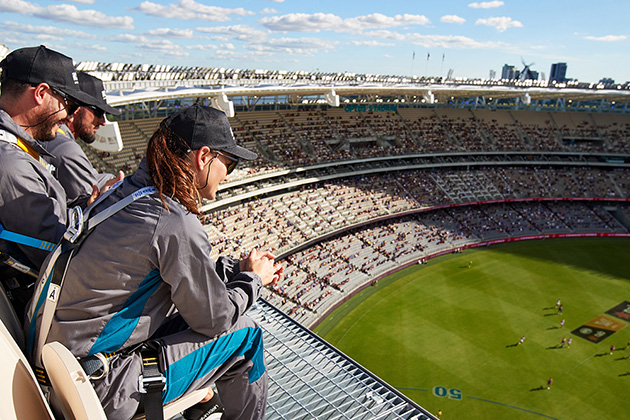 3. View the largest privately owned collection of taxidermy in Australia
The Academy of Taxidermy in Guildford has more than 2,000 taxidermy animals and items on display, including birds, reptiles, marine life and large mammals. Within the Academy you'll find the Museum of Natural History, where you can wander amongst taxidermised kangaroos, sharks, snakes, emus, deer, and even life-size models of dinosaurs.
Master taxidermist Michael Buzza, who has more than 40 years of experience in taxidermy, has expertly curated hundreds of exhibits within the museum. Exhibits are verified by agencies such as the WA Department of Parks and Wildlife, to ensure WA's natural environment is accurately represented. The museum is housed within the heritage-listed former Regent Theatre, which provides an elegant and unique backdrop to Michael's fascinating taxidermy works.
The museum is open from Tuesday to Sunday, from 10am to 5pm. Donations are welcomed upon entry.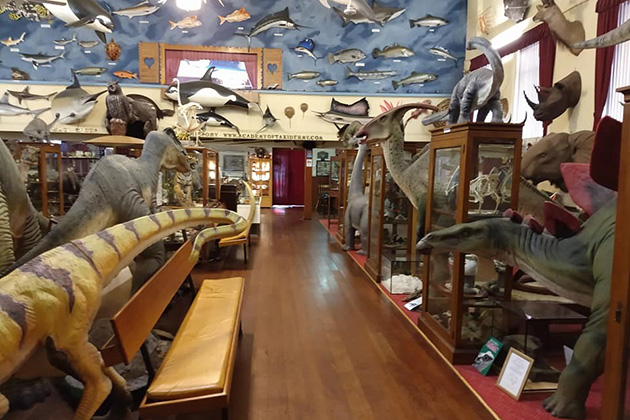 4. Abseil down a 60m wall at twilight
Spacechameleon Adventure Co's Twilight Abseiling Adventure course gives thrill-seekers the chance to learn the abseiling basics on a 15m wall, then abseil down a 60m wall into a picturesque quarry as the sun sets. The course takes place in the Perth Hills, and offers incredible views of the Perth CBD from a very unique vantage point. In between abseiling, you can dig into gourmet pizza that'll be delivered straight to your tour group.
Sessions start at $185 per person, and tours run year-round. A thorough safety briefing, and safety equipment, will be provided before you start your descent.
RELATED: 10 unique things to do in the Perth Hills »

5. Explore Perth's only tourist cave
Crystal Cave within the Yanchep National Park is filled with stunning cave decorations, including shawls, helictites, stalagmites and columns. Hop on a 45-minute guided tour to view its features up close, and learn about the history of the cave and the national park. There are a few tight spaces to be wary of if you're claustrophobic.
There are five tours daily, with pricing starting at $8 for children and $16 for adults. Book online, or purchase a ticket from the McNess House Visitor Centre, a short drive from the cave entrance.
6. Tour Rottnest on a Segway
If you're visiting Rottnest without your bike, or simply want to try a different way to get around, book yourself a Segway ride. Led by Segway Tours WA, they will take you to explore some of Rotto's most beautiful hidden treasures.
Choose from the 1-hour 'Settlement Explorer' tour or the 1.5-hour 'Fortress Adventure' tour – both include stops at bays and beaches, and will take you over hilly roads that are a breeze for Segways but a tough ride for push bikes.
Tours typically run twice a day, seven days a week, with pricing starting at $79 for kids and $89 for adults. The tour office is located near the Dome Café. If you're eager to try a Segway tour back on the Perth mainland, the company also offer tours around Kings Park, Elizabeth Quay, and Fremantle.
7. Catch a film at Perth's only drive-in movie theatre
Located in Kingsley, approximately 20-minutes' drive north of the CBD, the Galaxy Drive-In Theatre opened in 1973 and is the only place in Perth where you can tune in your radio, get comfy in your car and watch a film on a giant outdoor screen. There's also a café onsite with plenty of hot food on offer. Check their website for season and session times.
8. Go jetpacking on the water
Jetpack Perth offers jetpacking, flyboarding, hoverboarding and jetbiking experiences off the shoreline of Rockingham Beach – and are the first coastal water jet operators in the state. When you've picked your preferred jet device, you'll receive hydroflight training from a professional instructor, pull up your wetsuit, and put on your helmet with an inbuilt radio so your instructor can give you advice when you're up to 10 metres in the air.
Pricing starts at $99 per session, and there are 10, 20, or 30-minute flight experiences available.
9. Zip and climb the Matagarup Bridge
Feeling brave? Climb and shimmy your way up the 72-metre-high Matagarup Bridge near Optus Stadium, then zip back down, travelling up to 75km/h with Matagarup Zip+Climb. There are three packages on offer: the 90min Bridge Climb, which includes a walk up to and then over the Sky Platform (on top of the bridge), then a walk down; the 90min Express Zip, which includes a walk halfway up the bridge and a fly down; and the 120min Zip+Climb, which includes the full walk up and over the Sky Platform, and fly down.
Participants must be fairly fit, and should be able to climb more than 300 steps and manoeuvre under low beams. Participants must be at least eight years of age. Pricing starts at $99 for the Bridge Climb and Express Zip, or $149 for the full Zip+Climb experience.
10. Go on a hunt for tiny fairy doors
If you're looking for something different to do with the kids, go on a hunt to find tiny fair doors in a few towns in and around Perth. The Kalamunda fairy door trail has become a popular activity for kids on weekends and during school holidays, and invites fairy 'hunters' to visit locations around town, including the Kalamunda Hotel, Stirk Park, Kalamunda Cycles and a section of the Bibbulmun Track (which the fairy door organisers dub "where the wild fairies roam"), to spot decorated tiny doors for 'fairies'.
You can also find more than 20 fairy doors created by local artists scattered around Ellenbrook, and a trail of tiny doors in Mandurah.
11. Walk through a Cold War-era submarine
Sitting on a slipway at the WA Maritime Museum in Fremantle, The Oberon class submarine HMAS Ovens serves as a living memorial to submariners, and those who lost their lives serving from Fremantle during World War Two. Today, you can climb aboard the submarine to take a guided tour, where you'll learn about Fremantle's wartime history, and what life was like for those who lived in the submarine's cramped conditions.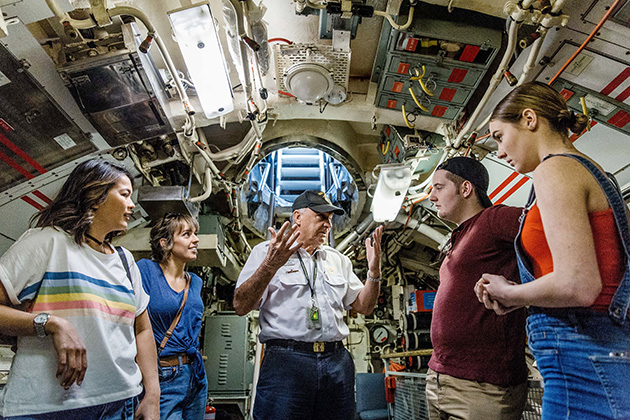 Tours typically run every day, and take 1hr 15mins to complete. Pricing starts at $15, and bookings can be made online or at the Maritime Museum's help desk.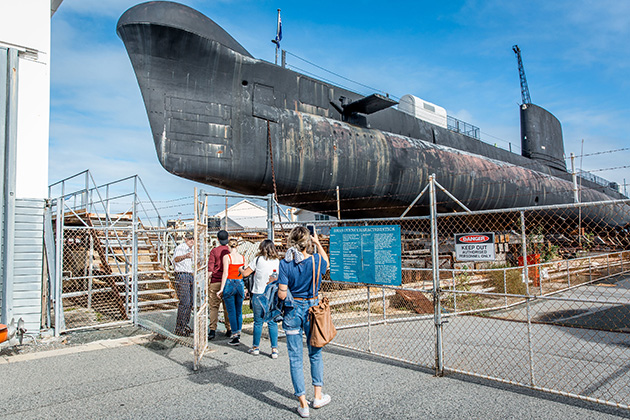 12. Ride in a gondola on the Swan River
Add a little Italian flair to your next visit to Elizabeth Quay by booking a ride with Gondola on the Swan. Available for half-hour, one-hour or family cruises, these handcrafted wooden gondolas are made of western red cedar; a wood commonly found in Western Australia. Each gondola has a comfortable, push velvet interior, Venetian drapes and a gondolier in traditional Venetian costume.
The gondolas depart next to the Transperth Ferry dock, and pricing starts at $50 per adult, or $30 for kids under 12.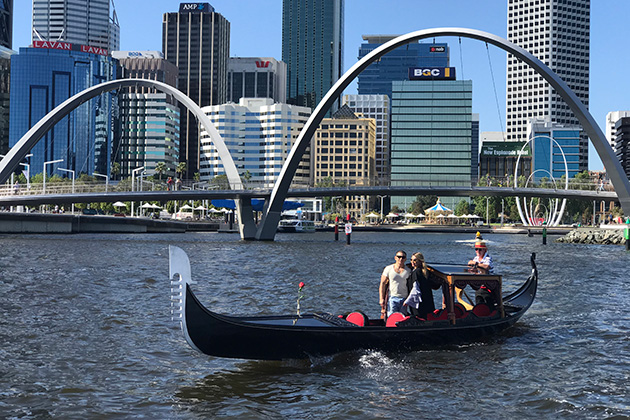 Ready to tick some of these off?
If you need to fill up before your next Perth adventure, don't forget RAC members save 4 cents per litre on fuel at Puma Energy and Better Choice service stations.
Last updated: March 2022