Travel & Touring | WA Road Trips
By: Tatum Stafford
It's no secret Western Australia is abundant with unique wildflowers – in fact, 60% of them are not found anywhere else in the world.
As WA is home to over 12,000 wildflower species, there's an overwhelming amount of ground to cover for wildflower enthusiasts hoping to hit the road to view some of the State's bountiful blooms in person - especially if you've already scoped out Perth's wildflower hotspots.
So we've picked six of our favourite wildflower drives encompassing northern, central and southern WA. Now all that's left to do is pick your route, grab a map and clear some space on your camera roll.
1. Jarrahland Wildflowers Trail
| | |
| --- | --- |
| Distance | 740 kilometres, allow four to five days. |
| Locations | Jarrahdale, Collie, Pemberton, Manjimup, Bridgetown, Busselton and Bunbury. |
| Wildflower species | Queen of Sheba orchids, yellow buttercups, Swan River myrtles, white candles, banded greenhoods, sundews, pink fairies, rattle beaks and more. |
Starting from Perth, you'll visit Collie via the Shire of Serpentine and Jarrahdale - a picturesque spot that is renowned for its registered Flora Roads that transport drivers through tree tunnels and past flowering natives and other wildflowers. Once you arrive in Collie, head to the Karak Red Trail for a walk among the wildflowers; keeping an eye out for native kangaroo paws.
Next, head to Pemberton and Manjimup via Bridgetown. Stop in at Southern Flora, a wildflower nursery in Bridgetown, for a guided wildflower walk with Erica, the nursery's head conservationist. In Pemberton, the Goblin Swamp is a local gem for wildflower-spotting, and features a five-kilometre walk trail that takes you past hare orchids, cowslips and narrow-lipped hammers. The 10-hectare Manjimup Heritage Park is home to more than 30 wildflower species, and is another great spot to take a stroll.
On your way to Busselton, pass through Mount Chudalup for a look at the rare Queen of Sheba orchid. There are plenty of wildflower hotspots once you arrive in Busselton, including the Ludlow Tuart Forest, Ambergate Reserve, Whicher Range and Captain Baudin Reserve. On your way back to Perth, pop into the Yalgorup National Park to spot fairy orchids, hoveas and cockies tongues.
RELATED: What's blooming in the South West?

2. Wave Rock Wildflowers Trail
| | |
| --- | --- |
| Distance | 754 kilometres, allow three to four days. |
| Locations | York, Quairading, Bruce Rock, Narembeen, Hyden (Wave Rock), Kalgarin, Kondinin, Kulin and Corrigin. |
| Wildflower species | Isopogons, tinsel flowers, spider orchids, everlastings, hakeas, candy orchids, broom milkworts and more. |
You'll start your journey in York, a quaint Wheatbelt town famous for its plentiful canola fields and annual Garden Festival. Pay a visit to the York Bushland Garden, which is a haven for WA natives and a few declared rare flora species. Next, stop in at the Quairading Nature Reserve to view more of the Wheatbelt's wildflowers, before continuing on to Bruce Rock. A wildflower drive through Bruce Rock will showcase species of isopogons, tinsel flowers and spider orchids.
Next, travel to Narembeen to view sugar orchids, everlastings and clown orchids in surrounding reserves. Then, make your way to Hyden (Wave Rock) to complete a few wildflower walks. The Hippo's Yawn loop is a popular option, and takes you through bushland plentiful with bottlebrush, hakeas and numerous orchid species.
On your way back, pass through Kalgari and Kondinin, stopping at the Yeerakine Rock to look at the pink candy orchids and broom milkworts. Then travel to Kulin and visit the Hopkins Nature Reserve, an extremely important flora conservation area. On your way back to Perth, complete the Corrigin Wildflower Drive. This well-maintained gravel track takes you past plenty of wildflowers, thickets and shrubland, and ends at a picturesque scenic lookout.
RELATED: What's blooming in the Wheatbelt?

3. Granite Loop Wildflowers Trail
| | |
| --- | --- |
| Distance | 815 kilometres, allow four to five days. |
| Locations | Wongan Hills, Toodyay, Koorda, Beacon, Beringbooding, Elachbutting, Mukinbudin, Kununoppin and Wyalkatchem. |
| Wildflower species | Everlastings, donkey orchids, snail orchids, Koorda roses, yellow and pink verticordias, pink tea trees, native foxgloves, yellow hibbertia and more. |
From Perth, travel to Toodyay and choose a wildflower walk in the Dawn Atwell Reserve, Rugged Hills Reserve or Majestic Heights Reserve. Then, head to Wongan Hills, a diverse area home to more than 1,400 species of flowering plants – and more importantly, 24 species that are unique to this area.
Next, head east to Koorda to view the everlastings, dampiera species and 'Koorda roses' that the area is known for. Stopping at nature reserves along the way, venture to Beacon and enjoy a picnic at Billiburning Rock. The adjoining reserve explodes with masses of wildflowers in the springtime.
Travelling alongside a series of towering granite outcrops, your next stop is the Elachbutting Rock near Westonia, where you can explore the surrounding vegetation and wildflowers on a picturesque walk trail. As you wind your way back to Perth, complete the Pioneer Botanical Walk in Mukinbudin, admire the nature reserves near Kununoppin and try to spot the endangered native foxglove in the main street flower gardens in Wyalkatchem.
4. Everlastings Trail
| | |
| --- | --- |
| Distance | 990 kilometres, allow four to five days. |
| Locations | Coorow, Eneabba, Mullewa, Mingenew and New Norcia. |
| Wildflower species | Pink, yellow and white everlastings, pink and blue fairy orchids, fringe lillies, clown orchids, dryandras, wreath flowers and more. |
On your way to Coorow, make time for a visit to the sprawling Badgingarra National Park. The 1.5 kilometre Iain Wilson Nature Trail is a great way to view the park's blooms up close – and if you're lucky, you may also spot a kangaroo or two. Continuing north you'll find the Coomallo Nature Reserve, home to more than 200 wildflower species. Once you arrive in Coorow, the Coorow Farm Wildflower Trail is a definite highlight. Just one kilometre from the town centre, the walk showcases a variety of everlastings, orchids and natives.
Your next stop is the Lesueur National Park, one of the most significant flora conservation reserves in the State. Here you'll find a variety of orchids, leschenaultias and hibbertias – all best viewed on a drive through the park. The neighbouring town of Eneabba is also renowned for its extensive wildflower displays; notably within the Tathra National Park.
Further inland, the Coalseam Conservation Park between Mingenew and Mullewa is one of the State's most impressive wildflower hotspots. In spring, the park is covered in carpets of white, pink and yellow everlastings. Next, stop in at Udamung Brook Reserve, just south of the monastic town of New Norcia. Here you can view the prominent pink flowers of the pincushion cone and several dryandras before heading back to Perth.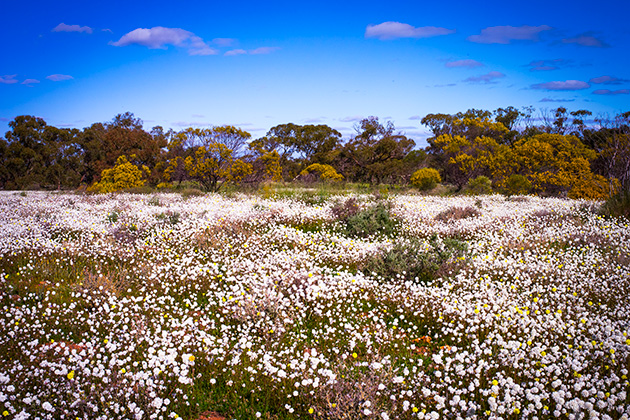 5. Pilbara Wildflowers Trail
| | |
| --- | --- |
| Distance | 1,775 kilometres, allow 10 days. |
| Locations | Onslow, Paraburdoo, Tom Price, Karijini, Port Hedland, Marble Bar, Roebourne, Karratha and Dampier. |
| Wildflower species | Sturt's desert pea, fluffy mulla mulla, cassias, northern bluebells, desert yams, several species of hibiscus, Ashburton peas and more. |
Beginning your journey in Onslow, head inland to Paraburdoo, a town known for its diverse wildlife and picturesque scenery. Next, travel to the Karijini National Park, an area of extreme biological diversity. There are over 500 species of native flora within the park – and from June to September, the land is covered with yellow-flowering cassias, northern bluebells and purple mulla mullas.
Next up, head further north to Port Hedland. This thriving town is home to an abundance of fish, wildlife and pristine natural landscapes. During winter months, Sturt's desert peas, mulla mullas and Ashburton peas are known to be found in Port Hedland. From here, make your way to Marble Bar, stopping in at South Hedland for a look at the desert walnut.
Your next stop is the Millstream Chichester National Park. This extremely diverse parkland is home to spectacular wildflower displays from June to August, including Sturt's desert peas, more than twenty mulla mulla species, fragrant cassias and dozens of species of wattles. Before ending your journey in Dampier, stop at Roebourne and Karratha to view more wildflower species native to this iconic WA region.
6. Northern Explorer Wildflowers Trail
| | |
| --- | --- |
| Distance | 3,200 kilometres, allow 13-15 days. |
| Locations | Greenough, Kalbarri, Riverside Sanctuary, Shark Bay, Carnarvon, Mount Augustus National Park, Meekatharra, Paynes and Wubin. |
| Wildflower species | Pink and yellow everlastings, golden billy buttons, Kalbarri spider orchids, pink pokers, hibbertia, Shark Bay daisies, northern bluebells, Murchison clawflowers and more. |
Starting in Perth, head north to the Greenough-Geraldton region. The Chapman River Regional Park just four kilometres from the Geraldton town centre is a wildflower hotspot; home to a variety of blooms that aren't grown anywhere else. Next, passing through Gregory, head to Kalbarri to visit the town's national park. This vibrant park is home to around 800 species of native flora, and many of these are endemic to the region, including the Kalbarri spider orchid. You're also likely to spot bush flowers such as pink pokers, banksias and flannel bush.
Next, head north on the North West Coastal Highway to reach the Riverside Sanctuary, a hotspot for everlastings, pompoms, Kalbarri catspaws, trigger plants, Murchison clawflowers and more. It's worth hopping on a wildflower tour with one of the sanctuary's knowledgeable guides. Then, head to Shark Bay, a town that boasts the longest wildflower season on the Coral Coast. In the Shark Bay area, you're likely to spot Shark Bay mallee, dune wattles, native hibiscuses and Tamala roses. The Francois Peron National Park is a popular day trip option from Shark Bay, and showcases the Shark Bay daisy, dampiera and purple peas across its expansive landscape.
Your next stop is Carnarvon, where you'll be treated to vibrant displays of parakeelya, northern bluebells and purple vetch. To find green birdflowers and tassel tops, try Miabooyla Beach. Then, make your way to Kennedy Range National Park. Try the Honeycomb Gorge walk trail, where you may find mulla mullas or everlasting daisies. Next, travel to the Mount Augustus National Park to be surrounded by purple mulla mullas in the springtime.
As you wind your way back to Perth, stop in at Meekatharra to view golden billy buttons, mauve velleia and blue pincushions. Other good stop-offs are at Paynes for colourful everlastings, and Wubin for wattles, orchids and boronia.
Note that you'll need a four-wheel drive for this trip, as portions of it are on unsealed roads or tracks.
RELATED: What's blooming in the Gascoyne?
Need somewhere to stay on your wildflower adventure?
RAC members save up to 20%* at our nine RAC Parks & Resorts across the State.
*Terms and conditions apply. Member rate varies according to season. See website for full details.
Last updated: August 2020