Travel & Touring | WA Destinations
By: Danielle Costley
If pristine beaches, limestone caves, world-class wineries and great surf take your fancy, it is time to visit Yallingup.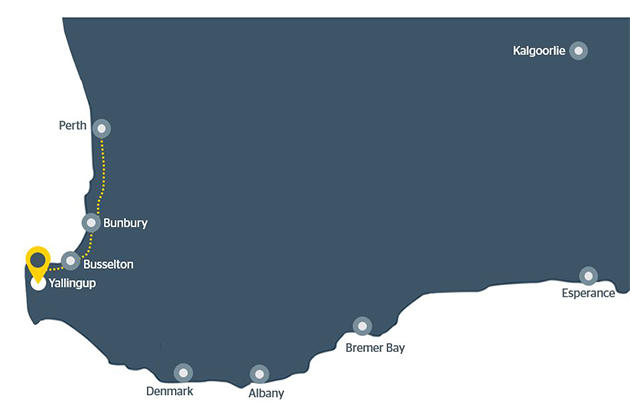 Top things to see and do
Cape Naturaliste Lighthouse
Climb the 59 stairs to the top tower of this lighthouse for breathtaking views over the cape. Learn of nearby shipwrecks and the history of this lighthouse from the new observation platform located at the base of the lighthouse tower.
Beaching
Explore the crystal-clear waters at the beaches between Bunker Bay and Castle Rock. Given these spots are calm and sheltered, they're also great for stand-up paddle boarding and snorkelling.
Take on the consistently spectacular surf breaks at Yallingup, Smith's Beach, Three Bears and Injidup - and take a dip in the pristine waters at Injidup Natural Spa, a picturesque rock pool is sheltered by surrounding rocks.
Go fishing at Bunker Bay Beach – during autumn, schools of Australian salmon swim along this vast stretch of coastline.
Surfing
Yallingup is one of the most famous surfing spots in WA, with 75 breaks along a 130-kilometre stretch of coast, and plenty of board-hire shops in the nearby towns of Margaret River and Dunsborough. If you're a newcomer, you can get private or group classes through the Yallingup Surf School, with Redgate, Conto's and Boranup considered the area's best breaks for beginners. If you're a bit more experienced, South Point, Moses Rock and Yallingup Main Break Beach are great for intermediates, with Surfers Point and North Point impressive breaks for semi-pros.
Canal Rocks
Take a walk along the famous boardwalk at Canal Rocks, where there are beautiful views across the Indian Ocean. This is a perfect location to watch an ocean sunset.
Whale-watching
Watch the whales migrate from June to December from Point Piquet and other high vantage points along the coastline. Get up close with these giant mammals on a whale-watching tour from Dunsborough or Busselton.
RELATED: 10 of the best whale-watching spots in WA »

Hike the Cape to Cape
The Cape to Cape Track from Cape Naturaliste to Cape Leeuwin, is a 135-kilometre trail surrounded by dramatic coastline, jagged rocks, sandy beaches, karri tree forests, high cliff faces and a sea of wildflowers during spring.
Quinninup Falls
Ten kilometres south of Yallingup, Quinninup Falls is a picturesque, ocean-facing waterfall and a fantastic hiking spot. It's best to visit the falls between June and September, when the region receives plenty of rain and the surrounding bushland is abundant with wildflowers.
RELATED: 10 of WA's best waterfalls »

Food and wine
Taste wines at the boutique cellar doors that dot this picturesque region, or dine at one of many world-class restaurants. There is a wide range of culinary experiences to enjoy such as beachside cafes, olive oil and cheese tastings, and gourmet vineyard lunches - just remember to pick a designated driver.
Wardan Aboriginal Cultural Centre
Immersed in the forest you will find the Wardan Aboriginal Cultural Centre, where you can be led on a bush story trail, stone toolmaking workshop, or participate in boomerang and spear throwing.
Koomal Dreaming
Discover our indigenous heritage that dates back more than 50,000 years at with this guided bush walk. You'll forage and taste native foods, enter the ancient Ngilgi Cave for a mesmerising didgeridoo performance and discover traditional bush medicine.
Wildflowers
If you're heading to Yallingup in spring, stroll through the native bushland to enjoy the stunning array of wildflowers. There are 8,000 species growing in the South West region, so be sure to pack your camera.
At a glance
Distance from Perth
256 kilometres, about three hours' drive
Why go?
Stunning beaches, exceptional food and wine, ancient caves, Injidup Natural Spa, spectacular surf breaks, the Cape to Cape track.
When to go

Oct - Mar: Warm temperatures make it ideal for a beach break, swimming, snorkelling, paddle boarding or fishing. The Cape to Cape Mountain Bike Race in October and Gourmet Escape foodie event in November.
Apr - Jun: Milder temperatures, cooler evenings. Great for surfing, fishing, hiking and exploring the caves and wineries/breweries.
Jul - Sep: Cool temperatures and high rainfall. Less tourists, so a good time to explore wineries and restaurants. Wildflowers aplenty. Annual Cabin Fever food event and CinefestOZ film festival.

How long to stay
Three days to a week.
Need to know
There is a café, general store, pub, restaurant in Yallingup, and the neighbouring Dunsborough has bigger supermarkets and other amenities. Phone reception and WiFi is good in most parts of the town.
Fast facts
Town population: 1,000 
Indigenous people: The Wadandi are the Indigenous Noongar people of this community. Yallingup means 'place of caves' in the Wadandi dialect.

Insider tip
Set your watch for 3:30pm when the freshest loaves of bread come steaming out of the oven from Yallingup Wood Fired Bread in Quindalup. Try their Gugelhupf - it's biodynamic and made in the traditional manner.
Related road trips
Getting around
The roads are long, hilly and winding in the South West so driving is the best way to tour the region. There are endless walking and mountain bike trails to explore if you prefer a more active adventure. It's easy to hire a bike from some of the bike hire places in Dunsborough.
What to pack
Even during summer, the nights can get cool. Pack a jumper and jeans, along with your beach gear. A snorkel is a must, especially if you're planning on exploring the clear waters of this vast stretch of coastline. Good walking shoes, sunscreen, mosquito repellent and a hat are also essential items. If visiting in winter, a warm hoodie or coat are necessary.
Travelling safely
There are many places to stop, recharge and refuel on this leisurely three-hour drive south from Perth. The trip is mostly on a new highway and as you meander southwards from Busselton, the roads are well-sealed but they are narrow and winding. Be observant for kangaroos and other wildlife, especially during sunset and sunrise. Read more long distance driving tips.
Need a place to stay?
RAC Margaret River Nature Park is just a short drive from Yallingup - plus, RAC members save up to 20%* on accommodation.
*Terms and conditions apply. RAC member rate varies according to season. See full website for details.
Last updated July 2020