Travel & Touring | WA Destinations
By: Tatum Stafford
If picnicking amongst kangaroos, taking a walk through a koala-filled reserve or picking strawberries in the sunshine sounds like your ideal getaway – it's time to visit Yanchep.
Perhaps best known for its spectacular national park, the coastal town of Yanchep is home to intriguing historical sites, beautiful nature reserves, and some of Perth's bucket-list swimming spots. Let's visit this idyllic day trip destination.
At a glance
Distance from Perth CBD
55 kilometres, an hour's drive
Why go?
To explore one of the most fascinating national parks close to Perth, snorkel along sheltered reef at a picturesque lagoon, picnic with kangaroos in the shade of banksia trees, spot wildflowers along rugged walking trails, and witness diverse birdlife within spectacular wetlands.
When to go

Sep - Nov: Perth's wildflower season is in full bloom, and visitors to the national park's walking trails and boardwalks can spot plenty of fascinating species.
Dec - Feb: Warm weather makes this a fantastic time for swimming, snorkelling or fishing at Yanchep Lagoon.

How long to stay
Yanchep is a popular day trip destination, but is also a great spot to spend a weekend if you plan on camping within or near the national park.
Need to know
There are plenty of facilities within the national park, including picnic tables, barbeques, toilets, an entry station and a visitor centre. You'll need to purchase a national park pass to enter – remember, RAC members save 50% on digital national park passes.
Fast facts
Town population: 8,800 
Indigenous people: Noongar.

Insider tip
If you're feeling adventurous, hop on an adventure caving tour. Running for an hour and a half, you'll be given a hard hat and a torch and will be guided through a range of the national park's semi-wild caves. Bookings by arrangement, contact the visitor centre for more details.
Related road trips
10 unique day trips from Perth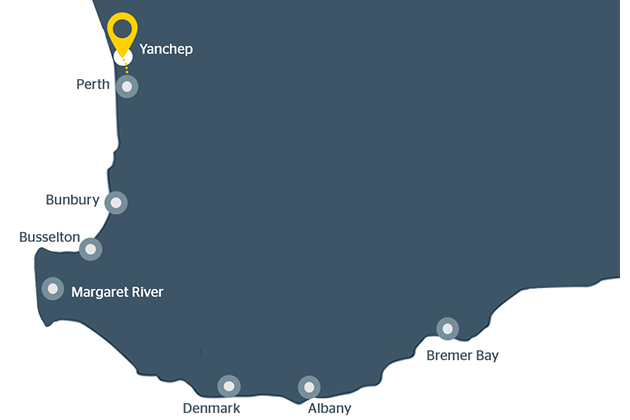 Top things to see and do
Spot wildlife in the Yanchep National Park
One of the most popular attractions within the national park is the dedicated koala viewing area. Though they are not native to Australia, Yanchep has housed a colony of koalas since 1938. Take a stroll on the wheelchair-accessible boardwalk to view koalas amongst the trees – and though it's currently suspended due to COVID-19 restrictions, a daily 3:15pm koala talk is a great way to learn about these fascinating creatures.
Another creature you may encounter in the park is the western grey kangaroo. If you're picnicking in the park grounds, you may be lucky to spot them both early and late in the day. They're often spotted in shady areas in large groups – just be sure to approach them slowly and maintain a safe distance in case they are agitated. This thriving kangaroo population makes the Yanchep National Park one of the closest places to Perth to spot these iconic Australian animals.
RELATED: National parks that are closer to Perth than you think »

Visit the Crystal Cave
Crystal Cave is one of 400 caves within the national park, and is the only cave in the Perth region which is open to the public. Packed with stalactites, shawls and flowstones, the cave is extremely well decorated, and can be toured on a daily 45-minute guided tour (which you'll need to book in advance). If you'd prefer to explore some of the park's caves on a self-guided walk, there are nine walking trails that weave in and around some of the park's collapsed cave systems.
RELATED: 10 of WA's best caves »

Swim or snorkel in the Yanchep Lagoon
The curved shape of the reef at Yanchep Lagoon offers great protection from the elements and strong visibility – two elements that make for a brilliant snorkelling location. The reef is 20 metres from the shore and shelters the beach from large fish or other marine wildlife, meaning it's also a great, safe spot for kids to swim in shallow waters, or try their hand at snorkelling.
Be careful when the tide comes in, as the water falls over the reef and can create a strong rip current. The reef can also be rough in sections, so reef shoes are a good idea.
RELATED: 10 of Perth's best snorkelling spots »

Camp at Henry White Oval
Nestled amongst tuart and banksia woodlands within the Yanchep National Park, the picturesque Henry White Oval campground hosts nine hard sites, 10 grass sites and a large group camping area that is perfect for families or first-time campers. There are plenty of amenities available, including ablution blocks, a barbeque shelter area and a seasonal communal firepit – though you'll need to bring your own drinking water with you. The campground is close to many of the national park's main attractions, so it's a great base if you're planning on exploring parts of the park.
RELATED: 10 of the best campsites near Perth»

Join an Aboriginal Experience tour
Departing from the Wangi Mia Meeting Place in the Yanchep National Park, the Aboriginal Experience session is an informative 45-minute session that educates participants about local Noongar culture, the significance of plants and animals to the original custodians of the area, and the history and relevance of the didgeridoo. The tour only runs on Sundays and public holidays, and you'll need to book your slot ahead of time at the Yanchep Office.
Visit the Yanchep Lavender Farm
Perth's largest operating lavender farm* is a fantastic place to wander through fields, discover tasty treats, and browse an array of homemade lavender gifts and products. Owners Karla and Gary purchased the farm in 2005 – and today, it's one of the few lavender farms in the country that grows, harvests, extracts oil and produces products onsite. The farm is currently open by appointment from April to November.
*The Yanchep Lavender Farm is temporarily closed.
Hit the walking and mountain bike trails in Yanchep National Park
There are nine walking trails within the national park, ranging from short to long, or easy to hard. The 12.4-kilometre loop Ghost House Walk Trail is one of the most popular options, travelling through stunning wetlands and past the creepy remains of the 'Ghost House'. Join this trail via the boardwalk around North Lake, and finish it at Cabaret Cave.
Another popular trail is the Yaberoo Budjara Heritage Trail, which is suited for both walkers and mountain bikers. A 28-kilometre trail travelling from Lake Joondalup to Yanchep National Park, the trail is often split into sections that feature an array of natural attractions. The Yanchep section of the trail travels from the national park to Wanneroo Road, passing the Pipidinny Swamp and a sweeping grove of tuart trees.
RELATED: Hiking trails in national parks near Perth »

Pick strawberries at a nearby farm
Located in the nearby suburb of Carabooda, the Aida Strawberry Farm is a thriving fruit-picking farm during spring and summer. When you arrive, grab a box for under $10 and get to work picking strawberries from long stretches of bushes. The farm is only open on weekends in-season.
Getting around
As the park is over 28-square kilometres large, you'll need a car to travel to specific points within it. Some roads are gravelled, so drive slowly and take car when passing other cars. If you're eager to hire a bike, there are a few shops in the nearby suburb of Joondalup with bike hire available.
What to pack
No matter the time of year you visit, bug repellent is a must – as are enclosed shoes if you're planning on hitting the walking trails. Bring a few layers if you're visiting in cooler months, but otherwise T-shirts or other comfortable clothing will suit. If you're planning on visiting the lagoon, bring any snorkelling or fishing gear you'll need along with your bathers.
Travelling safely
If travelling from Perth, drive safely along Wanneroo Road, which is often frequented by road trains, caravans or other large vehicles. The entry to the Yanchep National Park can be bumpy, so take care and slow down when needed. Read more long distance driving tips before setting off.
Ready to explore the Yanchep National Park?
It pays to be prepared – RAC members save 50% on digital DPAW national park passes.
Last updated October 2020