18 May, 2021 By: Ruth Callaghan
Looking for the cheapest petrol and diesel is already a thing of the past for a small but growing number of drivers.
While the take-up of electric vehicles (EV) has been relatively low in Australia (under 1 per cent of the light vehicle fleet, according to the National Transport Commission) the global switch from internal combustion engines is accelerating.
In February, Land Rover announced it would phase out diesel engines from 2026 and axe all petrol and diesel power by 2036. Ford has a target of selling only electric cars in Europe by 2030, and will not sell petrol or diesel there from 2026.
Volkswagen has also doubled down on its EV targets, and is forecasting the sale of a million EVs this year as it looks to compete with Tesla.
"Previously we haven't had a great variety of EVs in Australia but we are seeing more coming into the market and more manufacturers signalling that they are moving away from internal combustion engines," says RAC Group Executive, Social and Community Impact, Pat Walker.
RELATED: Electric cars available in Australia »

How EV-ready are we?
Despite vast improvements in the distances a modern EV can travel between charges, a recent RAC survey shows access to public chargers remains one of the main barriers to EV purchase (with the cost of purchase being the top barrier).
But the gaps in WA's public EV charging network are beginning to close, albeit slowly.
The website Plugshare shows Perth now has about 120 charging stations from Yanchep to Rockingham, about the same number as there are petrol stations that sell LPG. In contrast, Fuelwatch shows 400 petrol stations in metro Perth selling unleaded petrol.
"We're starting to see good in-roads in terms of the infrastructure that will be needed to support and encourage increased demand and uptake of EVs.
This has included RAC rolling out the RAC Electric Highway® in 2015, which now features 12 locations between Perth and Augusta with publicly-accessible fast and ultra-fast chargers, and we're also seeing other expansions of private and public charging in WA."
So what does 'filling up' look like when you're powered by electrons not petrol? For a start, it depends on the type of EV you're talking about.
Three types of electric vehicles
There are three main types of EVs found on Australian roads, and while numbers are still small, their popularity is growing.
In 2020, about 60,000 hybrid vehicles were sold, according to the Federal Chamber of Automotive Industries (FCAI). Most of them were Toyota hybrids, which don't require plugs to charge. Instead, the electricity generated by the petrol engine and when braking is used to recharge the battery (a system that is common to other types of EVs as well).
Hybrids include an internal combustion engine so you can drive using ordinary fuel, as well as running more sustainably with electric assistance.
Some hybrids also come with the option to charge the battery externally. Known as plug-in hybrids (PHEVs), there were just under 1700 sold locally last year in Australia, according to the FCAI.
Then there are battery electric vehicles (BEVs), which are solely powered by electricity and use an external charging outlet to charge the battery; these produce zero tailpipe emissions. At least 1750 were sold in Australia in 2020, with a further 3430 Teslas sold, according to national vehicle registrations.
In the Australian new car market in 2020, where overall vehicle sales were down by 13.7 per cent, sales of EVs bucked the trend, with battery EVs up 16.2 per cent, PHEVs up 18.2 per cent and hybrids up by a whopping 93.7 per cent (based on FCAI data).
RELATED: Common myths and misconceptions about electric cars »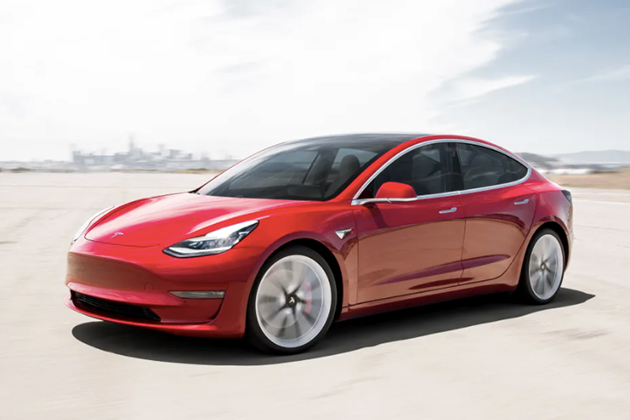 Charging at home vs public chargers
For both BEVs and PHEVs, the most common charge point could well be a regular power point in the family home.
Both the easiest and slowest option, this is sometimes called trickle or level 1 charging, where the car is plugged into an ordinary household 10 amp plug (up to 2.4kW) powered by the electricity grid.
If you had a 16 amp socket (up to 3.7kW of charging power), such as those used to power a caravan, that would cut the charging time to about 12 hours.
For faster charging, you need a level 2 charger (sometimes referred to as a destination charger), either installed at home or at a residential development for overnight charging, or in parking locations.
These have between 7kW and up to 22kW of charging power – at the lower end it would fill a Nissan Leaf battery in up to seven hours.
Just like petrol, of course, you don't have to fill up entirely. Ten minutes at approximately 7kW gives you 7.2km of distance (another handy rule of thumb), so an hour will give you more than 40km on the road.
More commonly though, locations offer level 2 charging at the higher charging rates, using 22kW chargers, which provide approximately 110km of charge per hour.
All the chargers described so far have used AC or alternating current power, with a converter built into the EV converting the charge to DC (direct current) power that is fed into the car battery.
But one of the big advances in EV technology is charging vehicles with DC directly into the car, and that's what you can expect at most publicly-accessible charging stations.
These level 3 chargers can range from fast charging, delivering 50kW, enough to juice up a Nissan Leaf in just 40 minutes, to ultra-rapid at 350kW. Ultra-rapid chargers are suitable for use by all EVs; however, while there are currently no models on sale in Australia capable of accepting this full charge rate they can charge at rates higher than 50kW. When vehicles are capable of accepting the full 350kW, up to 1000+ km of range could be added per hour of charging.
"Public EV fast-charging stations are continuing to evolve, including improvements in their charge rate capacity, their durability and their ability to integrate with charging communication networks," RAC's Pat Walker says.
"Fast and ultra-rapid chargers are more expensive and best suited to locations where users will not dwell for very long and just want a quick top-up charge between their departure and destination locations – such as when travelling along the RAC Electric Highway®.
"In partnership with Chargefox, we were thrilled to recently install ultra-rapid charging stations in West Perth and Australind as part of the RAC Electric Highway®. These provide users with up to 400km of driving range in less than 15 minutes, which is a significant move forward."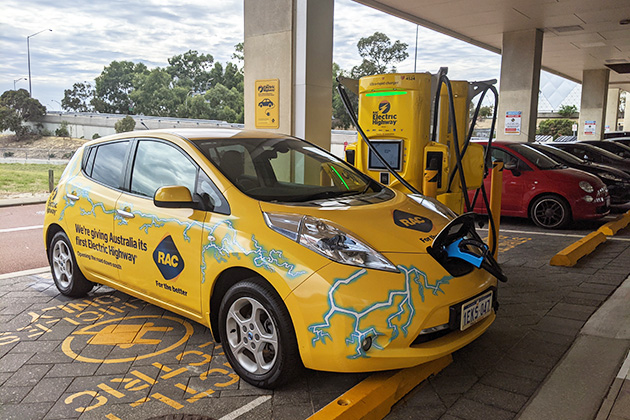 Changing the 'refuelling' routine
The range of charging options might sound complex, but for EV drivers, the process of planning a slow charge overnight, with faster top-ups on the road, quickly becomes as natural as refuelling.
That's the experience of Paola Chivers, an RAC member who recently toured the South West in her 2020 Hyundai Kona Electric.
The car, which has an approximate range of 449km, left Perth with a 96 per cent charge, and was topped up several times over a week-long journey.
"We travelled 240km from Perth to our accommodation in Yallingup, then an additional 20km picking up guests to bring them to a reception venue, and we plugged the car into a standard household power point overnight," Chivers says.
The accommodation power point was used again for a few days, while a DC charge back at her workplace was used on the fourth day to bring the car up to 98 per cent. "This was the first major trip in our car and I had calculated distances for the whole trip and identified back-up fast charging places if needed.
"Everything went as planned and in fact the range anxiety quickly dissipated. I drove to the speed limit, we had the air conditioner on, streaming music and were full luggage-wise but one of the decisions on choosing the Hyundai Kona was its range.
"We certainly didn't experience any issues recharging as we'd planned on using domestic power where we were staying. Relying solely on charge stations, particularly with their limited availability will require good planning though, particularly for other car models with reduced range."
For more Western Australians to take to the open road in an EV, regional and rural chargers will have to be both present and visible.
The WA Government allocated $21 million to the new State EV Strategy, the majority of which will enable the delivery of a state-wide network of charging stations, from Perth to Kununurra, along the south-west coast to Esperance and east to Kalgoorlie.
But traditional service stations may also look to add EV charging to their forecourts, recognising that their business model will need to shift with changing consumer preferences and demand for different fuel types.
"The fuel retailing industry is well established, and we've already seen diversification in the offerings at service stations," RAC's Pat Walker says.
"The opportunity to not only cater for EV recharging but also to leverage any extra business brought by EV drivers is no doubt already being planned for."
But while the transport sector plays a critical role, it could be the property sector that makes the biggest difference to EV take-up.
Chargers in residential developments
East Village at Knutsford, a sustainable residential community in Fremantle delivered by DevelopmentWA, the State Government's development corporation, is one example of how mandating the infrastructure for EV charging can make it more attractive to buy into the new technology.
The site, which will feature 36 dwellings, has been designed to allow each home to enable EV charging. It's one of a number of green initiatives at East Village, which include a shared community battery, so homes can be 100 per cent powered by renewable energy.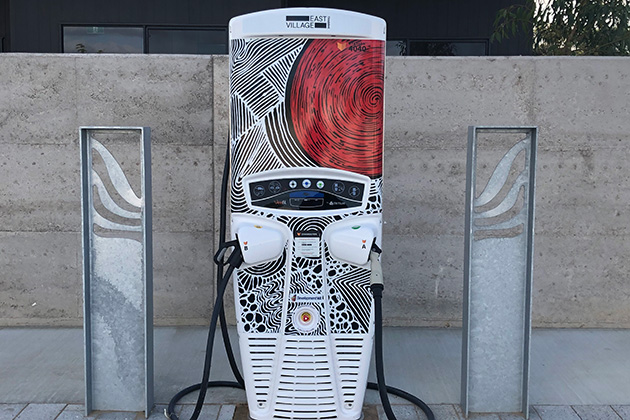 East Village also features a shared 50kW EV fast charger which is available for use by residents, visitors and the general public, powered by the onsite battery and generating revenue for the strata company.
DevelopmentWA chief executive Frank Marra says the project illustrates how residential developments can be configured to support EV uptake, so everyone can power their vehicle from home.
"As an organisation, about 14 months ago we started to incorporate provisions in our design guidelines that require developers to allow for chargers in the circuitry in higher density buildings. We can see some of the astute developers in WA are already doing this," he says.
"The reality is that if we commit to things like this, we can make our state EV-ready."
As the number of manufacturers investing in EVs grows, so has investment in battery technology, Marra says, making batteries lighter over time, cheaper to produce, more durable and capable of driving an EV further.
"From a metrics point of view, the maintenance of electric cars is very cheap, and the running costs of them can be extremely low.
"If you've got a 1.5-kilowatt solar panel system on your roof, and you plug your car in to be charged by the PV system, you're probably going to get between 60km and 80km of 'free' kilometres every day.
"As the cost of the battery in the cars comes down, reducing the overall price, the economy of this will really start working."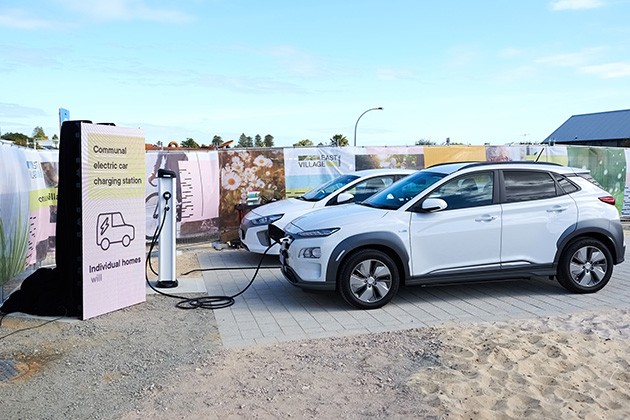 Considering an EV? We'll reward you
Our Less Emissions Mission rewards EV owners with discounted car loan rates and up to 25% off comprehensive car insurance.