A full car history report provides extensive information about the background of any used car you're interested in buying.
If you're buying a pre-loved car, knowing its history can be just as important as knowing the shape it's currently in, so you can be sure it's sound and roadworthy.
Car history checks aren't just important for those buying through a private seller, but also those purchasing a used car through a dealership.
Dealerships are legally required to make sure no finance is owing on the car, and under Australian Consumer Law, they are also obliged to ensure vehicles they are selling are of acceptable quality, will be fit for purpose, and that they match their description.
However, the dealer is not under further obligation to give you details about the car's history – chequered or otherwise.
RELATED: Why PPSR checks are important »
RELATED: Buying a used car through a private sale »
Using the Federal Government's Personal Property Securities Register (PPSR), you can search to find out if any money is still owing on the car, in addition to its written off status, stolen status and if it is part of the faulty compulsory Takata airbag recall and has not been recorded as repaired Make sure you use the Federal Government PPSR website.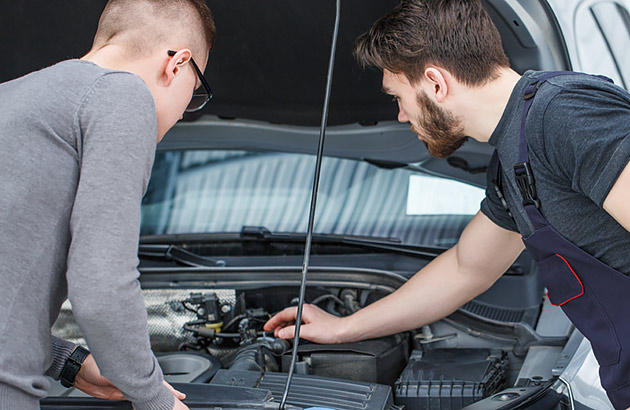 For a more comprehensive check, the service CarHistory will provide you with a report by drawing on one of the largest consumer databases in Australia, and includes some additional detail not covered by the PPSR.
If you're buying a used car privately, getting a better understanding of a car's background is strongly recommended.
Click here to view a sample report
What's covered in a car history report?
Your report from CarHistory will includes a PPSR check to make sure there is no finance owing on the vehicle and that it hasn't been previously stolen or written off, as well as information about whether it was part of the Takata airbag recall.
In the event that the seller has not paid out an existing loan on the car, you should only go ahead with a purchase once they have paid it off in full.
If the finance company stops receiving loan repayments, it is legally within its rights to repossess the vehicle, even if you've already paid for it.
The report also confirms the correct odometer reading so you can check that the odometer hasn't been wound back to increase the car's value.
RELATED: How to choose a used car that won't let you down »

Changing an odometer reading can be done by those looking to dupe prospective buyers. While taking out a car history report is one way to see if a wind-back has occurred, there are also some signs you can look out for, the obvious being whether the car has suspiciously low mileage for its age. Other indications of tampering include misaligned numbers on older vehicles and whether the dashboard looks like it's been tampered with.
The report will also include a vehicle valuation and information about the first time it was sold.
Once these checks have been carried out, you can hit the road knowing your car's history is squeaky-clean.
RAC members save $10 off and only pay $27.49 for a full Car History Report. All that's required is the vehicle's VIN number.
Last updated November 2021
When you're ready to buy
Along with the car history report, getting a pre-approval from RAC Finance can help you in the long run. Not only will you know how much you can spend, but you can be a little bit closer to driving away in your new car.