On Friday 30 June 2023, the RAC Intellibus® completed its final journey along the picturesque South Perth foreshore after nearly seven years of public operations. The day was filled with mixed emotions; it was sad to farewell such a significant piece of RAC's history, but it was equally exciting to know that the trial successfully brought WA and Australia one step closer to a future where automated vehicle (AV) technology could be a reality.

About the RAC Intellibus® trial

In its seven years of operations, the RAC Intellibus® travelled 38,566 kilometres and gave 28,7444 passengers a glimpse into the future of driverless technology. The trial was primarily conducted on a 3.5-kilometre route along the South Perth foreshore, though demonstrations were also carried out in Busselton and Geraldton, making the Intellibus® also the first driverless and electric vehicle to operate on roads in regional WA.

Knowledgeable chaperones from RAC accompanied passengers aboard every ride on the RAC Intellibus®, teaching them about the different sensors and systems that contributed to the AV technology before boarding. During each ride, chaperones explained how the vehicle safely interacted with traffic, parked cars, cyclists, and pedestrians. For example, the RAC Intellibus® used two 2D Lidar cameras – one at the front, and one at the back – to detect and avoid objects, as well as 3D Lidar to measure distance and map out the environment. If you'd like to read more about the vehicle's features, read our vehicle page.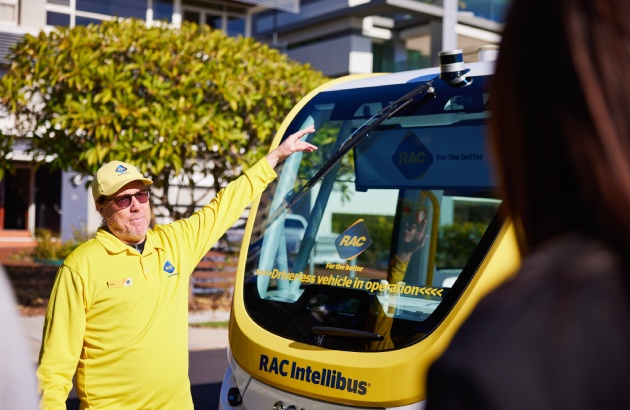 Regional experiences

In May 2019, the RAC Intellibus® headed south to the Busselton foreshore for its first regional demonstration. During this two-month stint, more than 1,500 locals and visitors hopped on board to take in views of Geographe Bay and the iconic Busselton Jetty while learning about AV technology and its benefits. With this new environment came new complexities: it was in Busselton that the vehicle first demonstrated how it manoeuvred roundabouts with multiple entry points.

In September 2020, the Intellibus® travelled north to Geraldton for its second regional demonstration, where it operated for three months. In Geraldton, 2,070 locals and visitors rode the Intellibus®. This second regional demonstration unlocked yet another milestone: there were 12 roundabouts along each 2.8-kilometre loop of the Geraldton foreshore, a significant increase from the Busselton route. During its time in Geraldton, the RAC Intellibus® travelled through a total of 7,500 roundabouts!

The Geraldton demonstration also saw 448 school students from 19 different schools, take a ride on the Intellibus® as part of the RAC Intellibus Imagine Program™.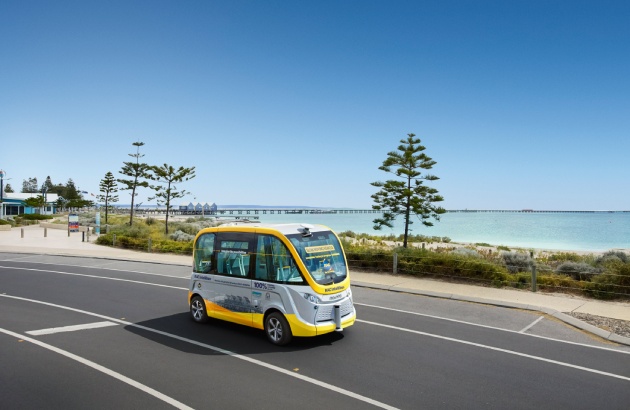 About the RAC Intellibus Imagine Program™

Launched in 2019 with support from the City of South Perth, the RAC Intellibus Imagine Program™ allowed primary school students from years 5 and 6 to discover past and future technologies and learn about the changing nature of transport, mobility, and road safety.

Each day-long program featured six activities including a ride on the RAC Intellibus®, a tour of the Old Mill, a lesson on AV technology and the future of transport, a hands-on coding workshop with an Edison robot, a virtual reality experience on the RAC Rescue helicopter, and a sculpture-building session where students consolidated what they had learned throughout the day.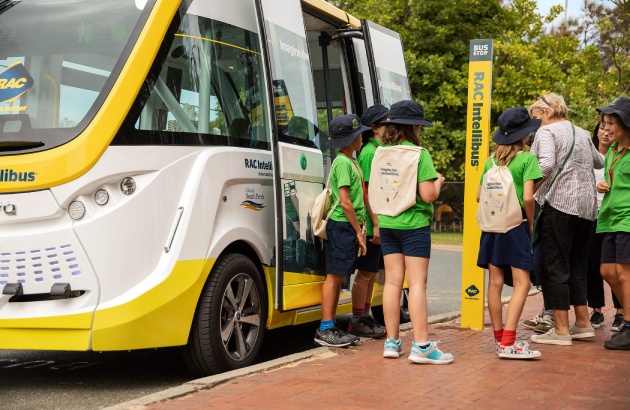 What did passengers think about automated vehicle technology after riding the RAC Intellibus®?

After riding the RAC Intellibus®, 98 per cent of passengers said they could see automated vehicles operating in WA in the near future. Passengers believed the top three benefits of autonomous vehicles would be enhanced freedom and independence, lower vehicle emissions, and better fuel efficiency.

What the RAC Intellibus trial® taught us

By conducting a public trial of a level 4 automated vehicle, we were able to better understand how AV technology could integrate with existing roads and city infrastructure, as well as how it could improve mobility and reduce road trauma.

With human error contributing to more than 90 per cent of road crashes, the trial provided the opportunity to better understand what our roads would be like if we removed humans from the equation. Not only do driverless vehicles have the potential to save lives and prevent serious injuries on our roads, but they also have the potential to make travel more convenient, reduce congestion, reduce vehicle emissions, and enhance mobility options for the elderly, people with disabilities, and regional residents.

To find out more about the RAC Intellibus® trial, click the button below.