Travel & Touring | WA Destinations
By: Tatum Stafford
Home to a rugged coastline, plenty of picturesque beaches and an incredibly diverse national park, the town of Albany is a nature-lover's heaven.
Throw in a rich colonial history, epic walking trails and incredible opportunities for humpback whale watching, and you've got yourself a quintessential WA road trip destination.
Pack your bags, we're heading to Albany.
At a glance
Distance from Perth
420 kilometres, close to five hours' drive
Why go?
To explore incredible natural attractions, beach-hop along the coastline, become immersed in the town's rich whaling history and ANZAC association, and bask in epic scenery in one of WA's most diverse national parks.
When to go

Dec - Feb: Summer is a great time to take a dip in the beaches, bays and pools surrounding Albany. The annual Albany Arts Festival usually begins in February, featuring music, circus, film and theatre performances throughout the town.
Mar: The annual Taste Great Southern food festival is a must on any WA foodie's event calendar. The various food and wine events are scattered throughout the Great Southern region, but the Albany Wine & Food Festival is a highlight. (July-Oct).
May - Oct: Peak whale-watching season, where you can spot humpback and southern right whales from various vantage points across the coastline.

How long to stay
Three to four days to tick off the town's highlights. Spend at least half a day exploring the expansive Torndirrup National Park.
Need to know
A lot of Albany's natural attractions are in slightly remote areas, so it's a good idea to bring food and water with you if you're embarking on day trips from the town centre. Phone reception is generally fine, but you may find yourself without signal in pockets of the Torndirrup National Park.
Fast facts
Town population: 34,205 
Indigenous people: Minang/Menang Nyoongar people.

Insider tip
Some of the region's freshest produce can be found at the weekly Albany Farmers Market. There's an enormous range of produce, including organic beef, sheep yoghurt, sourdough loaves, fresh preserves and more. But here's the catch – the location of the market changes to a different car park each week. Be sure to check their Facebook page weekly so you don't miss out.
Related road trips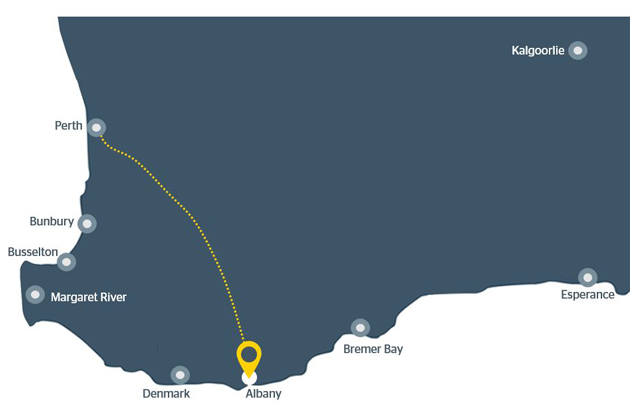 Top things to see and do
Tackle the Bald Head Walk Trail
Located in the Torndirrup National Park, this 12.5-kilometre trail provides spectacular views of the Southern Ocean and King George Sound. It follows the narrow ridge line of the Flinders Peninsula and ends at its namesake, Bald Head, a round headline of granite that slopes down into the ocean.
Go whale-watching
The best time of year to spot whales in Albany is from May to early October. Hop on a cruise from Albany port or head to an on-land vantage point at Middleton Beach or the historic whaling station.
RELATED: 10 of the best whale-watching spots in WA »

Explore the National ANZAC Centre
In a uniquely immersive way, visitors to the centre can follow the personal stories of ANZAC-related figures who departed from the Port of Albany through interactive media, artefacts, film, photographs and audio. At the end of the museum walk-through, you'll have the chance to pay respects on an interactive tribute wall.
The centre is located next to the Princess Royal Fortress. There are also battery guns, a commemorative Convoy Walk and panoramic views over King George Sound to enjoy.
Visit the Gap and Natural Bridge
The accessible viewing platform at the Gap is 40 metres above sea-level; anchored to stable rock, whereas the Natural Bridge offers a less confronting, but still picturesque window to the exposed coastline. Both lookouts are within the Torndirrup National Park and provide stellar views of the Southern Ocean, Bald Head and West Cape Howe.
Dive the HMAS Perth II wreck
Abandoned in 2001, this 133-metre long wreck is a must-visit for experienced divers. Much of the ship's equipment has been left in place, and there's plenty of coral and sponge growing as the wreck is maturing into an artificial reef.
Go beach-hopping
Emu Point Beach is a great spot for kids due to its calm waters, Middleton Beach is an idyllic spot if you're searching for crystal white sands, and if you're hunting for a more secluded area, Little Beach at Two Peoples Bay provides lush greenery, gentle waves and incredible views of the surrounding granite headlands.
See the Blowholes in action
As its name suggests, this natural attraction occurs when water is forced into a crack in granite stones against the waves, it 'blows', and water spray is produced. The Blowholes can be reached on a 1.6-kilometre return walk trail - just be sure to keep away from the ocean at all times, as the path can become slippery in wet weather.
Stop and smell the sandalwood
Just a few kilometres north of the town centre, this eclectic shop sells beauty, health and lifestyle products inspired by sandalwood oil. Their expansive range of products includes anti-ageing skincare, bath salts, reed diffusers and even deodorant.
Board the Brig Amity
An extension of the Museum of the Great Southern, the Brig Amity is a full-scale replica of the original vessel that transported white settlers to Albany. Step on board to see what life on the Amity was like for those who arrived in the 19th century.
Getting around
The attractions around the town centre are accessible by foot, but you'll need a car to reach attractions that aren't near the CBD. As there are a number of mountain bike tracks around Albany, there are multiple bike hire shops on offer, including Albany Cycle Hire and Bikes for the Trail.
What to pack
As there are tons of beaches and bays to explore, make sure you bring your bathers, a hat and loose clothing. Albany is known to experience frequent boughts of rain and cold spells, so a raincoat and jumper are a must if you're visiting in winter months.
Travelling safely
You'll be driving along Albany Highway for most of the journey. It's a safe, straight road that will transport you to the town centre – but as it's quite a long journey, make sure you are well-rested and not fighting fatigue while on the road. The roads in and around Albany are well-signposted and generally sealed, but you may encounter a few dirt tracks when heading to secluded beaches or reserves. Read more long distance driving tips before setting off.
Keen to go whale-watching in the South West?
RAC members save 10% on whale-watching tours with Naturaliste Charters.
Last updated September 2020