Travel & Touring | WA Destinations
By: Tatum Stafford
Home to a rugged coastline, plenty of picturesque beaches and an incredibly diverse national park, the town of Albany is a nature-lover's heaven.
Throw in a rich colonial history, epic walking trails and incredible opportunities for humpback whale watching, and you've got yourself a quintessential WA road trip destination.
Pack your bags, we're heading to Albany.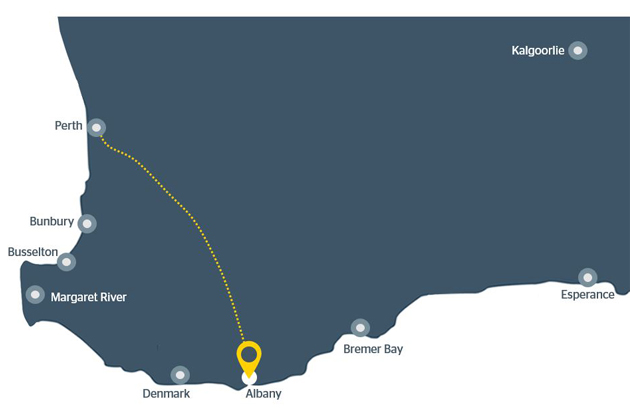 Top things to see and do
RELATED: 11 of the best things to do in Albany »

Tackle the Bald Head Walk Trail
Located in the Torndirrup National Park, the 12.5-kilometre Bald Head Walk Trail provides spectacular views of the Southern Ocean and King George Sound. The trail follows the narrow ridge line of the Flinders Peninsula and ends at its namesake, Bald Head, a round headland of granite that slopes down into the ocean.
The walk is long and a little challenging, so bring extra water, wear sturdy shoes and take extra care on steep sections. Bushwalking experience is recommended.
RELATED: Best hikes in Albany »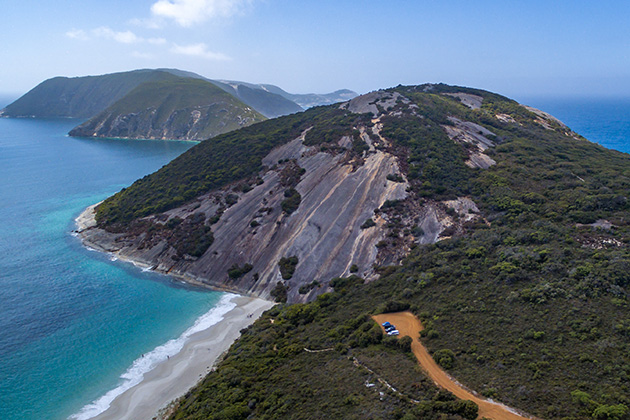 Go whale-watching
Albany is graced with mammoth-sized pods of humpback and southern right whales off its expansive coastline. To get up close and personal with these majestic creatures, hop on a cruise from Albany port or head to an on-land vantage point at Middleton Beach or the historic whaling station. The best time of year to spot whales in Albany is from May to early October.
The Albany Historic Whaling Station is a great stop-off if you're on a whale-watching tour of the town. It's the site of the last whaling company to cease operations in Australia, and is packed with useful information, creative exhibits and even a fully-restored whale chasing ship to explore. Plus, RAC members save 10% through Sightseeing Pass WA.
RELATED: 10 of the best whale-watching spots in WA »

Explore the National ANZAC Centre
Opened in 2014, the award-winning National Anzac Centre is an interactive way to learn a little more about our State's rich history and association with the ANZACs. In a uniquely immersive way, visitors can follow the personal stories of ANZAC-related figures who departed from the Port of Albany through interactive media, artefacts, film, photographs and audio. At the end of the museum walk-through, visitors have the chance to pay respects on an interactive tribute wall.
The centre is located on Mount Adelaide next to the Princess Royal Fortress, which was constructed in 1897. There are also battery guns, a commemorative Convoy Walk and panoramic views over King George Sound to experience. The centre is open from 9am to 5pm on every day of the year except Christmas Day. And don't forget - RAC members save 10% on entry through Sightseeing Pass WA.
Visit the Gap and Natural Bridge
The lookouts at the Gap and Natural Bridge provide some of the most iconic ocean views in the State. The accessible viewing platform at the Gap is 40 metres above sea-level; anchored to stable rock, whereas the Natural Bridge offers a less confronting, but still picturesque window to the exposed coastline. Both lookouts are within the Torndirrup National Park and provide stellar views of the Southern Ocean, Bald Head and West Cape Howe. Pack some dry clothes, as you might get a tad wet from sea spray.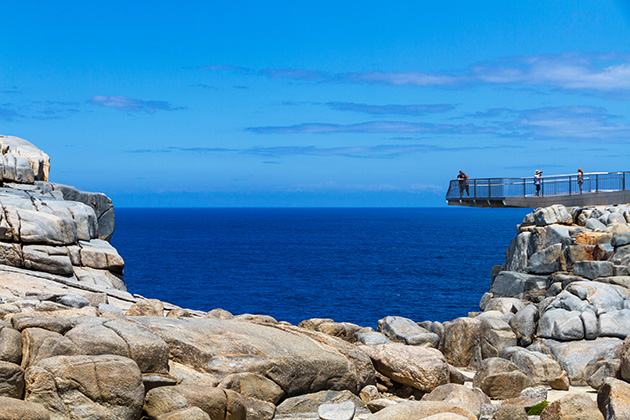 Dive the HMAS Perth II wreck
Abandoned in 2001, this 133-metre long wreck is a must-visit for experienced divers. Much of the ship's equipment has been left in place, making it an interesting area to explore underwater. There's plenty of coral and sponge growing as the wreck is maturing into an artificial reef – and there are schools of yellow tails, leather jackets and humpback boxfish that inhabit the area. You'll need a permit to dive this site.
Go beach-hopping
Albany is home to some of the most picturesque beaches in the State. Renowned for their turquoise waters and pure white sands, there is no shortage of beautiful Albany beaches to swim, snorkel or relax at. Emu Point Beach is a great spot for kids due to its calm waters, Middleton Beach is an idyllic spot if you're searching for crystal white sands, and if you're hunting for a more secluded area, Little Beach at Two Peoples Bay provides lush greenery, gentle waves and incredible views of the surrounding granite headlands.
RELATED: Guide to Albany's best beaches »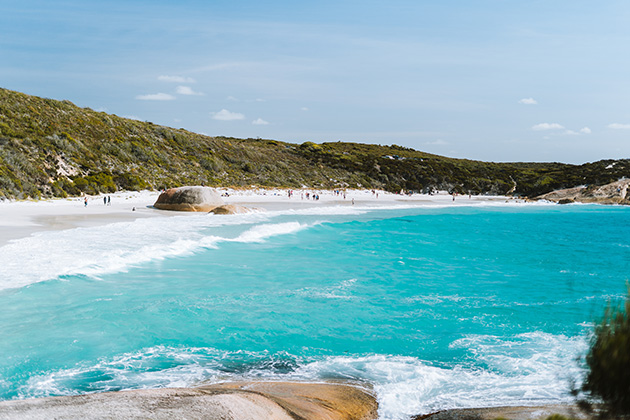 Relish in the local food scene
Albany is quickly becoming a culinary hot-spot, so if you're a bit of a foodie, take note. Liberté, inside the historic London Hotel, was named Australian Bar of Year by Gourmet Traveller, taking to spot over metro bars nationwide. Its French-Vietnamese menu is delectable and the Parisian-inspired ambience is warm and welcoming. Due South, nestled on the harbour, has a menu showcasing the best produce the great southern region has to offer. Garrison, high up on Mount Clarence, offers a share-style menu and drinks list to impress any wine aficionado. And Middleton Beach's Bay Merchant has perfected its unique blend of cafe, wine merchant, book store and local produce retailer.
See the Blowholes in action
As its name suggests, this natural attraction occurs when water is forced into a crack in granite stones against the waves, it 'blows', and water spray is produced. Situated within the Torndirrup National Park, the Blowholes can be reached on a 1.6-kilometre return walk trail along the rugged coastline of the park. Just be sure to keep away from the ocean at all times, as the path can become slippery and potential hazardous in wet weather conditions.
Stop and smell the sandalwood
Albany is home to the world's largest distiller of sandalwood oil, the Sandalwood Shop. Just a few kilometres north of the town centre, this eclectic shop sells beauty, health and lifestyle products inspired by sandalwood oil. Their expansive range of products includes anti-ageing skincare, bath salts, reed diffusers and even deodorant.
Board the Brig Amity
An extension of the Museum of the Great Southern, the Brig Amity is a full-scale replica of the original vessel that transported white settlers to Albany in 1826. Today, stepping on board is a great way to see what life on the Amity was like for those who arrived in Albany in the 19th century. Tune in to the audio tour for $5 for extra information about this historic piece of Albany's heritage.
At a glance
Distance from Perth
420km, close to five hours' drive
When to go

Dec - Feb: Summer is a great time to take a dip in the beaches, bays and pools surrounding Albany. The annual Albany Arts Festival usually begins in February, featuring music, circus, film and theatre performances throughout the town.
Mar: The annual Taste Great Southern food festival is a must on any WA foodie's event calendar. The various food and wine events are scattered throughout the Great Southern region, but the Albany Wine & Food Festival is a highlight. (July-Oct).
May - Oct: Peak whale-watching season, where you can spot humpback and southern right whales from various vantage points across the coastline.

How long to stay
Three to four days to tick off the town's highlights. Spend at least half a day exploring the expansive Torndirrup National Park.
Need to know
A lot of Albany's natural attractions are in slightly remote areas, so it's a good idea to bring food and water with you if you're embarking on day trips from the town centre. Phone reception is generally fine, but you may find yourself without signal in pockets of the Torndirrup National Park.
Insider tip
Some of the region's freshest produce can be found at the weekly Albany Farmers Market. There's an enormous range of produce, including organic beef, sheep yoghurt, sourdough loaves, fresh preserves and more. But here's the catch – the location of the market changes to a different car park each week. Be sure to check their Facebook page weekly so you don't miss out.
Related road trips
Getting around
The attractions around the town centre are accessible by foot, but you'll need a car to reach attractions that aren't near the CBD. As there are a number of mountain bike tracks around Albany, there are multiple bike hire shops on offer, including Albany Cycle Hire and Bikes for the Trail.
Keen to go whale-watching in the South West?
RAC members save 10% on whale-watching tours with Naturaliste Charters.
Last updated: December 2021