Travel & Touring | WA Destinations
The Coral Coast is the only place in Australia where you can experience both humpback and whale shark swims - and they're just two of the many incredible marine attractions in the region.
Starting in Cervantes and stretching all the way to Exmouth, the Coral Coast is an aquatic wonderland, well known for its close encounters with manta rays, whale sharks, sea lions and of course our famous dolphins at Monkey Mia.
On dry land, there are magnificent gorges, coastal cliffs and carpets of wildflowers from July each year. It's also a hotspot for seafood and other fresh produce.
The best thing is, you don't have to wait because it's always holiday weather somewhere on the Coral Coast.
Seasonal highlights
| | |
| --- | --- |
| Summer | Snorkel in the turquoise waters of Hangover Bay, swim with Jurien Bay's sea lions and explore the Abrolhos Islands group on a day-cruise. |
| Autumn | Spend a couple of nights on Dirk Hartog Island and drive along the Fruit Loop foodie trail in Carnarvon. |
| Winter | Swim alongside the gentle whale sharks and humpback whales of Coral Bay and Exmouth, and wander through carpets of colourful wildflowers. |
| Spring | Stay on a working pastoral station for an authentic outback experience, and learn more about Shark Bay's local Malgana people on a cultural tour with Wula Gura Nyinda. |
| Year-round | Catch the spectacular view 100 metres above the Murchison River Gorge from the Kalbarri Skywalk, and meet world-famous dolphins at Monkey Mia during a beach feeding session. |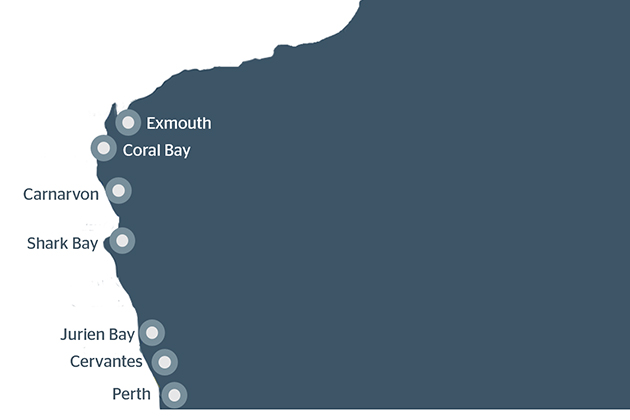 Places to visit
Cervantes
The small fishing town of Cervantes, just over a two-hour drive from Perth, marks the start of the magical Coral Coast and is the town closest to the otherworldly Pinnacles Desert, one of Australia's most unique landscapes. The eerie limestone spires rise from the earth a 20-minute drive from town in Nambung National Park. The site is easily accessible by car.
If you love fresh seafood, don't miss the Lobster Shack. This local seafood institution also runs fishing charters, lobster catching and sea lion tours, but book in advance. Tours of the working rock lobster factory are also available.
As you continue north along the Indian Ocean Drive, make the most of the scenic coastal views as you approach the picturesque towns of Jurien Bay and Green Head. In Jurien Bay, Turquoise Safaris can take you swimming with Australian sea lions.
Between both towns, make a stop at Lesueur National Park - especially if it's wildflower season. It's hard not to be impressed by the spectacular show of colour that spreads through the park from around July each year.
A hidden gem in this area are the Stockyard Gully Caves (four-wheel drive access only), home to a fascinating group of limestone caves that lead to an underwater river system.
RELATED: 10 of the best caves in WA »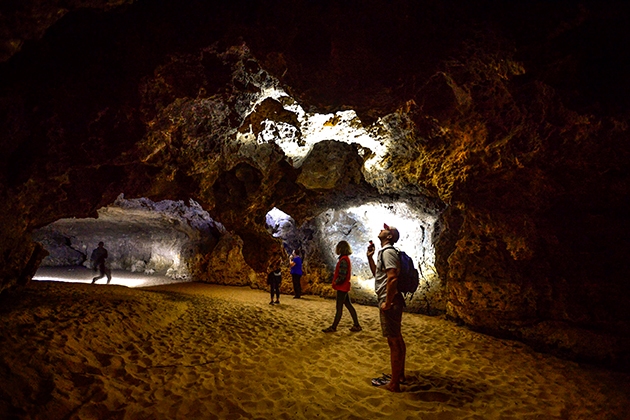 The Houtman Abrolhos Islands
North of Leeman, past the twin seaside towns of Dongara and Port Denison, you'll arrive at Geraldton and your gateway to the Abrolhos Islands archipelago.
The Abrolhos Islands have been touted as the Galapagos of the Indian Ocean. The 122-island chain, 60 kilometres west of Geraldton, is a haven for tropical and temperate sea life and a graveyard for shipwrecks, including the infamous Batavia.
Enjoy snorkelling, swimming, fishing and scuba diving. There's no accommodation on the islands but Eco Abrolhos runs five-day tours, with cabins aboard its boat. Specialised fishing and dive operators also run extended trips to the islands.
Geraldton is a base for air and boat tours out to the Abrolhos. Tour operators offering air and ocean experiences include Abrolhos Adventures, Geraldton Air Charter and Shine Aviation. Abrolhos Adventures is due to introduce a fast ferry this year. "It used to take about three hours to get over there," says manager Ashley Mitchell. "This will take about an hour and a half."
Geraldton Air Charter founder and chief pilot Wendy Mann says the islands are spectacular from above. Her plane lands on East Wallabi Island for morning tea in Turtle Bay or snorkelling and a guided nature walk.
"There's beautiful coral, quite a lot of marine life, and history with the shipwrecks," she says.
RELATED: 10 bucket list WA island experiences »

Geraldton
Back on the mainland, Geraldton is a mecca for windsurfing and kitesurfing and has some of the world's best spots for both, including Coronation Beach, where you can take kitesurfing lessons with Ben Tomasino's Kite West.
The HMAS Sydney II Memorial commemorating Australia's greatest naval tragedy is well worth a visit, while at the Museum of Geraldton's shipwreck gallery you can learn more about the fascinating history of the many centuries-old shipwrecks off the coast.
For something quirky, Geraldton's annual Flotsam and Jetsam exhibition sees locals turn rubbish washed up on the Abrolhos into art. It goes on show around the April school holidays at Latitude Gallery Jewellers.
Approximately 100 kilometres north of Geraldton is the Hutt Lagoon Pink Lake at Port Gregory which makes an interesting stop. The colourful lake once featured in a campaign for luxury French cosmetic firm Lancome. Air tours with Kalbarri Scenic Flights, Geraldton Air Charter or Shine Aviation are a scenic way to cover the 100 kilometres there or do a side trip on your way to Kalbarri.
Kalbarri
With dramatic coastal cliffs and inland gorges, Kalbarri is where the landscape of WA's coastal north begins to change.
For a dramatic way to experience it, head to the new skywalk in Kalbarri National Park.
Jutting out from the Murchsion River Gorge, the $24 million twin skywalk platforms hover 100 metres above the river below. An eco-friendly kiosk has opened and access from the carpark has been improved so that everyone can enjoy the facility.
Afterwards, you can walk down into the gorge itself, go to Nature's Window or go hiking, canoeing and abseiling. Other adventures on offer include quad bike safaris and wilderness cruises.
Kalbarri is a popular spot for camping but there are options for every kind of escape, including resort-style accommodation.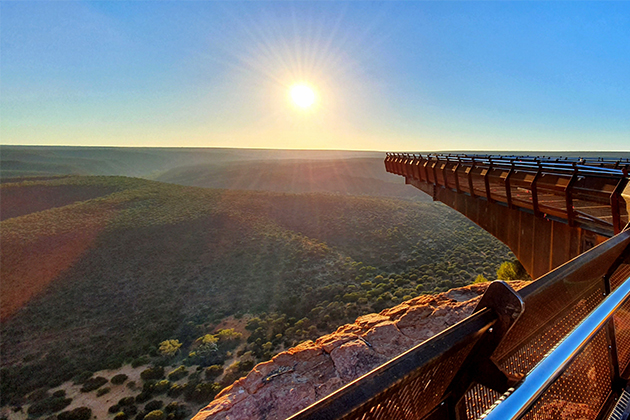 Monkey Mia and Shark Bay World Heritage Area
From Kalbarri, your Coral Coast adventure heads towards the many treasures of the world-renowned Shark Bay Marine Park.
Its waters are teeming with manta rays, turtles, dugongs and colourful fish, and migrating humpback whales put on a spectacular show around August to October.
The famous Monkey Mia dolphins have been visiting the beach since the 1960's. Get to know them at a morning beach feeding session.
Rangers manage the feeds, which provide only a small amount of the dolphins' daily food intake, ensuring they continue to hunt and remain wild. The RAC Monkey Mia Dolphin Resort will give you a front row seat of life in the bay.
Wildlife tours take the guesswork out of nature spotting and run out of both Denham and Monkey Mia, which are about a 20-minute drive apart.
Around 45 kilometres south-east of Denham in the Shark Bay World Heritage Area, take a walk on Shell Beach where billions of tiny white shells make up the beach itself.
You can also visit Hamelin Pool Stromatolites nearby. Stromatolites are the world's oldest and largest living fossils, dating back 3.5 billion years, and Hamelin Pool is one of the only two places on earth where living stromatolites exist.
In Francois Peron National Park the desert meets the sea, with rust red cliffs contrasted against white sand beaches and clear blue waters.
For those with a four-wheel drive, there are off-road tracks through the park or join a guided four-wheel drive tour. Access to the old homestead in the Peron Heritage Precinct is possible in a two-wheel drive.
Across the water, Dirk Hartog Island is home to loggerhead turtles and is the first recorded landing site of Europeans. Experienced four-wheel drivers can get there by vehicle barge from Steep Point.
"To get out there you need to be careful, well equipped and experiences with more difficult country," says Kevin Smith, education officer for Tourism Recreation with the Parks and Wildlife Service.
Charter boat and air tours also run to Dirk Hartog from Denham. The island has camping, lodge and cabin accommodation.
Carnarvon
Carnarvon is a foodie's paradise, boasting a delicious range of fresh produce, showcased at the Gascoyne Food Festival. There's seafood from the pristine waters, fruit and vegetables grown in soil rich from the Gascoyne River and beef, lamb and goat from the rangelands.
Held around spring, festival events range from long table lunches with top chefs in Carnarvon to dinners on Dirk Hartog Island, 120 kilometres away. Bookings for the festival usually open around May.
Can't make it? You can still experience Carnarvon produce on the Fruit Loop, a drive around the plantations and roadside stalls. Grab a chocolate-dipped frozen banana at Morel's Orchard or pick from the goodies at Bumbaks Preserves & Ice-creams.
Gascoyne Growers Market operates outside the visitor centre every Saturday from mid-May to October, with exotic offerings such as Moroccan Goat Pie and passionfruit pancakes.
At the Carnarvon Space and Technology Museum you can get the lowdown on the town's role in the early space industry.
Red Bluff
To Carnarvon's north is Red Bluff, the remote surf spot that got the world's attention when Hollywood stars Matt Damon and Chris Hemsworth holidayed there.
Accommodation ranges from hard-deck safari tents, humpies and unpowered caravan and camping sites.
An hour away by car, Quobba Station homestead is a popular base for experienced fishers attracted by one of Australia's longest stretches of coastline for land-based game fishing. It's also a great camping spot.
RELATED: 6 unforgettable station stays in WA »

Exmouth, Coral Bay, Ningaloo Reef and Bullara Station
At the far northern end of the Coral Coast region, Exmouth has the best of both land and sea with the Ningaloo Reef Marine Park and Cape Range National Park.
Ningaloo Reef is renowned as one of the best places to swim with some of the 'stars of the sea', including gentle whale sharks, manta rays and humpbacks, while Cape Range has majestic canyons.
The waters near Exmouth, too, are fantastic for snorkelling and water sports. The Exmouth Navy Pier has been voted one of the world's top 10 shore dives. Dive Ningaloo has the licence for scuba dives there.
In cooler months from April to September, hiking in Cape Range is more comfortable. Trails include a 3 kilometre walk through Mandu Mandu Gorge and the gentler 1.2 kilometre Yardie Nature Walk.
Turquoise Bay, a 50-minute drive from Exmouth, is known as one of WA's best beaches and offers a snorkel drift along the reef following the strong current from the south end of the beach, though inexperienced swimmers should take care.
In Exmouth, tours to swim with whale sharks operate from March to August, and from idyllic Coral Bay, about a 90-minute drive away, from March to late June. There are also tours to swim with humpback whales from July to October from Coral Bay, and August to October from Exmouth. Manta ray swims run from Coral Bay all year round.
Local Mark Ferguson who operates Exmouth Dive and Whale Sharks Ningaloo recommends booking early for the 2021 season opening. "Now's the chance to experience things you've always put on the back burner," he says.
For a very different Coral Coast experience, Bullara Station, between Coral Bay and Exmouth, is a working cattle station welcoming guests for an authentic homestead stay, or just morning tea. It's roughly an hour from both Exmouth and Coral Bay and will add an interesting dimension to your coastal adventure.
Planning a visit
Getting there and around

Drive: By road from Perth, the Indian Ocean Drive takes you to just south of Dongara where it joins the Brand Highway. From Geraldton take the North West Coastal Highway. Read our long distance driving tips before setting off.
Fly: Fly with Qantas (Perth to Geraldton and Learmonth) and Regional Express Airlines (Perth to Carnarvon and Monkey Mia).
Bus: Integrity Coach Lines and TransWA have coach services into the region.

When to visit
Much of the Coral Coast is warm year-round, with sub-tropical temperatures to the north of the region. From December to February, maximums average around 37 degrees in Coral Bay and Exmouth, and 25 degrees in the cooler months from June to August. Marine life experiences are best from March to October
Related road trips
Ask a local
For more information about touring the Coral Coast and the location of regional visitor centres, visit Australia's Coral Coast.
Need a place to stay on the Coral Coast?
Members save up to 20%* on accommodation at RAC Parks & Resorts in Cervantes, Monkey Mia, Ningaloo Reef and Exmouth.
*Terms and conditions apply. Member rate varies according to season. See full website for details.
Last updated September 2020
Image credit: Australia's Coral Coast