Travel & Touring | WA Destinations
By: Tatum Stafford
If you're yearning to walk, cycle or horse-ride your way through pristine natural bushland, make sure Kalamunda is at the top of your WA bucket list.
Renowned for its brilliant natural attractions, this diverse town is a haven for nature-lovers, art-enthusiasts and foodies. Let's take a trip to Kalamunda.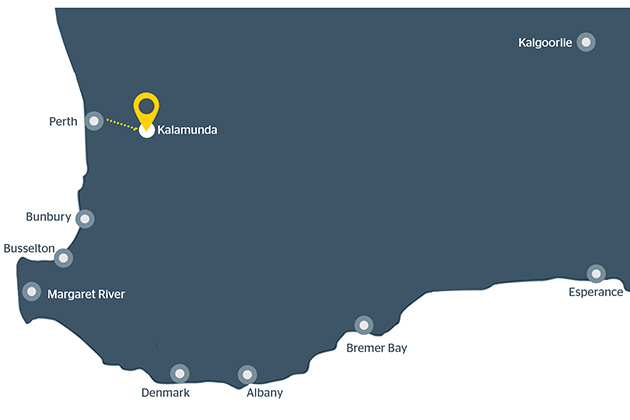 Top things to see and do
Go hiking in Kalamunda National Park
A good spot for beginners, the dog-friendly 2.7-kilometre loop Jorgenson Park Walk Trail is located on the old unused Kalamunda Golf Course, and offers spectacular valley views. The trail is well signed with markers, and incorporates some of the Bibbulmun Track along its northern edge.
If you'd rather a trickier walk, attempt the picturesque 4-kilometre Schipp Road Walk loop. It also encompasses some sections of the Bibbulmun Track, and features several steep hill climbs and a few loose descents. Departing from the carpark on Schipp Road, the first section of the trail is wide and gentle with plenty of native flora and fauna on display. Once you reach the Bibbulmun Track section, the trail narrows and becomes quite uneven. The final section is the most challenging, and isn't recommended for kids or inexperienced hikers.
For more hiking routes, check the Experience Perth Hills walk trails page.
RELATED: National parks that are closer to Perth than you think »

Sample local produce at the Kalamunda Farmers Market
Operating every Sunday morning at the Kalamunda Central Mall on Nestobrae Lane, the vibrant Kalamunda Farmers Market sees farmers, producers and artisan food makers come together to sell a massive array of gourmet local produce. Offering everything from organic bread and fresh goats cheese to Australian spice packs and fresh bouquets of flowers, the market should be your first stop if visiting on a Sunday – as often, the freshest goods are the first to go.
The operators of the farmers' market also produce the fantastic Kalamunda Night Markets, which typically take place once a month, from October to April. Check their Facebook page for future dates.
RELATED: 10 of Perth's best farmers' markets »

Meet the furry locals at Calamunnda Camel Farm
This family-friendly camel farm is one of the most unique outdoor experiences that Kalamunda has to offer. Set in tranquil bushland beside the Bibbulmun Track, the farm has three camel treks on offer; an introductory ride, half an hour ride and a full one-hour ride. If you opt for the longest ride, you may spot small groups of kangaroos, lizards, parrots and other native animals as you make your way deep into the serene Perth Hills. The farm is open from Thursday to Sunday from 9am until mid-afternoon.
Hit the pedals on the Kalamunda Mountain Bike Trails
The Kalamunda Trails are some of the most popular in WA. Situated amongst picturesque forest, there are a range of options ranked from easy to difficult covering a range of climbs, rocks, hairpin corners, drop-offs and more. If you're a beginner, opt for the Black Stump Pump Track, a trail suitable for riders of all ages and abilities.
The unique Railway Heritage Trail is another popular option. Suitable for both walking and cycling, the mountain bike trail section is ranked easy to medium, and traverses through beautiful local flora and fauna. The trail route was designed to celebrate the previous railway track, so it's also a great way to get a dose of local Kalamunda history.
If you need to hire a mountain bike, head to Rock and Roll Mountain Biking or Kalamunda Cycles. Having the right equipment is paramount, so make sure you're protected with a helmet, enclosed shoes, gloves, eye protection and plenty of water. Avoid attempting these trails in the height of summer due to extreme heat and loose dry soil.
RELATED: 10 of the best mountain bike trails within two hours of Perth »

View art at the Zig Zag Gallery
This striking facility was built to showcase the craftsmanship of talented artists. Designed to showcase a diverse range of exhibitions, notable events at the Zig Zag Cultural Centre and Gallery include the annual Kalamunda Lions Club Art Awards and NAIDOC Week exhibition. Check the exhibition schedule before your visit.
At a glance
Distance from Perth
27 kilometres, just over half an hour's drive
Why go?
To explore thriving national parks that are a stone's throw from the Perth CBD, experience incredible local artwork, complete scenic mountain bike trails and be immersed in the community spirit at a famous weekly farmers' market.
When to go

Apr: The annual Kalamunda Open Studios event takes over the town; with up to 20 local artists, sculptors, photographers and more opening their workrooms to the public.
May - Nov: Cooler months are a great time to go mountain biking. The extreme heat of summer means loose, dry soil – so opt for a cooler day after some light rain as the soil will hold together stronger.

How long to stay
You'll be able to tick off most of the town's attractions in two to three days. If you're eager to see more of the region, pop over to the neighbouring suburb of Mundaring for a few extra days.
Need to know
When on hiking or mountain biking trails, make sure you adhere to all signage and avoid straying from marked paths so you don't get lost. Pop into the Perth Hills Visitor Centre at the Zig Zag Cultural Centre for more advice, maps or trail information.
Fast facts
Town population: 6,970 
Indigenous people: Noongar.

Insider tip
If you're travelling with inquisitive kids, complete the Kalamunda Fairy Door Trail. Following the trail map, the journey will see you travelling around the Kalamunda town centre in search of miniature doors for the town's local fairies.
Getting around
As mentioned above, there are plenty of mountain bike hire shops if you'd like to explore the region on two wheels. Otherwise, you'll likely need a car to travel around the township and surrounding national parks.
What to pack
Kalamunda experiences a typically mild climate, so dressing in lighter or warmer clothes according to season is advised. Pack or wear enclosed shoes, as the town is filled with natural attractions that you'll need to be well-equipped to explore. And if you're planning on walking or cycling through the national parks, bringing an insect repellent, sunscreen and a hat is a good idea, as portions of the parks can be exposed to harsh UV without much shade.
Travelling safely
You'll travel on sealed main roads and highways to reach Kalamunda, but there may be a few unsealed roads and gravel car parks around the Kalamunda area, so take care and make sure you're driving attentively. Read more long distance driving tips before setting off.
Inspired to head to the hills?
Don't forget to fuel up. RAC members get 4 cents a litre off fuel at participating Puma Energy, Better Choice, Gull and Peak service stations.
Last updated February 2021