By: Danielle Costley
Get off-road in your four-wheel drive and explore the giant sand dunes, catch a haul of fish, canoe along the river or swim in sheltered waters.
If you're eager to unwind, go for a bush walk or stroll amongst the myriad of wildflowers that dot the landscape of this tranquil coastal hamlet that is Moore River, it's time to hit the road.
At a glance
Distance from Perth
118 kilometres, a 90-minute drive
Why go?
Paddle along the Moore River, windsurf, dive, snorkel, swim or surf in the crystal-clear waters, get off the beaten track in your four-wheel drive or trail bike in the dunes, taste wines at a local winery, go fishing, devour fresh seafood, olives, citrus fruit, cheese and honey.
When to go

Jan - May: Warm temperatures and low rainfall. Perfect for swimming and fishing. Music in the Park in January.
Aug - Sep: Cool temperatures with moderate rainfall, excellent viewing of wildflowers.
Oct - Dec: Warm, balmy weather with limited rainfall. Ideal for swimming, fishing, kayaking or snorkelling. Woodridge Spring Fair in November.

How long to stay
Day trip or weekend escape.
Need to know
The Moore River Roadhouse has fuel, gas bottles, groceries, hot food, drinks, and convenience store items. And when it comes to the town of Guilderton, the Guilderton General Store and Café Amore is a supermarket, fast food outlet and café. There are public toilets and picnic areas at the rivermouth. The caravan dump point is located at St Luke's Church car park on Dewar Road, Gingin. Mobile reception is restricted in some areas.
Fast facts
Town population: 150 
Indigenous people: Yued Noongar.

Insider tip
The Watheroo Wildflower Drive within the Watheroo National Park features one of the only patches of rose mallee in the world.  You can also spot rare and beautiful orchids on your travels, along with many other species of wildflower.
Related road trips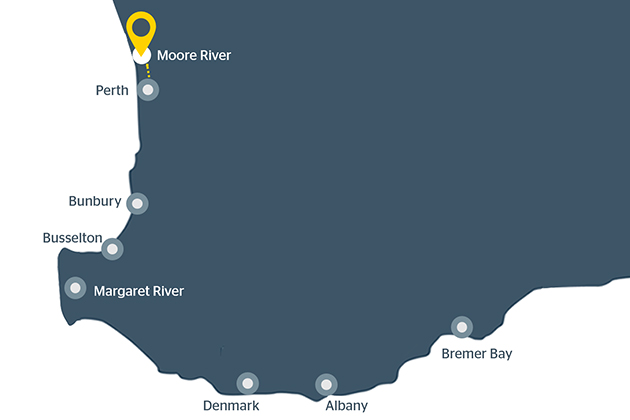 Top things to see and do
Paddle the Moore River
Moore River is located on the Swan Coastal Plain. The 'Desert' is a local landmark, spanning some 40-hectares from a section of the river. This mobile sand dune is heading in a north-easterly direction, moving at around 1.5 metres annually. This river is a paddler's dream, with a dedicated launching point with parking and ablutions at Silver Creek, about 1.5-kilometres upstream from the rivermouth.
Non-motorised zones have been designated at Silver Creek, the rivermouth and upstream from Diamond Island, to ensure a safe paddling experience. Hire a paddleboat, kayak or canoe at the mouth of the river.
See the wildflowers
Take a relaxing drive through the picturesque countryside, especially during spring when there is a beautiful array of wildflowers and diverse bushland dotted throughout the landscape. Look for the rare rose fruited banksia amidst a blanket of white, pink and yellow everlastings. See the green kangaroo paw display at Gingin Cemetery, or drive under a canopy of red gums on Dewar Road.
Visit the Moore River National Park in October and view Western Australia's Christmas Tree (nuytsia floribunda). Set off on a self-guided walking tour from the Gravity Discover Centre, where you can appreciate the stunning wildflowers and bushland on the Wallingup Plain. From September to November, wildflower tours are offered from the Gravity Discovery Centre.
RELATED: 6 scenic WA wildflower drives »

Walk trails
Relish nature at its best and meander along the many walking trails throughout the region. Stroll along the Riverside boardwalk trail from the carpark for 1.3 kilometres and appreciate the diverse species of birds and other native wildlife that inhabit this naturally unspoiled destination.
Follow the six-kilometre Riverside trail or stretch your legs on the 1.3-kilometre Silver Creek trail. There are many places here to relax, have a picnic and take photos from the lookouts.
Go fishing
Whether it's beach or river fishing, this is the place to cast a line. This river system is quite shallow and is closed off from the ocean for most of the year. Sit on the banks of the Moore River and snag some black bream upstream. It can also be fished from a boat or kayak. When the rivermouth is open, fish for herring or mulloway.
Or go beach fishing at Ledge Point, Caraban, and Quinns Rocks, where you may catch tailor, herring, whiting, flathead and mulloway. The Lancelin Jetty is also a good fishing location, especially for the kids.
RELATED: 10 of WA's best land-based fishing spots »

Take a dip
Swim at one of the white, sandy beaches in this area. The mouth of the Moore River is a popular place for kids to swim, complete with a natural sandbar that separates the river from the ocean. Other good swimming beaches are at nearby Ledge Point and Lancelin.
Get off-road
Go four-wheel-driving in one of the designated areas for off-road vehicles.  The Ledge Point Off-Road Vehicle Area caters for motorbikes only, whereas the Lancelin Off-Road Vehicle Area can be used by trail bikes, four-wheel motorbikes, beach buggies or four-wheel drive vehicles. Be prepared with the necessary off-road equipment.
RELATED: Beginner's guide to four-wheel driving in WA »

Leaning Tower of Gingin
Take a leisurely half-hour drive east to Gingin, where you will find the Leaning Tower of Gingin. Standing 45-metres tall, this leaning tower was specifically designed with a 15-degree lean. It is inspired by the Leaning Tower of Pisa in Italy, where Galileo carried out his gravity experiments. Drop water-filled balloons from the top of the tower to replicate Galileo's gravity experiment.  
RELATED: 10 of the quirkiest museums across WA »

Gravity Discovery Centre and Observatory
Take a day trip to the Gravity Discovery Centre and Observatory (in Gingin) for the ultimate science experience, including interactive exhibits about Einstein. There is a Zadko Telescope, Falcon Telescope, GeoScience Australia Magnetic Observatory and the UTAS dust particle collection research station.
Check out the 60-metre Timeline of the Universe in the Cosmology Gallery and discover how the search for gravitational waves began with the southern hemisphere's first Gravitational Wave Detector. View the universe through one of several large telescopes which are used for practical astronomy evenings, including Aboriginal Astronomy nights that connect culture to astronomy.
RELATED: 8 of the best stargazing spots within three hours of Perth »

Wine and food
Taste local wines at the nearby Swan District wine region, which is renowned for its chenin blanc, verdelho and rosé. It's a half-hour drive inland to Gingin where you can indulge in a wine tasting at Riseborough Estate, as well as pick-up some local goodies for the picnic basket. There are cheeses, olives, oils, tapenade and dukkah.
Or visit the West Coast Honey extracting facility and watch the bees hard at work. Taste a selection of artisan goat cheeses at Local Goat farm before returning to Moore River with a selection of local, fresh produce.
Guilderton Country Club
Play a round of FootGolf at the Guilderton Country Club, and discover this crazy combination of football and golf. Played with the same rules as golf, FootGolf uses a size 5 soccer ball and feet, rather than golf balls and clubs.
Start from the 'teeing off' area and kick the ball to the FootGolf hole, with the winning player scoring the least amount of kicks. Bring along your own soccer ball or hire one from the Country Club. There is also a café here, serving food and refreshments.
Getting around
The best way to see this region is by self-driving in a standard vehicle. However, if you want to explore the sand dunes, a four-wheel drive is essential. Once in Moore River, this peaceful town is very pedestrian and bicycle-friendly.
Bring your bike and follow the new cycle path on Tonkin Highway that runs from Ellenbrook to Muchea (27 kilometres south of Gingin), or follow the history walk trail that runs around the nearby township of Gingin. 
What to pack
Temperatures are warm to hot from December through to March, so sunscreen, hats, insect repellent, shorts and bathers are necessary items. Don't forget walking or hiking shoes. During spring, the mornings and evenings are cool. Bring jeans and jumpers.
Travelling safely
The scenic Moore River Region is the perfect backdrop for a great drive along the well-maintained and sealed Indian Ocean Drive and Brand Highway. Take care on Indian Ocean Drive and do not overtake, unless permitted. This is listed as one of RAC's riskiest roads, with seemingly endless curves and bends. Check Main Roads WA for roadworks on Indian Ocean Drive as there may be delays, especially during peak times.
Wildlife is also abundant in this area, especially the various species of birds that call this region home. Drive slowly, enjoy the scenery and keep a watchful eye out for kangaroos on the roads around dusk and dawn. To go four-wheel driving, ensure you are well-equipped with both training and vehicle recovery equipment. Read more long distance driving tips before setting off.
Need to fuel up before hitting the road?
RAC members get 4 cents a litre off fuel at participating Puma Energy, Better Choice, Gull and Peak service stations.
Last updated September 2020