Travel & Touring | WA Destinations
By: Tatum Stafford
Luckily for Perth locals, there are plenty of day trip destinations within two hours' drive that will make you feel like you are nowhere near the city.
With activities like dolphin-spotting, sandboarding, hot air ballooning and fruit-picking on offer, there's a spot to suit all ages and interests.
So whether you're heading inland, down south or up the coast, here are 10 of our favourite day trips from Perth.
RELATED: 8 overnight getaways from Perth »

1. York
As WA's first inland European settlement, the town of York offers a unique insight into WA's settler history through its heritage precinct and well-preserved colonial architecture.
Head to the top of Mount Brown Lookout for sweeping views of the countryside, which is a carpeted in bright yellow canola fields around August and September, while in the York Bushland Garden you can see local wildflowers blooming in season. In town, Penny Farthing Sweets is an old-fashioned sweet shop also beloved for its quirky memorabilia. Enjoy lunch at a café, restaurant or one of the historic pubs, or pack a picnic and head to the banks of the Avon River, then stroll down to the York wire suspension bridge, the first of its kind built in Western Australia, constructed in 1888.
One of York's most well-known attractions is the York Motor Museum. It houses a massive collection of classic cars, Aussie race cars, motorcycles and vintage racing bikes alongside plenty of nostalgic motoring memorabilia and posters. One of its most notable exhibits is the 'Never Never Tours' Valiant ute that was used in the film "Crocodile Dundee". It's even signed by the film's star, Paul Hogan.
Distance from Perth: 98km, approx. 90min drive.
When to visit: September to November for wildflower season, or mid-August to September for canola season.
2. Shoalwater Islands
The Shoalwater Islands Marine Park off the coast of Rockingham is dotted with a series of limestone islands, the largest two being Penguin and Seal Island. The park's waters are home to Australian sea lions and around 200 local bottlenose dolphins, with tours that can take you out to swim and snorkel with them.
Just a short ferry ride offshore, Penguin Island is home to the largest colony of little penguins in Western Australia. At the Penguin Island Discovery Centre you can get up close with the penguins during feeding time, or take the 1.5km Penguin Island Nature Walk to see some of the island's beaches and hidden caves.
The reefs around the islands are abundant with sea stars, molluscs and plenty of fish; an idyllic environment for snorkelling and diving. You can also explore the Saxon Ranger Dive Wreck in Warnbro Sound. If you're planning on diving here remember to get a permit first from the Rockingham Visitor Centre.
Distance from Perth: 27km, a 40min drive.
When to visit: All year round, but ferry tours of Shoalwater Bay operate from mid-September to early June.
3. Collie
Once the state's most prominent coal mining town, the picturesque shire of Collie is today filled with crystal-blue lakes, riverside camping spots and plenty of walking and mountain biking trails through lush forest.
The recently completed Collie Mural Trail, which features the record-breaking Wellington Dam mega mural, is one of the town's most popular attractions. Comprised of more than 40 murals splashed across shops and other buildings around the town, each mural captures one of three themes: the history of Collie, the natural environment of the South West region, and local Aboriginal culture. View the Collie Mural Trail map for the full list of locations.
RELATED: The story behind the Wellington Dam mega mural »

The Collie River, Glen Mervyn and Minninup Pool are must-visits if you're eager to explore local trails and experience the town's natural beauty. Two crystal-blue lakes, Stockton Lake and Black Diamond Lake, are popular spots for camping, picnicking and watersports.
The Bibbulmun Track and Munda Biddi Trail both pass through Collie, offering world-class mountain biking and bushwalking. The trails are especially picturesque when the town's wildflowers bloom in spring.
Distance from Perth: 200km, just over 2hr's drive.
When to visit: Year-round, or springtime to view wildflowers.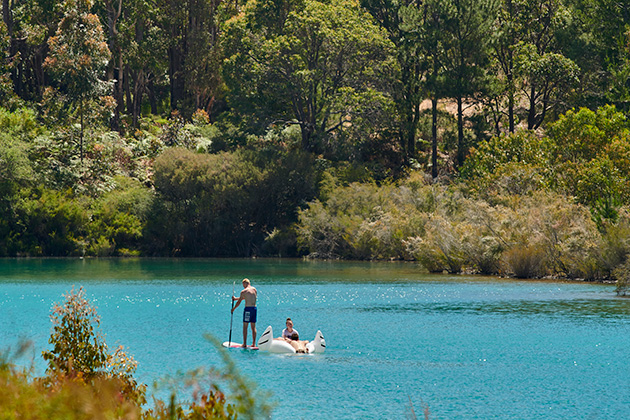 4. Kalamunda and Walliston
Kalamunda and Walliston both boast excellent bushwalking trails, orchards, wineries and national parks.
In Kalamunda, the Bibbulmun Track, Mundy Regional Park and Rocky Pool Walk offer prime trails with epic views at bushland lookouts. The weekly Kalamunda Farmers Market each Sunday is a bustling event, with plenty of seasonal fruit and veg, baked goods and flowers on offer. The Zig Zag Drive that winds through the nearby Gooseberry Hill is a fantastic spot to watch the sun setting over the CBD.
One of Walliston's most popular attractions is the S&R Orchard. The orchard hosts an annual blossom festival in September, and summer fruit-picking sessions from December to March each year. It's a great place for a family day out, with live entertainment, tractor rides and food vans to enjoy.
Distance from Perth: 29km, a 30min drive.
When to visit: Winter for mountain biking in Kalamunda, or summer for S&R Orchard's fruit-picking season.
5. Waroona
The 'sea to scarp' town of Waroona is a popular spot to visit thanks to its picturesque lakes, dams and weirs. Not only great for water-skiing, swimming and paddling, the banks of Waroona's waterways are perfect for setting up camp and staying the night. There are camping facilities at the Lake Navarino Holiday Park, Waroona Dam or Lane Poole Reserve.
The ancient thrombolites at Lake Clifton in the Yalgorup National Park are also worth a visit. Just west of Waroona, this collection of rock-like living fossils make up the largest thrombolite reef in the Southern Hemisphere, and mark one of few places in Western Australia where you can see living thrombolites.
Other popular activities include horse-riding along the Darling Range with Langford Hill Riding Farm, birdwatching at Drakesbrook Weir and fishing and four-wheel driving along Preston Beach.
Distance from Perth: 110km, 1hr and 15min drive.
When to visit: Summer for idyllic camping and swimming conditions.
Enjoying this article? Check out:
10 of Perth's best snorkelling spots »
Scenic SUP spots around Perth »
10 of Perth's best kayaking trails »
6. Yanchep
Best known for its sprawling national park that features a koala viewing boardwalk, walking trails that weave through cave systems and a population of western grey kangaroos, the town of Yanchep is an easy day trip destination with plenty to see and do.
Hop on a guided tour to explore the fascinating Crystal Cave, snorkel at the Yanchep Lagoon reef, take a walk trail that passes the remains of a 'Ghost House' and pick strawberries at a nearby farm in Carabooda (open weekends in spring and summer). If you're eager to spend the night, pitch a tent on Henry White Oval within the national park.
Distance from Perth: 55km, a 40min drive.
When to visit: Summer for pleasant swimming weather, or spring to pick fresh strawberries.
RELATED: National parks within two hours of Perth »

7. Gidgegannup
Gidgegannup is a scenic area within the Perth Hills nature reserves, farming properties and fields of wildflowers in springtime. Located next to the Avon Valley, it's a great place to hike alongside some impressive sights, such as Bells Rapids and Noble Falls.
Founded by the Australian Wildlife Conservancy, the Paruna Wildlife Sanctuary offers several walk trails through jarrah, wandoo and powderbark forest to view some local endangered animal species. Join a two-hour guided walk at dusk to admire woylies, tammar wallabies, red-tailed black cockatoos and quendas in their natural habitat. The sanctuary is open from May to October each year, and bookings are essential.
If you've ever wanted to try horse-riding, the Zia Park Equestrian Centre is great for beginners and experts alike. The centre offers a cross country course, private riding trails through the surrounding bushland, and several large paddocks for training.
Distance from Perth: 42km, approx. a 40min drive.
When to visit: August to November for wildflower season, or May to October to explore the Paruna Wildlife Sanctuary.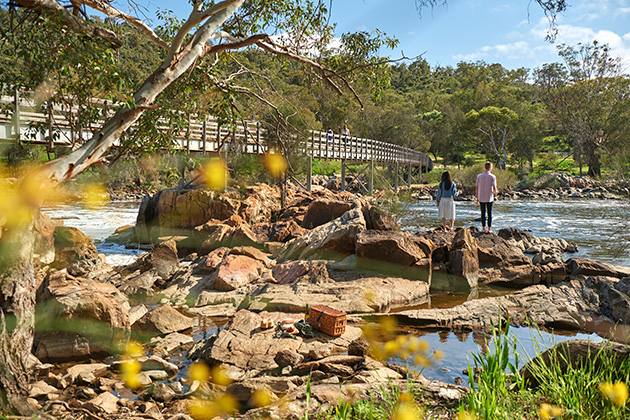 8. Lancelin
Dubbed one of Australia's best sandboarding destinations, the township of Lancelin is filled with beaches, inland walk trails and of course, crisp white sand dunes. The entire dune system stretches for 2km, and in sections, offers sandboarding down 450-degree-angle dunes. Entry is free but you'll need to reserve your board before arriving.
Lancelin's Back Beach is a great place to unwind after a day on the dunes. Thanks to a sandbar 20m from shore, the beach generally has small waves ideal for kids (or adults) learning to surf. It's also a popular spot for kitesurfing, windsurfing or stand-up paddle boarding. When the sun starts to set, the dog-friendly garden at the Endeavour Tavern offers sweeping ocean views and hearty meals.
Distance from Perth: 126km, approx. a 90min drive.
When to visit: Summer, or other dry months to make the most of the dunes.
9. Dwellingup
Set amongst picturesque jarrah and marri forests, the town of Dwellingup is filled with hiking, mountain biking and river trails perfect for those looking to get a little closer to nature.
Dwellingup's trails vary in difficulty. The 8km Marrinup Loop Mountain Bike Trail (and its 4km-long shortcut option) is popular for beginners and kids, and keen bushwalkers will enjoy the 18km King Jarrah Walk Trail, which traces the Murray River and weaves through lush jarrah forest.
Other popular attractions include the Captain Fawcett 4WD Trail, the Hotham Valley Tourist Railway, which offers steam train rides through the forest to the towns of Etmilyn and Pinjarra, and the Forest Discovery Centre which showcases handcrafted wooden artworks and offers cultural immersion tours with a local Binjarreb elder.
If you're planning to spend the night, there are more than 150 camp sites within the massive Lane Poole Reserve. Popular spots include Baden Powell, Stringers, Nanga Mill and Tony's Bend – all must be pre-booked online.
Distance from Perth: 108km, 1hr 15min drive.
When to visit: Winter for the best conditions to canoe down the Murray River, springtime to view wildflowers on local trails, or May to October to ride the Hotham Valley Railway.
10. Guilderton and Moore River
The town of Guilderton is situated on the last remaining river estuary on the Swan Coastal Plain, the Moore River. There's plenty to do around Guilderton, including swimming, sandboarding and surfing.
One of the best ways to explore Moore River is by paddling. There are a few options for canoe or kayak hire in Guilderton, and the river can be paddled upstream for about 12km, until Boobabbie Bridge. There are more than 100 species of birdlife on the Moore River waterway, so be sure to keep an eye out.
For keen fishers, Guilderton Beach is a great place to cast a line. Tailor, flathead, herring, mulloway and whiting can all be caught from the shore. There's also a fishing boardwalk at Stephens Crescent.
Distance from Perth: 92km, 1hr drive.
When to visit: Summer for pleasant swimming, paddling and fishing weather.
Ready to escape from the hustle and bustle?
It pays to be prepared. RAC members save 50% off DPAW national park passes.
Last updated: July 2021