Travel & Touring | WA Road Trips
By: Tatum Stafford
This epic drive through wildflower country and along popular pockets of WA's pristine coastline is one for the books.
Home to plenty of epic snorkelling, surfing, wildflower-spotting, hiking and kayaking spots, this adventurous road trip takes you through some of our State's most iconic tourist destinations, and is sure to impress locals and tourists alike.
Here's your ultimate 12-day road trip from Perth to Exmouth via Karijini (with plenty of amazing stops in between).
Distance and days
Approx. 3,800 kilometres. We've split the trip over 12 days, but it could easily be extended if you'd prefer to linger.
Why do it?
Mount Magnet – Karijini National Park – Ningaloo Reef – Gnaraloo Station – Hamelin Pool stromatolites – Shell Beach – Monkey Mia dolphins – Kalbarri National Park – Pinnacles
When to go
Apr - Jul: Best time to see and swim with whale sharks at Ningaloo Reef.
Jul - Oct: Peak wildflower season in the Golden Outback and along pockets of the Coral Coast.
Need to know
On a few stretches of road (particularly within the Wheatbelt and near Karijini), it's advised to bring extra food, fuel and supplies as you may be far from stores and services.
Most towns along the Coral Coast have a visitor centre, general store and a petrol station, just be sure to check opening hours ahead of time.
Some towns have WiFi access, but it's recommended to purchase a Telstra SIM card for strong coverage along the Coral Coast, and an Optus SIM card for your time in the Karijini National Park.
Vehicle access and safety

Most of this trip is suitable for two-wheel drives, but you'll need a four-wheel drive to access certain sections of national parks. Drive carefully on Indian Ocean Drive at dawn or dusk, as there's plenty of wildlife in the area. Before setting off, read more of our long distance driving safety tips.
Member benefits along the way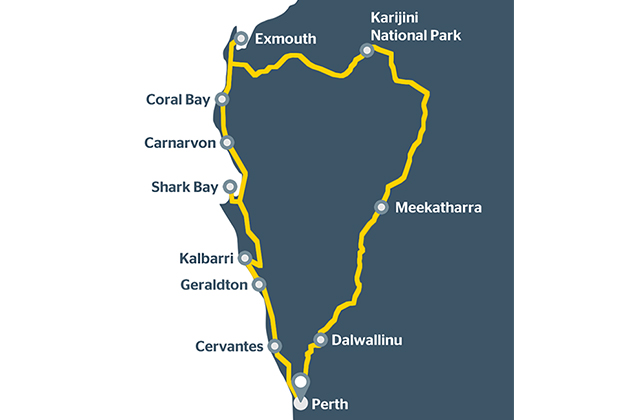 Day one: Perth to Dalwallinu (263 kilometres)
Starting on Great Northern Highway, travel through the Swan Valley before stopping in at New Norcia, Australia's only monastic town. Don't forget to pick up a treat from the famous Bindoon Bakery on your way there.
After a stroll around New Norcia, head to Dalwallinu, a thriving hub of wildflowers (including the unique wreath flower), the historic No 2 Rabbit Proof Fence, and gorgeous wattle trees that are best explored during the annual Wattle Week festival each September.
Day two: Dalwallinu to Meekatharra (513 kilometres)
Leave Dalwallinu early to reach your first stop of the day; Paynes Find near Yalgoo, an early gold rush settlement named after the first person to discover gold in the area. The Paynes Find Gold Battery and Museum gives some interesting insight about the discovery, and also houses the only working gold battery in WA.
Next, stop at Mount Magnet to stretch your legs. The nearby Heritage Walk is a great way to learn about the old gold mining town's history – or if you'd rather take a scenic drive, the 37-kilometre tourit trail will take you past fascinating rock formations and plenty of wildflowers. Detour to see Aboriginal art site Walga Rock before staying the night in Meekatharra.
Day three: Meekatharra to Karijini National Park (701 kilometres)
Today's outback drive is long but rewarding. Heading along the Great Northern Highway, stop in at the mining town of Newman to stretch your legs and grab a bite to eat before finishing the next leg to Karijini. Stay overnight at Dales Campground or in the nearby town of Tom Price.
Day four: Karijini National Park
The gorges, pools, waterfalls, springs and views within the Karijini National Park are nothing short of incredible. To make the most of your day in the park, pop in to the visitor centre for advice on where to start. Dales Gorge, Fortescue Falls, Circular Pool and Hamersley Gorge are popular spots.
RELATED: 12 of WA's best inland swimming spots »

Day five: Karijini National Park to Exmouth (612 kilometres)
Leave early for another long day of driving – this time, towards the gorgeous Coral Coast. There aren't many places to stop on this stretch of road, so we'd suggest packing your own lunch and supplies for the journey.
Once you arrive in Exmouth, you'll have the gorgeous Ningaloo Reef on your doorstep. It's the perfect spot for diving, swimming, snorkelling, kayaking or taking a glass-bottom boat tour – and depending on when you visit, you may catch a glimpse of WA's famous whale sharks which frequent the waters between April and July each year. If you'd rather explore on land, the sweeping Cape Range National Park is just 40 minutes away and jam-packed with four-wheel drive tracks, lookouts and hiking trails.
Day six: Exmouth to Coral Bay (150 kilometres)
The short drive south on Minilya-Exmouth Road brings you to Coral Bay, another hotspot for swimming, kayaking and snorkelling thanks to its abundant marine life and colourful coral. If you're eager to hop on a tour, there are plenty of fishing, snorkelling and scuba diving charters and operators to choose from.
RELATED: 10 of WA's best snorkelling spots »

Day seven: Coral Bay to Carnarvon (238 kilometres)
Continue along the coastline to the town of Carnarvon, renowned for its epic surf spots, fresh tropical produce and the fascinating Quobba Blowholes. Check out the Insta-worthy cactus garden on South River Road or take a dip at Rocky Pool before hitting the hay.
Day eight: Carnarvon to Shark Bay and Monkey Mia (349 kilometres)
Follow the signage along the Shark Bay World Heritage Drive and pick notable Shark Bay sites to visit on your way to the townsite. Popular stop-offs include the Hamelin Pool stromatolites, and Shell Beach, a 70-kilometre-long beach made of millions of tiny shells.
Refuel at Denham and then head to Monkey Mia, a picturesque spot famous for its friendly dolphins. Hop on a sunset cruise to explore the surrounding waters, or take a local Indigenous cultural tour to cook bush tucker, learn to play the didgeridoo and relax around a campfire.
Day nine: Shark Bay to Kalbarri (401 kilometres)
Before hitting the road, attend the daily, 7:30am dolphin feeding session at the waterfront. From here, continue along the North West Coastal Highway to reach Kalbarri.
In Kalbarri, take your pick from incredible views at the newly built Kalbarri Skywalk, hiking below stunning gorges within the Kalbarri National Park, or strolling along a coastal trail to catch the sunset. Finish the day with a meal of fresh seafood at one of the restaurants in the township.
Day 10: Kalbarri to Geraldton (154 kilometres)
On your way of Kalbarri, make a detour to view the incredible Pink Lake just north of your next stop, Geraldton. The best land-based view of the lake can be found on Port Gregory Road – there's even a parking area so you can walk down to the water's edge.
Once you reach Geraldton, visit the impressive HMAS Sydney II Memorial for a dose of local history and beautiful views of the town and the ocean. Kitesurfing, wildflower-spotting and surfing are popular pastimes here. Finish the day with a walk down the main strip and a bite to eat at one of the many restaurants and pubs.
Day 11: Geraldton to Cervantes (223 kilometres)
See the fascinating leaning trees of Greenough on Brand Highway on your way to the twin towns of Dongara and Port Denison, where you can feast on delicious fish and chips for lunch. Keep driving south and stop in at Jurien Bay for a swim, snorkel or splash with the friendly local sea lions. If you're a fan of wildflowers, the nearby Lesueur National Park is a must-visit in springtime.
Continue south to Cervantes, your last stop along the Coral Coast. Take a walk along the coast, or visit the Lake Thetis thrombolites, living fossils that are more than 3,300 years old, before winding down for the day.
Day 12: Cervantes to Perth (197 kilometres)
Before you leave, stop in at the Lobster Shack for a delicious seafood feast, then head south towards Perth on Indian Ocean Drive. Visit the Nambung National Park to see the Pinnacles, or stop in at the Yanchep National Park to enjoy lunch with a few of the park's relaxed kangaroos.
Need a place to stay along the way?
RAC members save up to 20%* on accommodation at RAC Cervantes Holiday Park, RAC Exmouth Cape Holiday Park, RAC Monkey Mia Dolphin Resort and Ningaloo Reef Resort.
*Terms and conditions apply. See full website for details. Member rate varies according to season.
Last updated: January 2021