Travel & Touring | WA Road Trips
By: Tatum Stafford
Home to magnificent gorges, carpets of wildflowers in springtime and plenty of bucket-list encounters with marine wildlife, it's clear why thousands of tourists flock to this coastal haven each year.
The gorgeous Coral Coast encompasses some of Western Australia's most beloved coastal towns – and luckily for locals, the best way to see them all is on an adventure-filled road trip.
So, we've done the hard work for you. Here's your ultimate eight-day road trip itinerary from Perth to Exmouth (and back), with plenty of incredible stops in between.
At a glance
Distance and days
Approx 2,960km. We'd split it over eight days, but it can be easily extended so you can explore more of the region.
Why do it?
Pinnacles Desert – sea lions at Jurien Bay – Fruit Loop driving trail – Gnaraloo Station – Ningaloo Reef – Hamelin Pool stromatolites – Shell Beach – Eagle Bluff – dolphins at Monkey Mia – Kalbarri National Park – Blue Holes – Pink Lake
When to go
Summer: Swim with the Jurien Bay sea lions and snorkel through the beautiful Abrolhos Islands.
Autumn: Enjoy fresh fruit along Carnarvon's Fruit Loop driving trail.
Winter: Swim alongside the whale sharks and humpback whales in Exmouth.
Spring: Stroll through wildflower carpets in the region's sweeping national parks.
Need to know
Most towns you'll pass through have a visitor centre, a general store, and a petrol station - just keep in mind that not all petrol stations are open 24/7.
Some towns have moderate WiFi access, but purchasing a Telstra SIM card is recommended as it provides stronger coverage on the Coral Coast.
Vehicle access and safety

Most of the trip can be completed in a two-wheel drive, but you'll need a four-wheel drive to access some national parks and off-road attractions. The region is home to long stretches of road, so make sure you take regular breaks. Be cautious when overtaking road trains, and watch out for wildlife at dawn and dusk. Before setting off, read more of our long distance driving safety tips.
Member benefits along the way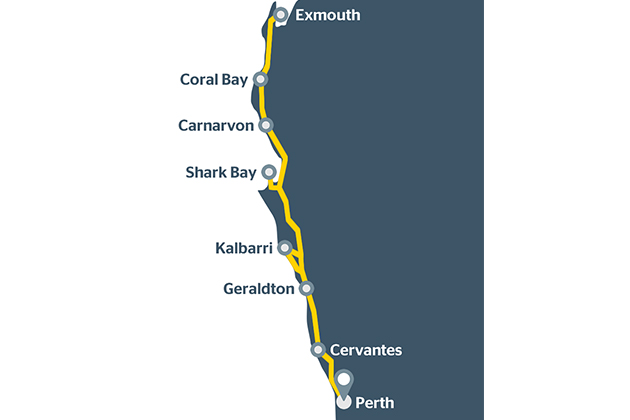 Day one: Perth to Cervantes (198 kilometres)
Hop on Indian Ocean Drive to reach your first stop-off, the iconic Pinnacles Desert. Located within the Nambung National Park, the seemingly extra-terrestrial Pinnacles stand as high as 3.5 metres tall and were formed approximately 30,000 years ago. If you time your visit close to dusk, you may be treated to some extraordinary opportunities for stargazing and astrophotography.
RELATED: 8 of the best stargazing spots within three hours of Perth »

Next, make your way to the coastal town of Cervantes. For seafood lovers, the Lobster Shack is the perfect spot for a bite to eat – and if you're eager to stretch your legs, there are a few scenic beachfront walk trails to choose from.
Day two: Cervantes to Geraldton via Jurien Bay, Dongara and Port Denison (223 kilometres)
Start the day with a refreshing dip at Hangover Bay or Thirsty Point before continuing north on Indian Ocean Drive to Geraldton.
On the way, visit small seaside towns including Jurien Bay, Green Head and the twin towns of Dongara and Port Denison. Highlights include the playful Jurien Bay sea lions, pristine beaches, epic fishing spots and the quirky Dongara Denison Drive-In, one of few remaining drive-in cinemas in WA. If you're visiting during wildflower season, the nearby town of Mingenew is worth a visit for its carpets of unique blooms.
When you arrive in Geraldton, visit the impressive HMAS Sydney II Memorial, a structure commemorating the lives of the 645 Australian sailors who died on the ship during World War Two. Once it's time for dinner, stroll down the main strip for a bite to eat and a stunning sunset.
Day three: Geraldton to Carnarvon (475 kilometres)
Hop on North West Coastal Highway to your next stop, the town of Carnarvon. Renowned for its tropical fruit and fresh seafood, complete a section of the famous Fruit Loop driving trail to visit local banana plantations, avocado farms and roadside produce stalls.
This section is one of the itinerary's longest drives, so be sure to take plenty of breaks and rest once you arrive at the Carnarvon township.
Day four: Carnarvon to Exmouth (363 kilometres)
Heading further north, make a few detours to witness the incredible natural Blowholes, catch a wave at Gnaraloo, and go snorkelling at Quobba Station before you reach Exmouth.
This world-famous town is home to whale sharks, drift snorkelling beaches, rocky gorges and the iconic Ningaloo Reef. Whether you'd prefer to snorkel, dive or drift over the reef in a glass bottom boat, the diverse marine environment is teeming with wildlife, coral and plenty of other underwater wonders.
Hiking enthusiasts will marvel at Cape Range National Park, a 40-minute drive south of the Exmouth township. Here, you'll have your pick between sky-high lookout trails with sweeping views, or rugged trails that trace gorge rims. Avoid hiking here between December and March – sweltering temperatures and limited resources can be potentially hazardous.
Day five: Exmouth to Coral Bay (150 kilometres)
A relatively short drive along Minilya-Exmouth Road will bring you to Coral Bay, a snorkelling, kayaking and swimming haven. While here, take your pick between fishing charters, scuba diving tours with manta rays, completing four-wheel drive tracks along the beach, or hiring a kayak or SUP board and drifting along crystal-blue, calm waters.
Day six: Coral Bay to Shark Bay and Monkey Mia (580 kilometres)
It'll take about six hours on Minilya-Exmouth Road to reach your next destination, Shark Bay. To break up the drive, follow the signage along the Shark Bay World Heritage Drive for sites to visit – the Hamelin Pool stromatolites, Eagle Bluff lookout and the pristine Shell Beach are highlights.
After a day of sun, sand and surf, make your way to Monkey Mia. Once you arrive, grab a bite to eat, hop on a sunset cruise or head on an Indigenous cultural tour with Wula Gura Nyinda Eco Adventures.
Day seven: Shark Bay to Kalbarri (401 kilometres)
Before you leave Monkey Mia, don't miss the daily 7:30am dolphin feeding on the beach. After interacting with these playful creatures, follow the North West Coastal Highway to the rugged town of Kalbarri.
Spend the day exploring the impressive Kalbarri National Park. Home to inland gorges, popular photography spot Nature's Window, walking trails that showcase native flora and fauna, and the recently built Kalbarri Skywalk which provides sweeping views over the Murchison River Gorge.
Back at the township, hop on one of the town's many walk trails to admire the gorgeous coastline, grab dinner at one of the town's coastal restaurants, and pick the perfect vantage spot to catch the sunset.
Day eight: Kalbarri to Perth (569 kilometres)
Before your last long day of travel, hit the water for a surf at Jacques Point or a snorkel at Blue Holes. As you make your way back to Perth via Brand Highway and Indian Ocean Drive, make sure you stop-off at the striking Pink Lake at Port Gregory for an epic photo opportunity.
If you're a seafood fan, call in at Horrocks for a spot of fish and chips – and for an epic sunset, pull up a chair at the Endeavour Tavern in Lancelin.
Need a place to stay along the way?
RAC members save up to 20%* on accommodation at RAC Cervantes Holiday Park, RAC Exmouth Cape Holiday Park, and RAC Monkey Mia Dolphin Resort.
*Terms and conditions apply. Member rate varies according to season. See full website for details.
Last updated December 2020