Travel & Touring | WA Road Trips
Take this well worn coastal route from Perth to Exmouth and back and find out why its such a well loved trip. You'll see stunning rock formations, swim with the whale sharks, experience Ningaloo Marine Park and there's some great local produce to enjoy as well.
At a glance
| | |
| --- | --- |
| Distance and days | Approx. 2960km |
| Why go | To explore carpets of wildflowers at Lesueur National Park, swim with whale sharks at Ningaloo Reef, snorkel at Coral Bay, meet the dolphins at Monkey Mia and hike through gorges in Kalbarri National Park |
| When to visit | April to July (whale sharks) or March to November (milder temperatures) |
| Itinerary | Perth - Cervantes - Geraldton - Carnarvon - Exmouth - Coral Bay - Shark Bay - Kalbarri - Perth |
| 4WD requirements | Most of the roads on this route are unsealed, so you need a four-wheel drive to take this journey. Take plenty of food, water, and emergency supplies for the drive. Remember to take lots of breaks, and always be on the lookout for wildlife. Stay safe on your road trip. |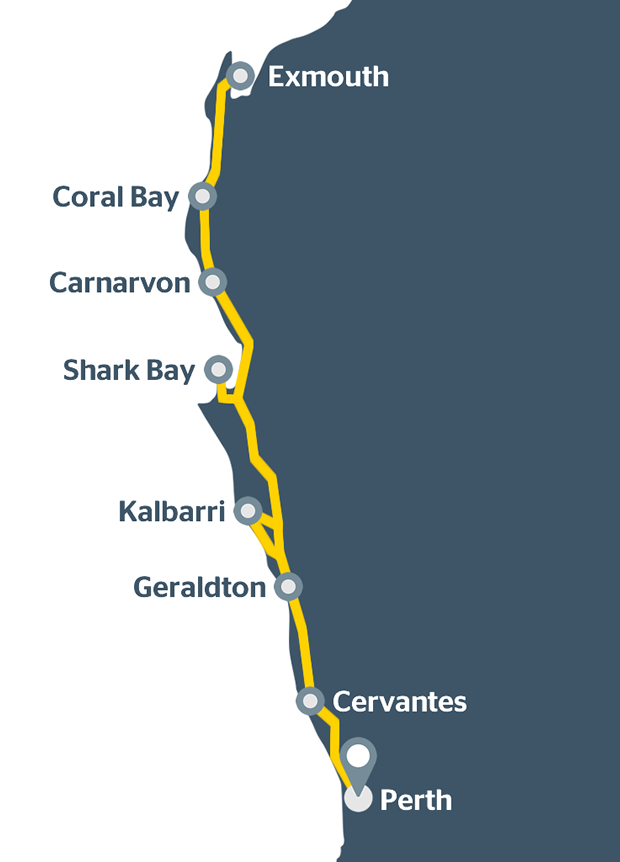 Perth to Cervantes (198km)
The drive from Perth to Cervantes on Indian Ocean Drive is a quick two hours, giving you a small taste of WA's northern coastal scenery. Make your first stop at the Nambung National Park to see the seemingly extra-terrestrial Pinnacles, which stand as high as 3.5m.
If you're into seafood, Cervantes is the rock lobster capital of WA. Stop in at the Lobster Shack to take a tour, pick up some fresh seafood to take away, or stay for a meal.
To make the most of the Coral Coast, stay in Cervantes for a night at the RAC Cervantes Holiday Park so you have the next day to explore coastal towns like Jurien Bay and Dongara on your way to the hub of Geraldton.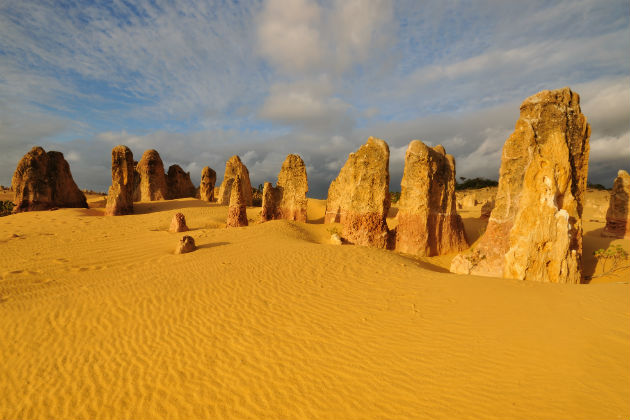 Cervantes to Geraldton (223km)
Start the day with a refreshing swim at Hangover Bay or Thirsty Point before continuing north on Indian Ocean Drive to Geraldton.
Small seaside towns like Jurien Bay, Green Head, and Dongara are worth exploring, and if you're up for a wander, the nearby Lesueur National Park is a half-hour scenic drive inland from Jurien Bay. The park is a favourite for wildflower enthusiasts, blooming into colour late winter and spring.
Your next stop is Geraldton where a visit to the impressive HMAS Sydney II Memorial is a must. It commemorates the lives of the 645 Australian sailors who died on the ship during the Second World War, with sweeping views of the town and the Indian Ocean from the memorial site. Visit at sunset then take a walk down the main strip for a bite to eat at one of the many restaurants.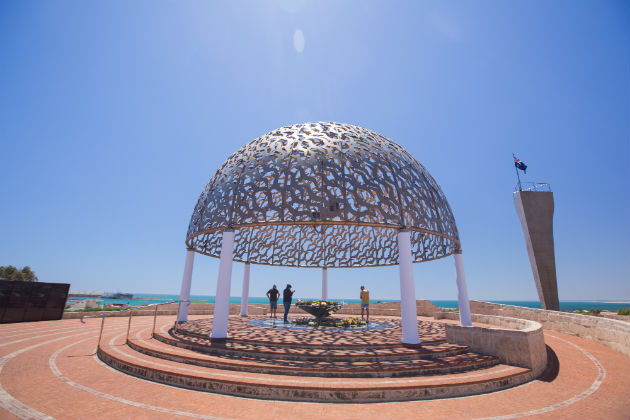 Geraldton to Carnarvon (475km)
Continue on the North West Coastal Highway to Carnarvon, abundant with tropical fresh fruit - you can't go past Morel's - and fresh seafood. It's a great place to wind down after a day of driving.
Visit the Space and Technology Museum to learn about its role in Australia's space history. Take a walk along Carnarvon's bay area, called the Fascine, to enjoy the sunset before dinner.
Carnarvon to Exmouth (363km direct)
On your way further north along the North West Coastal Highway, detour to witness the natural Blowholes, enjoy the surf at Gnaraloo, or go snorkelling at Quobba before you reach Exmouth. There, you'll find Ningaloo Reef, unspoiled beaches, and the world-famous whale sharks.
Ningaloo is Australia's largest fringing reef, teeming with marine life and colourful coral just metres from the shore. If you're there at the right time of year, book an unforgettable swim with the whale sharks.
You can also take a glass-bottom boat cruise to see the diverse marine life or snorkel in the marine park. About 40 minutes from Exmouth is Cape Range National Park, which boasts wildflowers, canyons, gorges, and spectacular views over the ocean. It's unlikely you can fit in all the sights and experiences around Exmouth in just a day, so plan to stay a few. The friendly RAC Exmouth Cape Holiday Park has a variety of accommodation types.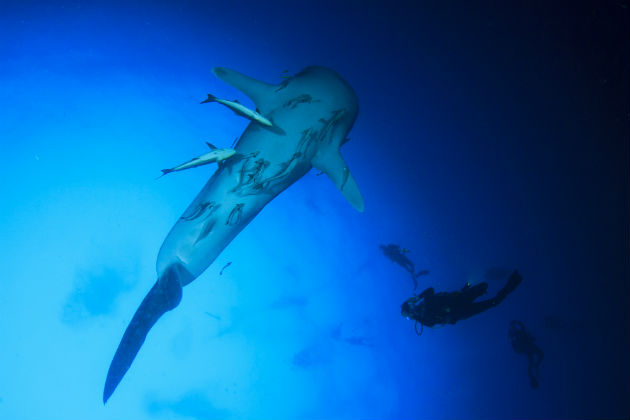 Exmouth to Coral Bay (150km)
This relatively short drive via Minilya-Exmouth Road brings you to a snorkelling haven. Coral Bay's protected waters and abundant marine life and coral make it the perfect place to chill out and take a swim, or hire a kayak and float along the calm sea.
There are many tours to take from Coral Bay, from fishing charters and scuba diving to visiting the manta rays. Quad biking or four-wheel driving along the beach is another great way to explore the area. Stay overnight with a view over the water at RAC Ningaloo Reef Resort - you can also pick up a meal there too.
Coral Bay to Shark Bay (Monkey Mia) (580km)
Head south along Minilya-Exmouth Road - it'll take about six hours to get to Shark Bay.
Follow the signage along the Shark Bay World Heritage Drive for sites to visit and break up the drive, like the Hamelin Pool stromatolites and Shell Beach - a long, snow-white beach made entirely of millions of tiny of shells, which are up to 10m deep at some points. Eagle Bluff offers amazing views, so see if you can spot a reef shark or a manta ray from above.
Once in Monkey Mia, get a good night's rest at the revamped RAC Monkey Mia Resort before heading to the beach in the morning for the dolphin feeding session at 7.30am with Monkey Mia's world renowned dolphins. During the day, explore the town, cool off with a swim, then hop on a sunset cruise. After dinner, take an astronomy or Indigenous cultural tour.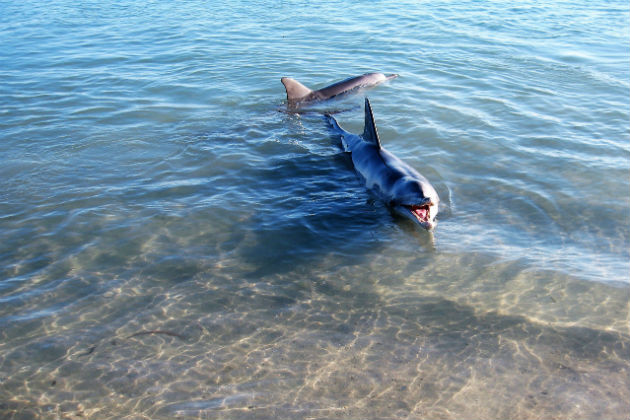 Shark Bay (Monkey Mia) to Kalbarri (401km)
Find the North West Coastal Highway and head south to Kalbarri, where the Murchison River meets the Indian Ocean. Along the way you'll see see some of WA's rugged coastal scenery before you reach the township.
Take a walk along one of the many walk trails along the coastline and admire the red cliffs. For surfers, Jacques Point is an unmissable destination, and the snorkelling at Blue Holes is picturesque.
Spend a day exploring the Kalbarri National Park's striking inland gorges, take a selfie at Nature's Window, and walk along one of the many trails to explore the native flora and fauna. After your adventure, sample fresh seafood at one of many restaurants along the coast.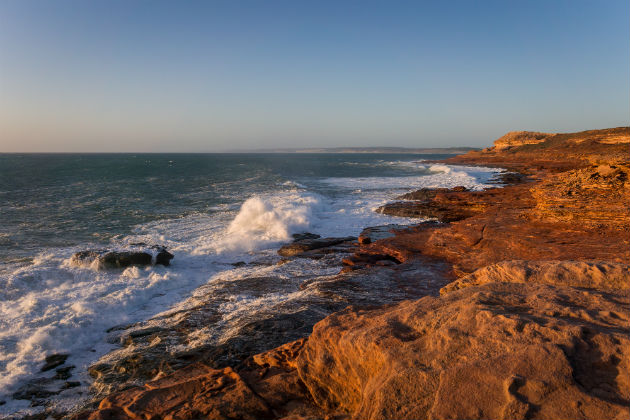 Kalbarri to Perth (569km)
It's time to head to back to Perth via Brand Highway and the Indian Ocean Drive – but not before making the most of your last day. Wake up early and head to the foreshore to see the daily pelican feeding at 8.45am.
Take a photo at the Pink Lake in Port Gregory on your way out, which can range from bubblegum pink or lilac purple depending on the cloud cover. Stop in at historic Northampton before reaching the end of your journey in Perth.
Share your favourite road trip photos with us on Instagram using @racwa. And if you need music for your travels, download our For the Drive playlist from Spotify so you can just hit play and focus on the drive.
Last updated September 2018
Taking off on your own road trip?
RAC can help you on your way, whether it's providing maps and guides for your journey, car and campervan hire, or roadside assistance so you're covered 24/7 if your car breaks down.