Travel & Touring | WA Things To Do
Dine under the stars, connect with locals and soak up the buzzing atmosphere at one of Perth's many evening hawkers' markets.
With food trucks, vans and makeshift kitchens popping up across the city and suburbs, there has never been a better time to enjoy good food and beautiful backdrops in your local community.
It's time to dig in - here are 11 Perth hawkers' markets you should put on your outdoor dining list.
1. Burns Beach Twilight Market
Offering an array of delicious international street food from 30+ food trucks, live music and a licensed bar area, the weekly Burns Beach Twilight Market on the Burns Beach foreshore is a favourite among locals.
Opening hours and dates: The market is open every Wednesday night from 5:00pm-8:30pm, from 8 November 2023 to 20 March 2024.
2. Inglewood Night Markets
Monday nights are never dull in Inglewood thanks to the Inglewood Night Markets. You can choose from a variety of food and drink vendors serving up special treats along Beaufort Street and browse other wares on offer from local stores.
Opening hours and dates: The markets are held every Monday night from 6:00pm-9:00pm until April 2024.
3. Perth Twilight Food Market
Perth's biggest street food market, the Twilight Food Market held in Forrest Place, features a large selection of street food with cuisines from around the world, plus live music. It's the perfect spot for a bite to eat after work on a Friday or just a great night out.
Open hours and dates: The market is held every Friday from 4:30pm-9:30pm and is on until 29 March 2024.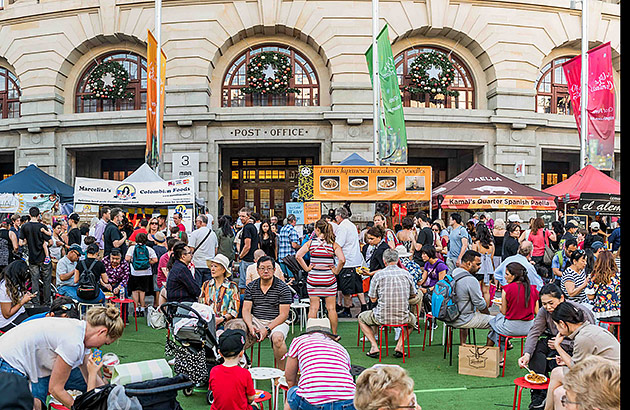 4. Scarborough Sunset Markets
Head to the Scarborough Sunset Markets each Thursday night for spectacular sunsets, a great beachside vibe and a world of food truck flavours. You can also browse the artisan pop-up stores and be entertained by live performers.
Opening hours and dates: The markets are at the Esplanade, Scarborough Beach every Thursday from 2 November 2023 to 25 April 2024, from 5:00pm-9:00pm.
5. South Perth StrEATS
Grab a picnic rug and head for Sir James Mitchell Park on the South Perth foreshore for StrEATS, a hawkers' market set against the shimmering Perth city skyline.
Opening hours and dates: The market is on from 5:00pm-8:30pm, Thursday to Sunday evenings and will be running until 7 April 2024, on the foreshore just off Coode Street car park.
6. Food Truck Fiesta
The Food Truck Fiesta series features a roster of multicultural food trucks, live entertainment and games for kids and adults alike. The food truck convoy will visit parks at various locations around Perth.
Opening hours and dates: Open from 28 October 2023 until 13 April 2024, each Saturday from 4:30-8:00pm. Check their events calendar for regular updates about where the trucks will be next.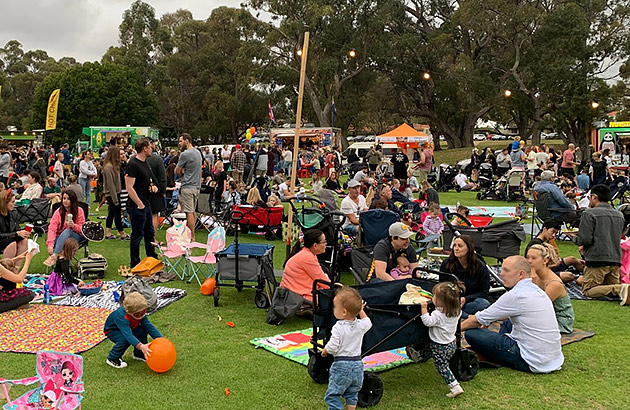 7. Kalamunda Night Markets
Held at the corner of Kalamunda's Central Mall and Barber Street, the Kalamunda Night Markets are filled with market stalls, entertainment from local musicians, and of course, plenty of food trucks and pop-up stalls from local restaurants.
Opening hours and dates: The markets are held once a month on a Friday night from 5:00pm-9:00pm and will be running until Friday 24 May 2024 (with a Christmas edition on Friday 22 December).
8. Dinner at Dusk, various locations
The Dinner at Dusk crew bring fine food truck dining to a number of great locations around Perth, including the foreshore at Bicton, Singleton and Mosman Park. Choose from, Mexican, Thai, Spanish and Chinese cuisines, to name just a few.
Opening hours and dates: For locations, dates and times, check their Facebook page.
9. Wanneroo Street Food
With a wide range of international cuisines, Wanneroo Street Food works its way around the Wanneroo area with evening food trucks at a variety of locations.
Opening hours and dates: Check their Facebook page for regular updates about where the trucks will be next.
10. Bayswater Twilight Market
One Friday night a month, Bert Wright Park in Bayswater is buzzing with live music, food trucks and colourful stalls full of local wares, from gifts to preserves and lots more. On the dinner menu there's always a wide selection of international flavours on offer and plenty to keep the kids happy, too.
Opening hours and dates: Held one Friday night each month, from 5:00pm-8:30pm at Bert Wright Park, on King William Street, Bayswater. Check their Facebook page for the next market date.
Subi Night Market
Spend a balmy summer night in Subiaco's Market Square Park where the Subi Night Market will be serving up a mix of deliciously curated food stalls featuring more than 40 international flavours. You can also browse through stalls of vintage clothes and artworks.
Subi Night Market is on every from 11 November 2023 to 6 April 2024, from 4:00pm-9:00pm, on the corner Roberts Road and Haydn Bunton Drive, Subiaco.
We're committed to a more connected WA
RAC's has partnered with the Town Team Movement to help create more vibrant, active, engaged and sustainable communities across Western Australia. See what events are happening in your local area.
Image credit: Scarborough Sunset Markets
Last updated: October 2023