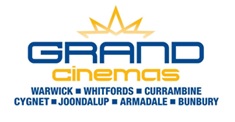 Pre purchase
Redeem at Grand Cinemas
What do I get?
Save on adult and child vouchers including discounts on Grand Gold Lounge vouchers.
eVouchers and Mailout vouchers available.
How do I redeem?
Simply present your pre-purchased voucher at Grand Cinemas Warwick, Currambine, Cygnet, Joondalup , Armadale or Bunbury.
Lost your RAC membership card? Order one now
Where do I get the offer?
Vouchers available for purchase from the RAC online shop or Member Service Centres , West Perth, Dianella, Carousel and Joondalup Travel.
.
Buy online Find a service centre
Not a member? Find out how you can join RAC today!
Terms and Conditions
All movie vouchers prices are inclusive of GST.Expiry of posted movie vouchers can be expected to be between 2-6 months once received unless stated otherwise. Expiry of electronic movie e-vouchers can be expected to be between 2 – 6 months once received unless stated otherwise.E-vouchers must be printed prior to use unless stated otherwise.We do not guarantee that e-vouchers or posted movie vouchers will be received within a specific timeframe. Due to circumstances outside of our control, delays may occur. You are reminded that e-vouchers and posted movie voucers are valid for between 2 and 6 months.Discounts do not apply on presentation of RAC Membership cards at any movie theatre or cinema.Tickets are subject to individual terms and conditions of use.
1.5% credit card fee applies to all purchases via RAC Online Shop.
When using vouchers purchased from the RAC to book online via supplier websites, booking fees may apply.