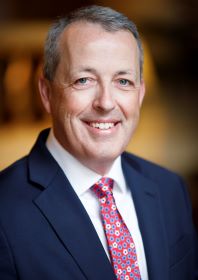 A message from our CEO
Rob Slocombe
"Working at RAC, means you become an integral part of making WA a better place. As a member organisation, everything we do is for the benefit of our members, not shareholders.
Whether it's advocating for safer roads, building Australia's first electric highway, trialling Australia's first driverless bus or sponsoring the RAC Rescue helicopters, we are always looking for new ways to achieve more for our members and the WA community.
Our members are at the heart of everything we do at RAC. To serve them well, we need high performing, highly motivated team players.
We look to recruit the very best, which includes people that share RAC's behaviours and values and want to deliver for the better of our members and WA.
We invest in our people too, through career development, rewards and recognition programs and top-class health and safety initiatives for our people, including tools that enable a healthy work-life balance and an active social club.
Extra benefits as an RAC employee include discounts on RAC products, access to other RAC member benefits and corporate volunteering opportunities.
If you are someone who wants to contribute to something bigger, we would love to hear from you."