If you need new tyres, talk to the experts you can trust.
Common FAQs
Is there an age where tyres need to be changed?
Generally speaking, a vehicle's tyres should be replaced after five years, regardless of the amount of wear.
Do all four tyres on my car need to be the same brand?
Provided the tyres are the correct specification for the vehicle, you do not need to have the same brand.
How often do I need to check my tyre air pressure?
RAC advise that tyre pressure should be checked monthly, when the tyres are cold.
I want to learn more about tyres
Can I replace just one tyre?
You can replace only one tyre, however for safety we recommend you don't mix and match tyre brands. You also should ensure your other tyres are above 3mm in tread. The drivelines of some vehicles can be impacted by using
mismatching tyres
, and some manufacturers recommend replacing all tyres at once.
What are the markings on my tyre for?
Your tyres have a lot of useful information printed on the sidewall about the type of tyre, loadings and tyre dimensions. Here's how to read the markings on your tyre: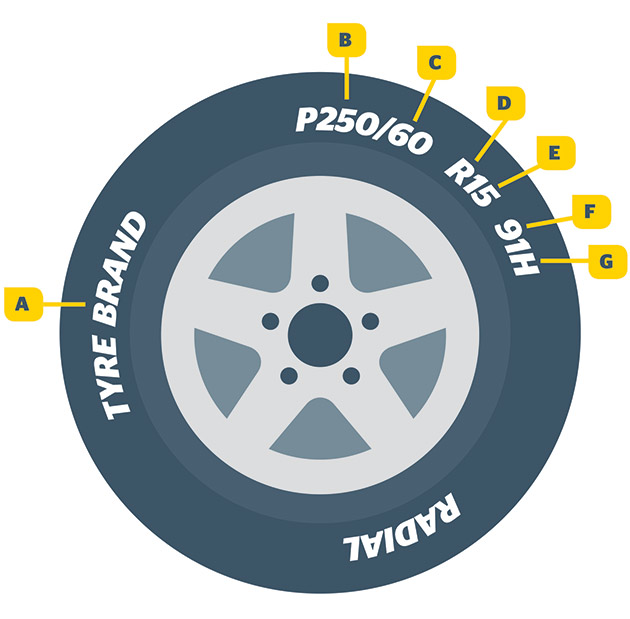 A. The brand, make and model of the tyre.
B. These three numbers show the tyre width in millimetres. This is the total inflated width at its widest point (excluding sidewall ribs and lettering). The 'P' indicates this is a passenger car tyre.
C. This number shows the height of the tyre as a percentage of the section width (B). This P205/60 tyre shows the section width is 205mm and the height is 60 per cent of that. The lower this number, the lower the tyre profile.
D. This letter shows the type of construction. R stands for radial, B for Bias.
E. This number represents the rim diameter which fits the tyre. This measurement is always in inches.
F. This number is checked against a chart to identify the maximum load the tyre can carry at the speed indicated.
G. This letter represents the maximum safety speed. Passenger tyre speed ratings start at N (140km/h) and go to Y (300km/h).
*Mobile service areas and availability may be limited and fitment locations must be suitable for practical reasons. 10% discount applies to tyre and fitting only. MRB 723